Road to Indy set for final 2018 test at Homestead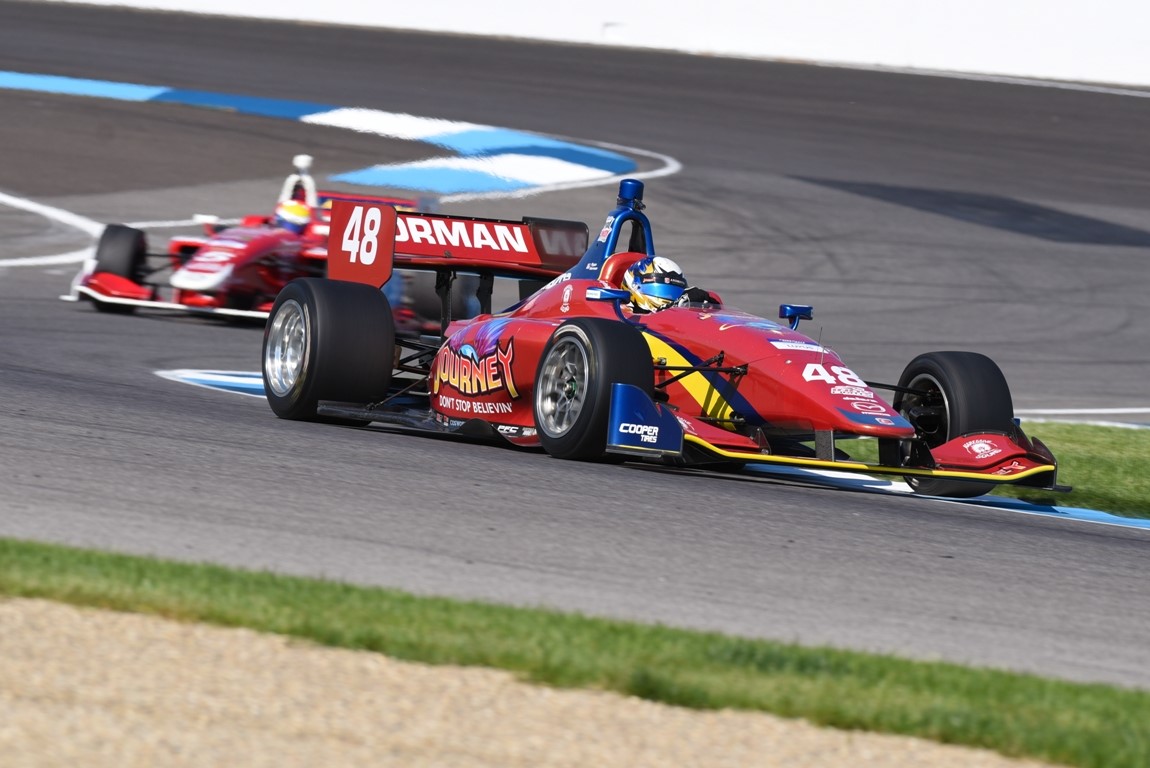 Indy Lights
Next week's Road to Indy Open Test at Homestead-Miami Speedway marks the final official event under the patronage of Mazda after nine years at the helm of what has grown into the most effective open-wheel driver development program in the world. It also represents the predawn of a new era as teams and drivers begin to focus on chasing more than $2 million in scholarships and prizes that will be paid out as part of the 2019 Road to Indy Presented by Cooper Tires.
All three series – Indy Lights Presented by Cooper Tires, the Pro Mazda Championship Presented by Cooper Tires and the Cooper Tires USF2000 Championship Powered by Mazda – will be represented at the two-day test on Monday and Tuesday, December 3-4, at the 2.21-mile South Florida road course.
Claman De Melo set for Indy Lights return
After a partial season of competition in the Verizon IndyCar Series with Dale Coyne Racing, Zachary Claman De Melo will return to his former stomping ground when he joins former championship-winning team Belardi Auto Racing for next week's test. Claman De Melo, 20, impressed during a two-year stint in Indy Lights in 2016 and 2017, winning once at Road America, and adding a trio of podium finishes despite a bare minimum of prior racing experience.
Reigning champion team Andretti Autosport will field two cars at the test, with Ryan Norman joined by Frenchman Julien Falchero. Norman, 20, claimed his first Indy Lights victory in the final weekend of the 2018 season at Portland International Raceway in September, while 21-year-old Falchero recently completed his second full season in the European-based GP3 Series.
Rinus VeeKay, who drove for Andretti Autosport at last month's Chris Griffis Memorial Open Test at Indianapolis, will return to Juncos Racing, where he claimed this year's Pro Mazda title, for this latest outing. VeeKay, 18, won seven times this season for the Indianapolis-based team, which also guided Kyle Kaiser to the 2017 Indy Lights championship.
David Malukas, who won three Pro Mazda races in 2018, also will step up to Indy Lights with BN Racing after gaining a taste of the higher-horsepower Dallara IL-15 with Belardi Auto Racing at Indianapolis.
Next year's Indy Lights title winner will see an increased champion's purse of $1.1 million built on a three-race IndyCar program including the 104th running of the Indianapolis 500 in 2020.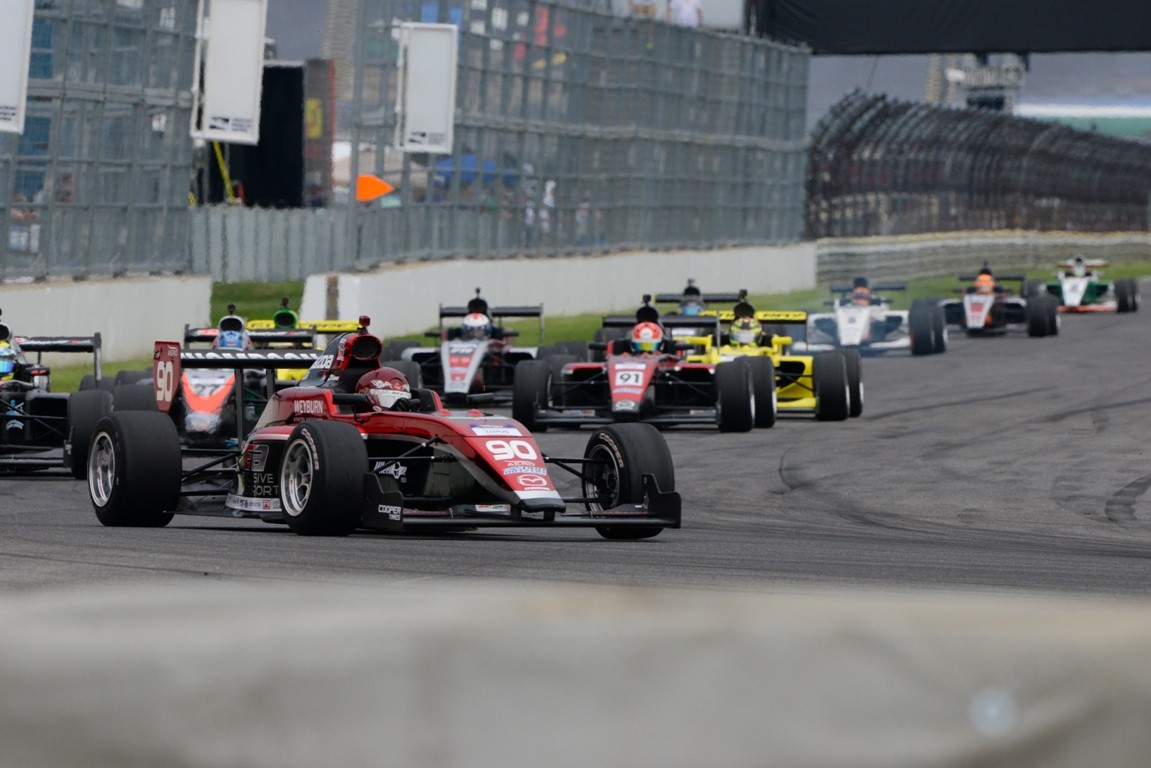 Pro Mazda
Kirkwood, Abel combine again for Pro Mazda test
Four Pro Mazda teams are set to test at Homestead as drivers seek to gain a head start on preparations for chasing a champion's purse valued at almost $600,000 to assist in the graduation to Indy Lights in 2020. A hot property in U.S. open-wheel racing after an impressive 2018 season, Kyle Kirkwood will join Jacob Abel in a pair of Abel Motorsports Tatuus PM-18s. In addition to winning the USF2000 title with 12 race wins in just 14 starts for Cape Motorsports, Kirkwood, 20, teamed up with Abel to dominate the inaugural F3 Americas Championship Powered by Honda.
Another team new to Pro Mazda, Jay Howard Driver Development, will field a single PM-18 for Canadian Antonio Serravalle. Howard, who himself won back-to-back championships in USF2000 and Indy Lights in 2005-2006, also will field cars in USF2000 next year after many years of success with his driver-development team in karting and, more recently, Formula 4.
Swedish teenager Rasmus Lindh, who impressed as a rookie on his way to second place in the USF2000 title chase, will reunite with Pabst Racing for his second taste of a Pro Mazda car following a September outing with Juncos Racing, while series veteran Nikita Lastochkin and rookie Parker Locke will pilot a pair of cars for Exclusive Autosport.
Exclusive Autosport has confirmed its first driver of the 2019 Road to Indy Presented by Cooper Tires season, and are excited to announce that Nikita Lastochkin will be joining the team in the Pro Mazda Presented by Cooper Tires program. This will mark the talented Russian's third year in the category, and he'll aim to use his experience to push for his best results ever. Coming off their debut season in Pro Mazda, where they won three races, Exclusive Autosport has not let up and has tested numerous drivers during the off-season with the goal of running three PM-18s for the 2019 season.
"I am thrilled to welcome Nikita to the Exclusive Autosport Pro Mazda program," enthused Michael Duncalfe, Team Principal. "Nikita's experience in the Road to Indy and maturity are great assets to the EA program. Overall, Nikita is a great fit with the Exclusive Autosport team. We are looking forward to a very positive and successful year with him in Pro Mazda."
Lastochkin began his racing career in 2013 in the Skip Barber and SCCA series, scoring many victories, all with his eyes on the Mazda Road to Indy program. In 2015, Nikita began a two-year stint in the Cooper Tires USF2000 Championship Powered by Mazda, where he earned a combined 24 top-10 finishes. In 2017, he set his sights on Pro Mazda Presented by Cooper Tires and the 28-year-old finished fifth in the championship standing, posting eight top-fives and 11 top-10s with a season-high result of third in both races at Road America. Last year, Nikita was ninth overall in the championship fight with 10 top-10 finishes.
"I'm extremely excited to come into the season and join Exclusive Autosport," Lastochkin enthused. "From the testing we've completed so far, the car feels very quick and suits my driving style well. Michael (Duncalfe) has been very welcoming and helped me feel at home right away and I think we are going to have a great year ahead of us."
Six nations represented in USF2000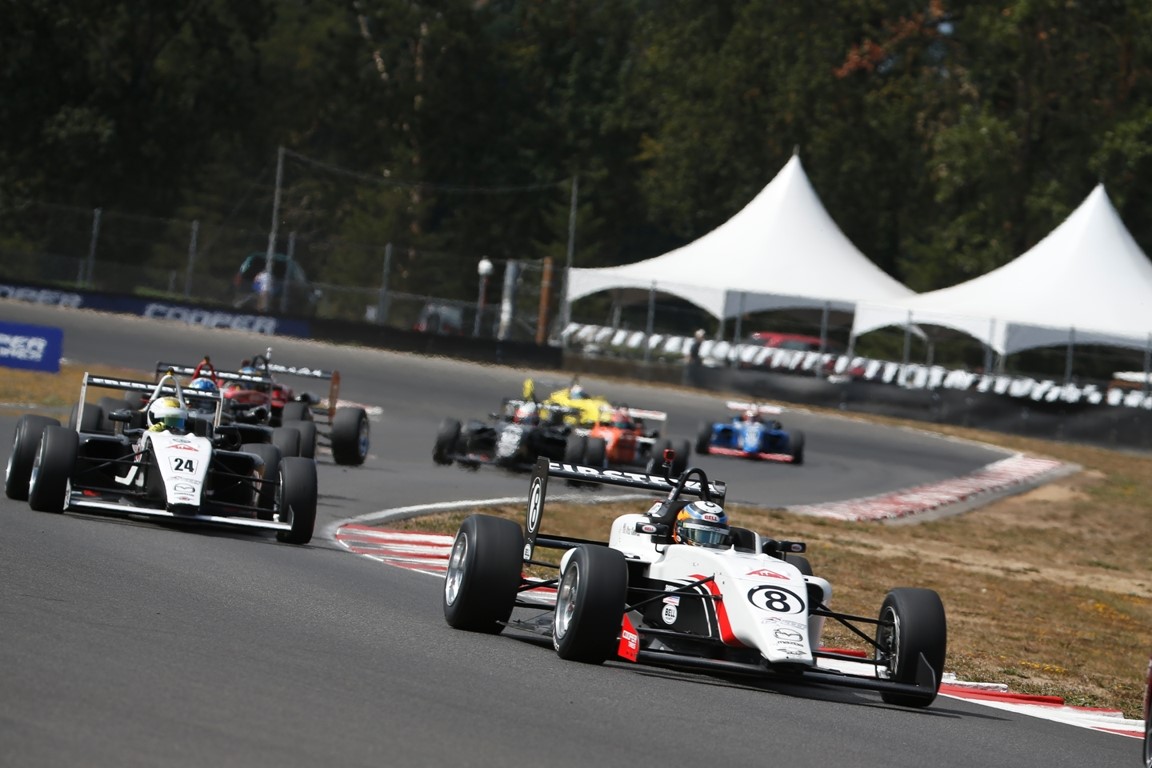 USF2000
At least a dozen young drivers from six different nations, all with hopes of scooping a champion's prize package valued at over $305,000 to graduate to Pro Mazda in 2020, will gain a head start on the 2019 USF2000 season next week.
Cape Motorsports, which has won a total of 12 USF2000 titles, including the last eight in a row, has signed up four talented youngsters for the test. Australian Cameron Shields, who has won races in both Formula 4 and Formula 3 this year – and hails from the same Queensland town, Toowoomba, as reigning Indy 500 champ Will Power – will drive on both days, while Braden Eves, Nikko Reger and Julian Van der Watt each will join the team for one of the two days.
Eves, 19, impressed while making his USF2000 debut at Portland in September. Reger, 20, is looking to make his return to open-wheel racing after winning this year's Battery Tender Global Mazda MX-5 Cup championship, while Van der Watt, 21, looks to build on a solid rookie year with Team Pelfrey in USF2000 after winning the 2018 South African National Formula 1600 Championship.
Alex Baron, 23, will spearhead the new Legacy Autosport team after winning two of the first four USF2000 races this year before his season ended prematurely.
Two-time defending USF2000 Team Champions Pabst Racing will field three cars at Homestead-Miami for Yuven Sundaramoorthy, Hunter McElrea and Colin Kaminsky. Sundaramoorthy, who, coincidentally, was born in Pabst's hometown of Oconomowoc, Wisconsin, showed well in several USF2000 races this year after winning in F1600, while McElrea recently clinched the Australian Formula Ford Championship title. Kaminsky placed 10th in USF2000 this year with a best finish of fourth at Road America.
Canadian Formula F champion Kellen Ritter, 17, will continue with Exclusive Autosport after making his USF2000 debut at Portland, while BN Racing will field cars for Kyle Dupell, who will drive on both days, and Eves, who will join the Chicago-based team on Tuesday.
Drivers in all three series will have three 40-minute sessions on each of the two days, starting at 9:00 a.m. ET. Live timing and scoring for all sessions will be available on the respective series' websites, indylights.com, promazda.com and usf2000.com, as well as the Mazda Road to Indy TV App.