CORE Goes DPi with Nissan for 2019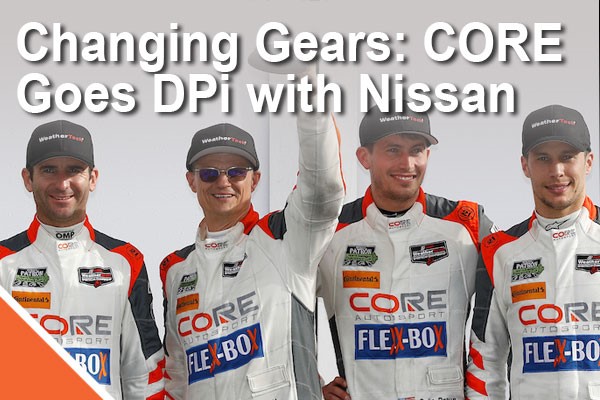 Core Drivers
CORE autosport will fight for overall wins in the 2019 IMSA WeatherTech SportsCar Championship with a Nissan Onroak DPi.
At the close of the 2018 IMSA season, CORE was hopeful of entering the Daytona Prototype international (DPi) category but did not immediately find a partner to make the big step. CORE announced plans to compete in the 2019 WeatherTech Championship LMP2 class, but never stopped pursuing DPi options. Since that announcement, a new opportunity for CORE to run the Nissan Onroak DPi prompted the team to change its initial plans and move to IMSA's top class.
"Ever since IMSA announced the split of the Prototype class it's been our goal to enter DPi," CORE COO Morgan Brady said. "Although we were headed in the LMP2 direction for 2019 within a matter of days the Nissan DPi program became a reality and we couldn't pass this opportunity to compete for overall race wins."
The Nissan DPi is a derivative of the Ligier JS P217 and features a 3.8-liter twin turbo engine derived from the Nissan GT-R Nismo GT3. It is created by Onroak exclusively for the WeatherTech Championship.
CORE has a lot of work ahead to learn and prepare its new car in time for the Roar Before the Rolex 24 at Daytona International Speedway. One constant in CORE's 2019 IMSA Championship run will be its driver lineup, which remains the same; Jon Bennett and Colin Braun will co-drive for the full season, with Romain Dumas joining for Michelin Endurance Championship rounds and Loic Duval on board for the Rolex 24.
"I am extremely grateful the pieces have come together for CORE to run a DPi program, even if it's a little late in the going," CORE autosport Owner and Driver Jon Bennett said. "If anybody can come together and have this Nissan ready for Daytona, it's the incredible group of people at the CORE shop. With Colin, Romain and Loic rejoining us in 2019, I am super confident that we'll find success."
CORE's first test with its new car will be at Roar Before the 24, January 4-6. The 2019 IMSA season kicks off January 24 – 27 with the Rolex 24 at Daytona.