Juan Manuel Correa quickest in Day 2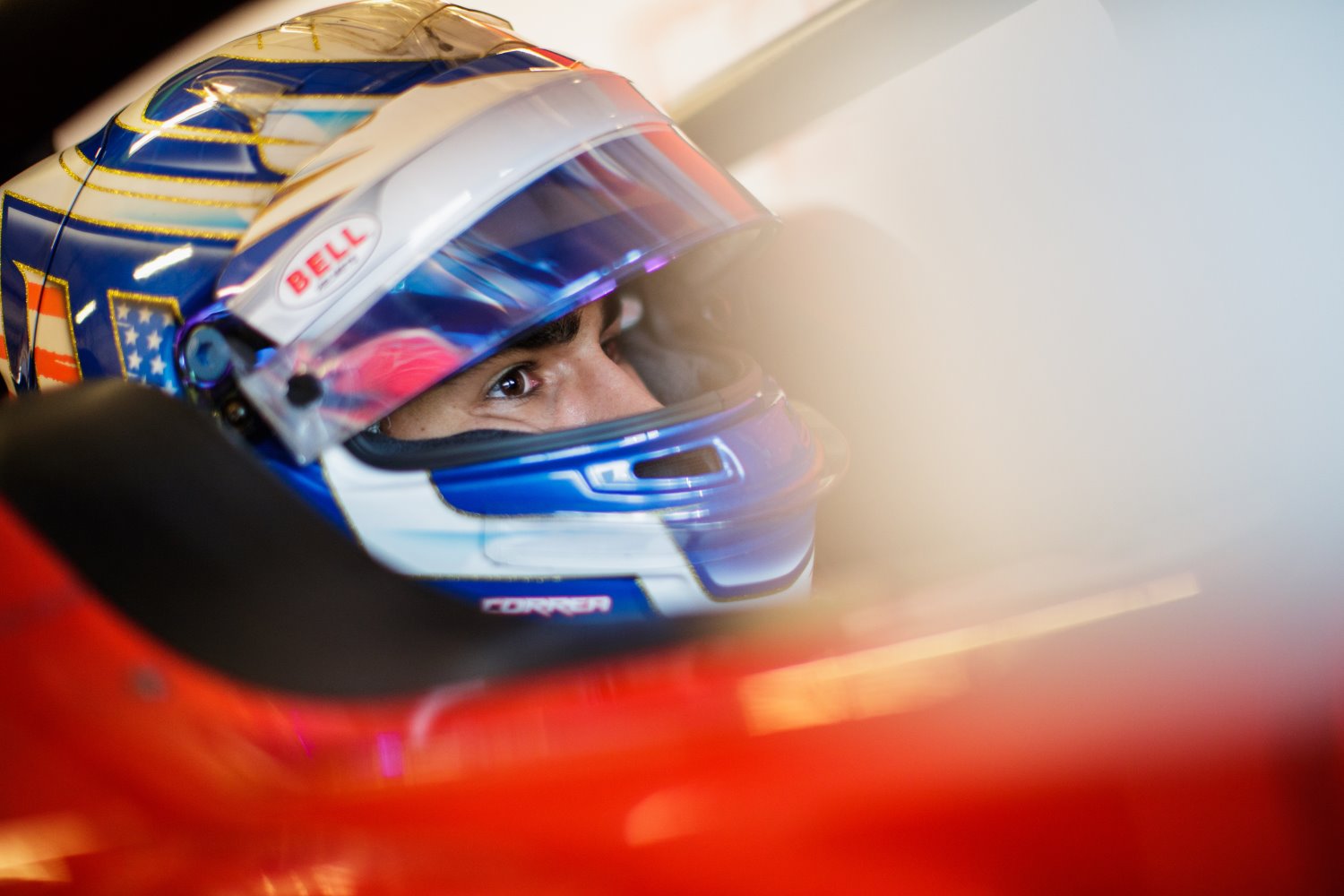 Juan Manuel Correa
GP3 graduate Juan Manuel Correa set the fastest laptime of Day 2 of post-season testing. The American driver lapped the Yas Marina Circuit in a 1:49.958 at the wheel of a Charouz Racing System car in the evening session. Earlier in the day, it was the 2018 GP3 Series Champion Anthoine Hubert who topped the timesheet with MP Motorsport.
In the opening stages of the morning session, it was Luca Ghiotto who put his RUSSIAN TIME car on top of the timesheet, but Dorian Boccolacci improved on the Italian's best to briefly feature in P1. Soon after that, newcomer Guanyu Zhou dipped under 1m52s: he clocked in a laptime of 1:51.786 to go top just before the proceedings were halted. The only red flag period of the session came after Giuliano Alesi stopped at the Turn 8 runoff.
At the re-start, Jack Aitken was visibly comfortable at the wheel of the Charouz car: the Briton went top with a laptime of a 1:51.426. Hubert then found some extra pace to go quicker by three tenths. That was P1 for the Frenchman while most of the teams focused on long runs and consistent laptimes throughout the rest of session.
In the dying minutes, Alesi moved up to third and at the chequered flag, Zhou, Boccolacci, Leonardo Pulcini, Ghiotto, Louis Delétraz, Callum Ilott and Sebastian Fernandez completed the top 10.
Nyck De Vries led the proceedings and set the early pace in the evening session before Nicholas Latifi went top with a laptime of a 1:50.673. Ghiotto was the next driver to claim P1 in a 1:50.217 as Sergio Sette Câmara moved up to P2.
The session was very studious until the red flags were shown after Hubert spun and stopped at Turn 8. With 23 minutes left on the clock, the track was live again and in the closing stages F3 European Champion Mick Schumacher went quickest by 0.002s. His reign was short-lived though as Correa found some extra pace on his final push lap to claim the top spot.
Ghiotto ended third quickest ahead of Sette Câmara, Nobuharu Matsushita, Aitken, Delétraz, Boccolacci, Nikita Mazepin and Ilott.
The action will resume for one last time in 2018 when Day 3 kicks off at 11.45 local tomorrow.
2018 Post-season testing – Day 2: morning session classification
| | | | | |
| --- | --- | --- | --- | --- |
| POS | DRIVER | TEAM | TIME | LAP |
| 1 | Anthoine Hubert | MP Motorsport | 1:51.116 | 16 |
| 2 | Jack Aitken | Charouz Racing System | 1:51.424 | 31 |
| 3 | Giuliano Alesi | Trident | 1:51.614 | 29 |
| 4 | Guanyu Zhou | RUSSIAN TIME | 1:51.786 | 30 |
| 5 | Dorian Boccolacci | MP Motorsport | 1:52.173 | 23 |
| 6 | Leonardo Pulcini | Campos Vexatec Racing | 1:52.179 | 32 |
| 7 | Luca Ghiotto | RUSSIAN TIME | 1:52.331 | 23 |
| 8 | Louis Delétraz | Carlin | 1:52.416 | 38 |
| 9 | Callum Ilott | Trident | 1:52.457 | 29 |
| 10 | Sebastian Fernandez | Campos Vexatec Racing | 1:52.845 | 23 |
| 11 | Marino Sato | BWT Arden | 1:52.938 | 26 |
| 12 | Nobuharu Matsushita | Carlin | 1:53.040 | 39 |
| 13 | Juan Manuel Correa | Charouz Racing System | 1:53.529 | 25 |
| 14 | Ralf Aron | BWT Arden | 1:53.916 | 24 |
| 15 | Nicholas Latifi | DAMS | 1:55.812 | 39 |
| 16 | Nikita Mazepin | ART Grand Prix | 1:56.013 | 43 |
| 17 | Sean Gelael | PERTAMINA PREMA Theodore Racing | 1:56.263 | 41 |
| 18 | Sergio Sette Câmara | DAMS | 1:56.569 | 38 |
| 19 | Mick Schumacher | PERTAMINA PREMA Theodore Racing | 1:56.659 | 40 |
| 20 | Nyck De Vries | ART Grand Prix | 1:57.059 | 45 |
2018 Post-season testing – Day 2: evening session classification
| | | | | |
| --- | --- | --- | --- | --- |
| POS | DRIVER | TEAM | TIME | LAP |
| 1 | Juan Manuel Correa | Charouz Racing System | 1:49.958 | 31 |
| 2 | Mick Schumacher | PERTAMINA PREMA Theodore Racing | 1:50.166 | 25 |
| 3 | Luca Ghiotto | RUSSIAN TIME | 1:50.168 | 25 |
| 4 | Sergio Sette Câmara | DAMS | 1:50.223 | 26 |
| 5 | Nobuharu Matsushita | Carlin | 1:50.227 | 23 |
| 6 | Jack Aitken | Charouz Racing System | 1:50.256 | 30 |
| 7 | Louis Delétraz | Carlin | 1:50.283 | 26 |
| 8 | Dorian Boccolacci | MP Motorsport | 1:50.394 | 23 |
| 9 | Nikita Mazepin | ART Grand Prix | 1:50.471 | 29 |
| 10 | Callum Illot | Trident | 1:50.475 | 36 |
| 11 | Guanyu Zhou | RUSSIAN TIME | 1:50.575 | 27 |
| 12 | Nyck De Vries | ART Grand Prix | 1:50.582 | 31 |
| 13 | Giuliano Alesi | Trident | 1:50.657 | 29 |
| 14 | Sean Gelael | PERTAMINA PREMA Theodore Racing | 1:50.667 | 27 |
| 15 | Nicholas Latifi | DAMS | 1:50.673 | 30 |
| 16 | Leonardo Pulcini | Campos Vexatec Racing | 1:50.685 | 23 |
| 17 | Sebastian Fernandez | Campos Vexatec Racing | 1:51.253 | 12 |
| 18 | Marino Sato | BWT Arden | 1:51.539 | 29 |
| 19 | Ralf Aron | BWT Arden | 1:51.793 | 27 |
| 20 | Anthoine Hubert | MP Motorsport | 1:52.597 | 11 |