Bell and Montecalvo Join AIM VASSER SULLIVAN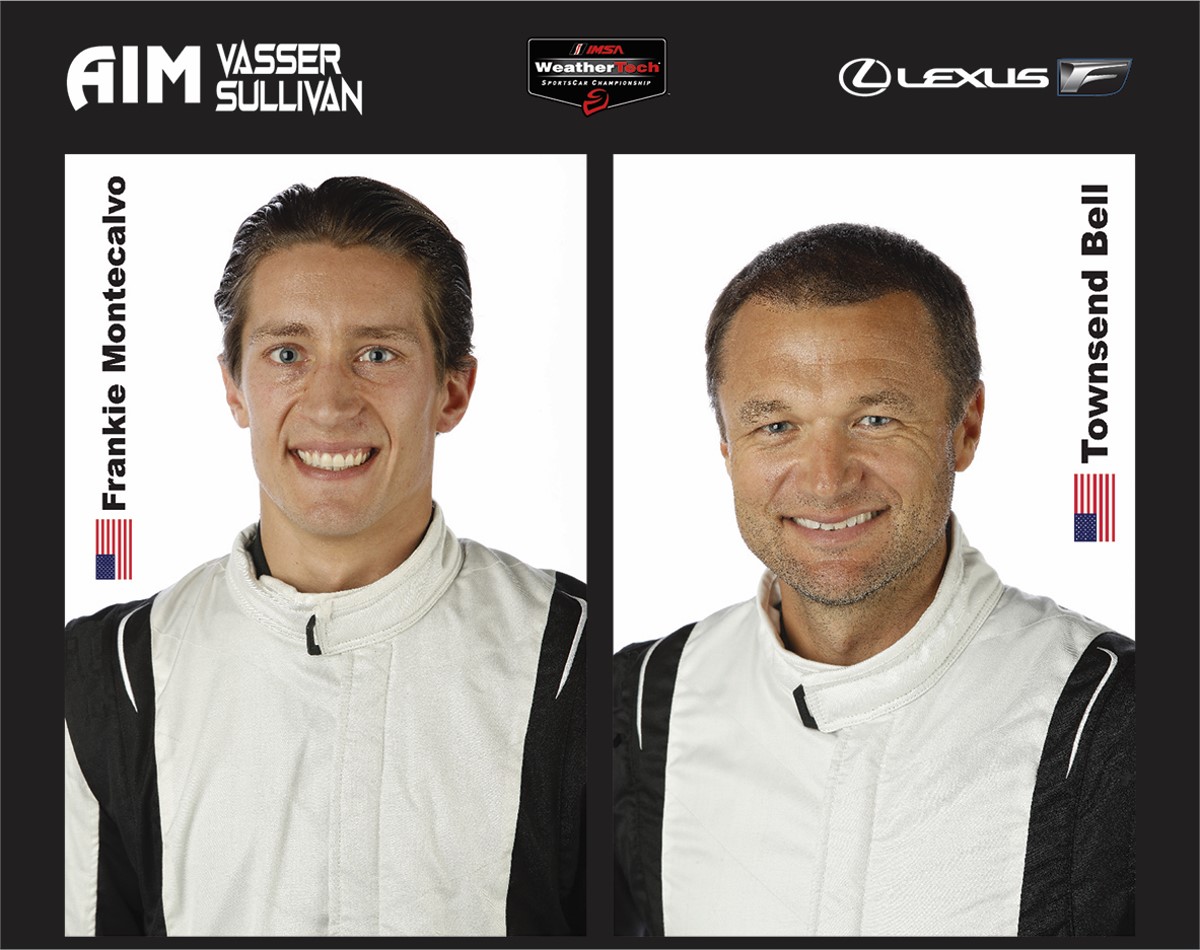 Monteclavo and Bell
In its continuing preparations towards the 2019 season, AIM VASSER SULLIVAN (AVS) are excited to announce that Townsend Bell (2015 IMSA GTD Champion) and Frankie Montecalvo have signed with AVS and will compete in all rounds of the upcoming IMSA WeatherTech SportsCar Championship (IWSC). The pair will team up in one of the two Lexus RC F GT3 race cars that AVS will campaign in 2019.
"We are pleased to announce that Townsend Bell and Frankie Montecalvo will be driving for AIM VASSER SULLIVAN in the IMSA WeatherTech SportsCar Championship series in 2019," said team co-owner Jimmy Vasser. "This is a great paring of drivers. They know each other and they know what it takes to be successful."
In 2018, Bell and Montecalvo teamed up in the four endurance events in the GTD class of the IWSC racing for Scuderia Corsa. Between 2012 and 2017, both Bell and Montecalvo have experienced on-track success in GT3-spec race cars while driving for AIM Autosport, but never as team mates.
"I'm thrilled to have a chance to go after another IMSA GTD Championship with Frankie," said Bell. "We've had some partial seasons the last few years and the stars aligned to make this happen.
"My best Indy 500 finish came while driving for Jimmy Vasser and I've always admired the way he runs the team and guides the ship. The fact that AIM and Ian Willis are also involved makes this feel like one big family get together. Ian led us to a Daytona 24 win in 2014 and the NAEC Championship. I'm looking forward to turning some laps soon in the Lexus RCF GT3. It's a race winning, pole sitting car and it's nice to have that confidence heading into a new season."
"I could not be happier joining AIM VASSER SULLIVAN for the 2019 IMSA WeatherTech SportsCar Championship season," said Montecalvo. "In 2017, I raced with AIM and had some success in the Pirelli World Challenge Sprint X. With the addition of Jimmy Vasser, Sulli and Lexus, we should have a very competitive team this year. Co-driving with Townsend, I feel AVS has a real shot at competing for a championship. I'm looking forward to heading to Daytona to start off the 2019 season!"
The announcement of Bell and Montecalvo comes a few weeks after AVS announced that Jack Hawksworth had signed with the team, also as a full season driver for 2019. Hawksworth's teammate will be announced soon as the team continues preparations for ROAR Before the Rolex 24 at Daytona International Speedway, January 4 – 6, 2019.