Niko Kari tops Day 1 in Abu Dhabi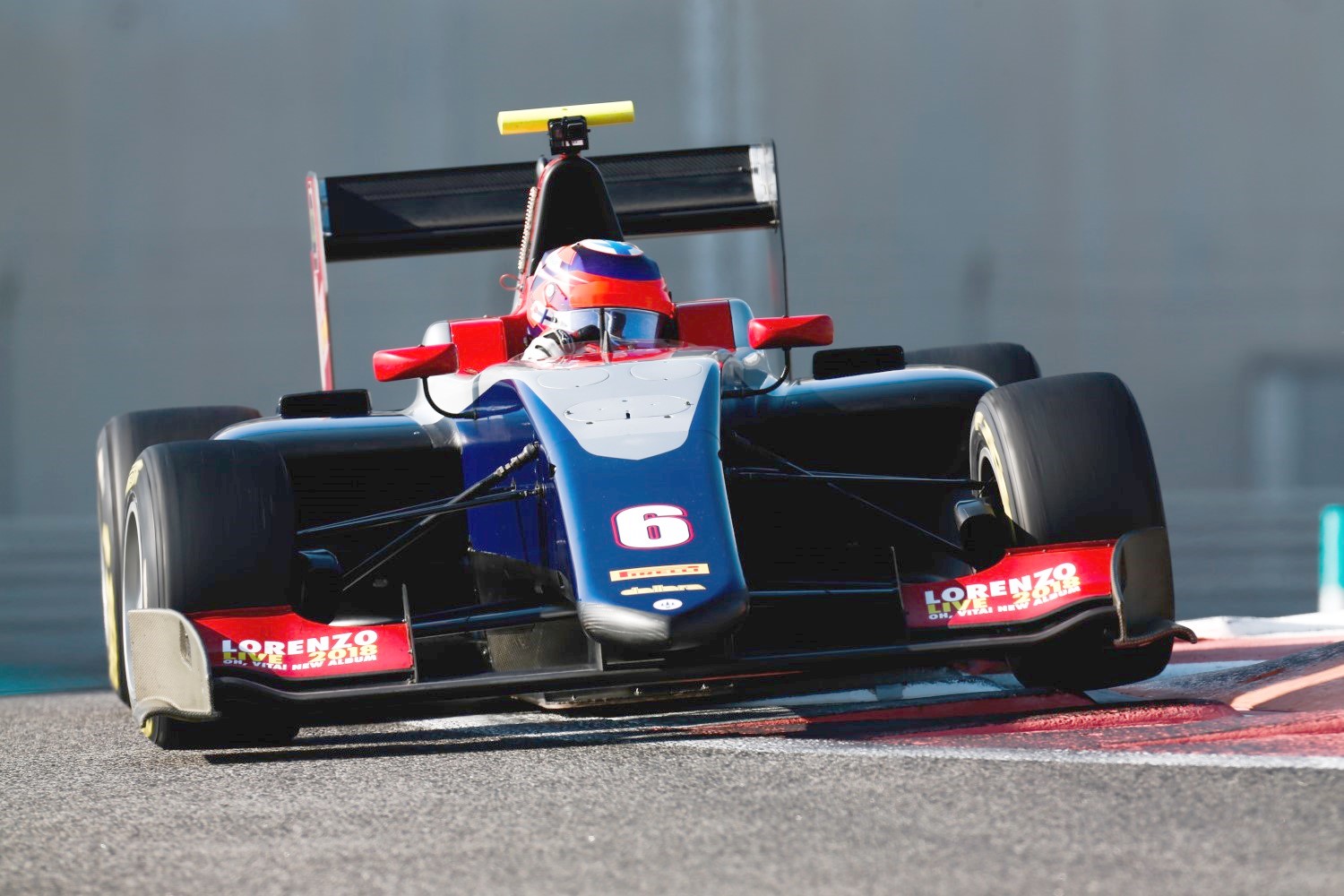 Niko Kari
GP3 returnee Niko Kari signed the quickest laptime of today's trouble-free test session at Yas Marina in a 1:53.890 at the wheel of a Trident car. Jehan Daruvala and Sebastian Fernandez completed top 3.
The 2018 GP3 post-season testing kicked off this morning at the Yas Marina Circuit where all six teams will run their GP3/16 cars for the last time this week over the next three days. When the pitlane opened under the expected blue skies, it was Kari who led the rest of the pack onto the track.
Daruvala set the early pace in a 1:55.327 ahead of Kari, but the Finnish driver went quicker by one tenth to top the timesheet in the opening hour. Devlin DeFrancesco, also at Trident, went P1 in a 1:55.087 and with one hour left in the session, the Canadian was still sitting pretty at the top ahead of Kari, Daruvala, Oscar Piastri, David Beckmann, Logan Sargeant, Jannes Fittje and Ben Hingeley.
In the closing stages, Daruvala dipped under 1m55s to lap the circuit in a 1:54.737. His time remained unbeaten until the checkered flag. DeFrancesco finished P2 ahead of Kari, Yuki Tsunoda, Christian Lundgaard, Beckmann, Felipe Drugovich, Maximilian Fewtrell, Fittje and Sargeant.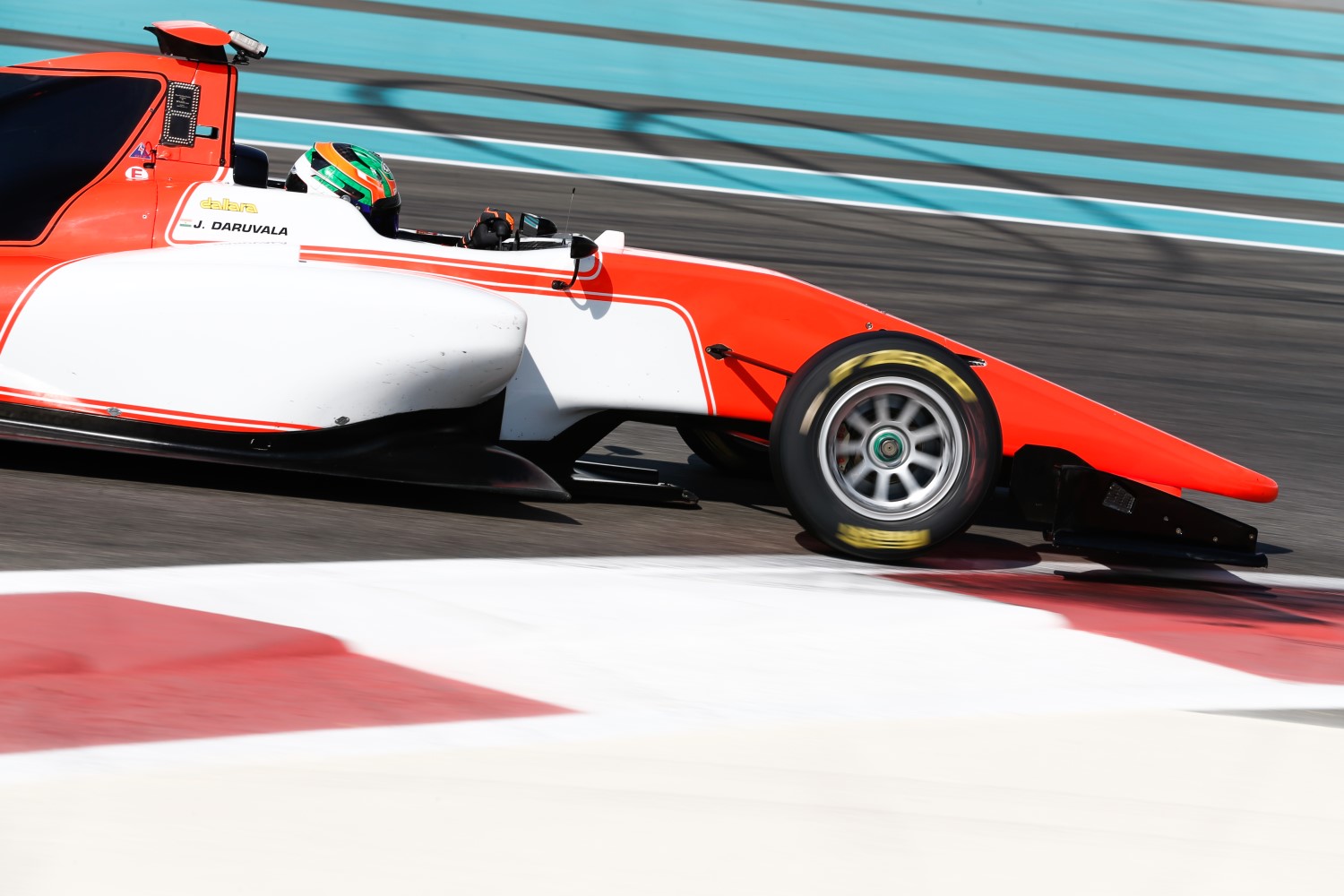 Jehan Daruvala
After a break, the action resumed with Kari leading the way in a 1:55.929 ahead of Daruvala. In the first hour, the Indian was demoted from P2 first by Fittje and then by Piastri. Yuki Tsunoda went momentarily top but Kari improved even further to retake the position.
The rest of the session was pretty studious, but in the final hour Kari found even more pace to clock in a laptime of 1:53.890 whilst Daruvala also improved, but not enough to deny the Finnish driver. In the dying minutes, Fernandez moved up to P3 so at the checkered flag, the top 3 was set ahead of DeFrancesco, Beckmann, Tsunoda, Linus Lundqvist, Fittje, Sargeant and Piastri.
Day 2 will open tomorrow at 9am, local time.
2018 Post-season testing – Day 1: morning session classification
| | | | | |
| --- | --- | --- | --- | --- |
| POS | DRIVER | TEAM | TIME | LAP |
| 1 | Jehan Daruvala | MP Motorsport | 1:54.737 | 20 |
| 2 | Devlin DeFrancesco | Trident | 1:55.087 | 25 |
| 3 | Niko Kari | Trident | 1:55.174 | 18 |
| 4 | Yuki Tsunoda | Jenzer Motorsport | 1:55.357 | 34 |
| 5 | Christian Lundgaard | ART Grand Prix | 1:55.479 | 26 |
| 6 | David Beckmann | ART Grand Prix | 1:55.501 | 25 |
| 7 | Felipe Drugovich | ART Grand Prix | 1:55.574 | 25 |
| 8 | Maximilian Fewtrell | ART Grand Prix | 1:55.630 | 26 |
| 9 | Jannes Fittje | Jenzer Motorsport | 1:55.679 | 31 |
| 10 | Logan Sargeant | MP Motorsport | 1:55.684 | 22 |
| 11 | Oscar Piastri | Trident | 1:55.702 | 27 |
| 12 | Ben Hingeley | Jenzer Motorsport | 1:55.702 | 34 |
| 13 | Sebastian Fernandez | Campos Racing | 1:55.730 | 27 |
| 14 | Alex Peroni | Campos Racing | 1:55.936 | 29 |
| 15 | Linus Lundqvist | Campos Racing | 1:56.194 | 29 |
| 16 | Lirim Zendeli | Charouz Racing System | 1:56.207 | 33 |
| 17 | Marcus Armstrong | Charouz Racing System | 1:56.269 | 27 |
| 18 | Bent Viscaal | MP Motorsport | 1:56.352 | 25 |
| 19 | Olli Caldwell | Trident | 1:56.409 | 32 |
| 20 | Fabio Scherer | Charouz Racing System | 1:56.636 | 31 |
2018 Post-season testing – Day 1: afternoon session classification
| | | | | |
| --- | --- | --- | --- | --- |
| POS | DRIVER | TEAM | TIME | LAP |
| 1 | Niko Kari | Trident | 1:53.890 | 18 |
| 2 | Jehan Daruvala | MP Motorsport | 1:54.461 | 34 |
| 3 | Sebastian Fernandez | Campos Racing | 1:54.708 | 28 |
| 4 | Devlin DeFrancesco | Trident | 1:54.897 | 21 |
| 5 | David Beckmann | ART Grand Prix | 1:54.957 | 30 |
| 6 | Yuki Tsunoda | Jenzer Motorsport | 1:55.043 | 29 |
| 7 | Linus Lundqvist | Campos Racing | 1:55.070 | 29 |
| 8 | Jannes Fittje | Jenzer Motorsport | 1:55.305 | 31 |
| 9 | Logan Sargeant | MP Motorsport | 1:55.342 | 34 |
| 10 | Oscar Piastri | Trident | 1:55.355 | 29 |
| 11 | Felipe Drugovich | ART Grand Prix | 1:55.379 | 28 |
| 12 | Olli Caldwell | Trident | 1:55.492 | 28 |
| 13 | Maximilian Fewtrell | ART Grand Prix | 1:55.573 | 30 |
| 14 | Bent Viscaal | MP Motorsport | 1:55.616 | 35 |
| 15 | Ben Hingeley | Jenzer Motorsport | 1:55.617 | 28 |
| 16 | Christan Lundgaard | ART Grand Prix | 1:55.702 | 30 |
| 17 | Fabio Scherer | Charouz Racing System | 1:55.929 | 30 |
| 18 | Alex Peroni | Campos Racing | 1:56.092 | 31 |
| 19 | Marcus Armstrong | Charouz Racing System | 1:56.123 | 34 |
| 20 | Lirim Zendeli | Charouz Racing System | 1:56.408 | 33 |