Jimmie Johnson, Fernando Alonso swap rides in Bahrain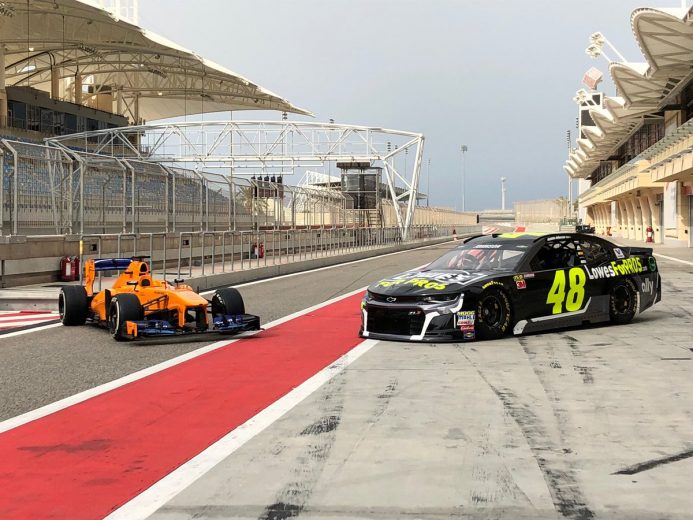 Alonso's McLaren F1 car and Johnson's Cup Car on pit lane
Jimmie Johnson and Fernando Alonso participated in a motorsports cultural exchange Monday, swapping rides at Bahrain International Circuit.
Johnson, a seven-time Monster Energy NASCAR Cup Series champion, got behind the wheel of Alonso's McLaren for his first drive of a Formula 1 car. Alonso, a two-time champ on the grand prix circuit, piloted Johnson's No. 48 Hendrick Motorsports Chevrolet on the 3.363-mile course.
Johnson turned 28 laps in Alonso's McLaren, reporting through social media his amazement with the responsiveness and G-forces produced by Formula 1 cars. Both drivers' names were represented on each car.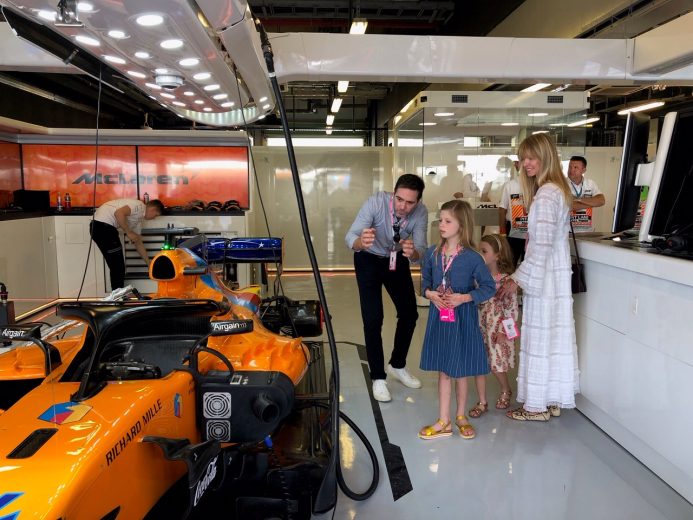 Johnson and his wife and kids
Johnson and his family attended the Abu Dhabi Grand Prix weekend as guests of Alonso and the McLaren team. He watched Alonso finish 11th in his final Formula 1 event as he retired from full-time driving after 17 years in the sport. Reigning F1 champ Lewis Hamilton won the race.
Johnson said earlier this month that the idea for an international ride swap emerged after the two champions met at NASCAR Media Day in the offseason. Alonso was in Charlotte, North Carolina, for media opportunities on his way to IMSA's Rolex 24 endurance race at Daytona. Their conversation set the wheels in motion for Monday's exchange.
Alan Gustafson — normally the crew chief for Chase Elliott, Johnson's teammate — oversaw preparation of the No. 48 Chevy for Monday's event. nascar.com