Latest F1 news in brief – Monday
The Halo prevented any injury to Hulkenberg

Whiting defends Halo after Hulkenberg roll

Alonso plays down chances of F1 return
Rosberg backs Vettel to be 2019 title charger
Wolff admits concern over Bottas mental state
Vandoorne lacked 'confidence' from McLaren
Many people leaving Williams – Kubica
DHL Awards for Valtteri Bottas and Red Bull Racing
Whiting defends Halo after Hulkenberg roll
(GMM) Charlie Whiting has defended F1's controversial Halo safety innovation, following a scary rollover crash in Abu Dhabi for Nico Hulkenberg.
"Get me out of here, there's fire!" the German driver said on the radio after his Renault rolled over in the 2018 season finale.
Hulkenberg admitted that the Halo prevented him from quickly escaping.
"I could not get out by myself," said the Renault driver. "On the right was the wall, on the left was the Halo.
"I don't know how different it would have been without the Halo. I can't answer that," Hulkenberg said.
FIA race director Whiting, however, defended the safety device.
"Halo was even helpful in the event of a rollover, because there is more distance from the driver to the track," he said.
As for whether Halo impeded his recovery, though, Whiting answered: "It is the routine procedure to put the car back on all four wheels, which of course must be done carefully.
"After that he was able to get out by himself. The whole situation was under control and the doctor was happy with the process," he added.
Hulkenberg concluded: "Either way, the Halo is there, so we have to put up with it."
Alonso plays down chances of F1 return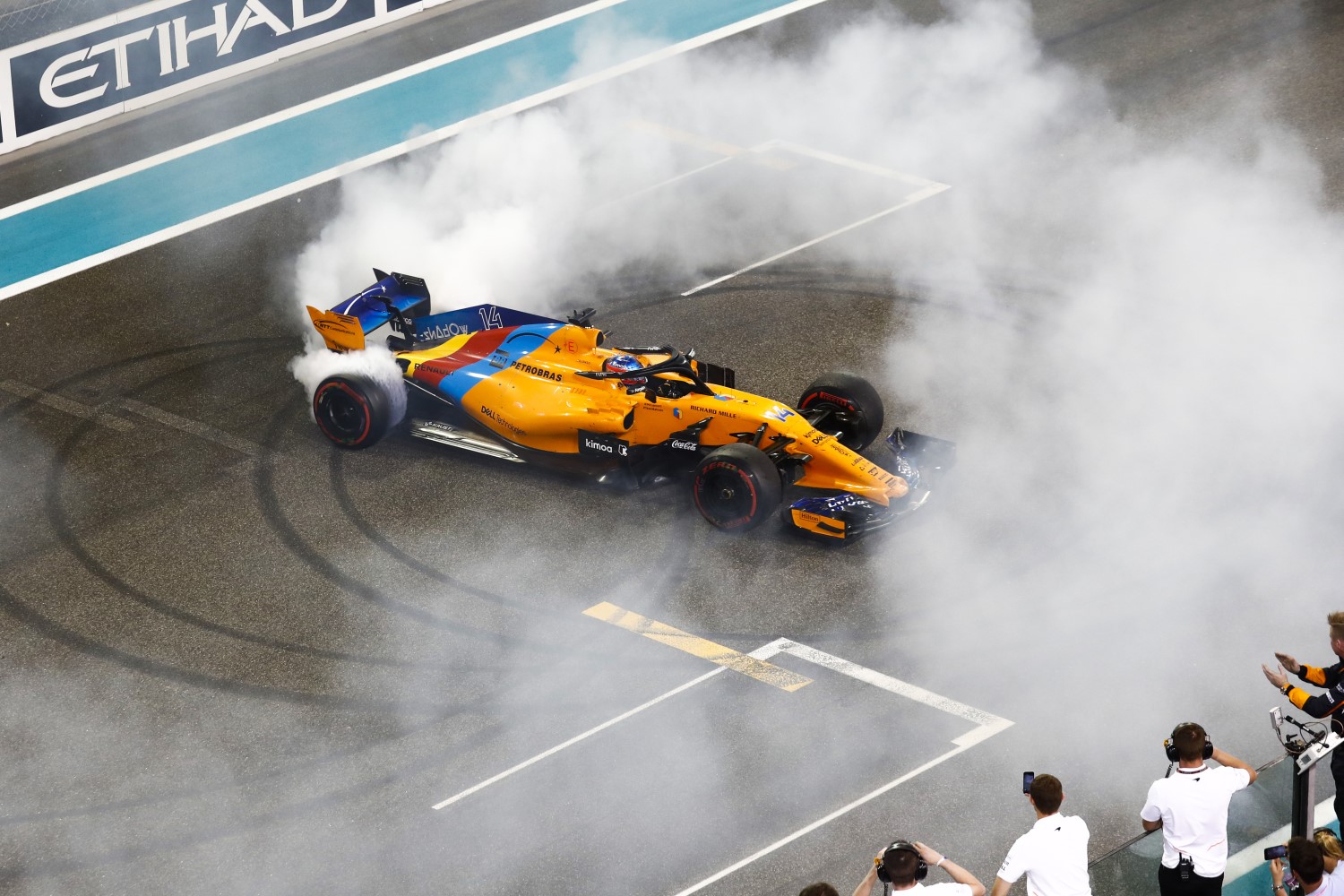 Alonso does donuts after final F1 race
(GMM) Fernando Alonso has played down expectations he might return to formula one in 2020.
The Spaniard was warmly farewelled by the sport in Abu Dhabi, but when pressed, Alonso stressed that it was "goodbye for now" rather than farewell.
However, the double world champion suggested fans should not necessarily expect his comeback in 2020.
"Going back to F1? Only I could motivate myself, I think I would not need any message or signal to be able to return," he told Movistar.
"The idea is that this is my last race and that this career in formula one is over. I would need to feel very empty next year on the couch and miss it so much that I would consider returning.
"It is not the idea for now but we'll see what happens," Alonso added.
Rosberg backs Vettel to be 2019 title charger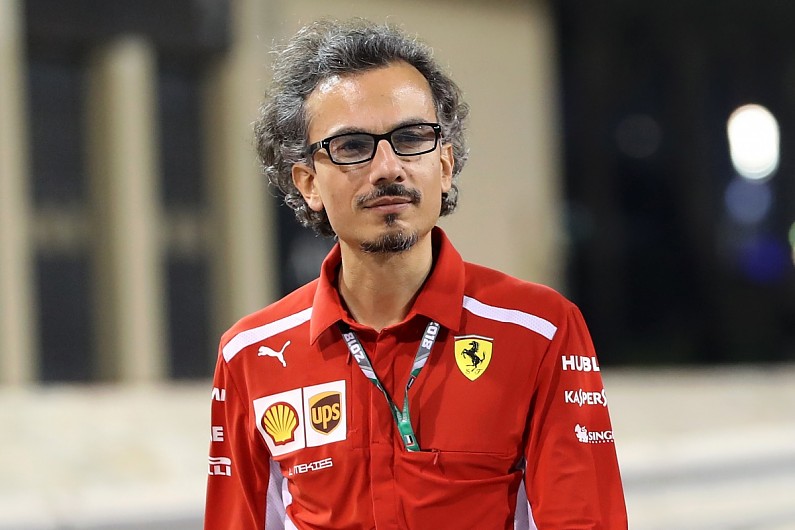 Can Ex-FIA man Mekies fix Ferrari strategy gaps?
(GMM) Sebastian Vettel has another chance to win the world championship for Ferrari in 2019.
That is the view of Nico Roberg, even though Vettel made high profile mistakes this year and suffered widespread criticism.
As the 2018 season concluded in Abu Dhabi, the German driver admitted that he has to improve for next year.
"Looking back, I haven't been at the top of my game here and there," said Vettel. "I look at myself first and I think I can be better than I was at times this year."
Rosberg, the 2016 world champion, backed Vettel and Ferrari to bounce back.
"Basically, Ferrari just needs to continue in 2019," he told Bild am Sonntag newspaper.
"They managed to build a brilliant car. On that basis, I trust them that they will come back very strongly from the winter break."
Rosberg said the only missing element at Ferrari this year was "details".
"They made so many strategy mistakes," he said. "Also in team cohesion.
"It was weird because Ferrari always led the way with team orders. But as a driver, if you feel that you do not have full support, it can affect you in your mind and your focus.
"If you do not agree with your team – and in Sebastian's case rightly so – it is difficult.
"We also can't forget that Sergio Marchionne was very strongly involved with the team. But you have to say that Mercedes managed to compensate without Niki Lauda.
"Nevertheless, I don't see 2019 as Sebastian's last chance. It's just another chance," Rosberg continued.
"He had a tough year and took a lot of criticism, but it was exactly the same situation for me in 2015. Lewis drove perfectly and I made mistakes.
"What's important is that you build up the confidence again, and Sebastian can do that. He's still one of the best drivers out there," said Rosberg.
One complication, though, is that Ferrari is replacing Vettel's preferred teammate, Kimi Raikkonen, with young charger Charles Leclerc.
"The dynamics will be exciting," Rosberg said.
"Charles is a phenomenally talented youngster, who arrives in a phase where Sebastian is building back up. That's a potential source of trouble."
Wolff admits concern over Bottas mental state
Bottas choking under the Mercedes pressure to be Hamilton's 'bitch'
(GMM) Toto Wolff has admitted he is concerned about Valtteri Bottas.
Wolff, the Mercedes team boss, says the Finnish driver was having a good season until he had to start taking a back seat to Lewis Hamilton's title charge.
"Valtteri was very good until then," Wolff said in Abu Dhabi.
"I believe that when you have no more chances in the championship, it hurts you mentally."
On top of that have been rumors that, for 2020, Mercedes has reserved Bottas' race seat for Esteban Ocon.
It could mean Bottas is set to struggle psychologically through 2019 as well.
"I hope that is not what is happening," Wolff said.
"He assures me otherwise, as he is a real Finnish warrior, but now we have to get him back on his feet and in good shape."
Bottas admitted that he is glad a difficult 2018 season for him is now over.
"The season did not go as I would have liked, so I'm pretty happy that it's over," he said in Abu Dhabi.
"Now I need some time to think about things. Mentally it's been a tough year."
Vandoorne lacked 'confidence' from McLaren
Vandoorne was just the latest F1 driver whose career was ruined by McLaren
(GMM) As his F1 career ends, Stoffel Vandoorne has hinted he was the victim of politics at McLaren this year.
The Belgian said he had "fun" during his last race for the struggling British team in Abu Dhabi, before switching to Formula E and a Mercedes role for 2019.
"It was a great fight with Esteban and Romain, as we know our car is not at the level of Force India and Haas," he is quoted by La Derniere Heure.
"Now I'm going to relax for a few days, empty my head and switch to electric mode," Vandoorne smiled.
Some in the paddock are confused as to why Vandoorne's F1 career did not flourish, given how dominant he was in the junior categories.
"You have not seen everything that went on behind the scenes — all the politics," he said.
"I cannot say everything, but perhaps you can imagine. Personally I have no regrets, I did my job as best as I could.
"What I missed the most in some moments was the feeling of the confidence of the team.
"It's not always easy to perform and give the best of yourself when you know that they are negotiating with other drivers at the same time, but I did not give up and I ended my season with some good races," Vandoorne added.
As for whether F1 will see Vandoorne again, the 26-year-old is set to work in Mercedes' simulator next year and he said: "I don't know.
"But life sometimes surprises you. Maybe one day we'll meet here again."
Many people leaving Williams – Kubica
Are the rats jumping ship at Williams because they have zero faith Paddy Lowe can right the ship?
(GMM) Robert Kubica says he is not sure who his race engineer will be in 2019.
After an eight year hiatus to recover from a devastating arm injury, the now 33-year-old Pole is returning to the grid with Williams next year.
But he told Eleven Sports in Abu Dhabi that he doesn't know what engineer he will work with in 2019.
"This was one of the main topics before signing the contract," Kubica said.
"But I have not received an answer yet. I tried to find out this weekend so that I can work with this person in the tests, because it's already time to start working well.
"But for now I don't know," he added.
Kubica hinted that one of the problems is that many people are fleeing Williams, the once-great team that has hit rock bottom in 2018.
"It's not an easy period because many people are leaving," he said.
"And it's difficult to find good employees when they see that the team does not have a fast car. Most people have a passion and want to work in the best teams."
But Kubica said he will not worry about the competitiveness of his car for 2019 until next year.
"I've been in the paddock too long to be concerned about a car that will only be on the track at the end of February. Because it will change nothing," he insisted.
"In 2008, in BMW, we were missing four seconds in the tests but in two months we turned the situation around. Williams is in a different situation to that," said Kubica.
"There will not be such miracles. I approach next season very realistically. If we are in eighth or ninth place in Australia, it will be very good. But it is not up to me to set such goals," he added.
Finally Force India confirm Lance Stroll
Lawrence Stroll bought an entire F1 team for his son
It was always just a matter of time before Lance Stroll would be announced as a driver for his daddy's team – he will be a Force India driver this week when he does duty for the team his father Lawrence rescued with his Racing Point consortium.
A Tweet after the Abu Dhabi Grand Prix revealed:
Racing Point Force India F1
The following will be testing for Force India F1 in the Pirelli test next week.
Schedule:
Day 1 – AM: Sergio
Day 1 – PM: Lance
Day 2 – Lance
DHL Awards for Valtteri Bottas and Red Bull Racing
As Official Logistics Partner of Formula 1, at the Abu Dhabi Grand Prix, DHL once again presented the DHL Fastest Lap Award for the highest number of fastest laps and the DHL Fastest Pit Stop Award to the team that consistently achieved the fastest pit stops over the course of the season. Valtteri Bottas, who is currently driving for the Mercedes AMG Petronas Motorsport team, won the DHL Fastest Lap Award for this Formula 1 season. The Aston Martin Red Bull Racing team received the DHL Fastest Pit Stop Award which was only decided in the final Grand Prix of 2018 in Abu Dhabi. The DHL Fastest Lap Award and the DHL Fastest Pit Stop Award were presented at the final Grand Prix of the season in Abu Dhabi on November 25, 2018.
DHL Fastest Lap Award: Mercedes impresses again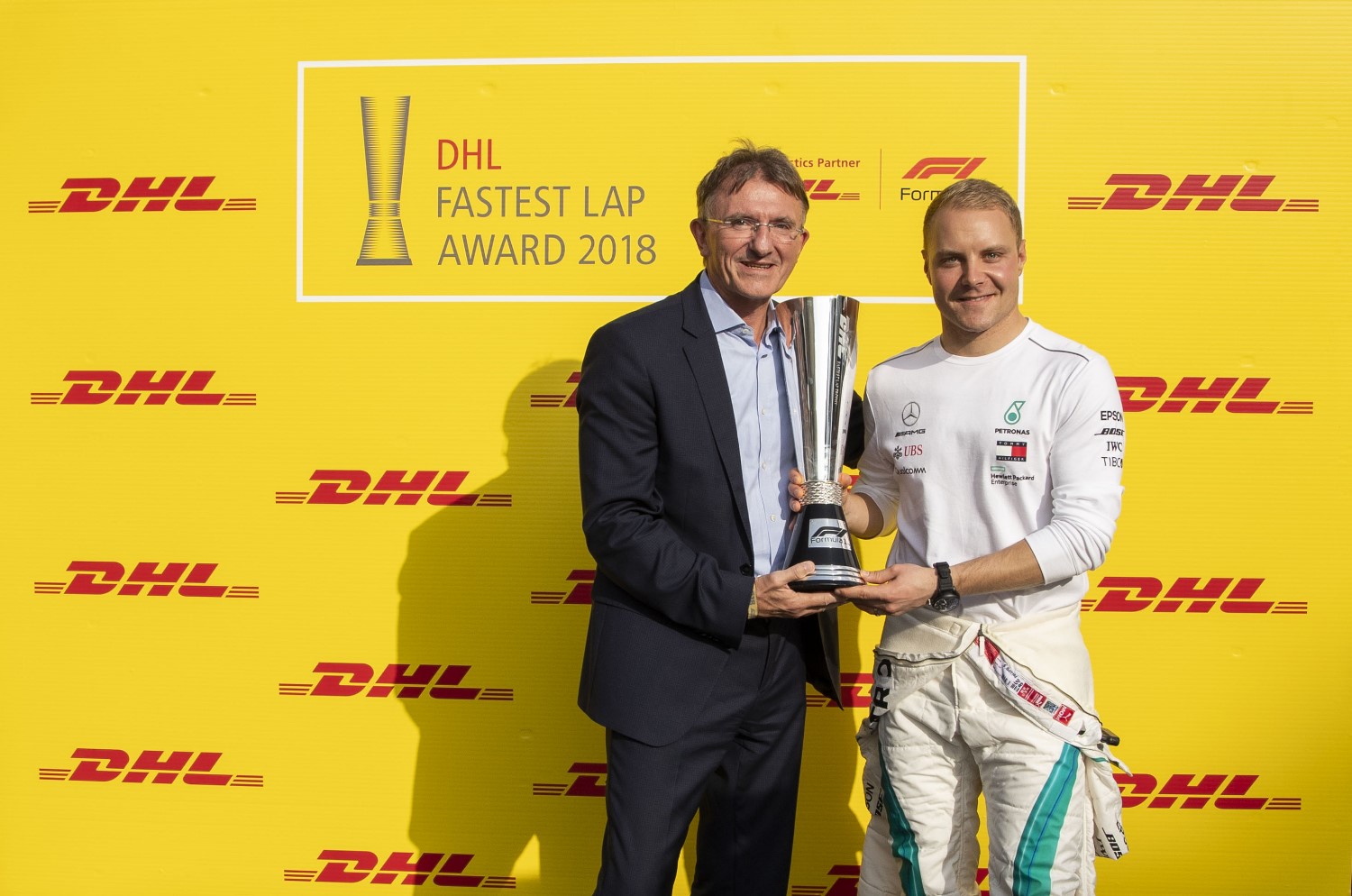 Bottas gets fastest lap award
This was the first time for Valtteri Bottas to win the much-coveted award. By contrast, it has become almost routine for Mercedes: It is the fifth time in a row that a Mercedes driver has won the DHL Fastest Lap Award. The Award had previously been won by Lewis Hamilton (in 2014, 2015 and 2017) and by Nico Rosberg (in 2016). This makes Mercedes the most decorated team in the Award's history. Previously, Mercedes had been neck and neck with the Red Bull Racing team, which has already won the Award four times. It was presented to Sebastian Vettel in 2009, 2012 and 2013 and to Mark Webber in 2011.
The DHL Fastest Lap Award was established in 2007 to recognize the driver who most consistently demonstrates highest levels of speed, setting the fastest lap at the highest number of races each season. The award rewards characteristics such as excellent performance, passion, can-do attitude, reliability and precision – all of which are needed for the winning driver to be successful across the season.
New tire compounds enabled new levels of speed with an impressive number of lap records set during the 2018 season, with best times being recorded in Spain, Monaco, France, Austria, Belgium, Singapore, Russia, the US, Mexico and Brazil. As well as this, a very special record was achieved this year. Kimi Räikkönen set the record for the fastest lap in Formula 1 history during qualifying for the Italian Grand Prix, achieving an average speed of 263.588 km/h.
Valtteri Bottas, who finished a respectable fifth in the Formula One World Championship, was delighted to receive his award. "I'm happy to receive this trophy. It was quite a tough season for me personally, I was expecting more, but receiving this award brings back positive memories from this year. It also shows that I had a very decent pace in most of the races. I'll find a special place for this trophy back at home," Bottas said.
DHL Fastest Pit Stop Award: Red Bull for the first time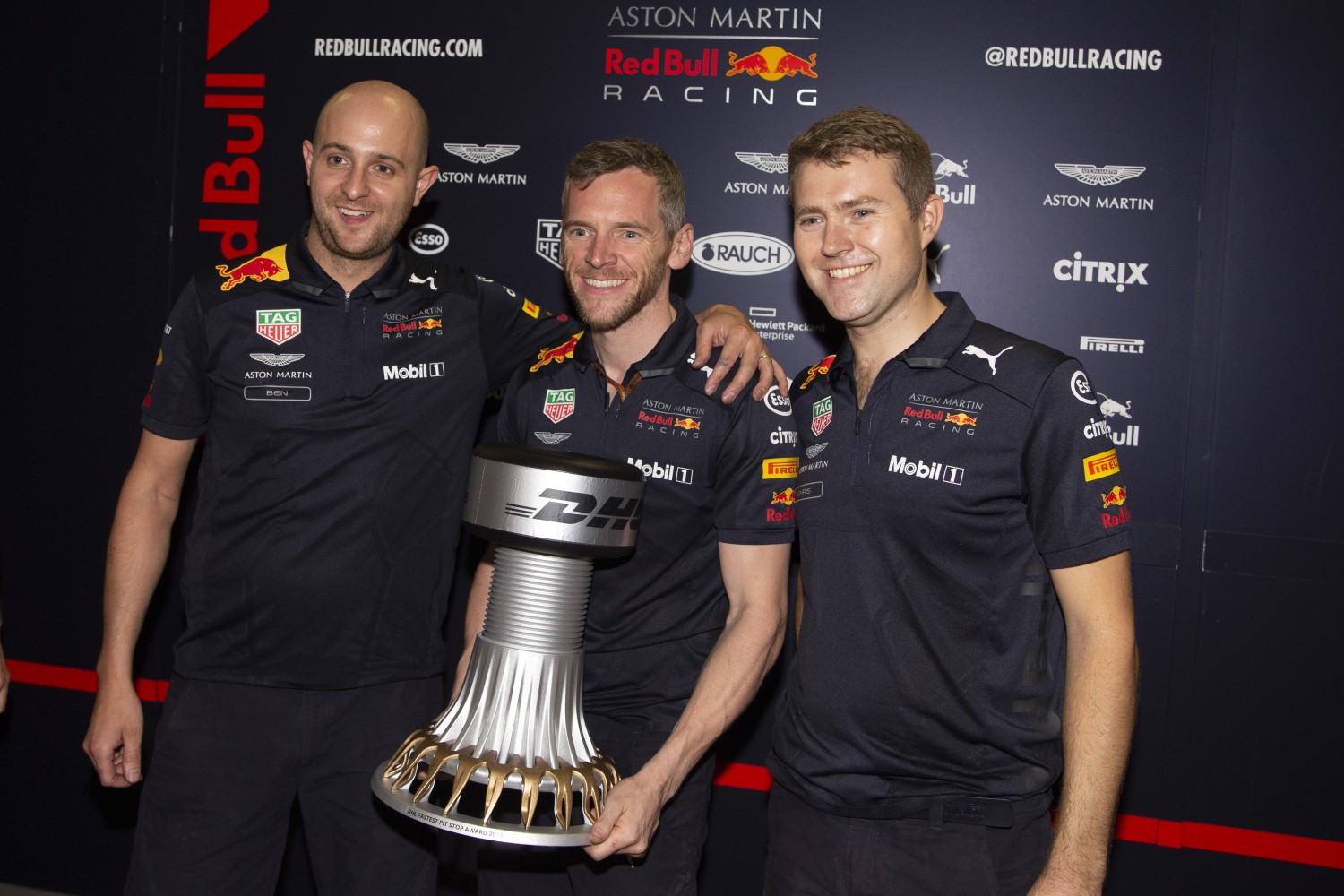 Red Bull get fastest pitstop award
This year's DHL Fastest Pit Stop Award provided a close competition; decided in the final race of 2018, it went to the Red Bull Racing team. As Official Logistics Partner, DHL has been presenting this award to the team that has consistently been the best pit stop performer since 2015, rewarding perfect planning and absolute precision at breathtaking speed which are required to deliver the pit stop right first time. Pit stops are possibly the most visual evidence of why Formula 1 is a team sport.
This is the first time Red Bull has won the award, with the Mercedes team having won it last year. Sebastian Vettel and his Ferrari team achieved the fastest pit stop of the season at the Brazilian Grand Prix at Sao Paulo with a time of 1.97 seconds. Nobody managed to beat the world record of 1.92 seconds set by Felipe Massa for Williams in 2016 this season. All in all, there were 538 pit stops during the 2018 Formula 1 season.
The DHL Fastest Pit Stop Award was presented in Abu Dhabi by Emanuele Niri, the winner of a design contest organized by DHL earlier this year. The winning trophy design was selected by a high-caliber jury consisting of Ross Brawn, Managing Director, Motorsports Operations F1, Arjan Sissing, Senior Vice President Group Brand Marketing at Deutsche Post DHL Group and Ellie Norman, Director of Marketing and Communications F1. The concept by Emanuele Niri won over the jury with its well-thought-out design, inspired by the components and tools that enable teams to push the boundaries of a pit stop. The synthetic-polyamide 3-D printed trophy symbolizes the teamwork, innovation and excellence of pit stops in F1, with elements of the trophy resembling the mechanics working side-by-side.