Alesi leads the way in Abu Dhabi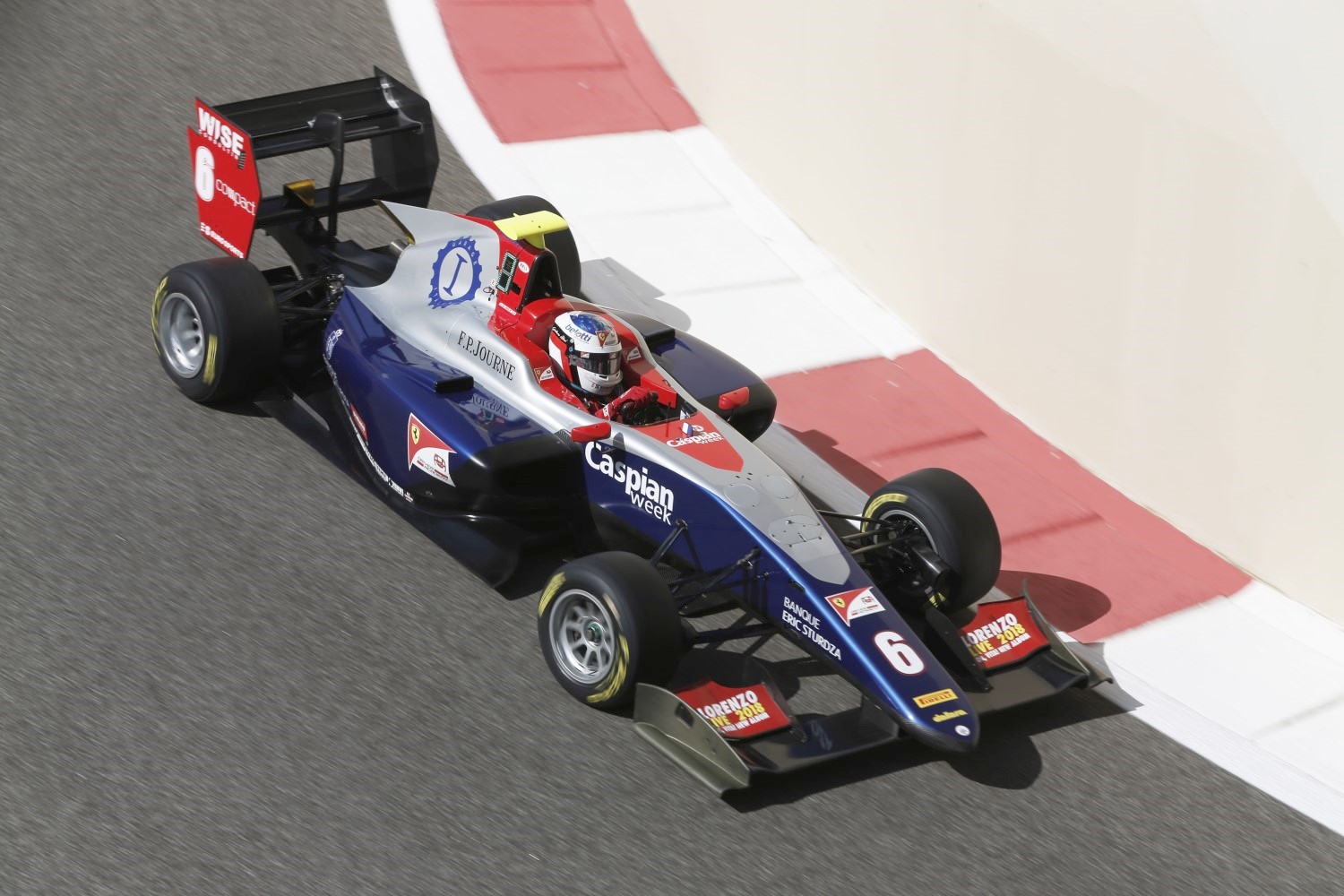 Giuliano Alesi
Giuliano Alesi has set the pace for the final round of the 2018 GP3 Series by grabbing the top spot in this morning's free practice session at the Yas Marina Circuit with a time of 1:55.676, going purple in all 3 sectors late in the session for a lap which was 0.892s faster than teammate David Beckmann and Gabriel Aubry, who both set the same best time earlier in the day.
The session opened to the expected blue skies and building heat so familiar to everyone at the circuit, with most of the runners heading out when the lights went green but ART and Trident holding fire for a while: Beckmann was the last driver on track at the 15 minute mark just as ART annexed the top 3, with series leader Anthoine Hubert leading the way ahead of Callum Ilott and Nikita Mazepin.
Hubert went quicker still next time round, laying down a marker for his title intentions, while Beckmann slotted in a tenth behind him to show that his late season form was continuing. With most of the field having a wealth of experience at the circuit there was little in the way of off-track activity, although Alesi briefly slowed half an hour in before getting underway once more.
Leonardo Pulcini was also determined to show that his recent good form reflected his true ability by setting the pace with 15 minutes remaining, setting a new target for his rivals. Hubert improved but not by enough, while Mazepin ran well wide before regaining the track at the Viceroy section. All eyes were on Aubry as he was setting purple sectors, but just ahead of him Beckman claimed the top spot with a concise and flowing lap, while the Frenchman ran wide at the final corner to match the German's time to the thousandth, with rookie Jehan Daruvala slotting just 0.02 behind the pair.
With 2 minutes remaining Alesi struck, setting the pace in every sector to bring home a lap that smashed his rivals dreams: Beckmann improved on the first sector but was well off in the second, and the session was done. Behind the top 4 Joey Mawson was the only other driver within a second of Alesi, finishing ahead of Sacha Fenestraz, Pulcini, Hubert, Richard Verschoor, Ryan Tveter, Jake Hughes and Mazepin as they returned to the paddock to plan their qualifying strategies.
Free Practice Times
| | | | | |
| --- | --- | --- | --- | --- |
| Pos | Driver | Team | Time | Laps |
| 1 | Giuliano Alesi | Trident | 1:55.676 | 18 |
| 2 | David Beckmann | Trident | 1:56.568 | 12 |
| 3 | Gabriel Aubry | Arden International | 1:56.568 | 18 |
| 4 | Jehan Daruvala | MP Motorsport | 1:56.589 | 20 |
| 5 | Joey Mawson | Arden International | 1:56.655 | 17 |
| 6 | Sacha Fenestraz | Arden International | 1:57.053 | 18 |
| 7 | Leonardo Pulcini | Campos Racing | 1:57.116 | 16 |
| 8 | Anthoine Hubert | ART Grand Prix | 1:57.170 | 16 |
| 9 | Devlin DeFrancesco | MP Motorsport | 1:57.170 | 18 |
| 10 | Richard Verschoor | MP Motorsport | 1:57.259 | 18 |
| 11 | Ryan Tveter | Trident | 1:57.277 | 15 |
| 12 | Jake Hughes | ART Grand Prix | 1:57.311 | 17 |
| 13 | Nikita Mazepin | ART Grand Prix | 1:57.393 | 16 |
| 14 | Juan-Manuel Correa | Jenzer Motorsport | 1:57.453 | 17 |
| 15 | Diego Menchaca | Campos Racing | 1:57.579 | 18 |
| 16 | Simo Laaksonen | Campos Racing | 1:57.588 | 17 |
| 17 | Pedro Piquet | Trident | 1:57.727 | 15 |
| 18 | Tatiana Calderon | Jenzer Motorsport | 1:57.826 | 18 |
| 19 | Callum Ilott | ART Grand Prix | 1:57.847 | 16 |
| 20 | Jannes Fittje | Jenzer Motorsport | 1:58.579 | 17 |