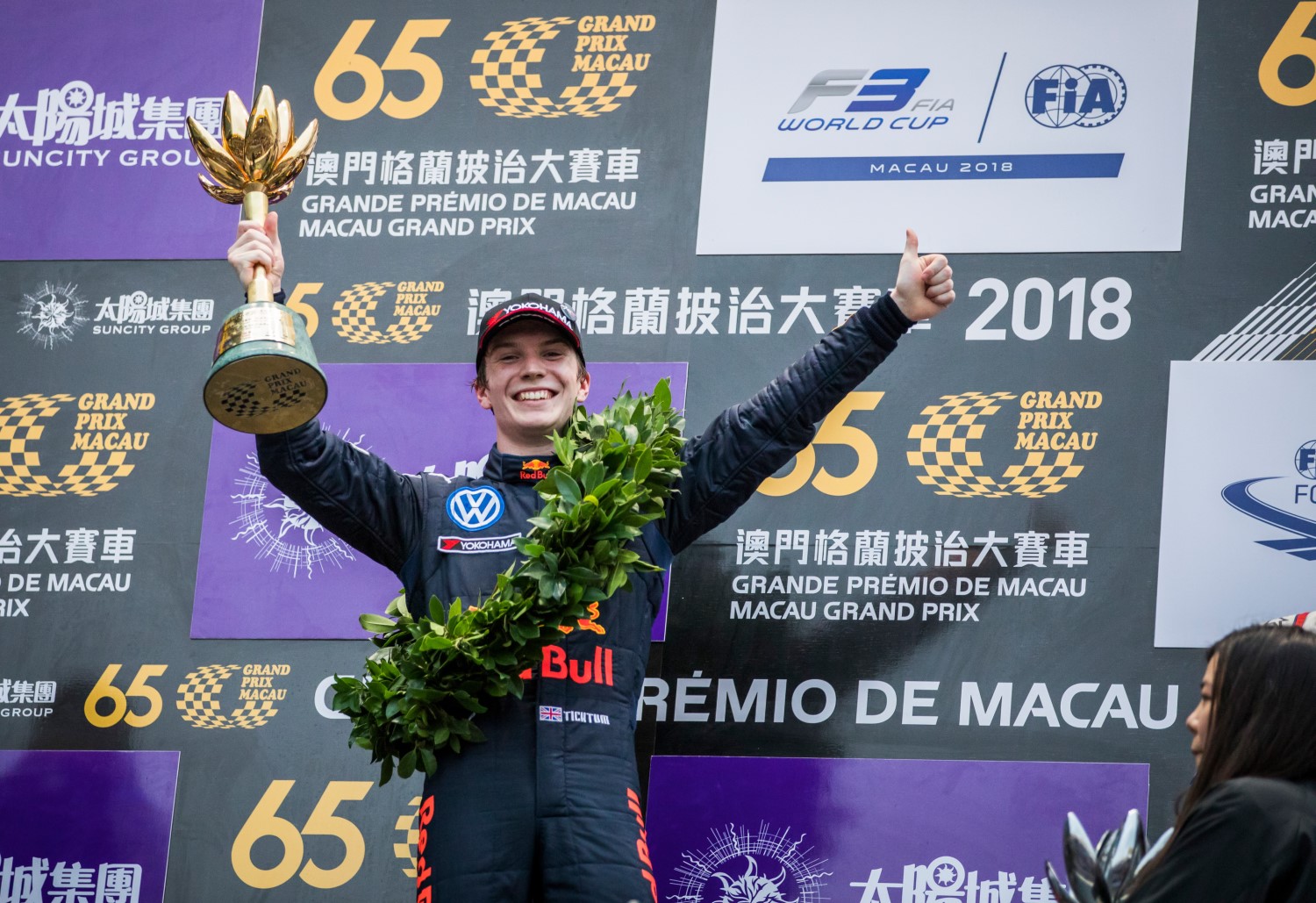 After losing the Euro F3 title to Schumacher, Ticktum won in Macau
No rest for the wicked, or the talented. Just days after completing his stunning back-to-back Macau F3 double, Red Bull Junior Dan Ticktum has been called up by Arden Motorsport for the final round of the F2 Championship in Abu Dhabi.
Last year the 19-year-old Briton made the dramatic switch from streets in the orient to the opulent Yas Marina circuit well enough, getting on the podium in the second GP3 race.
"Yes I've got great memories from racing here last year," enthused Ticktum. "Of course this time it is a bit different, I'm in the F2 car and I haven't even had a chance to try it in the sim never mind the car itself but I am thrilled to have the opportunity and I'm going to really enjoy it."
Different circuit, same plan
"I've got no expectations going into this weekend, I'm still floating on air after Macau and I am looking forward to driving a new car, especially as I at least know the track."
"Of course I'm going to do everything possible to make the most of the opportunity and repay the confidence shown by Christian Horner and everyone else that has made it possible to put this all together at the last minute."
"I said last weekend that I'd learnt to get 100% out of it every time I got in the car, this will be very different but the same thing still applies, 100% effort," concluded Ticktum.
Yas Marina weekend schedule – all times GST (Gulf Standard Time – CET +3)
Friday November 23rd
11:30 – Practice (45 minutes)
19:00 – Qualifying (30 minutes)
Saturday November 24th
18:40 – Race 1 (31 laps)
Sunday November 25th
13:35 – Race 2 (22 laps)