Vinales tops Marquez on first of two days of testing at Valencia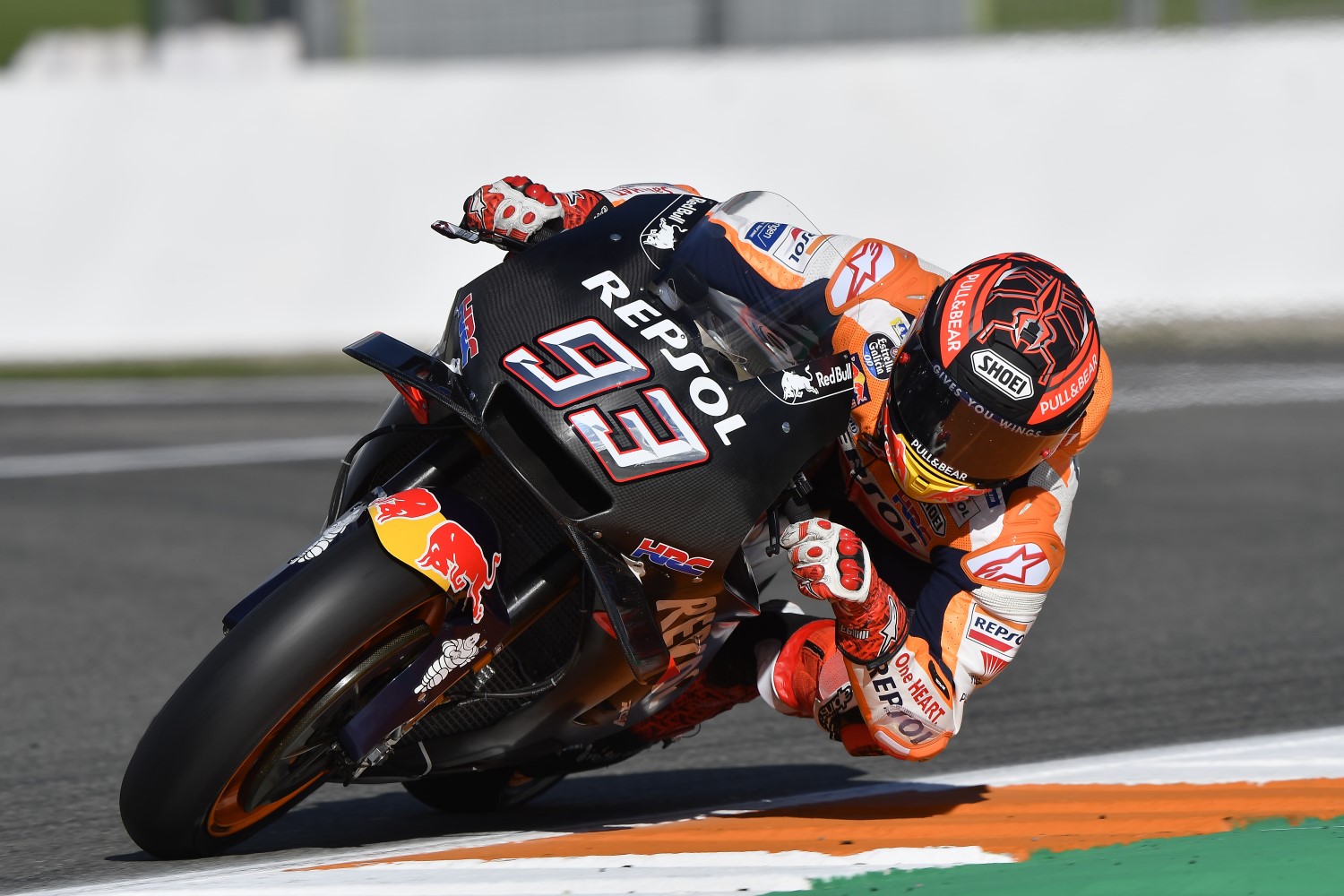 Marc Marquez
Fresh from completing the 2018 Triple Crown at the season finale in Valencia, the Repsol Honda Team was back on track at the Ricardo Tormo Circuit today with its new line-up, which sees Jorge Lorenzo joining the squad alongside World Champion Marc Marquez for 2019.
After five days of almost uninterrupted rain showers, the sun finally made its appearance at Valencia today, but it took the whole morning for the asphalt to dry enough to offer good conditions for proper testing.
Lorenzo took to the track around 1 pm, Marc Marquez a few minutes later, and they continued until the rain again put a stop to the action around 3:30.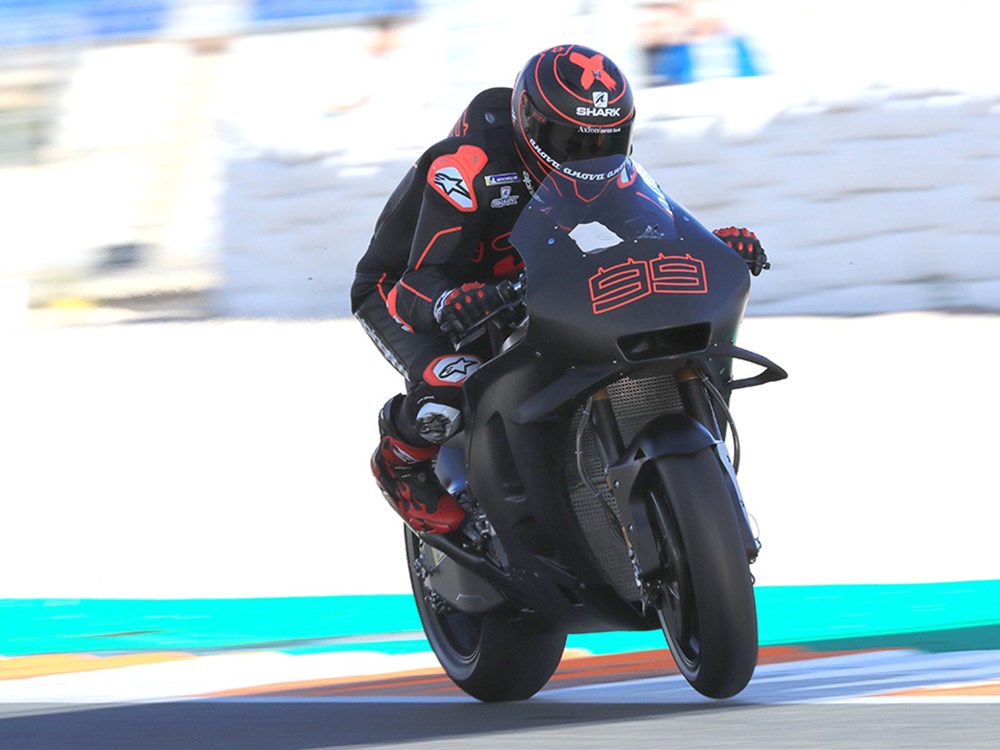 Lorenzo
Marquez was immediately on the pace, finishing the day second-fastest with a best time of 1'31.718" after completing 25 laps. Lorenzo completed 30 laps, with a best time of 1'32.959", 18th overall on the day.
"We tried to make a step forward with the engine, and I just felt really good going out," said Vinales.
"We still need to amend the engine in terms of acceleration, because the engine is different from what we had during the 2018 season. We need to keep going and I'm really happy.
"Tomorrow we might have another engine with another step. Maybe we will try that, but I'm quite happy with what we have now, so I want to make laps and set up the electronics really well, because it changes a lot over the whole track and we didn't have time to do it today.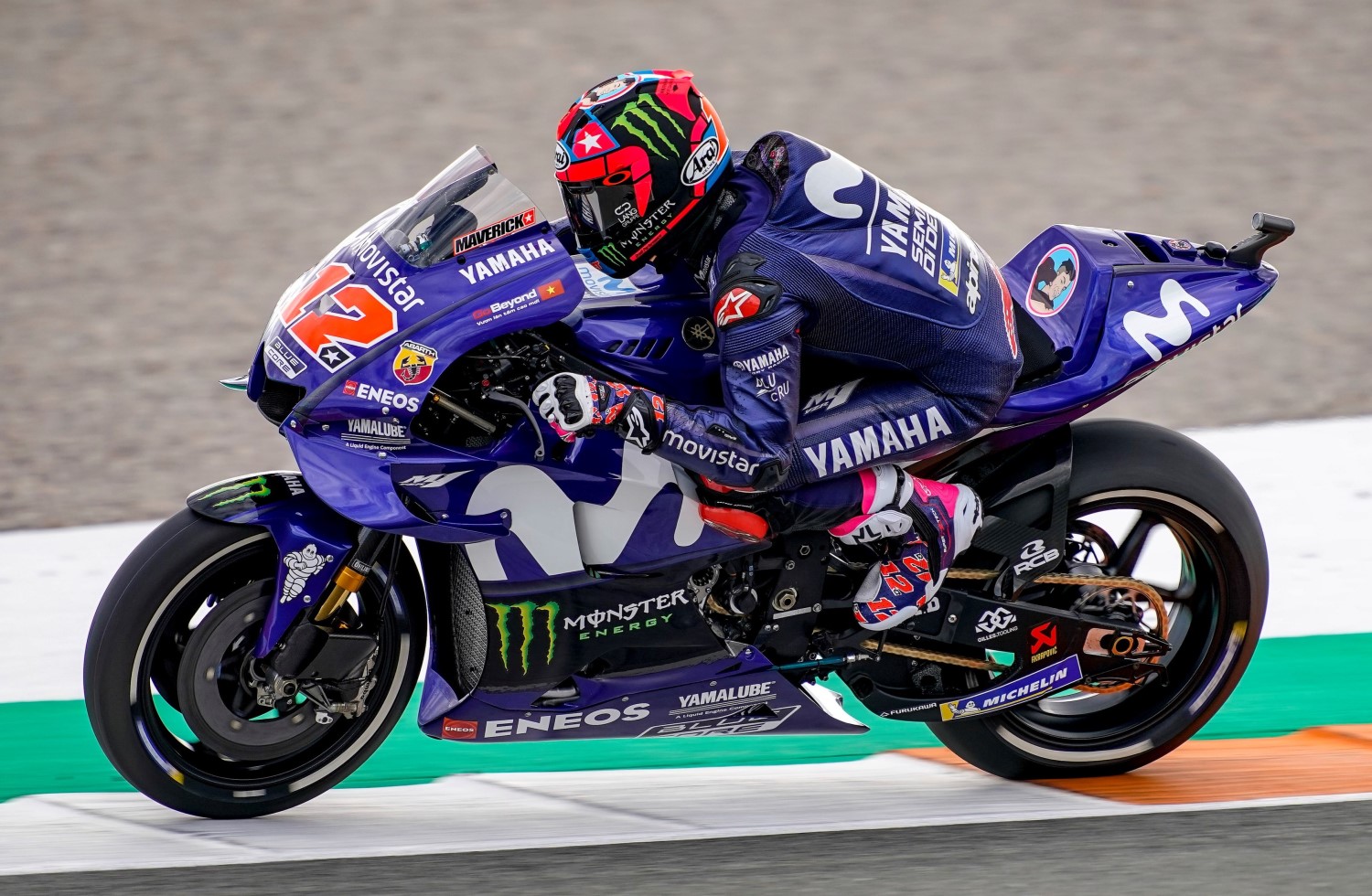 Vinales quickest. Teams tested a lot of new flairings
"I did my best lap with the new engine. I feel the direction we're going in is the right one, because I feel much better in the corners, which is where we needed to improve, so now we can focus on acceleration."
"Unfortunately, we weren't able to try everything we had planned to, as the track was still half-and-half in the morning and it started raining again later in the afternoon," said Marquez.
"So we only did 25 laps. Anyway, we tried three different bikes, starting with the current one but moving immediately to two other bikes, each with slightly different specifications. It was a positive test; there's still a lot of work to do but we're on the right path and the first feeling is good.
"Tomorrow we'll continue with the same plan, trying to understand the bike's balance because it changed a bit, and we still have to test the other small modifications. Pre-season just started, so we look forward to improving step by step."
Day 1 Classification
| | | | | | | |
| --- | --- | --- | --- | --- | --- | --- |
| Pos. | Rider | Num | Nation | Team | Time | Gap |
| 1 | Vinales Maverick | 12 | SPA | Yamaha Factory Racing | 1'31.416 | 0.000s |
| 2 | Marquez Marc | 93 | SPA | Repsol Honda Team | 1'31.718 | 0.302 |
| 3 | Rossi Valentino | 46 | ITA | Yamaha Factory Racing | 1'31.845 | 0.429 |
| 4 | Dovizioso Andrea | 4 | ITA | Ducati Team | 1'31.846 | 0.430 |
| 5 | Bradl Stefan | 6 | GER | LCR Honda | 1'32.015 | 0.599 |
| 6 | Morbidelli Franco | 21 | ITA | Petronas Yamaha SRT | 1'32.085 | 0.669 |
| 7 | Espargaro Aleix | 41 | SPA | Aprilia Racing Team Gresini | 1'32.095 | 0.679 |
| 8 | Petrucci Danilo | 9 | ITA | Ducati Team | 1'32.100 | 0.684 |
| 9 | Espargaro Pol | 44 | SPA | Red Bull KTM Factory Racing | 1'32.179 | 0.763 |
| 10 | Pirro Michele | 51 | ITA | Ducati Team | 1'32.220 | 0.804 |
| 11 | Bagnaia Francesco | 63 | ITA | Alma Pramac Racing | 1'32.396 | 0.980 |
| 12 | Rins Alex | 42 | SPA | Team Suzuki Ecstar | 1'32.402 | 0.986 |
| 13 | Nakagami Takaaki | 30 | JPN | LCR Honda | 1'32.539 | 1.123 |
| 14 | Miller Jack | 43 | AUS | Alma Pramac Racing | 1'32.555 | 1.139 |
| 15 | Mir Joan | 36 | SPA | Team Suzuki Ecstar | 1'32.787 | 1.371 |
| 16 | Rabat Tito | 53 | SPA | Reale Avintia Racing | 1'32.834 | 1.418 |
| 17 | Zarco Johann | 5 | FRA | Red Bull KTM Factory Racing | 1'32.835 | 1.419 |
| 18 | Lorenzo Jorge | 99 | SPA | Repsol Honda Team | 1'32.959 | 1.543 |
| 19 | Iannone Andrea | 29 | ITA | Aprilia Racing Team Gresini | 1'33.291 | 1.875 |
| 20 | Abraham Karel | 17 | CZE | Reale Avintia Racing | 1'33.301 | 1.885 |
| 21 | Smith Bradley | 38 | GBR | Aprilia Racing Test Team | 1'33.709 | 2.293 |
| 22 | Folger Jonas | 94 | GER | Yamaha Test Team | 1'33.810 | 2.394 |
| 23 | Quartararo Fabio | 20 | FRA | Petronas Yamaha SRT | 1'33.850 | 2.434 |
| 24 | Syahrin Hafizh | 55 | MAL | Red Bull KTM Tech 3 | 1'34.233 | 2.817 |
| 25 | Oliveira Miguel | 88 | POR | Red Bull KTM Tech 3 | 1'35.118 | 3.702 |