Joey Logano's Win Gives Ford First NASCAR Drivers' Title Since '04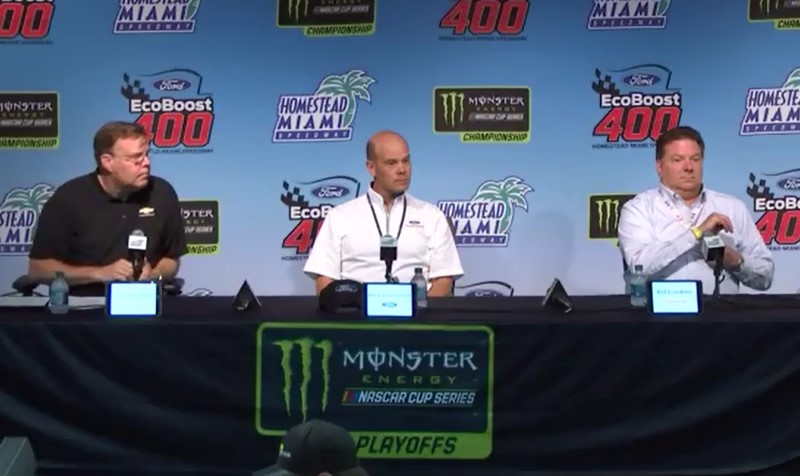 Jim Campbell (Chevrolet U.S. Vice President of performance vehicles and motorsports); Mark Rushbrook (Global Director, Ford Performance Motorsports) and Ed Laukes (Group Vice President, Marketing for Toyota Motor North America)
Joey Logano won the Monster Energy NASCAR Cup Series Championship at Homestead-Miami Speedway last night to give Ford its "eighth drivers' title, but first since Kurt Busch" in '04, ending NASCAR's "longest championship drought," according to Mark Long of the AP.
Ford also "won the manufacturers' title, the first time it has won the top two prizes in NASCAR in a season" since '99. Roger Penske, who owns Logano's No. 22 ride, and Ford BOD member Edsel Ford II "shared the championship moment in victory lane." Team Penske returned to the Ford brand in '13 and has been the "cornerstone" of the automaker's "bid to challenge Chevrolet and Toyota for tops in NASCAR."
Ford "led all three manufacturers with 19 wins" in '18. Ford Performance Global Dir Mark Rushbrook: "I just can't believe this right now. We have worked so hard for the last three years to build up the program." AP
CHEVY LOOKING FOR ANSWERS:
The four cars racing for the Cup championship was made up of two Fords (Logano and Kevin Harvick) and two Toyotas (Martin Truex Jr. and Kyle Busch), and in N.Y., Jerry Garrett of the NY Times notes that means Chevy for the "second straight year … was shut out" despite fielding the "most entries" on the Cup level.
Chevy VP/Performance Vehicles & Motorsports Jim Campbell called that development "disappointing."
However, he said that Chevy "introduced a new car, the Camaro, to the series, and the teams struggled as they tried to sort out the new automobile."
Garrett notes results "improved as the season went on, and the fan favorite Chase Elliott … won three of the last 15 races" before he was eliminated from the championship in the next-to-last race. N.Y. TIMES