Video: Horror crash at Macau GP (2nd Update)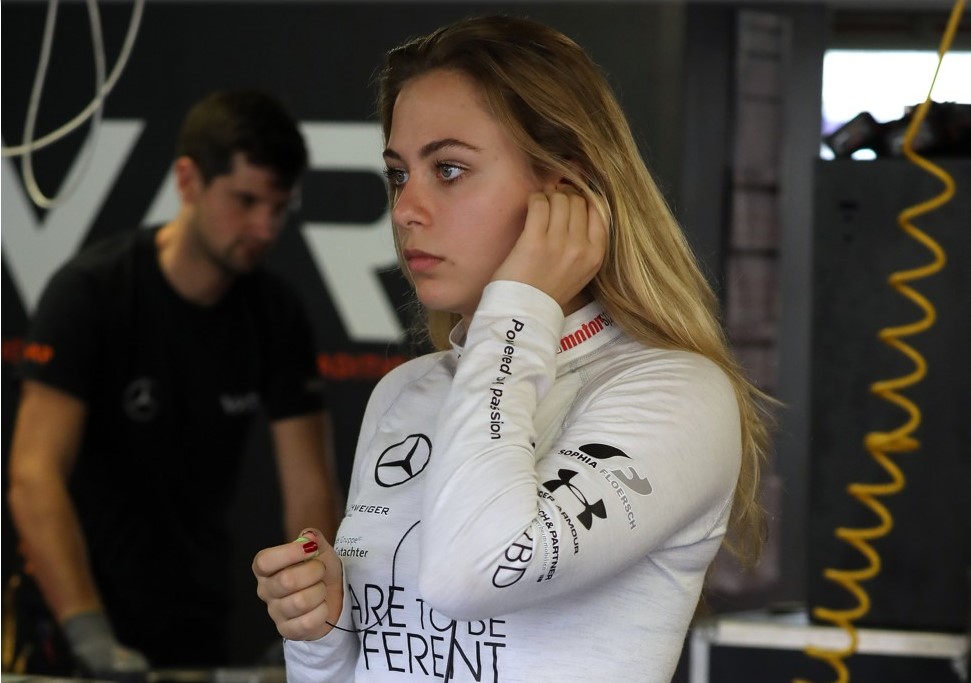 Sophia Floersch – operation successful
UPDATE Sophia Florsch has undergone a successful seven-hour operation on the spinal fracture she suffered in her horrific Macau Grand Prix crash.
A seven hour operation on her back was conducted on Monday, with doctors saying in a press conference afterwards that her vital signs are stable and limbs are active.
She will remain in hospital for up to two weeks. A mid-day release said:
"The medical team is deliberately working slowly to avoid risks," it said.
"The previous surgical course is good and without complications.
"The surgery that began this morning continues."
11/18/18 Some great news – Florsch wrote on Twitter: "Just wanted to let everybody know that I am fine but will be going into Surgery tomorrow morning.
Thanks to the @fia and @hwaag_official @MercedesAMGF1 who are taking great care of me.
Thanks to everybody for the Supporting messages.
Update soon."
11/18/18
German driver Sophia Floersch is conscious but has been transferred to hospital with a fractured spine after a horror crash at the Macau Grand Prix.
The 17-year-old's Dallara-Mercedes flew off the track into the air, over the crash barriers and through the safety fencing at the Guia Circuit's Lisboa bend on the fourth lap of Sunday's Formula Three World Cup.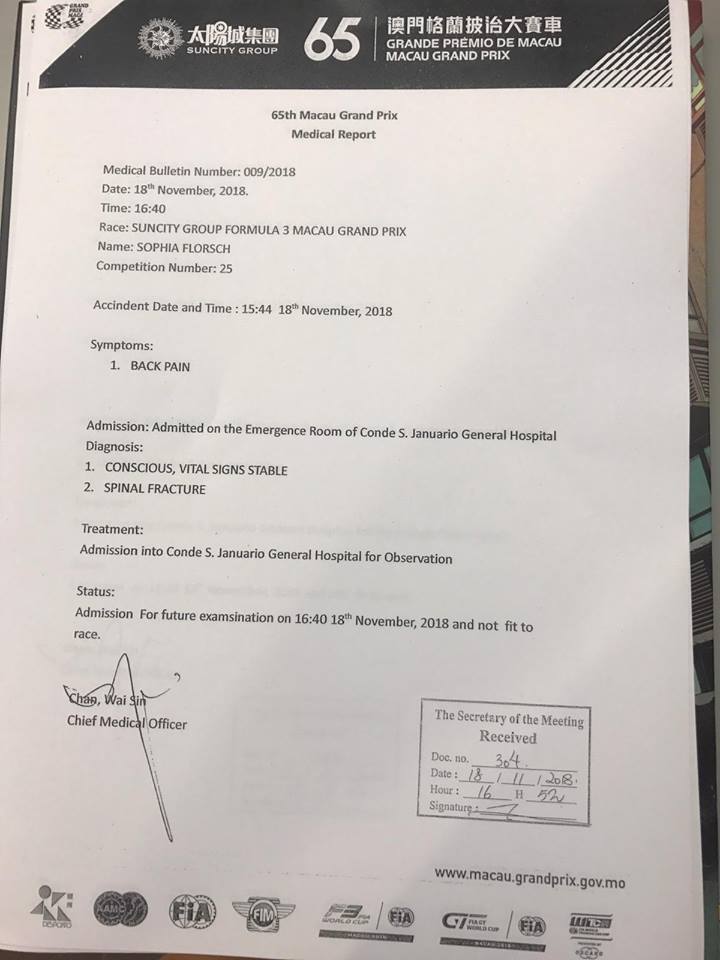 Medical Report
The Van Amersfoort Racing driver had lost control of her wheels further down the straight in a different crash before striking the TOM's car of Sho Tsuboi.
Floersch's car crashed into a photographer's stand near a marshal's post before landing back on its wheels.
Japanese driver Tsuboi was also taken to the emergency room at Conde S. Januario General Hospital along with two photographers and one marshal.
"Five individuals were involved in the accident at Lisboa Bend," a statement from the Macau Grand Prix Organizing Committee said.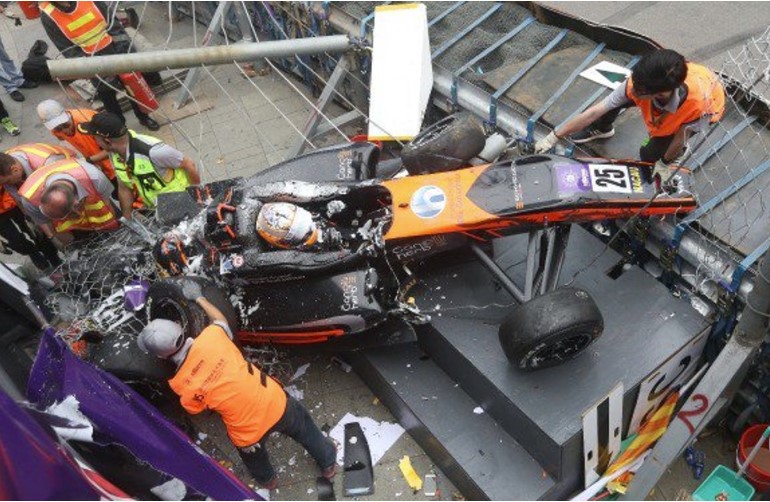 Sophia Floersch still in her car
"All were conscious during transit to the hospital and are now receiving medical treatment. Further updates will be provided as soon as possible."
The Organizing committee's chief medical officer Chan Wai-sin later said Floersch had symptoms of back pain. A medical report diagnosed her with a "spinal fracture" but said her vital signs were stable. Tsuboi was diagnosed with lumbar pain.
The medical reports said one of the other victims had upper abdomen pain caused by a liver laceration, while another had a laceration of the face, an abrasion of the upper abdomen wall and right maxillary bone fracture, and the other had a concussion.
The incident was the second red flag of a dramatic race.
Ambulance sirens had been heard after the crash, as Floersch's wrecked car laying stationary near the marshal post.
"I hope everybody's OK after this crash, I wish them the best recovery," European champion Mick Schumacher said in the pit lane, as the drivers waited for the race to restart. "I haven't seen the incident yet."