Latest F1 news in brief – Monday
Ricciardo is expected to eat Hulkenberg's lunch

Hulkenberg aims to beat Ricciardo

Alonso not ruling out F1 return for 2020
Ticktum, Albon in doubt for Toro Rosso seat
Prost 'not unhappy' Red Bull deal ending
Prost tips Formula 2 move for Schumacher
Ecclestone ditches his glasses and has laser eye surgery
Prost: Rich kids always at an advantage in F1
F1 to switch to thinner tires in 2019
Calderon concludes her second day of Fiorano testing
Magnussen takes dig at McLaren for Vandoorne snub
Hulkenberg aims to beat Ricciardo
(GMM) The arrival of Daniel Ricciardo is an important piece of the puzzle as Renault pushes towards the front in F1, according to David Coulthard.
Since announcing his shock departure from Red Bull for 2019, Australian Ricciardo has struggled this year.
But Renault is still looking forward to having the grand prix winner on board.
"New driver, new motivation, new ways of thinking, new experiences," top official Alan Permane told Auto Motor und Sport.
"It doesn't mean we didn't like Carlos (Sainz). But a fresh wind is always good."
It is also good in the eyes of Ricciardo's 2019 teammate, Nico Hulkenberg.
"Daniel has won several grands prix. He is fast and motivated," said the German. "I have to do my homework, be fast and consistent.
"In that case I have always beaten my teammates," Hulkenberg insisted.
However, besides signing Ricciardo, Renault has a big role to play. Hulkenberg says Mercedes and Ferrari currently "have a lot more power in qualifying".
But he estimates the car as "60 per cent" of Renault's problem relative to the faster teams.
The team is busily ramping up its efforts at the Enstone base, targeting almost 800 employees by the end of 2019.
But Hulkenberg says the top teams have sped ahead of Renault this year.
"They have understood something that we are yet to understand. And we have to discover this mystery," he said.
Former F1 driver David Coulthard, though, tipped the French outfit to keep improving.
"It is a real factory team that is investing heavily," he told the Dutch publication Formule 1.
"Signing Daniel is a real letter of intent about what they want.
"Lewis Hamilton is the superstar, Max has his aggressive style and Vettel the German winning mentality. But Daniel absolutely belongs on that list," said Coulthard.
Alonso not ruling out F1 return for 2020 or fulltime IndyCar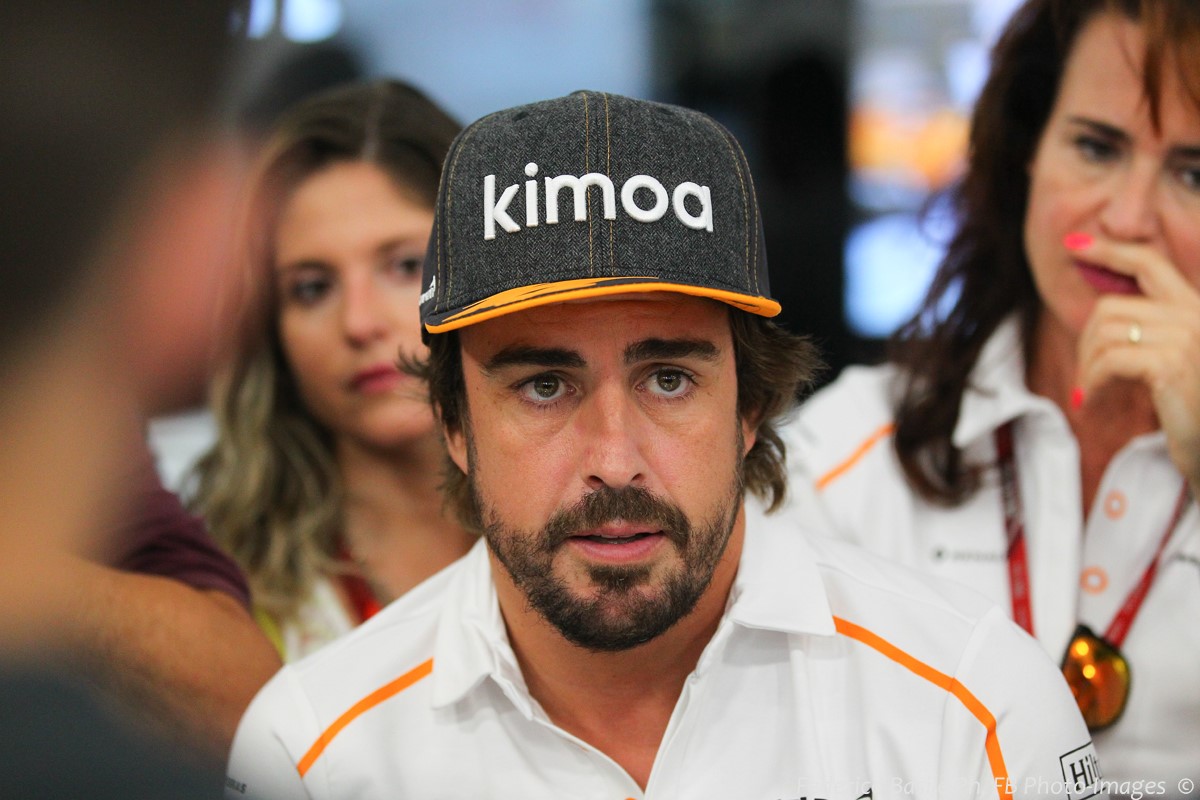 Fernando Alonso eyes F1 or IndyCar in 2020
(GMM) Fernando Alonso is not ruling out a full-time return to formula one for 2019.
Disenchanted with the category, the double world champion is retiring after this weekend's Abu Dhabi GP and will tackle Le Mans and the Indy 500 next year.
But he told international media at the sports car race in Shanghai last weekend that he might be back.
That is despite the fact that he is not interested in racing full-time in Indycar in 2019.
"17 races in America, with everything I would have to learn, maybe 2019 is not the right time," he said.
"I need to recharge my batteries, but by 2020 the Indycar season could be a possibility, just like a full season in F1 or another championship," Alonso added.
Alonso hinted that he could be busier than contesting just the Indy 500 and Le Mans next year.
"It is possible. Yes, there will be a couple of challenges apart from the Indianapolis 500. We will announce it next year, or maybe it will be a Christmas present," he smiled.
One of them could be Daytona.
"I will study the calendar and see what is possible, but after leaving F1 I will have more time but I also want to think about having more free time," he said.
Ticktum, Albon in doubt for Toro Rosso seat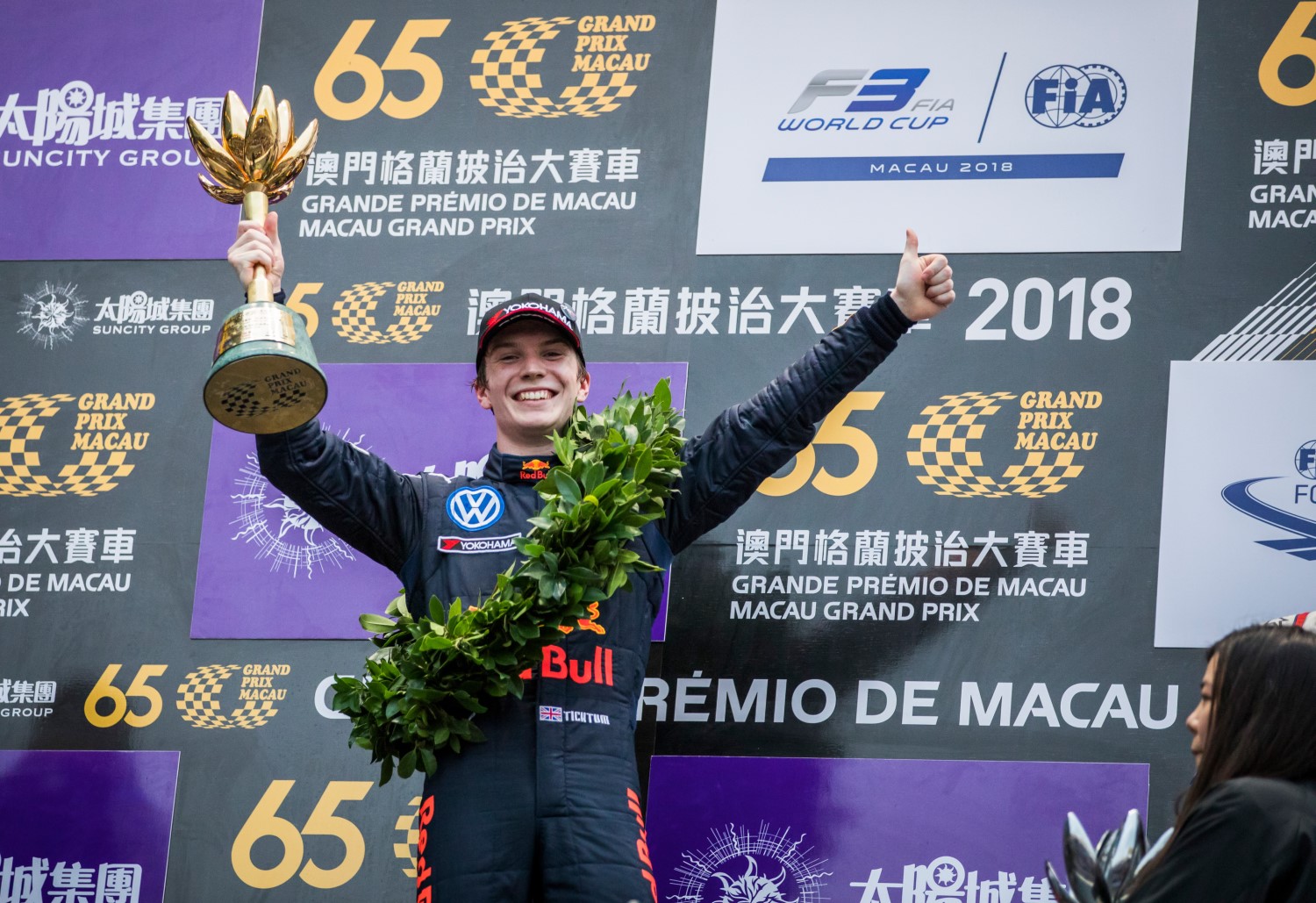 Ticktum won Macau but his check is not big enough for F1
(GMM) A new question mark hangs above the second Toro Rosso cockpit for 2019.
Daniil Kvyat has been signed up already, but it is believed Brendon Hartley has been told he is definitely vacating the other seat.
Robert Kubica was earlier mentioned as one potential driver, but the Pole said last week: "I will definitely not go to Toro Rosso."
Another favorite was thought to be Dan Ticktum, the 2019 Macau GP winner. But the Briton does not have enough points to secure a F1 super license.
And the Japanese series Super Formula has announced on its Facebook page that the 19-year-old "will thrill Super Formula fans next season when he drives full time in the series".
Another big favorite is Alexander Albon, whose Thai links were said to be a potential funding coup for the junior Red Bull team.
But Red Bull was working to extract the 22-year-old from his Nissan contract in Formula E, and those efforts may have failed.
That is because Formula E has just announced its official entry list for 2019, outlining that Albon will indeed race for Nissan.
An outside shot for the Toro Rosso seat could be Naoki Yamamoto, a 30-year-old veteran of the Japanese racing scene with strong links to engine partner Honda.
Yamamoto has just wrapped up the Super Formula and Super GT titles, the latter together with Jenson Button.
Prost 'not unhappy' Red Bull deal ending
Alain Prost
(GMM) Alain Prost says he is not sad that Renault's long collaboration with Red Bull is finally ending.
The two parties achieved much success in formula one, but their collaboration was also fraught at times.
"Ultimately we are not unhappy about the end of this partnership, to be honest," F1 legend and Renault advisor Prost told L'Equipe.
"I maintain a good relationship, even though I criticize the way they communicate. They always go a step too far and they know that," he added.
It remains to be seen if switching to works Honda engines will be a good move for Red Bull.
Dr Helmut Marko, however, is optimistic.
"Helmut is always optimistic," Red Bull driver Max Verstappen told Ziggo Sport, "and that is very nice to see.
"We have to wait and see how we start the season, but I think we are going to make a step forward purely with the engine," he said.
Prost, though, is hopeful Renault will remain a step ahead.
"Compared to Honda we are still doing better, but with the same engine Red Bull did better than us this year," he admitted.
"There is a clear difference in that respect and it will not be easy for us to reach them next year. But it is not impossible either," said Prost.
Prost tips Formula 2 move for Schumacher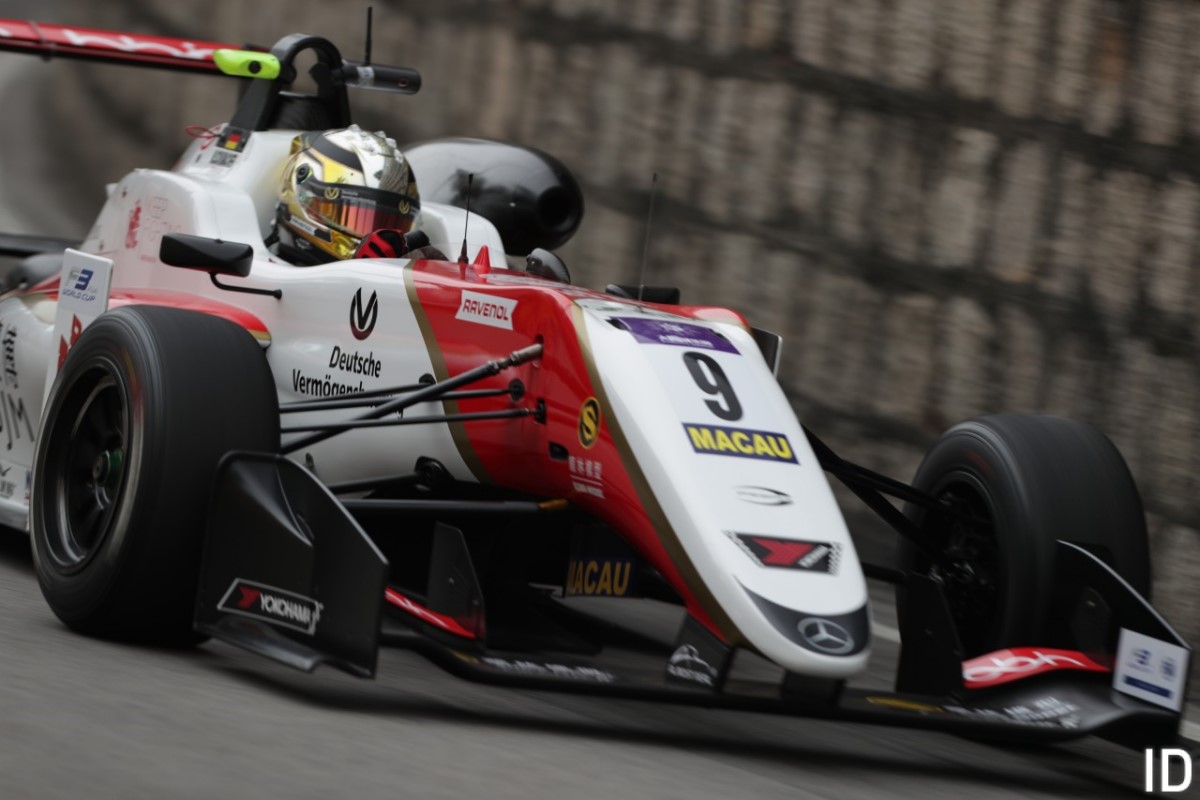 Schumacher competes in Macau GP
(GMM) Alain Prost is expecting Mick Schumacher to step up to Formula 2 in 2019.
This year, the son of Prost's fellow F1 legend Michael Schumacher upped his game to dominate and win the competitive European F3 title.
Prior to 19-year-old Schumacher competing in the legendary Macau GP race at the weekend, Prost told Sport Bladet: "I don't know what it means for the future, but Mick surprised me this year.
"The final part of the season was incredibly impressive and he was driving under a lot of pressure. The name alone is a lot of pressure. But the boy is really on it.
"Mick is at the beginning of his career and we will not judge him on what happens in Macau. It will be more interesting to see him in Formula 2," the Renault advisor added.
"In Formula 2 we will see how good he is. He has a good chance there and it would be incredible fun to see him in F1, as a driver but above all on the human side.
"Given the situation his father is in, Mick must be incredibly strong to do the same job," Prost, who raced against Michael Schumacher in the 90s, continued.
Ecclestone ditches his glasses and has laser eye surgery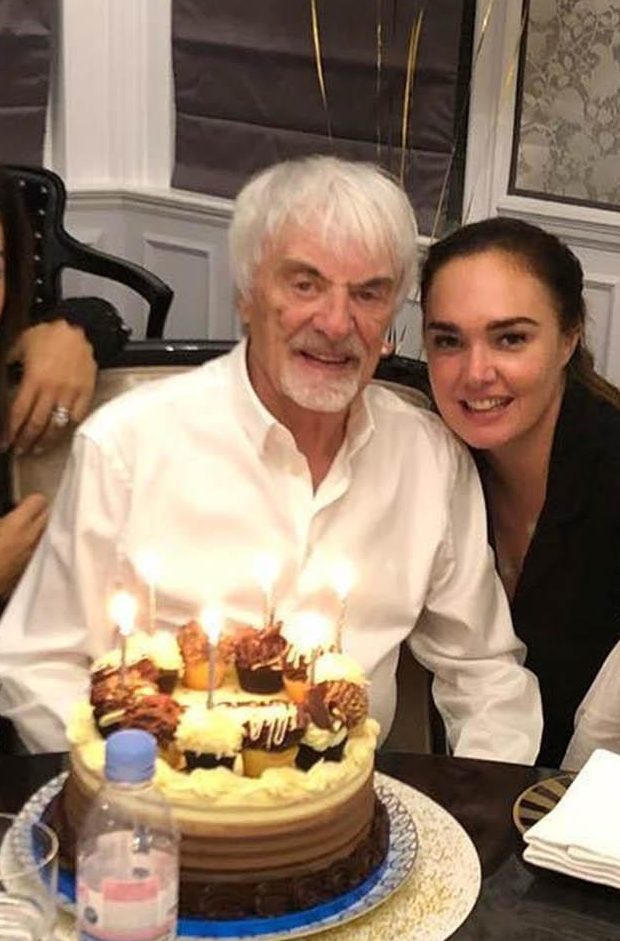 Ecclestone celebrates his 88th birthday with his family
FORMULA One tycoon Bernie Ecclestone has got his eyes lasered at 88 — and told pals he wants to live until 120.
The billionaire has also grown a goatee and bought a luxury party pad in Ibiza in an attempt to reinvent himself.
His youngest daughter Petra is a fan of her dad's latest makeover – and says he is now fitter than ever.
The 29-year-old, who has just opened kids' therapy center Petra's Place in London, told The Sun on Sunday: "My dad's just turned 88 and he is looking really, really good at the moment.
"His goatee really suits him – I actually can't imagine him without it now.
"And he's not wearing glasses anymore because he's had laser eye surgery. He's like 10 years younger."
Big sister Tamara, 34, adds: "He's never smoked, and never drinks, and jokes that not exercising is the reason he looks so young.
"He's always working, keeping his brain active, and that helps. The Sun
Prost: Rich kids always at an advantage in F1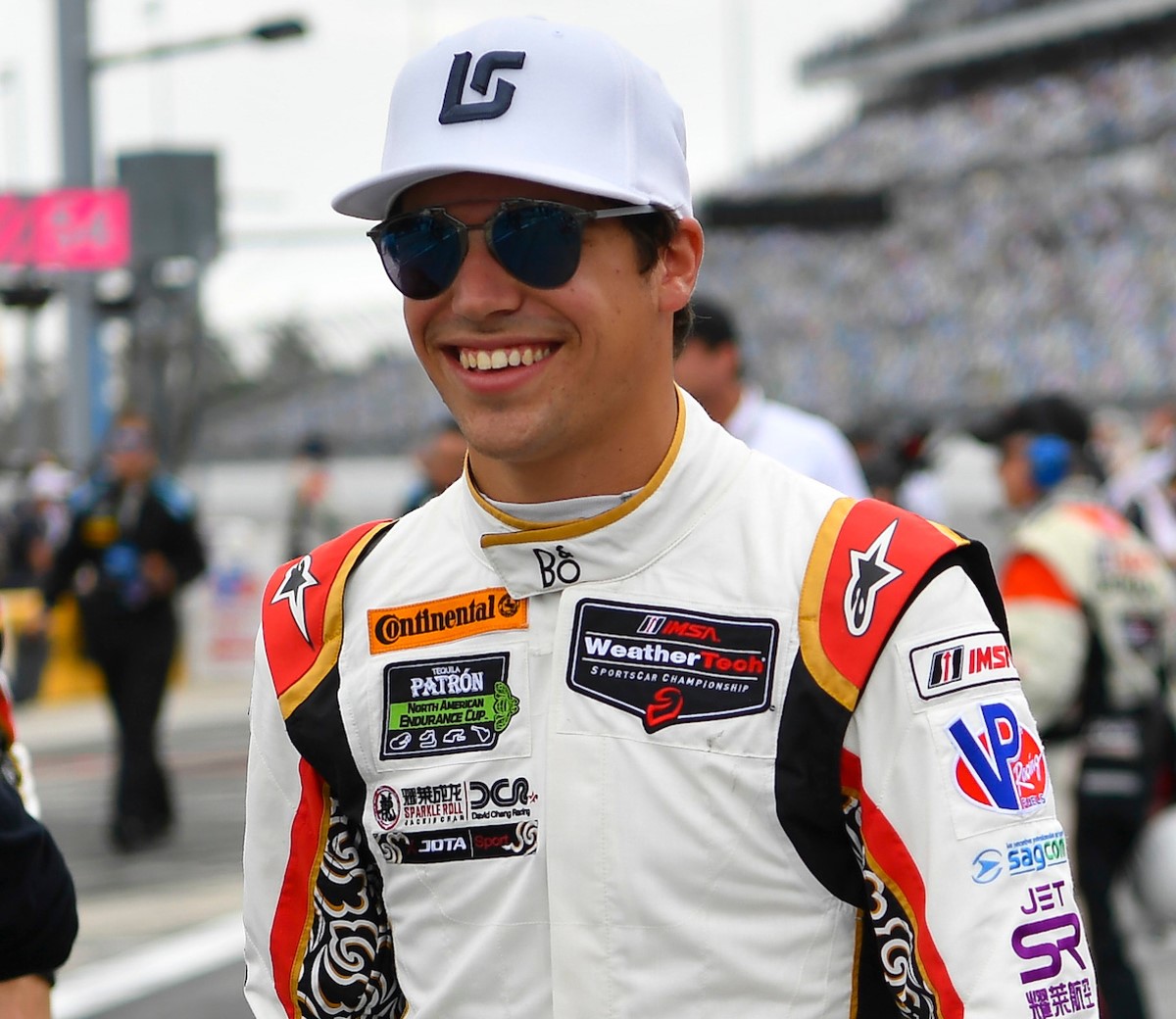 Some rich kids even have daddy buy an entire race team for them
Force India's takeover by Lawrence Stroll will likely leave Esteban Ocon on the sidelines for 2019, much to the chagrin of one of his biggest supporters, Renault advisor Alain Prost.
Last summer, the French manufacturer came close to signing the Mercedes protégé for next year, but a last minute change of heart decided Renault to hire seven-time Grand Prix winner Daniel Ricciardo.
The decision was later lambasted by Toto Wolff, who accused Renault of lying and playing politics.
Ocon's fate at Force India was then sealed by the team's buy-out by the Stroll-led group of investors, a move that logically paved the way for Lance Stroll whose career in motorsport has been bankrolled by his billionaire father.
"To reach F1 without any money is very complicated today," Prost told L'Equipe.
"Drivers' careers are starting increasingly earlier. A four-year old kid is put into a kart before moving through racing's junior ranks, which requires a lot of financial support.
"A driver program such as the one Elf offered no longer exists. Drivers coming from rich families are therefore advantaged.
"To prepare for the future, they benefit from test programs with older-spec cars," added the four-time world champion.
"When I was a team owner, I was also confronted with the difficulty of choosing between a talented driver and one with money. If you take the former, you risk an economic death."
Regarding current young driver programs, such as those supported by F1's manufacturers, Prost underlines the importance of rightly timing a driver's graduation to the big time.
"A junior program is meant to accompany a driver to the top," he added.
"But if you don't put him in the right place at the right time, the system generates its own failures. So why keep a driver?
"Toto Wolff criticized Renault, but why didn't he replace Valtteri Bottas at Mercedes with Ocon." F1i.com
F1 to switch to thinner tires in 2019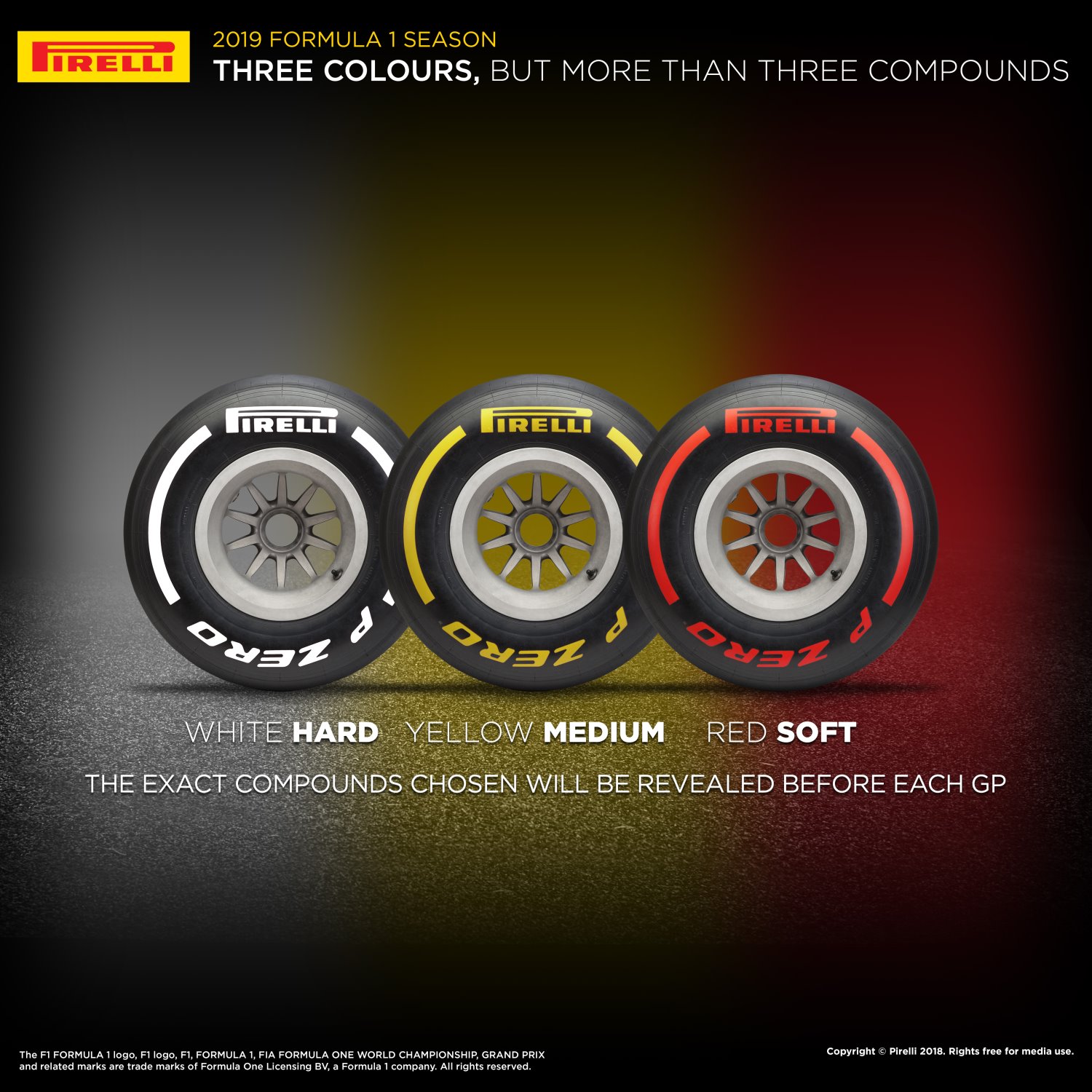 2019 Tires
Pirelli will introduce thinner tread tires for all the races in 2019 to overcome the blistering problems that affected many races in the current F1 season.
The Italian tire maker had introduced thinner-gauge tire for Spanish, French and British GPs this year to reduce worries of overheating and blistering in the high-speed tracks.
In many races, drivers were "completely cruising" to manage their tire temperature.
They expect the new tread to help improve racing and take away focus from excessive tire management.
Speaking about the new tread, Pirelli's F1 boss Mario Isola said the next season's tires would be "in line" with the spec used at the Spanish, French and British GPs this year.
"The new product is in the family with what we have done in Barcelona," said Isola.
"I cannot say it is the same because we have a new construction, some new geometries and so on but it is in that direction, yes.
"We made some modifications to the new product, to the tread to try to have less overheating, [and] also the way in which we have designed the compounds.
"For example, the new compounds have a slightly higher working range in order to protect the compound itself from overheating."
Many believed Pirelli introduced the new tread in certain races because Mercedes asked them to make the tires thinner by 0.4mm. Ferrari found itself at a disadvantage with the new tread.
The Silver Arrows outfit winning the race at Barcelona further fueled the 'lobbying' speculation.
But after the Spanish GP weekend, even Sebastian Vettel admitted Pirelli's decision was right.
With the current generation thicker treads, blistering happens when the tires exceed a certain temperature. The tire retains heat in some sections and that leads to pieces of rubber getting torn from the surface.
The thinner tread poses the problem of faster physical wear and Pirelli believes this will be good for racing since drivers can't push more laps on lower pace and will have to pit for fresh rubber.
Pirelli also knows that if they make it hard to overheat the tire, it will be tougher for the drivers to bring the tires the optimum temperature.
Isola said: "I would say they are slightly faster but also more consistent because we are using new technologies, new materials.
"There is a general improvement in both the performance and the consistency."
Calderon concludes her second day of Fiorano testing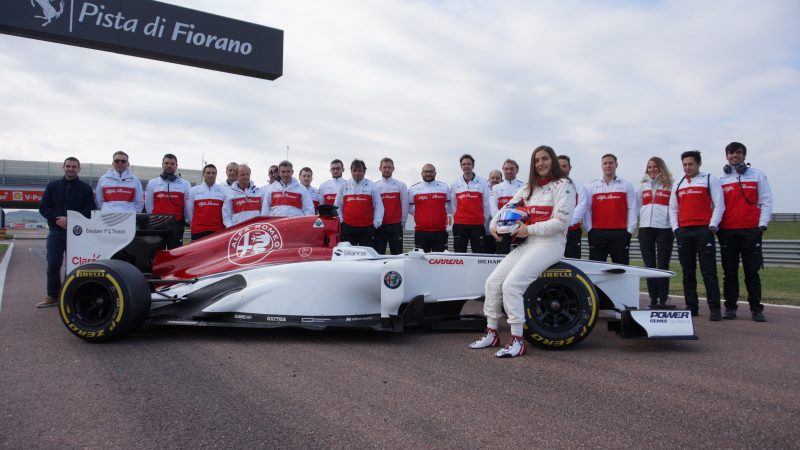 Tatiana Calderon
Tatiana Calderon successfully concluded her second day of testing at Fiorano Circuit, putting in over 590 kilometers in the Sauber C32-Ferrari throughout the weekend
Calderon has successfully concluded her second day of testing behind the wheel of the Sauber C32 powered by a Ferrari V8 engine at Fiorano.
Building on the progress made yesterday, the Colombian Test Driver – also part of the Escuderia Telmex – focused on qualifying and race simulations today, delivering an excellent performance. She put in consistent lap times while demonstrating dedication and endurance.
In total, she completed 202 laps – the equivalent of 594.890 kilometers – over the course of the two-day test.
Test Details:
Circuit: Fiorano Circuit / 2.945 km
Driver: Tatiana Calderon
Weather: cloudy/sunny and dry; air 4° – 8°C, track 7° – 11°C
Chassis / engine: Sauber C32 / Ferrari
Laps: 112 laps, 329.840 km
Fastest lap: 00:58.802 (over 5 seconds slower than lap record)
Tatiana Calderon, Test Driver: "It was another interesting day of testing. We focused on qualifying simulations in the morning, and long-runs in the afternoon. Overall, the past two days have been very beneficial to my development and I have gained valuable experience. The team did a great job in the preparation as well as the implementation of my program and I felt comfortable in the car as well as on the track. I look forward to putting what I have learned to practice."
Magnussen takes dig at McLaren for Vandoorne snub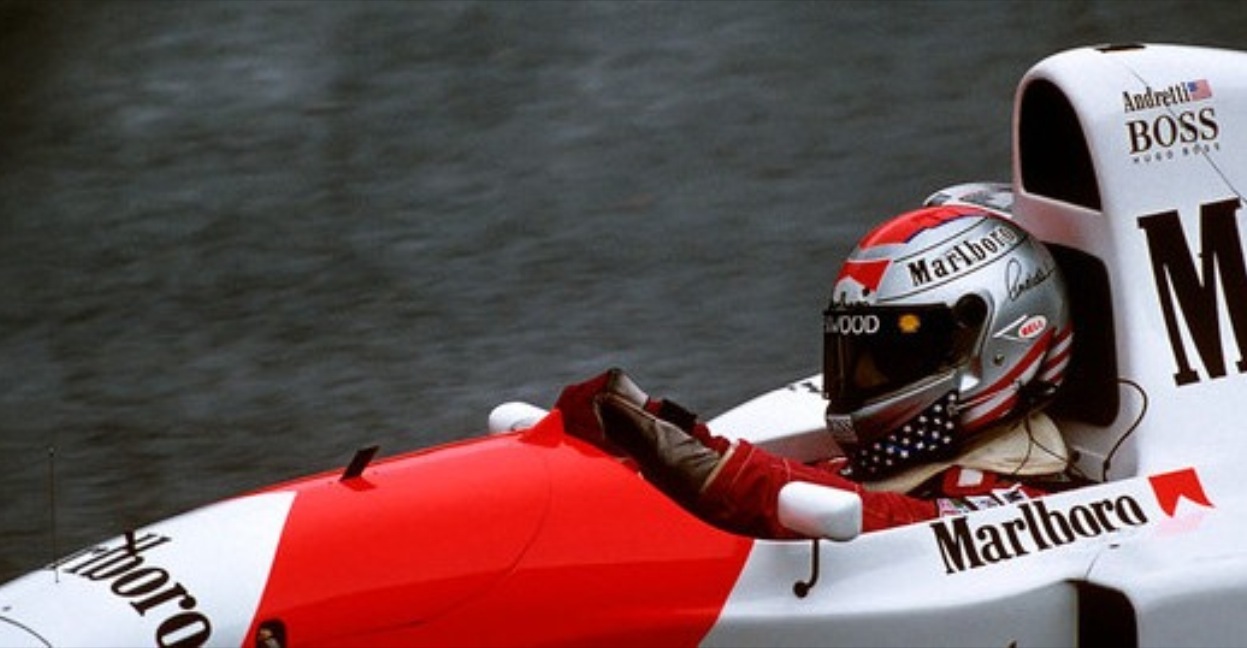 McLaren has ruined the career of many young hopefuls – just ask Michael Andretti
Haas' Kevin Magnussen has stated that outgoing McLaren driver, Stoffel Vandoorne, deserves every bit a chance to be in Formula 1 but the circumstances are just too bad currently.
"It's a very tough environment this sport," Magnussen told RaceFans. "I think Stoffel is very good and he deserves to be in Formula 1 but circumstances were just a bit shit for him."
"Perhaps he was made to look worse this year than he really is," added Magnussen. "He's going to do well in whatever he goes to do now. And you should never say never, if you can come back to Formula 1 there's always the possibility."
The most telling part of his whole quote is the fact that he claimed Vandoorne was made to look worse than he actually is. There is no doubt that the Dane was taking a dig at the McLaren, the one he made his debut in Formula 1 with.
Magnussen debuted for them in the 2014 Australian Grand Prix, where he finished third, taking the podium on debut. It was a very impressive start to his career but he was dropped at the end of the season in favor of the returning Fernando Alonso.
The incident surely made K-Mag bitter as he accused McLaren of almost ruining his career in F1 before being rescued by the likes of Renault and Haas in later years. He has shown his true abilities as a driver this season, being one of the most consistent midfield runners.