Rossi and Honda finish 2nd in class in Baja 1000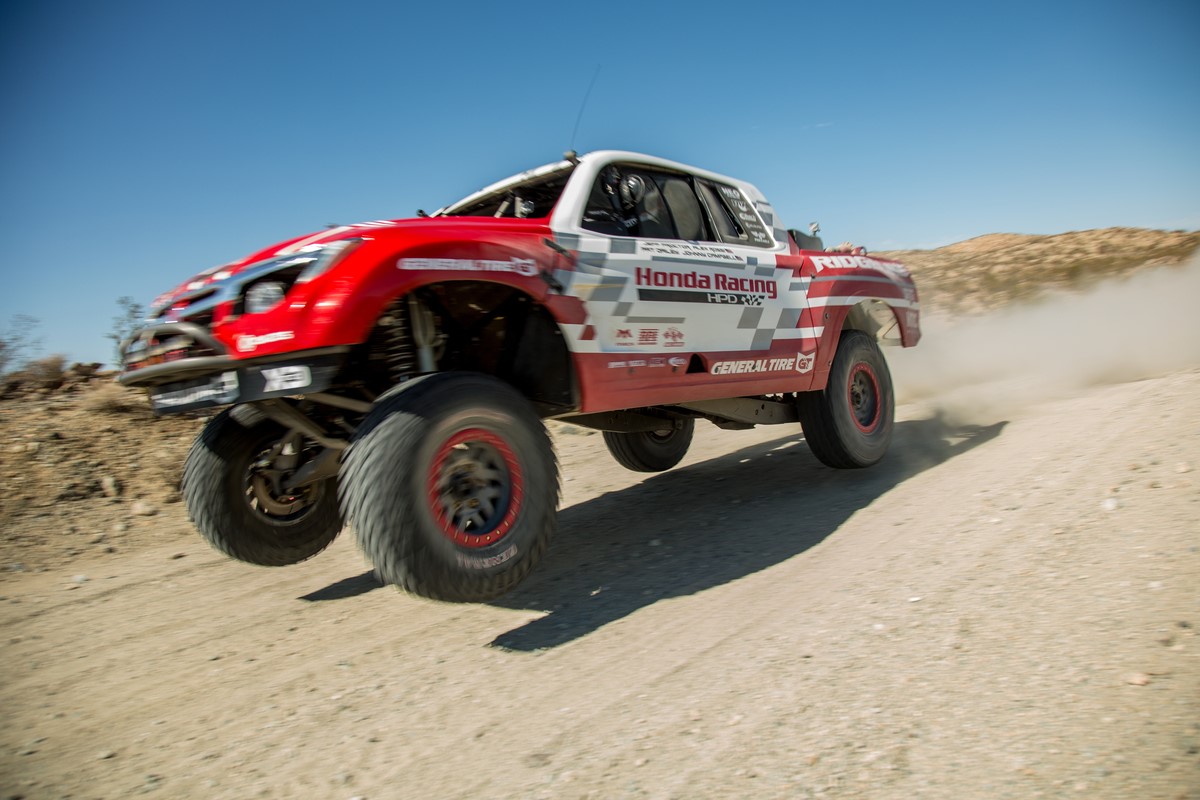 Honda Ridgeline with Alexander Rossi behind the wheel
The Honda Off-Road Racing Team and its Ridgeline Baja Race Truck completed their 2018 season with a hard-fought second-place Class 7 finish this weekend in the 51st running of the BFGoodrich SCORE Baja 1000.
Making his off-road racing debut, 2016 Indianapolis 500 champion Alexander Rossi and veteran navigator Evan Weller took the green flag just after 12 p.m. PST on Friday. By the 40-mile mark, the pair had the Ridgeline in the class lead despite a well-publicized "near miss" with spectator vehicle.
Heading south at speed over a series of rolling jumps, the Ridgeline encountered a slow-moving northbound SUV. Narrowly avoiding a head-on collision, Rossi and Weller clipped the right-side mirror off the SUV while passing it in mid-air as both vehicles and their occupants continued without further injury or contact.
Rossi and Weller continued to lead Class 7 – for unlimited, six-cylinder trucks and SUVs – until encountering a backlog of race traffic while traversing one of the notorious Baja silt beds. The resulting delay dropped the pair to second in class, where they continued to run until the first scheduled pit stop in San Felipe.
Team owner Jeff Proctor took over the driving duties for the second leg of the race, a relatively uneventful run as Proctor and Weller continued to close on the Class 7 lead through the team's second scheduled pit stop at Mile 380, near the southern edge of this year's closed-loop, 808-mile circuit.
Pat Daily, team manager and driver for Honda Off-Road Racing, took over the controls for the third leg of the contest. However, the team was soon delayed by another silt bed, then lost additional time in the early-morning hours due to a bottleneck of race traffic in a narrow mountain pass as the race course headed north to return to the finish in Ensenada.
As a result, the Ridgeline was running third when 11-time Baja race winner Johnny Campbell took over the driving duties from Weller during the third scheduled pit stop at Mile 600. Charging hard for the final 200+ miles, Campbell moved the Ridgeline into second place. Campbell continued to keep the Honda second in class, despite a late race scare when he briefly put the truck on its side in the final hour.
The second-place finish continued the Baja Ridgeline's run of success in the longest off-road race, including class wins in both 2015 and '16, and a second in 2017.
In five races this season, the Ridgeline produced class victories at the Parker 425 in February, the Baja 500 in June and August's Vegas-to-Reno race; plus a second-place finish at the Mint 400 and this weekend's Baja 1000.
Powered by a twin-turbocharged V6 engine produced by Honda Performance Development, the Ridgeline Baja Race Truck features a body designed by Honda R&D Americas' Los Angeles Design Studio. Making approximately 550 horsepower, HPD's 3.5-liter HR35TT engine uses the same block and cylinder heads as the production V6 that powers the production Ridgeline. Additional, custom elements of the powertrain include an HPD-designed intake plenum and custom Engine Control Unit programming.
Quotes
Alexander Rossi (Indianapolis 500 champion, driver Ridgeline Baja Race Truck): "It was an amazing experience. We came here, and obviously wanted to win, so I'm disappointed we weren't able to do that. But this is a great group of people. It's an amazing experience, I loved every second of it. I'm ready to come back next year. A huge 'thank you' to everyone involved. It's an eye-opening experience, and I'm so grateful to Jeff [Proctor], Honda and HPD for giving me the opportunity. Thanks to all the fans as well!"
Jeff Proctor (team owner/driver Ridgeline Baja Race Truck): "Baja is incredibly tough. A lot of this race is just overcoming challenges. Unfortunately, we got stuck in some pretty nasty silt around [mile] 390. It was a 'graveyard', there were over 50 competitors stuck there. We had a recovery vehicle there to pull them out, but even that took a long time. We were prepared, but still Baja bit us. The big thing is, the truck's here at the finish line, and everybody's safe. Alex had a near tragedy at the start [nearly colliding head-on with a spectator vehicle on course] but thankfully he and [navigator] Evan [Weller] are okay. Overall, we're bummed we didn't get the class win we wanted, but we're happy to be here at the finish line."
Johnny Campbell (driver, Ridgeline Baja Race Truck, 11-time Baja motorcycle champion): "It was a long, long Baja for us. It was a race of overcoming obstacles, and that's what our team had to do. It was fun for me, being able to drive the Ridgeline. It performed really well. Except for a 'rookie mistake', when I tipped it up on its side a little bit, it was a clean run for us. I really want to thank everyone on the team, all the guys did a phenomenal job."
Evan Weller (team manager/driver Ridgeline Baja Race Truck): "This is my eighth Baja 1000, and every year it seems like it just gets tougher and tougher. This year, for sure, we had a really tough section. We got stuck in a really bad bottleneck on a hill climb. That's probably where we lost the majority of our time. That was about a two-hour ordeal, the result of a single truck stuck at the top. I think we would've caught [the leader] without that problem."