Ticktum wins crash marred Macau GP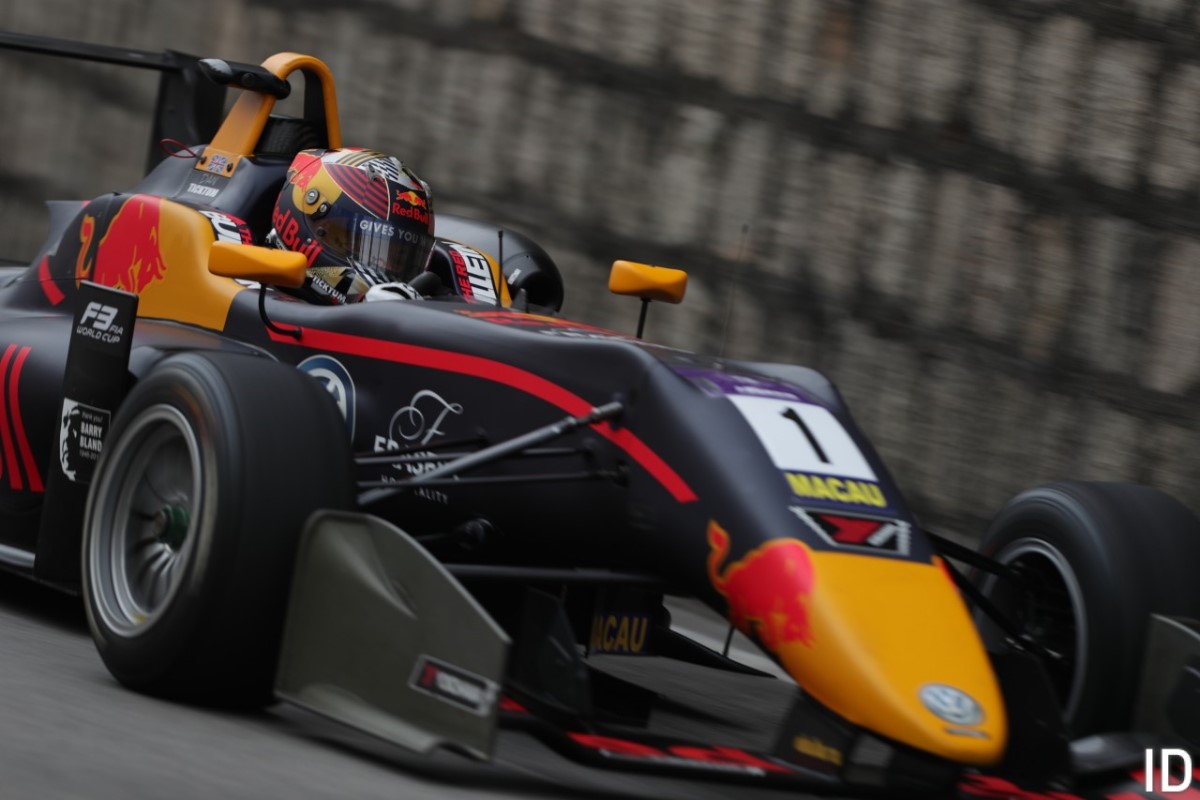 Dan Ticktum never headed
Red Bull Junior Dan Ticktum took victory in the Macau Grand Prix for the second year in a row after a typical crash-marred Macau F3 race.
Ticktum led from start to finish in a race that was red-flagged for a lengthy period following a frightening crash for Sophia Florsch and Sho Tsuboi.
After the final yellow flag period Ticktum opened up a gap of 1.513 seconds in just 2 laps and was 1.208s clear of Motopark Academy teammate Joel Eriksson at the finish, while Carlin-run Renault Formula 1 junior Sacha Fenestraz completed the podium.
Jake Hughes took fourth for Hitech GP ahead of Prema Powerteam's Mick Schumacher.
In 2017 Ticktum only led the race from the last corner to the flag after a difficult weekend. This time it was very different as the 19-year-old Briton commented when the Grand Prix was stopped to repair a badly damaged barrier. "Everything went perfectly, very positive this weekend, I seem to have found how to operate at 100% all the way,"
The race was interrupted for the best part of an hour while the barrier was repaired, then restarted behind the safety car. Ticktum had already made a faultless original start and a perfect safety car restart so had never been headed. He did the same after the long break and once more from another safety car. He was perfect all the way, almost matching his fastest ever F3 qualifying lap at Macau as he opened up a 1.5 second lead.
Ticktum ecstatic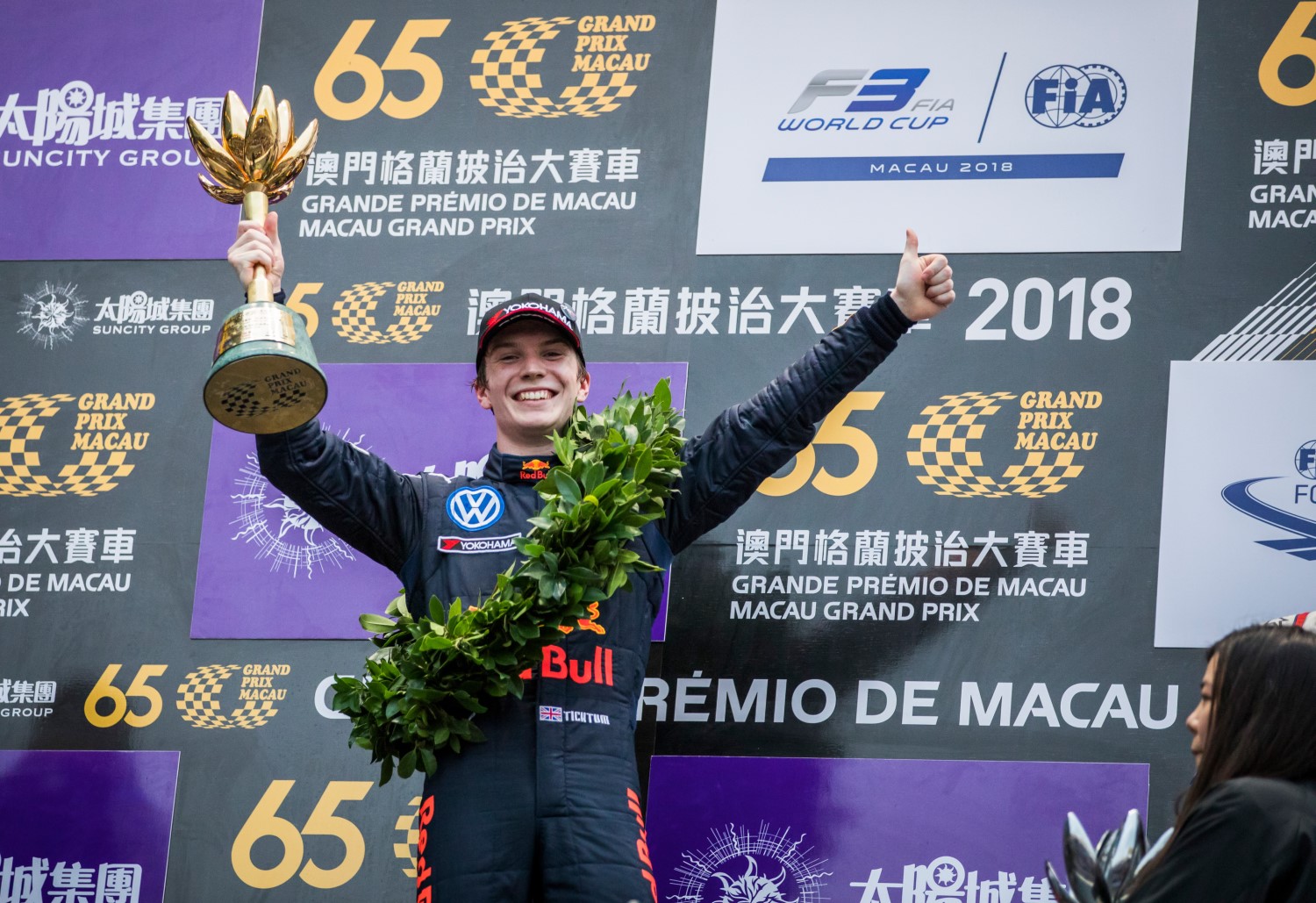 Two in a row at Macau for Ticktum
"It was a dominant performance that I was preparing for. I don't think I've ever prepared as hard as I did for this race and it all worked out. In the final race a lot of variables were thrown at me but I handled them," explained Ticktum.
"I can't count how many safety car restarts we had to do. It puts a lot of pressure on a driver here with such a long run down to the first corner. I can't remember a weekend when I've put it all together so well."
"The car was absolutely perfect all weekend, it was so good and I can't thank Motopark enough for that. I've never been so involved in the set-up, felt so at one with the car as I did this weekend," concluded the back-to-back winner.
Vips wanted more
Though his pace was impressive the cards just didn't fall for Estonian 18-year-old Vips. Yellow flags ruined his best laps in both qualifying sessions after he had been third quickest in the first free practice. "Yes it was pretty frustrating but that's Macau. We went over the data and I was quick enough in the first three sectors on that final lap to get pole but there it is. It had been the same in the first qualifying, I had to back out of my best lap."
So he was left in 14th on the grid. He charged through to seventh in the qualifying race and was all set for another big improvement in the final. "I got a good start but was then boxed in by Callum (Ilott) and I had to touch the brakes going into Mandarin so that I didn't get into the back of Mick (Schumacher). Because of that the others had about 20k on me for the rest of the straight,"
That explained why he completed lap one in tenth. He then set about cutting his way through and got to seventh. "OK so I did what I could and was best Rookie and all that but that's not what I wanted, it could have been so much more than that."
"I must give big congratulations to Dan, he did a massive job all weekend." concluded Vips.
Feature Race Results
| POS | DRIVER | TEAM | CAR | GAP |
| --- | --- | --- | --- | --- |
| 1 | Dan Ticktum | Motopark Academy | Dallara/Volkswagen | 0.000s |
| 2 | Joel Eriksson | Motopark Academy | Dallara/Volkswagen | 1.208s |
| 3 | Sacha Fenestraz | Carlin | Dallara/Volkswagen | 2.505s |
| 4 | Jake Hughes | Hitech GP | Dallara/Mercedes | 3.521s |
| 5 | Mick Schumacher | SJM Theodore Racing by Prema | Dallara/Mercedes | 4.542s |
| 6 | Ralf Aron | SJM Theodore Racing by Prema | Dallara/Mercedes | 6.406s |
| 7 | Juri Vips | Motopark Academy | Dallara/Volkswagen | 6.952s |
| 8 | Callum Ilott | Carlin | Dallara/Volkswagen | 8.340s |
| 9 | Marcus Armstrong | SJM Theodore Racing by Prema | Dallara/Mercedes | 9.597s |
| 10 | Robert Shwartzman | SJM Theodore Racing by Prema | Dallara/Mercedes | 11.840s |
| 11 | Ferdinand Habsburg | Motopark Academy | Dallara/Volkswagen | 12.793s |
| 12 | Guan Yu Zhou | SJM Theodore Racing by Prema | Dallara/Mercedes | 13.461s |
| 13 | Jehan Daruvala | Carlin | Dallara/Volkswagen | 13.985s |
| 14 | Ritomo Miyata | TOM'S | Dallara/Toyota | 16.934s |
| 15 | Yuhi Sekiguchi | B-MAX Racing Team | Dallara/Volkswagen | 18.697s |
| 16 | Frederik Vesti | Van Amersfoort Racing | Dallara/Mercedes | 19.773s |
| 17 | Toshiki Oyu | Toda Racing | Dallara/Toda | 23.348s |
| 18 | Yoshiaki Katayama | Carlin | Dallara/Volkswagen | 32.873s |
| 19 | Sena Sakaguchi | Toda Racing | Dallara/Toda | 35.245s |
| 20 | Dragon | B-MAX Racing Team | Dallara/Volkswagen | 1m48.963s |
| – | Enaam Ahmed | Hitech GP | Dallara/Mercedes | DNF |
| – | Sho Tsuboi | TOM'S | Dallara/Toyota | DNF |
| – | Sophia Florsch | Van Amersfoort Racing | Dallara/Mercedes | DNF |
| – | Ukyo Sasahara | ThreeBond Racing | Dallara/Tomei | DNF |
| – | Keyvan Andres | Van Amersfoort Racing | Dallara/Mercedes | DNF |
| – | Marino Sato | Motopark Academy | Dallara/Volkswagen | DNF |
| – | Charles Leong | Hitech GP | Dallara/Mercedes | DNF |
| – | Alex Palou | B-MAX Racing Team | Dallara/Volkswagen | DNF |