Buemi fastest for Toyota on wet Shanghai Friday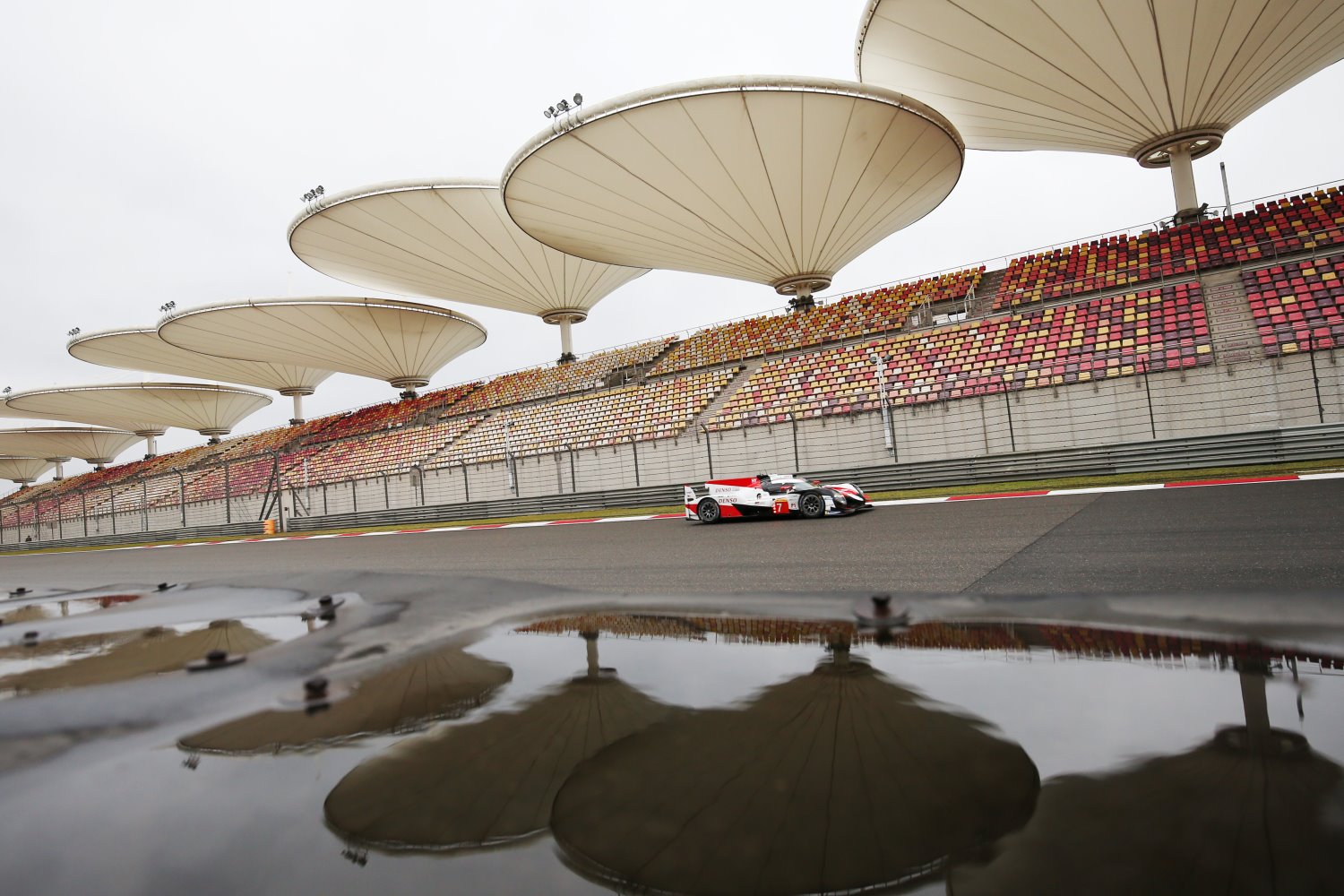 #7 Toyota of Sebastien Buemi before a huge Friday crowd
As expected, Toyota, which enjoys a huge advantage over its rivals as allowed by the FIA (so they do not leave the series) came out on top in two wet sessions of free practice for this weekend's Shanghai round of the World Endurance Championship.
Sebastien Buemi's 1m54.768s set on intermediate tires in the #7 Toyota in the first of the two 90-minute sessions stood as the fastest time of the day.
Teammates Kazuki Nakajima and Fernando Alonso were a second behind in the sister #8 Toyota TS050 HYBRID.
The other cars have zero chance of winning and were so far behind they may as well have stayed home.
LMGTE Pro saw reigning champion James Calado set the pace for AF Corse as he takes the No.51 Ferrari 488 GTE EVO to a 2m14.315s best
BMW Team MTEK continue to show strong wet weather pace with Antonio Felix da Costa lapping in 2m14.964 with BMW M8 GTE
In LMGTE Am it was Giancarlo Fisichella who emerged top for Spirit of Race as the Italian takes his Ferrari 488 GTE to a class-topping best of 2m16.835s.
Final Free Practice session is scheduled for 09.50 local time on Saturday morning.
Practice 1 Times
| POS | CLASS | DRIVER | CAR | TIME | GAP |
| --- | --- | --- | --- | --- | --- |
| 1 | LMP1 | S.Buemi, K.Nakajima, F.Alonso | Toyota | 1m54.768s | – |
| 2 | LMP1 | M.Conway, K.Kobayashi, J.M.Lopez | Toyota | 1m56.354s | 1.586s |
| 3 | LMP1 | S.Sarrazin, E.Orudzhev, M.Isaakyan | BR Engineering/AER | 1m58.880s | 4.112s |
| 4 | LMP1 | O.Webb, T.Dillmann, J.Rossiter | ENSO CLM/NISMO | 1m58.919s | 4.151s |
| 5 | LMP1 | M.Beche, T.Laurent, G.Menezes | Rebellion/Gibson | 1m59.132s | 4.364s |
| 6 | LMP1 | N.Jani, A.Lotterer, B.Senna | Rebellion/Gibson | 1m59.239s | 4.471s |
| 7 | LMP1 | M.Aleshin, V.Petrov, J.Button | BR Engineering/AER | 1m59.675s | 4.907s |
| 8 | LMP2 | J.Jaafar, W.Tan, N.Jeffri | ORECA/Gibson | 2m02.923s | 8.155s |
| 9 | LMP2 | F.van Eerd, G.van der Garde, N.de Vries | Dallara/Gibson | 2m03.551s | 8.783s |
| 10 | LMP2 | F.Perrodo, M.Vaxiviere, L.Duval | ORECA/Gibson | 2m04.282s | 9.514s |
| 11 | LMP2 | H-Pin Tung, G.Aubry, S.Richelmi | ORECA/Gibson | 2m04.556s | 9.788s |
| 12 | LMP2 | E.Creed, R.Ricci, E.Guibbert | Ligier/Gibson | 2m04.623s | 9.855s |
| 13 | LMP2 | R.Gonzalez, P.Maldonado, A.Davidson | ORECA/Gibson | 2m04.803s | 10.035s |
| 14 | LMP2 | N.Lapierre, A.Negrao, P.Thiriet | Alpine/Gibson | 2m06.714s | 11.946s |
| 15 | LMP1 | J.Allen, B.Hanley, R.van der Zande | BR Engineering/Gibson | 2m06.847s | 12.079s |
| 16 | GTE Pro | M.Tomczyk, N.Catsburg | BMW | 2m09.830s | 15.062s |
| 17 | GTE Am | S.Yoluc, J.Adam, C.Eastwood | Aston Martin | 2m11.764s | 16.996s |
| 18 | GTE Pro | R.Lietz, G.Bruni | Porsche | 2m12.202s | 17.434s |
| 19 | GTE Pro | A.Lynn, M.Martin | Aston Martin | 2m12.568s | 17.800s |
| 20 | GTE Pro | M.Christensen, K.Estre | Porsche | 2m12.840s | 18.072s |
| 21 | GTE Pro | S.Mucke, O.Pla | Ford | 2m12.980s | 18.212s |
| 22 | GTE Pro | M.Sorensen, N.Thiim | Aston Martin | 2m13.012s | 18.244s |
| 23 | GTE Pro | O.Gavin, T.Milner | Chevrolet | 2m13.182s | 18.414s |
| 24 | GTE Pro | A.P.Guidi, J.Calado | Ferrari | 2m13.414s | 18.646s |
| 25 | GTE Am | C.Ried, J.Andlauer, M.Campbell | Porsche | 2m13.482s | 18.714s |
| 26 | GTE Am | Mok W.S., K.Sawa, M.Griffin | Ferrari | 2m13.638s | 18.870s |
| 27 | GTE Pro | D.Rigon, S.Bird | Ferrari | 2m13.745s | 18.977s |
| 28 | GTE Pro | A.Priaulx, H.Tincknell | Ford | 2m14.217s | 19.449s |
| 29 | GTE Pro | T.Blomqvist, A.F.da Costa | BMW | 2m14.391s | 19.623s |
| 30 | GTE Am | P.D.Lana, P.Lamy, M.Lauda | Aston Martin | 2m14.618s | 19.850s |
| 31 | GTE Am | K.Al Qubaisi, R.Pera, M.Cairoli | Porsche | 2m15.724s | 20.956s |
| 32 | GTE Am | J.Bergmeister, P.Lindsey, E.Perfetti | Porsche | 2m15.803s | 21.035s |
| 33 | GTE Am | M.Ishikawa, O.Beretta, E.Cheever | Ferrari | 2m15.856s | 21.088s |
| 34 | GTE Am | M.Wainwright, B.Barker, T.Preining | Porsche | 2m15.914s | 21.146s |
| 35 | GTE Am | T.Flohr, F.Castellacci, G.Fisichella | Ferrari | 2m16.129s | 21.361s |
Practice 2 Times
| POS | CLASS | DRIVER | CAR | TIME | GAP |
| --- | --- | --- | --- | --- | --- |
| 1 | LMP1 | M.Conway, K.Kobayashi, J.M.Lopez | Toyota | 2m02.259s | – |
| 2 | LMP1 | S.Buemi, K.Nakajima, F.Alonso | Toyota | 2m02.504s | 0.245s |
| 3 | LMP1 | M.Beche, T.Laurent, G.Menezes | Rebellion/Gibson | 2m02.673s | 0.414s |
| 4 | LMP1 | N.Jani, A.Lotterer, B.Senna | Rebellion/Gibson | 2m02.935s | 0.676s |
| 5 | LMP1 | M.Aleshin, V.Petrov, J.Button | BR Engineering/AER | 2m03.648s | 1.389s |
| 6 | LMP1 | S.Sarrazin, E.Orudzhev, M.Isaakyan | BR Engineering/AER | 2m04.588s | 2.329s |
| 7 | LMP1 | J.Allen, B.Hanley, R.van der Zande | BR Engineering/Gibson | 2m04.696s | 2.437s |
| 8 | LMP1 | O.Webb, T.Dillmann, J.Rossiter | ENSO CLM/NISMO | 2m06.744s | 4.485s |
| 9 | LMP2 | J.Jaafar, W.Tan, N.Jeffri | ORECA/Gibson | 2m10.869s | 8.610s |
| 10 | LMP2 | N.Lapierre, A.Negrao, P.Thiriet | Alpine/Gibson | 2m10.896s | 8.637s |
| 11 | LMP2 | F.Perrodo, M.Vaxiviere, L.Duval | ORECA/Gibson | 2m11.746s | 9.487s |
| 12 | LMP2 | E.Creed, R.Ricci, E.Guibbert | Ligier/Gibson | 2m12.112s | 9.853s |
| 13 | LMP2 | F.van Eerd, G.van der Garde, N.de Vries | Dallara/Gibson | 2m12.156s | 9.897s |
| 14 | LMP2 | H-Pin Tung, G.Aubry, S.Richelmi | ORECA/Gibson | 2m12.162s | 9.903s |
| 15 | LMP2 | R.Gonzalez, P.Maldonado, A.Davidson | ORECA/Gibson | 2m12.499s | 10.240s |
| 16 | GTE Pro | A.P.Guidi, J.Calado | Ferrari | 2m14.315s | 12.056s |
| 17 | GTE Pro | T.Blomqvist, A.F.da Costa | BMW | 2m14.964s | 12.705s |
| 18 | GTE Pro | A.Lynn, M.Martin | Aston Martin | 2m14.983s | 12.724s |
| 19 | GTE Pro | M.Sorensen, N.Thiim | Aston Martin | 2m15.454s | 13.195s |
| 20 | GTE Pro | O.Gavin, T.Milner | Chevrolet | 2m16.222s | 13.963s |
| 21 | GTE Pro | M.Christensen, K.Estre | Porsche | 2m16.250s | 13.991s |
| 22 | GTE Pro | S.Mucke, O.Pla | Ford | 2m16.568s | 14.309s |
| 23 | GTE Am | T.Flohr, F.Castellacci, G.Fisichella | Ferrari | 2m16.835s | 14.576s |
| 24 | GTE Am | Mok W.S., K.Sawa, M.Griffin | Ferrari | 2m16.878s | 14.619s |
| 25 | GTE Pro | M.Tomczyk, N.Catsburg | BMW | 2m17.025s | 14.766s |
| 26 | GTE Pro | D.Rigon, S.Bird | Ferrari | 2m17.162s | 14.903s |
| 27 | GTE Pro | R.Lietz, G.Bruni | Porsche | 2m17.578s | 15.319s |
| 28 | GTE Am | M.Wainwright, B.Barker, T.Preining | Porsche | 2m17.799s | 15.540s |
| 29 | GTE Pro | A.Priaulx, H.Tincknell | Ford | 2m17.863s | 15.604s |
| 30 | GTE Am | S.Yoluc, J.Adam, C.Eastwood | Aston Martin | 2m17.904s | 15.645s |
| 31 | GTE Am | M.Ishikawa, O.Beretta, E.Cheever | Ferrari | 2m18.558s | 16.299s |
| 32 | GTE Am | K.Al Qubaisi, R.Pera, M.Cairoli | Porsche | 2m18.610s | 16.351s |
| 33 | GTE Am | J.Bergmeister, P.Lindsey, E.Perfetti | Porsche | 2m20.235s | 17.976s |
| 34 | GTE Am | P.D.Lana, P.Lamy, M.Lauda | Aston Martin | 2m21.333s | 19.074s |
| 35 | GTE Am | C.Ried, J.Andlauer, M.Campbell | Porsche | – | – |