Indy 500 Winner Rossi Ready for Baja 1000 Debut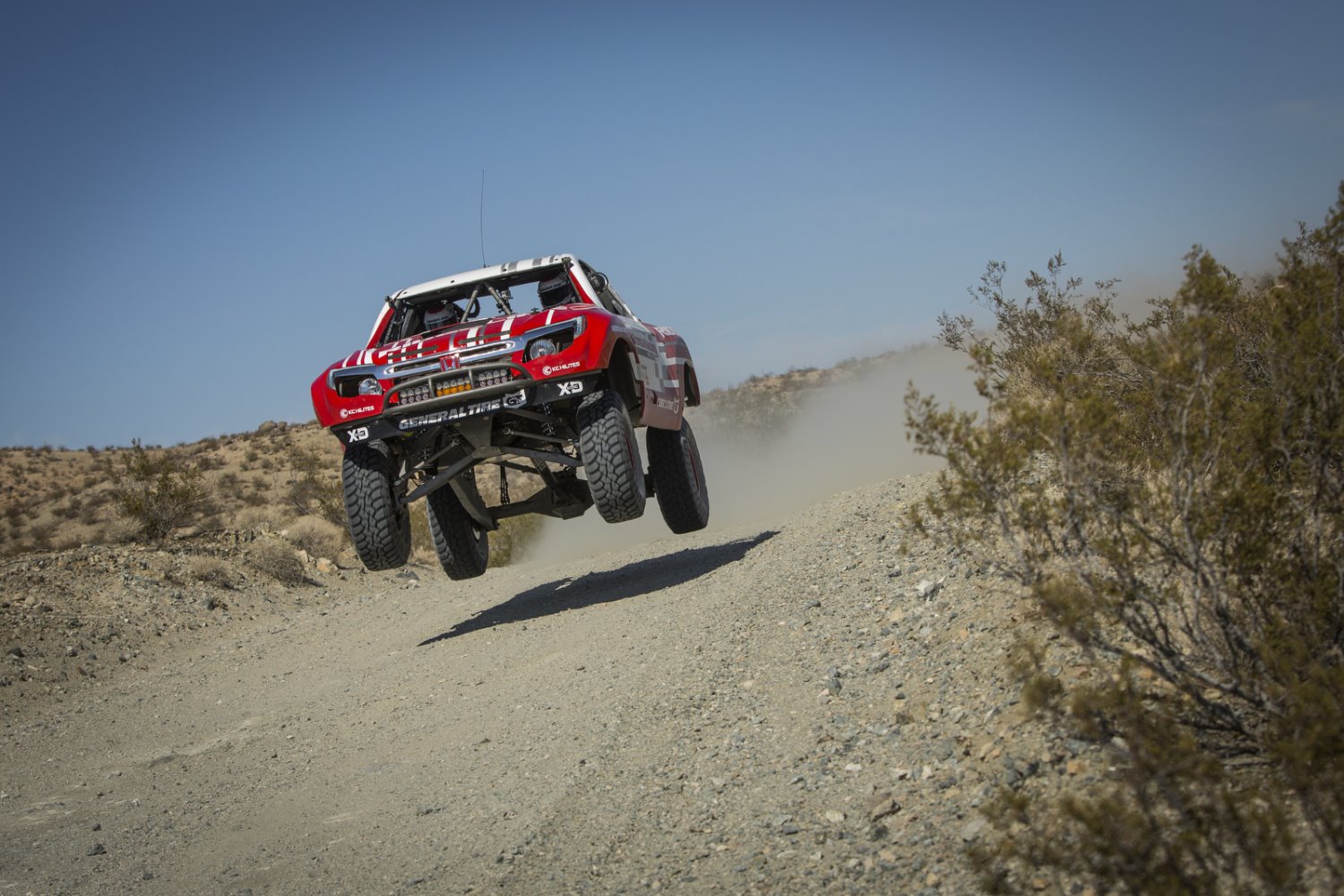 Alexander Rossi tests his Honda
Testing and pre-runs complete, Honda Indianapolis 500 winner Alexander Rossi now heads south of the border to Ensenada, Mexico as he joins the Honda Off-Road Racing Team for this weekend's Baja 1000.
Rossi, rookie winner of the historic 100th running of the Indianapolis 500 in 2016 and second in the 2018 IndyCar Series championship, will join veteran Baja race winners Jeff Proctor and Johnny Campbell driving the Baja Ridgeline Race Truck as the team seeks its third class victory in the legendary off-road event.
"It's just one of those iconic races," Rossi said. "There's a Honda connection, so [when offered the ride] I just figured 'why not?' I'm pretty excited about it. It's something new, something different. I'm looking forward to the experience."
In the weeks leading up to the team's departure for Baja, Rossi completed several days of initial testing with Proctor and his Honda Off-Road Racing Team, followed by a week of "pre-running" the actual race course.
"You drive your section of the course multiple times for a couple of days, with your co-driver and navigator, and make notes, lots of notes," Rossi said. "The goal is that, once the race starts, you have a good idea of where you're going, then can [drive] by the seat of your pants a little bit."
Rossi will share driving duties in the #709 Baja Ridgeline Race Truck with team owner/driver Proctor, who took the Ridgeline to Baja 1000 class victories in both 2015 and 2016, and Baja legend Campbell, an 11-time winner of the event. The Ridgeline competes in Class 7, for unlimited six-cylinder production-appearing trucks and SUVs.
"We've enjoyed getting to know Alex and introducing him to off-road racing," Proctor said. "Baja is always tough, but we are feeling prepared to go to battle with a very capable Ridgeline, and look forward to continuing our momentum to end this season on a high note."
Rossi will be the sixth Indy 500 winner to take part in the Baja 1000. Other Indy winners who have raced in the SCORE Baja 1000 include Parnelli Jones, a two-time race winner (1971-72); fellow Honda IndyCar Series driver and Andretti Autosport teammate Ryan Hunter-Reay; Rick Mears, Danny Sullivan and Buddy Rice. Indy car season champions who have raced in the Baja 1000 include Mears, Hunter-Reay, Sebastien Bourdais, Jimmy Vasser and Paul Tracy.
Powered by a twin-turbocharged V6 produced by Honda Performance Development, the Baja Ridgeline Race Truck features a body designed by Honda R&D Americas' Los Angeles Design Studio, with inspiration taken from the current Honda Ridgeline, which was also designed and developed by Honda R&D North Americas. Key design cues drawn from the 2019 Honda Ridgeline can be seen in the front fascia, hood, roof, bed and side profile.
Making approximately 550 horsepower, HPD's 3.5-liter HR35TT engine uses the same block, cylinder heads and crankshaft as the production V6 engine that powers the all-new Ridgeline. Additional, custom elements of the powertrain include an HPD-designed intake plenum and custom Engine Control Unit programming.
The oldest, most prestigious and longest continuously held desert off-road race, this year's SCORE Baja 1000 on Nov. 16-17 will be a loop race of 806.76 miles, starting and ending in Ensenada in Mexico's Baja California peninsula. The race is the finale of the SCORE World Desert Championship. The start/finish line compound will once again be adjacent to the historic Riviera del Pacifico Cultural Center in Ensenada. The car, truck and UTV classes will start at 10:30 a.m. PT on Friday, Nov. 16, with the first finishers expected to complete the race in approximately 13 hours.