Schumacher tops practice, but Ticktum takes provisional pole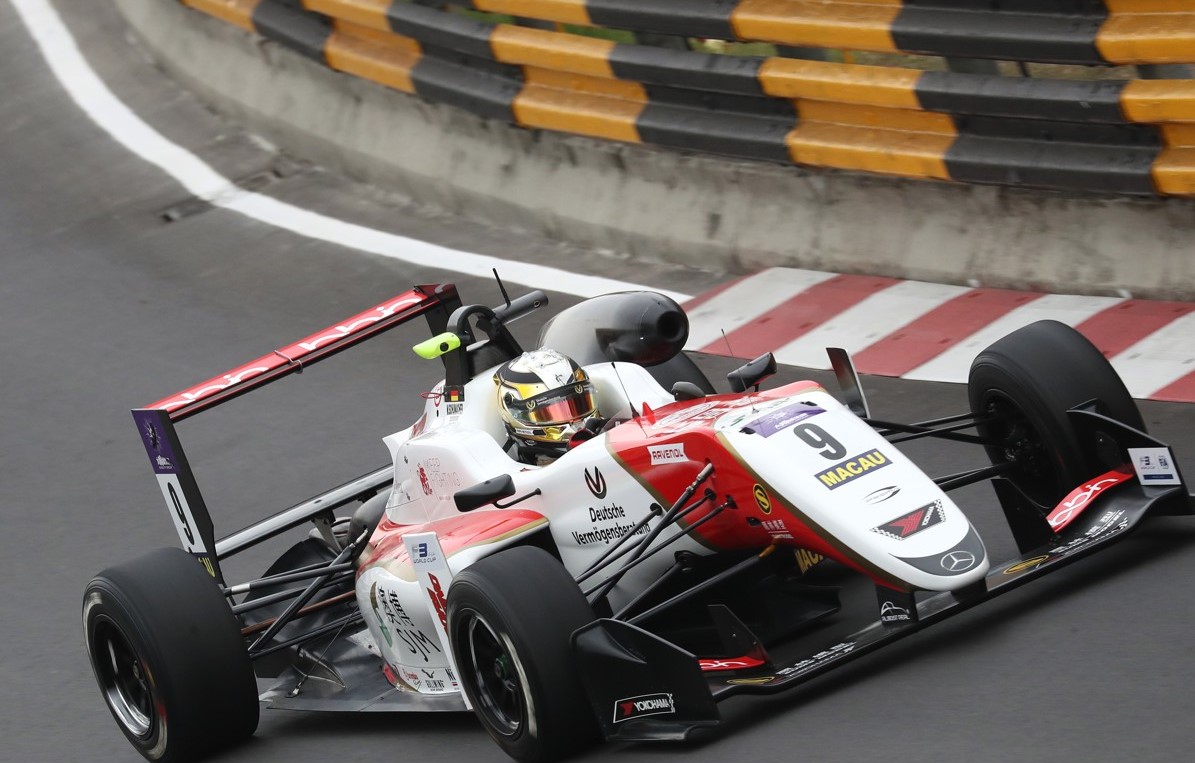 Schumacher quickest when it did not count
Formula 3 European champion Mick Schumacher drew first blood in the Macau Grand Prix weekend by topping the opening free practice session with a lap of 2m12.168s.
However, Motopark driver Dan Ticktum put himself on provisional pole for Saturday's Macau Grand Prix qualification race after a series of red flags in a dramatic first qualifying session on Thursday.
Red Bull junior Ticktum's lap of two minutes, 11 seconds was 0.132 seconds quicker than Ferrari protege Callum Ilott of Carlin F3, as he bids for back-to-back wins in Macau.
With rain forecast for Friday, the front row for Saturday could already be set.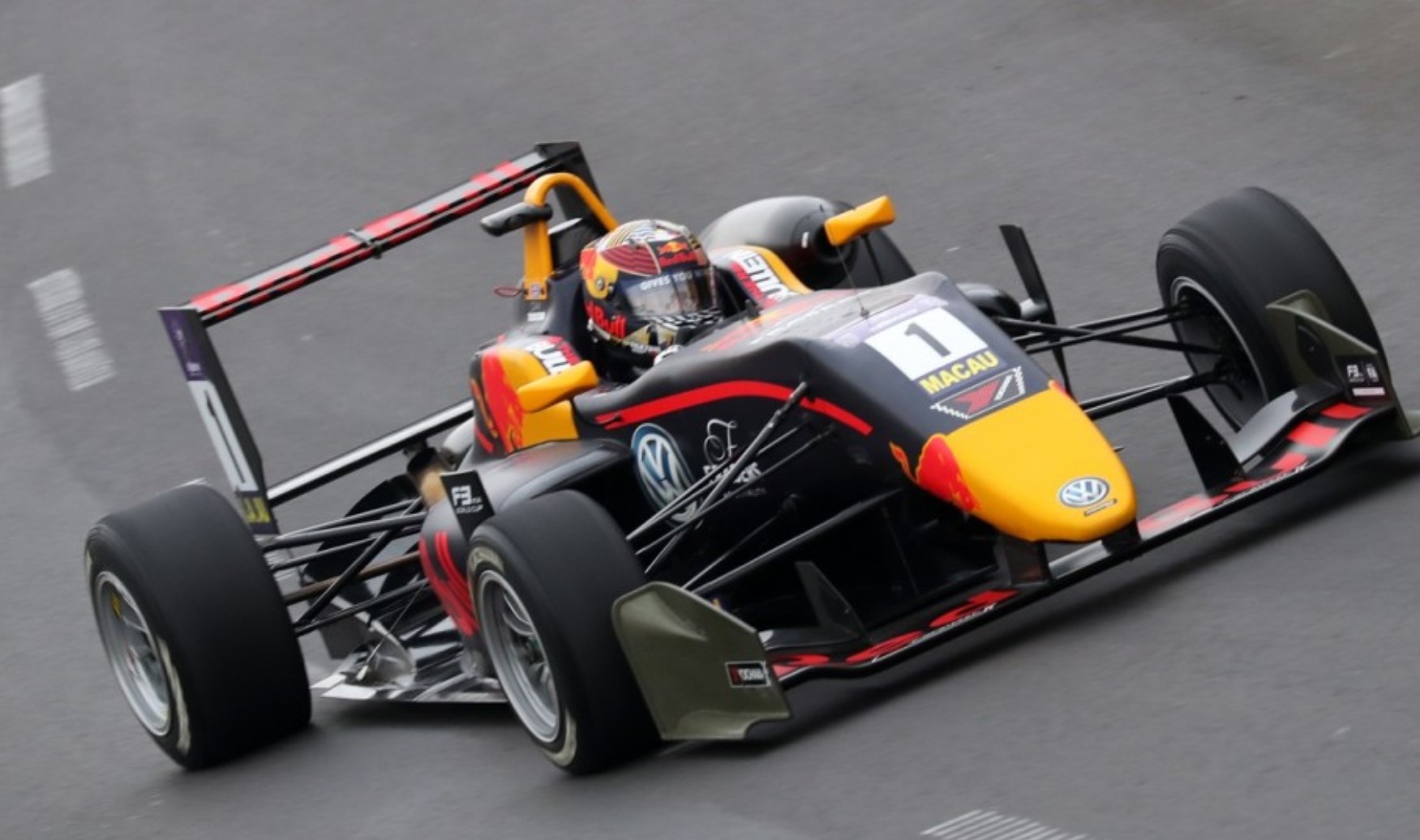 Ticktum quickest when it counted, but was helped by a tow
Formula Three champion Mick Schumacher had to settle for third for Prema Powerteam, after finishing top of the earlier free practice session.
"It was good but I'm not completely satisfied," said Ticktum.
"There are quite a few improvements to come for the car and the driver, and I need to be doing better than a 2m11.0s to be honest.
"The lap was good, I'm not denying that, but it can always be better – I'm not disappointed, but I'm not over the moon either."
Practice 1 Results
| | | | | |
| --- | --- | --- | --- | --- |
| POS | DRIVER | TEAM | CAR | GAP |
| 1 | Mick Schumacher | SJM Theodore Racing by Prema | Dallara/Mercedes | 0.000s |
| 2 | Callum Ilott | Carlin | Dallara/Volkswagen | 0.030s |
| 3 | Juri Vips | Motopark Academy | Dallara/Volkswagen | 0.036s |
| 4 | Dan Ticktum | Motopark Academy | Dallara/Volkswagen | 0.232s |
| 5 | Joel Eriksson | Motopark Academy | Dallara/Volkswagen | 0.255s |
| 6 | Sacha Fenestraz | Carlin | Dallara/Volkswagen | 0.277s |
| 7 | Robert Shwartzman | SJM Theodore Racing by Prema | Dallara/Mercedes | 0.281s |
| 8 | Alex Palou | B-MAX Racing Team | Dallara/Volkswagen | 0.326s |
| 9 | Sho Tsuboi | TOM'S | Dallara/Toyota | 0.685s |
| 10 | Jake Hughes | Hitech GP | Dallara/Mercedes | 0.945s |
| 11 | Yuhi Sekiguchi | B-MAX Racing Team | Dallara/Volkswagen | 1.098s |
| 12 | Ferdinand Habsburg | Motopark Academy | Dallara/Volkswagen | 1.098s |
| 13 | Ralf Aron | SJM Theodore Racing by Prema | Dallara/Mercedes | 1.208s |
| 14 | Marcus Armstrong | SJM Theodore Racing by Prema | Dallara/Mercedes | 1.259s |
| 15 | Guan Yu Zhou | SJM Theodore Racing by Prema | Dallara/Mercedes | 1.273s |
| 16 | Sophia Florsch | Van Amersfoort Racing | Dallara/Mercedes | 1.741s |
| 17 | Ritomo Miyata | TOM'S | Dallara/Toyota | 1.818s |
| 18 | Marino Sato | Motopark Academy | Dallara/Volkswagen | 2.095s |
| 19 | Enaam Ahmed | Hitech GP | Dallara/Mercedes | 2.262s |
| 20 | Jehan Daruvala | Carlin | Dallara/Volkswagen | 2.292s |
| 21 | Toshiki Oyu | Toda Racing | Dallara/Toda | 2.519s |
| 22 | Keyvan Andres | Van Amersfoort Racing | Dallara/Mercedes | 2.728s |
| 23 | Frederik Vesti | Van Amersfoort Racing | Dallara/Mercedes | 3.369s |
| 24 | Ukyo Sasahara | ThreeBond Racing | Dallara/Tomei | 4.017s |
| 25 | Sena Sakaguchi | Toda Racing | Dallara/Toda | 4.887s |
| 26 | Yoshiaki Katayama | Carlin | Dallara/Volkswagen | 9.021s |
| 27 | Charles Leong | Hitech GP | Dallara/Mercedes | 15.543s |
| 28 | Dragon | B-MAX Racing Team | Dallara/Volkswagen | 15.796s |
Provisional Qualifying
| | | | | |
| --- | --- | --- | --- | --- |
| POS | DRIVER | TEAM | CAR | GAP |
| 1 | Dan Ticktum | Motopark Academy | Dallara/Volkswagen | 0.000s |
| 2 | Callum Ilott | Carlin | Dallara/Volkswagen | 0.132s |
| 3 | Mick Schumacher | SJM Theodore Racing by Prema | Dallara/Mercedes | 0.429s |
| 4 | Jake Hughes | Hitech GP | Dallara/Mercedes | 0.494s |
| 5 | Yuhi Sekiguchi | B-MAX Racing Team | Dallara/Volkswagen | 0.670s |
| 6 | Sacha Fenestraz | Carlin | Dallara/Volkswagen | 0.703s |
| 7 | Joel Eriksson | Motopark Academy | Dallara/Volkswagen | 0.728s |
| 8 | Alex Palou | B-MAX Racing Team | Dallara/Volkswagen | 0.771s |
| 9 | Ferdinand Habsburg | Motopark Academy | Dallara/Volkswagen | 0.913s |
| 10 | Sho Tsuboi | TOM'S | Dallara/Toyota | 0.962s |
| 11 | Juri Vips | Motopark Academy | Dallara/Volkswagen | 0.976s |
| 12 | Enaam Ahmed | Hitech GP | Dallara/Mercedes | 0.994s |
| 13 | Marcus Armstrong | SJM Theodore Racing by Prema | Dallara/Mercedes | 1.035s |
| 14 | Guan Yu Zhou | SJM Theodore Racing by Prema | Dallara/Mercedes | 1.074s |
| 15 | Sophia Florsch | Van Amersfoort Racing | Dallara/Mercedes | 1.513s |
| 16 | Jehan Daruvala | Carlin | Dallara/Volkswagen | 1.594s |
| 17 | Ritomo Miyata | TOM'S | Dallara/Toyota | 1.642s |
| 18 | Ralf Aron | SJM Theodore Racing by Prema | Dallara/Mercedes | 1.700s |
| 19 | Robert Shwartzman | SJM Theodore Racing by Prema | Dallara/Mercedes | 2.034s |
| 20 | Marino Sato | Motopark Academy | Dallara/Volkswagen | 2.388s |
| 21 | Keyvan Andres | Van Amersfoort Racing | Dallara/Mercedes | 2.550s |
| 22 | Frederik Vesti | Van Amersfoort Racing | Dallara/Mercedes | 3.010s |
| 23 | Toshiki Oyu | Toda Racing | Dallara/Toda | 3.063s |
| 24 | Sena Sakaguchi | Toda Racing | Dallara/Toda | 3.664s |
| 25 | Charles Leong | Hitech GP | Dallara/Mercedes | 3.966s |
| 26 | Ukyo Sasahara | ThreeBond Racing | Dallara/Tomei | 5.567s |
| 27 | Yoshiaki Katayama | Carlin | Dallara/Volkswagen | 8.517s |
| – | Dragon | B-MAX Racing Team | Dallara/Volkswagen | 13.131s |