Telcel and Infinitum enter partnership with ROC ahead Mexico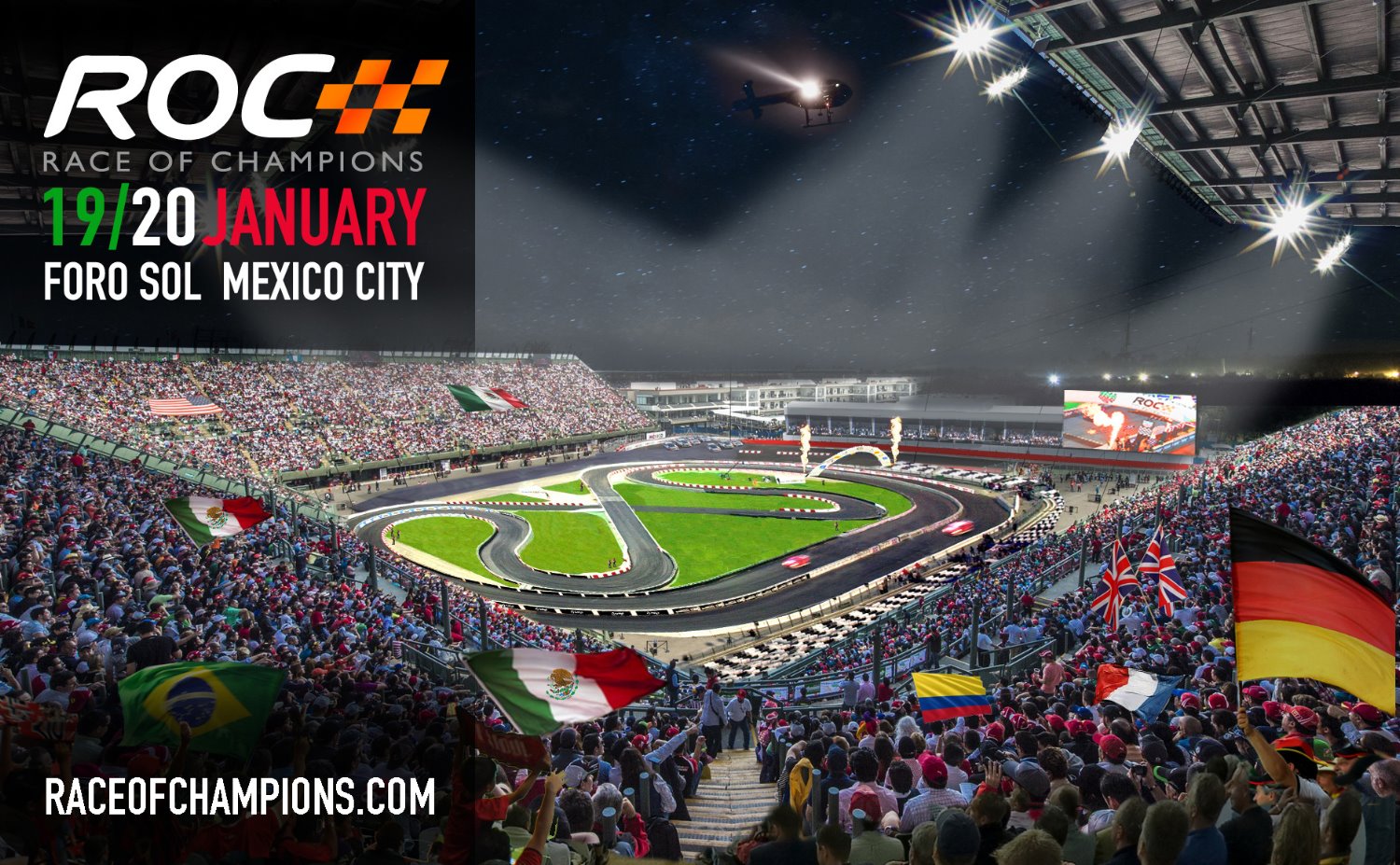 Mexico Stadium
Telcel and Infinitum – part of Mexico's largest mobile network operator America Movil – have entered into partnership with the Race Of Champions ahead of ROC Mexico on January 19-20, 2019 at the Foro Sol, the iconic amphitheatre forming part of Mexico City's Autódromo Hermanos Rodríguez Formula 1 circuit.
The partnership was announced formally at a press conference at the venue today (Wednesday 14 November) ahead of the first test of the brand new ROC track. This has been designed by Race Of Champions co-founder Michèle Mouton along with ROC test and stunt driver Terry Grant – and it will be a pursuit-style circuit like the one used at London's Olympic Stadium in 2015.
In each heat, both drivers race on exactly the same track, but they start from a point halfway around the track from their rival. To rev up the tension even further, the two racers will start next to each other but facing in opposite directions. At the green light they will speed off in a bid to hunt each other down. It all builds up to the big finish – again approached from opposite ends – where there can only be one winner, often decided only by fractions of a second.
> Watch a one-minute video all about ROC Mexico.
The first Mexican drivers competing will also be announced today. They are drawn from a wide range of different motorsport disciplines – NASCAR, IndyCar, rally and sportscars – which make for a perfect mix for the Race Of Champions, where greats from many different motorsport disciplines compete in identical supercars.
The field already includes Formula 1 legends Sebastian Vettel and David Coulthard, with many more brilliant drivers – both from Mexico and all over the world – still to be announced in the run-up to January's ROC Mexico. Now the global legends will have to push extra hard to defeat Mexico's home heroes, who will be given an extra boost by the noise of the fans in the Foro Sol.
Sportscar great Memo Rojas is one of Mexico's most experienced drivers, having won the 24 Hours of Daytona three times and been crowned champion of the Rolex Sports Car Series four times. He also added the European Le Mans Series title to his impressive roll of honour in 2017, before making his debut at the Race Of Champions in Riyadh earlier this year (see picture below).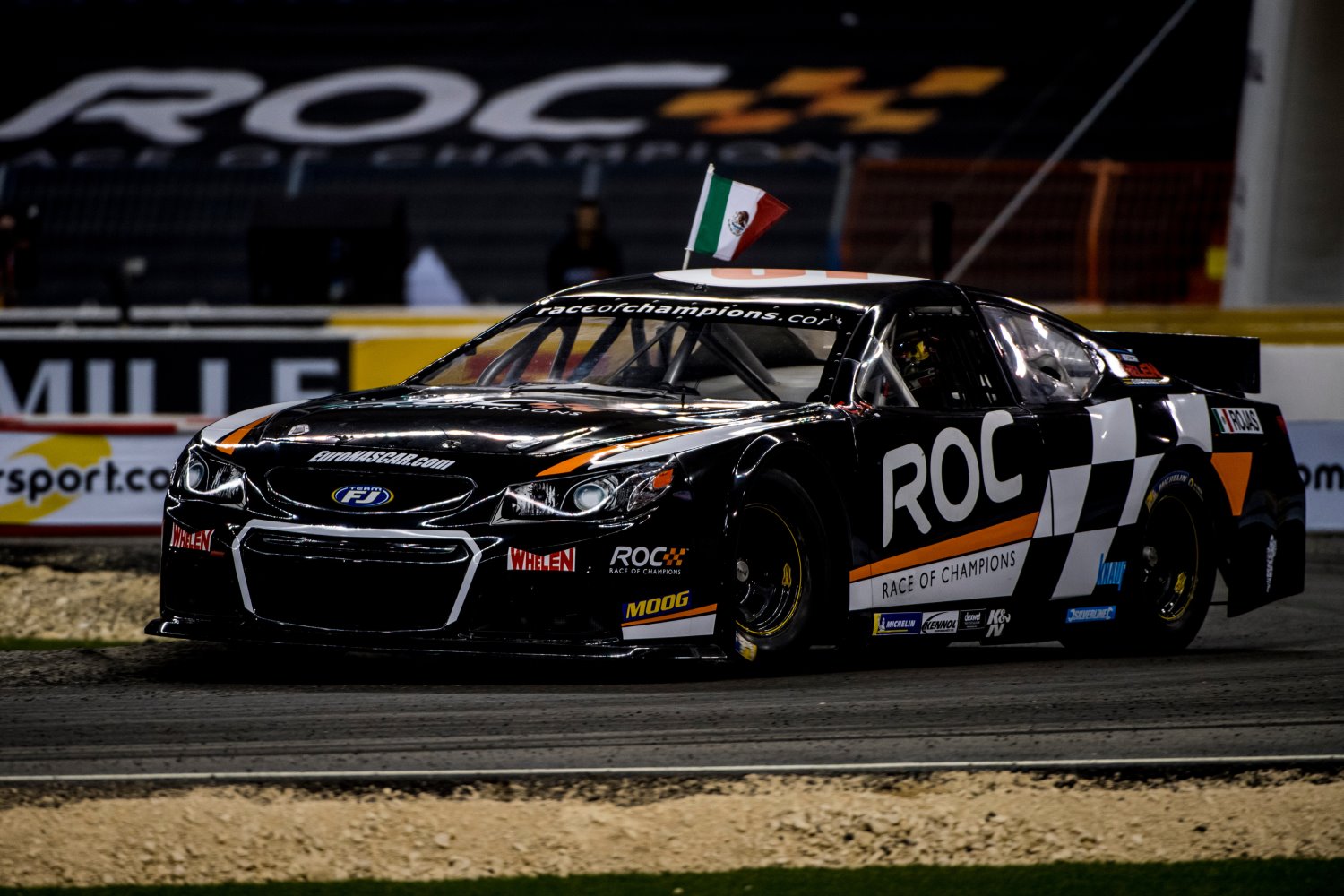 Rojas
Rojas said: "It's great that the Race Of Champions is coming to Mexico City for the first time next January. This is an event where you can race against the best stars of Formula 1, NASCAR, World Rally and so on – which means competing against some of the best drivers in the world, something that only happens here at ROC. I urge all race fans to watch all the action in Mexico, it will be great fun and super exciting!"
Daniel Suárez is a stock car racer with another fine pedigree, currently competing in the Monster Energy NASCAR Cup Series for Joe Gibbs Racing. In 2016 he became NASCAR Xfinity Series Champion, while he has also taken part in Mexico's NASCAR Toyota Series for Telcel Racing. Now he will make his Race Of Champions debut in front of his home fans in January.
They will be joined in the ROC Mexico field by Benito Guerra, a rally driver who won the Production World Rally Championship in 2012 and has gone on to compete in the World Rally Championship. Guerra is another Race Of Champions veteran, having competed at the 2012 event in Bangkok, Thailand – and sealed heat victories against MotoGP ace Jorge Lorenzo and World Rally Champion Sébastien Ogier. Now he will aim for even more glory in Mexico City.
The final Mexican competitor confirmed – so far – is Patricio O'Ward, a 19-year-old who stormed to this year's Indy Lights championship for Andretti Autosport. He made his debut in America's IndyCar series shortly afterwards, ahead of his first full season in 2019. O'Ward is also the youngest driver ever to win the 24 Hours of Daytona and the 12 Hours of Sebring, triumphing in the PC class at the age of just 17. This mix of experience will doubtless serve him well as he gets used to the quick changes of machinery on his debut at the Race Of Champions.
Carlos Slim Domit, Chairman of America Movil and Escuderia Telmex, said: "It's brilliant news that the Race Of Champions is coming to Mexico as it makes its first visit to Latin America. This is a big event to promote our country and the sport throughout the region and the world. So we are delighted to support this effort that will offer our people a chance to see the world's greatest drivers competing in equal machinery representing their countries on a newly-designed race track at the Foro Sol. Technology, competition and speed are at the heart of our services at Telmex, Telcel, Infinitum and Claro – a passion we share with the Race Of Champions.
"We look forward to a great event and we hope the fans can enjoy this memorable occasion while cheering on the Mexican drivers. The Race Of Champions is a top international event and as it's happening in Mexico we will make it a memorable one, just like we have with the Mexican Grand Prix."
José Abed, President of Mexican Automobile Federation OMDAI, added: "Mexico is delighted to welcome the Race Of Champions, featuring so many important drivers from all over world. This is the only race where we can truly compare the best drivers from so many disciplines of motorsport in identical machinery.
"For Omdai and FIA Américas it is very exciting to be part of the organisation of the Race Of Champions. I have no doubt the fans and the motor racing family in Mexico will be delighted to have a chance to watch this important event – and we trust all the competing drivers will love our country!"
ROC President Fredrik Johnsson said: "We are thrilled to be entering into partnership with America Movil's brands Telcel and Infinitum ahead of ROC Mexico, the first time the Race Of Champions has taken place in Latin America. We share a passion for innovation and excitement and we are sure they will enjoy the action-packed event we put on for race fans both in Mexico and all over the world.
"Our all-new pursuit-style track will guarantee amazing action. Watching some of the world's best drivers sprinting for the finish line in opposite directions has to be seen to be believed! It's also fantastic to welcome such a varied selection of racing talent from Mexico itself. We pride ourselves on the wide range of motorsport disciplines in action at the Race Of Champions – and this time we already have home stars of NASCAR, rally, sportscars and IndyCar, with more to come. Watch this space…"
The Race Of Champions is an annual contest which has a history dating back over 30 years. It brings together many of the world's greatest drivers from motorsport's major disciplines – including Formula 1, NASCAR, IndyCar, Le Mans, World Rally and RallyX – and sets them free to battle head-to-head in identical machinery.
The Foro Sol will join a list of prestigious venues to have hosted ROC since 1988 – including Beijing's Bird's Nest and London's Olympic stadiums, Stade de France in Paris, Wembley Stadium in London, Miami's Marlins Park plus a wide range of exotic locations all over the world from Bangkok to Barbados to Riyadh.
The event enjoys a rich record of attracting global superstars from every corner of motorsport. Formula 1 World Champions Sebastian Vettel, Michael Schumacher, Fernando Alonso and Jenson Button have raced against NASCAR stars Jeff Gordon, Jimmie Johnson and Busch brothers Kyle and Kurt, IndyCar's Juan Pablo Montoya and Ryan Hunter-Reay, World Rally greats Sébastien Loeb, Sébastien Ogier and Colin McRae, as well as prominent figures from other classes including record Le Mans winner Tom Kristensen, X Games legend Travis Pastrana plus MotoGP icons Mick Doohan, Jorge Lorenzo and Valentino Rossi.
Now the greats of Mexican motorsport have the chance to race some of the world's best drivers – all in ROC's identical machinery. The competitors will take to the track in a stunning range of supercars that have been specially prepared for ROC to push them to the absolute limit. To prevail, they will have to master this mix of machines, forcing them to adapt their driving style as they make regular switches between cars and putting all their hard-earned skills to the test.
It makes for a thrilling spectacle, with head-to-head races often decided by fractions of a second – as the screams of the crowd compete for supremacy with the screams of the engines…
The Race Of Champions is run over two days: first comes the ROC Nations Cup (on Saturday January 19) when drivers pair up in teams based on nationality – including the hosts Mexico – to bid for the title of 'World's Fastest Nation'. Then on Sunday January 20 it's time for the Race Of Champions itself, when teamwork goes out of the window and it's a flat-out battle for individual glory.
But that's not all. The Race Of Champions is a non-stop show from start to finish and also features stunt shows on four wheels and two plus DJs, cheerleaders and plenty of other entertainment to keep the race fans on the edge of their seats.
Ticket prices start at just $1,450 pesos for two days of non-stop action, but there are fewer than 20,000 seats still available, so fans are advised to act now. Further details about the competing drivers will be announced in the run-up to January's event.
For access to rights-free high-resolution imagery and to keep up with all the latest news ahead of ROC Mexico please visit www.raceofchampions.com, Race Of Champions on Facebook plus @raceofchampions and #ROCMexico on Twitter.