Chevrolet Wins NHRA Manufacturers Cup for Record-Extending 23rd Time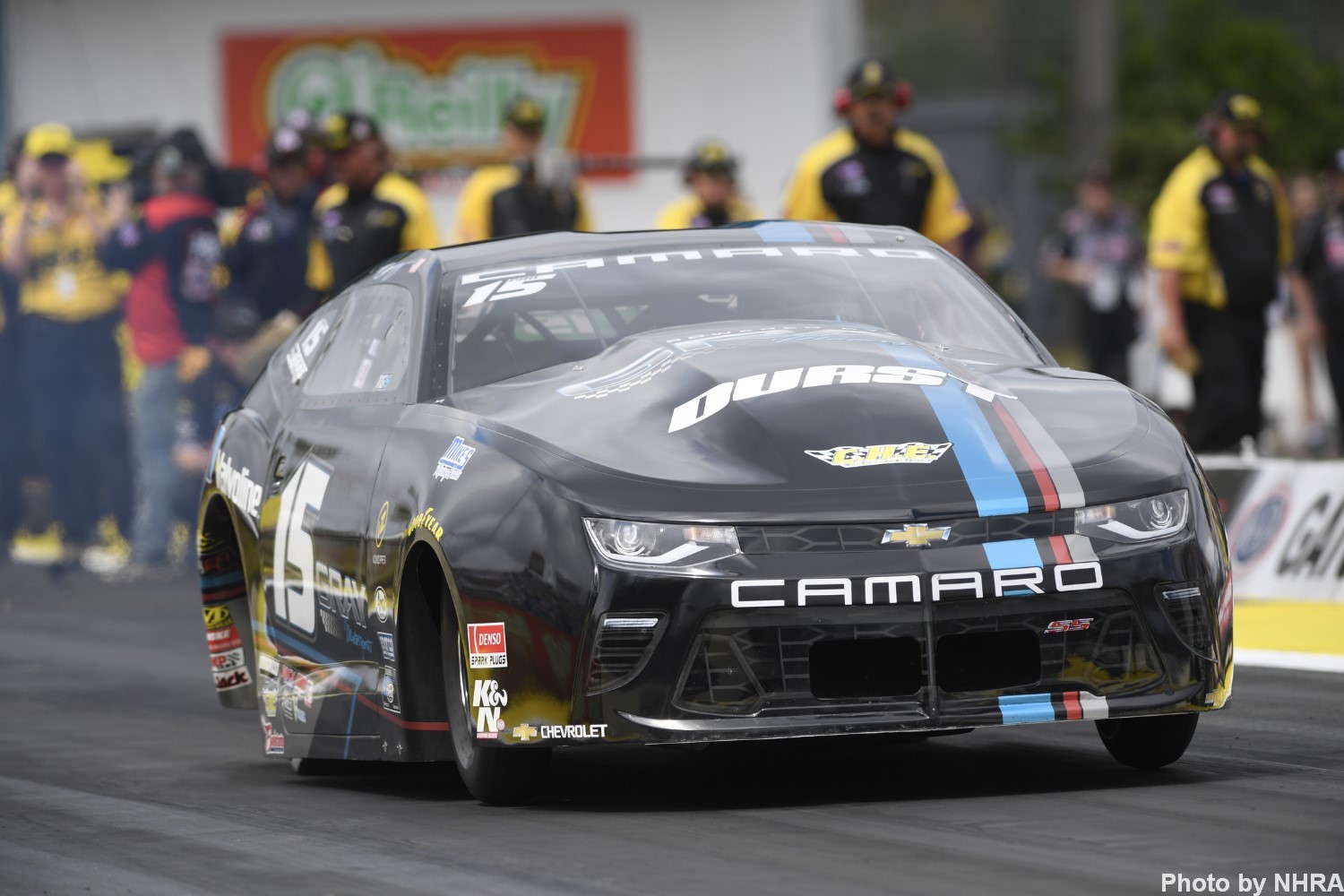 Tanner Gray Camaro
For the second consecutive year, fourth time in the past five years and record-extending 23rd time, Chevrolet is the top manufacturer on the drag strip.
Chevy Racing was awarded the National Hot Rod Association (NHRA) Manufacturers Cup during the NHRA Mello Yello Drag Racing Series Awards Ceremony Nov. 12 in Hollywood, California. Chevrolet first earned the award in 1966, and no other manufacturer has won it more times.
The Manufacturers Cup is awarded to the automobile manufacturer whose current-year models earn the most points for qualifying and category victories at NHRA Mello Yello Drag Racing Series national and Lucas Oil Drag Racing Series divisional events. Points are awarded to entries in Funny Car, Pro Stock, Super Stock and Stock Eliminator classes, plus the School of Automotive Machinists and Technology (SAM Tech) NHRA Factory Stock Showdown series.
Points accumulated by Chevrolet Camaro SS and Chevrolet COPO Camaro drivers in the professional and Sportsman classes were more than triple the closest manufacturer's total.
"Competition in the NHRA is fierce," said Mark Kent, Chevrolet's Director of Motorsports Competition. "At every NHRA event, drivers of Chevrolets in the Funny Car, Pro Stock, Super Stock and Stock classes compete for race wins and valuable manufacturer points. Chevrolet is very proud of their efforts and is truly honored to again receive the NHRA Manufacturer Cup."
Overall, 14 different Chevrolet drivers amassed 34 victories in Top Fuel, Funny Car and Pro Stock during the 24-race NHRA Mello Yello Drag Racing Series season that concluded Nov. 11 at Auto Club Raceway in Pomona, California. Drivers of the Chevrolet COPO Camaro contributed eight national event and nine divisional event wins in Lucas Oil Drag Racing Series Stock Eliminator and Super Stock categories in addition to the SAM Tech Factory Stock Showdown.
Tanner Gray followed up his 2017 NHRA rookie of the year season by claiming the Pro Stock title. Gray, 19, who won a class-high eight races driving the Gray Motorsports/Valvoline Chevrolet Camaro SS.
"Congratulations to Tanner Gray on becoming the youngest Pro Stock World Champion in NHRA history," Kent added. "We are proud that he accomplished this behind the wheel of a Chevrolet Camaro SS."
Pro Stock competitors driving the Chevrolet Camaro SS won all 24 NHRA Mello Yello Drag Racing Series events. Since the integration of electronic fuel injection in the 2016 season, drivers of the Chevrolet Camaro SS have won 60 of the 62 national events. Gray (eight wins) was among 10 Chevrolet drivers – Jeg Coughlin Jr. (three), Vincent Nobile (three), Bo Butner (two), Deric Kramer (two), Chris McGaha (two), Greg Anderson (one), Jason Line (one), Erica Enders (one), Matt Hartford (one) — who visited the winner's circle.
Robert Hight, the 2017 NHRA Funny Car world champion, earned four victories in the Auto Club of Southern California Chevrolet Camaro SS and was runner-up in the standings. Courtney Force also won four races and registered a class-high 11 low-qualifier honors driving the Advance Auto Parts Chevrolet Camaro SS.
Sixteen-time NHRA Funny Car champion John Force, driving the PEAK Coolant & Motor Oil Chevrolet Camaro SS, added a victory to push his career total to 149. Chevrolet has amassed 133 Funny Car victories since 1967, including 53 with the Camaro body.
Though not contributing to Manufacturers Cup points, 2017 Top Fuel champion Brittany Force registered a victory at Houston and recorded two No. 1 qualifier honors in her Chevrolet dragster.
Chevrolet COPO Camaro drivers Justin Lamb, Jeff Taylor, Jeff Strickland and Thomas Fletcher posted national Stock Eliminator victories. Additionally, Stephen Bell and Arthur Kohn each won a race in the seven-event SAM Tech Factory Stock Showdown in their Chevrolet COPO Camaros. Brandon Bakies recorded a Super Stock win in his COPO Camaro.
Lamb, driving his 2010 Chevrolet Cobalt, claimed his second consecutive Super Stock championship. Brian McClanahan drove his 1969 Chevrolet Camaro to the Stock Eliminator title.
The 2019 NHRA Mello Yello Drag Racing Series begins Feb. 8-10 with the Lucas Oil NHRA Winternationals at Auto Club Raceway in Pomona, California.