Latest F1 news in brief – Tuesday
Max Verstappen

Verstappen would 'kick psychologist out'

Marchionne death hurt Ferrari morale – Tronchetti Provera
Brazil ramps up efforts to keep grand prix
Dutch fans to get F1 TV Pro in first of its kind TV deal
Failed sensor ruined Vettel's race
FIA says Ocon totally in the wrong
Verstappen would 'kick psychologist out'
(GMM) Max Verstappen says he regrets nothing about shoving Esteban Ocon after Sunday's Brazilian grand prix.
The Dutchman will do two days of FIA community service as a punishment for the altercation, but insists he has no regrets.
"No. I'm just annoyed about not winning," the Red Bull driver said on the Peptalk program on Ziggo Sport.
Verstappen says it was Frenchman Ocon's reaction to the incident that prompted his anger.
"I wanted to know what was happening with him and he just did a big grin and said 'I was faster than you'. He didn't say he apologized and in fact reacted the opposite way," said the 21-year-old.
"I wanted to be positive for my mechanics, but then you see someone like that who does not even say sorry for what happened.
"You do not expect to be hit by a laggard. I'm glad my dad wasn't there," said Verstappen, whose father Jos is famous for his short temper.
Some have said Verstappen's reaction was because of a long rivalry with Ocon in the junior categories.
When asked about that, Verstappen answered: "He is not a competitor of mine in formula one. I focus on myself and the people I have to beat."
Others think the Dutchman might benefit from the help of a psychologist, but Verstappen insisted: "If they come to me with a psychologist, I'll kick them out right away.
"You have to stand firmly in your own shoes. I don't need anyone. My father is a bit like a psychologist anyway," he smiled.
Marchionne death hurt Ferrari morale – Tronchetti Provera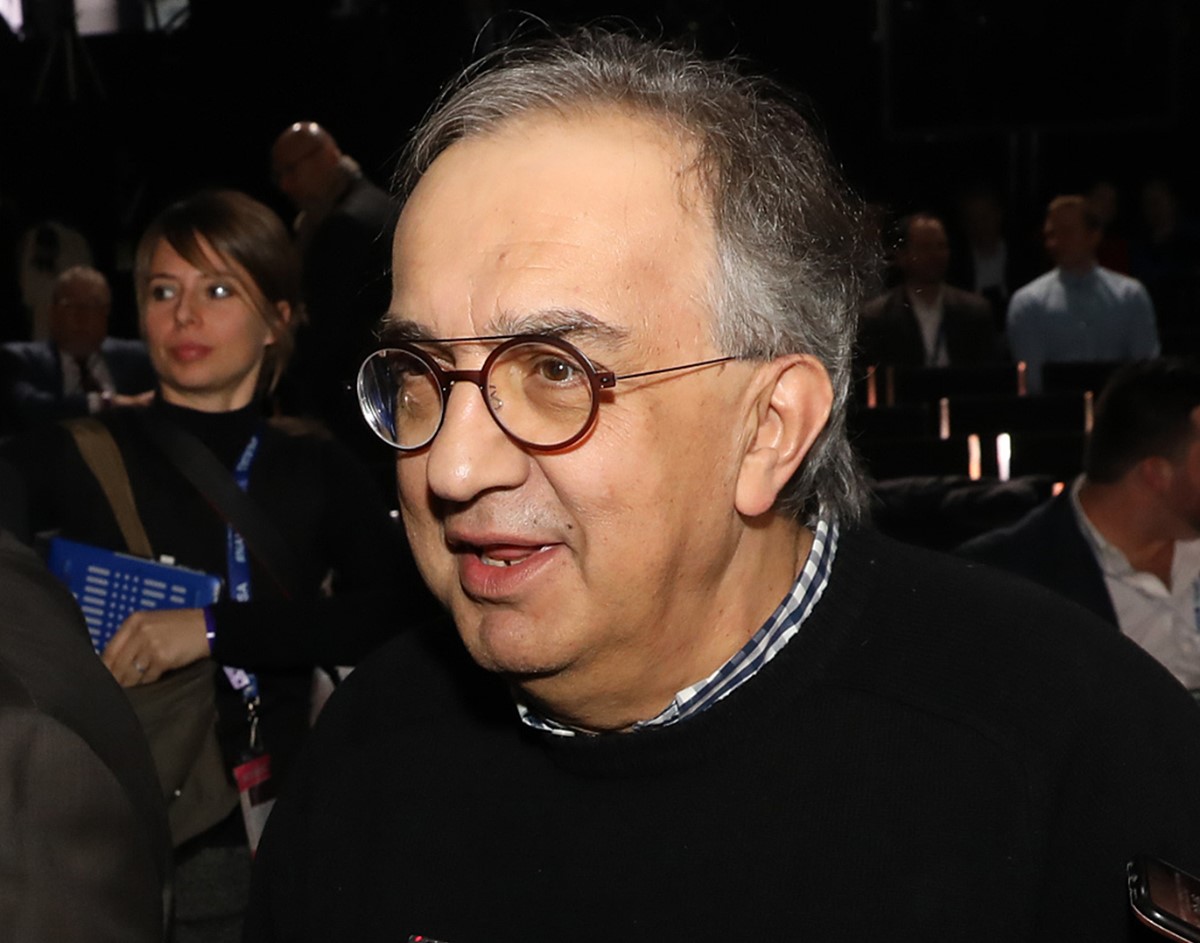 Sergio Marchionne
(GMM) Ferrari is "very close" to its goal of bringing the title back to Maranello after more than a decade.
That is the view of Pirelli CEO Marco Tronchetti Provera, even though Ferrari has been defeated by Mercedes in both world championships this year.
But Pirelli's Tronchetti Provera told Rai radio: "Ferrari did an extraordinary job.
"The loss of the leadership of Sergio Marchionne hurt morale," the Italian explained.
"Maurizio Arrivabene did a great job to keep the team together and make it competitive. They are very close to the goal that all of Italy wants to see," he added.
Sebastian Vettel has been heavily criticized for his role in Ferrari's defeat this year, with Tronchetti Provera saying Lewis Hamilton's "extraordinary continuity mattered a lot" to the outcome this year.
"Vettel is a great champion who in some moments lost a bit of confidence. The arrival of Leclerc can be a positive injection of energy and we all hope that it will be a boost of youth and character," he added.
Finally, Tronchetti Provera confirmed that Pirelli is determined to beat off Hankook's challenge and remain the official F1 tire supplier beyond 2019.
"This year we did an extraordinary job," he claimed. "I give ourselves a score of more than 8.
"We are interested in staying in F1, because the challenges are enormous and going to 18 inches is a complex job that requires a lot of technology."
Brazil ramps up efforts to keep grand prix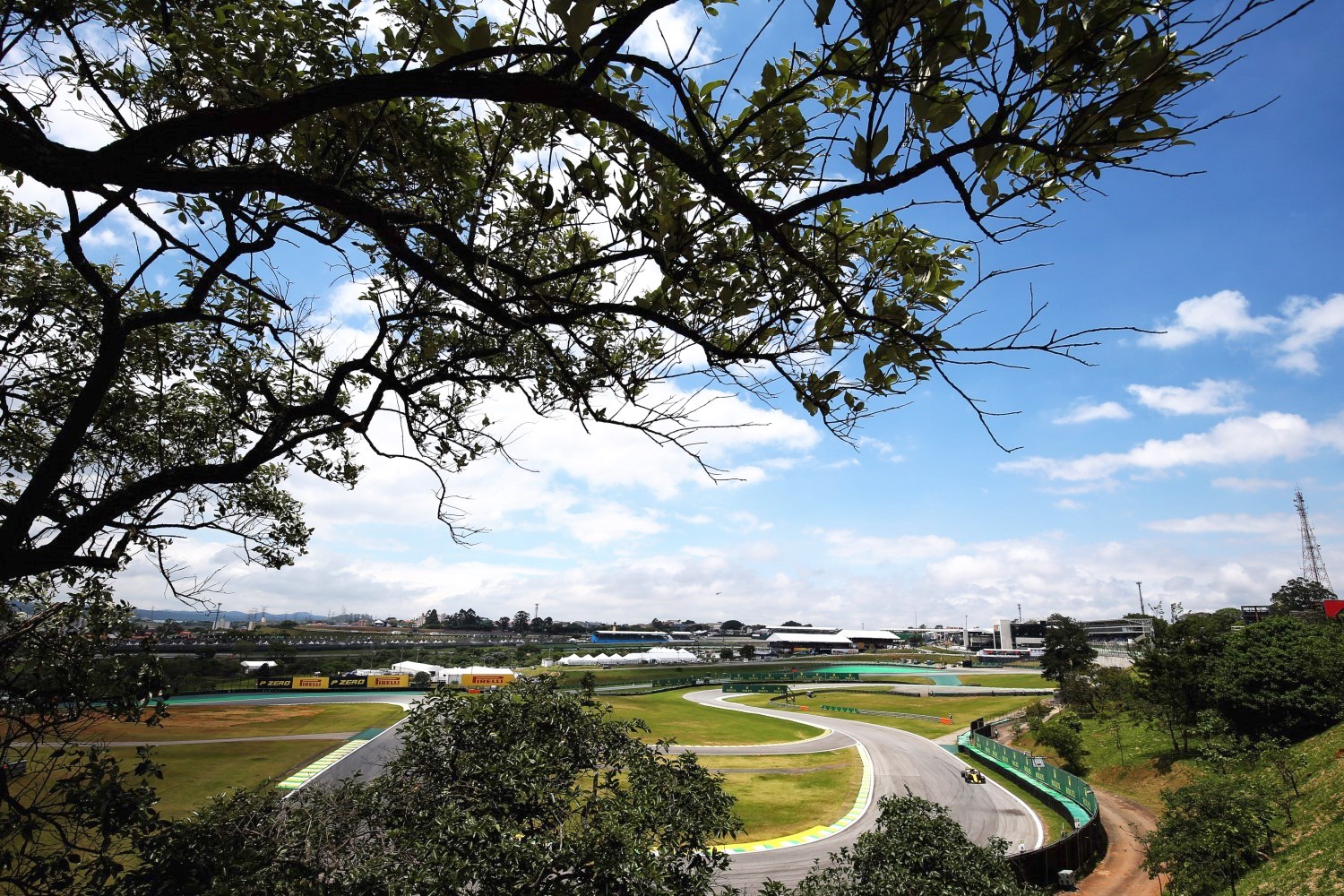 Interlagos
(GMM) Organisers of the Brazilian grand prix have ramped up efforts to keep Interlagos on the F1 calendar.
The contract expires in 2020, but local government says it intends to privatize the circuit in the meantime.
"The race is important for the city. It is in everyone's interest to keep it," Sao Paulo mayor Bruno Covas told Algemeen Dagblad newspaper.
But the problem is not only bureaucratic and financial, involving complex negotiations with Liberty Media.
The Brazilian grand prix has also been under the spotlight in recent years following a spate of violent robberies on F1 personnel travelling to and from the track.
But there were no high-profile incidents last weekend, with all ten F1 teams ramping up security with assistance from local authorities.
For instance, specially-trained drivers ferried the personnel to the track in organized convoys, hotels near the crime hotspots were avoided, and even armored cars were used.
Mayor Covas told Bild newspaper: "The security situation has improved.
"We worked hard with all the authorities involved to ensure that everyone could come to this race. I repeat: the grand prix is important to the city."
Dutch fans to get F1 TV Pro in first of its kind TV deal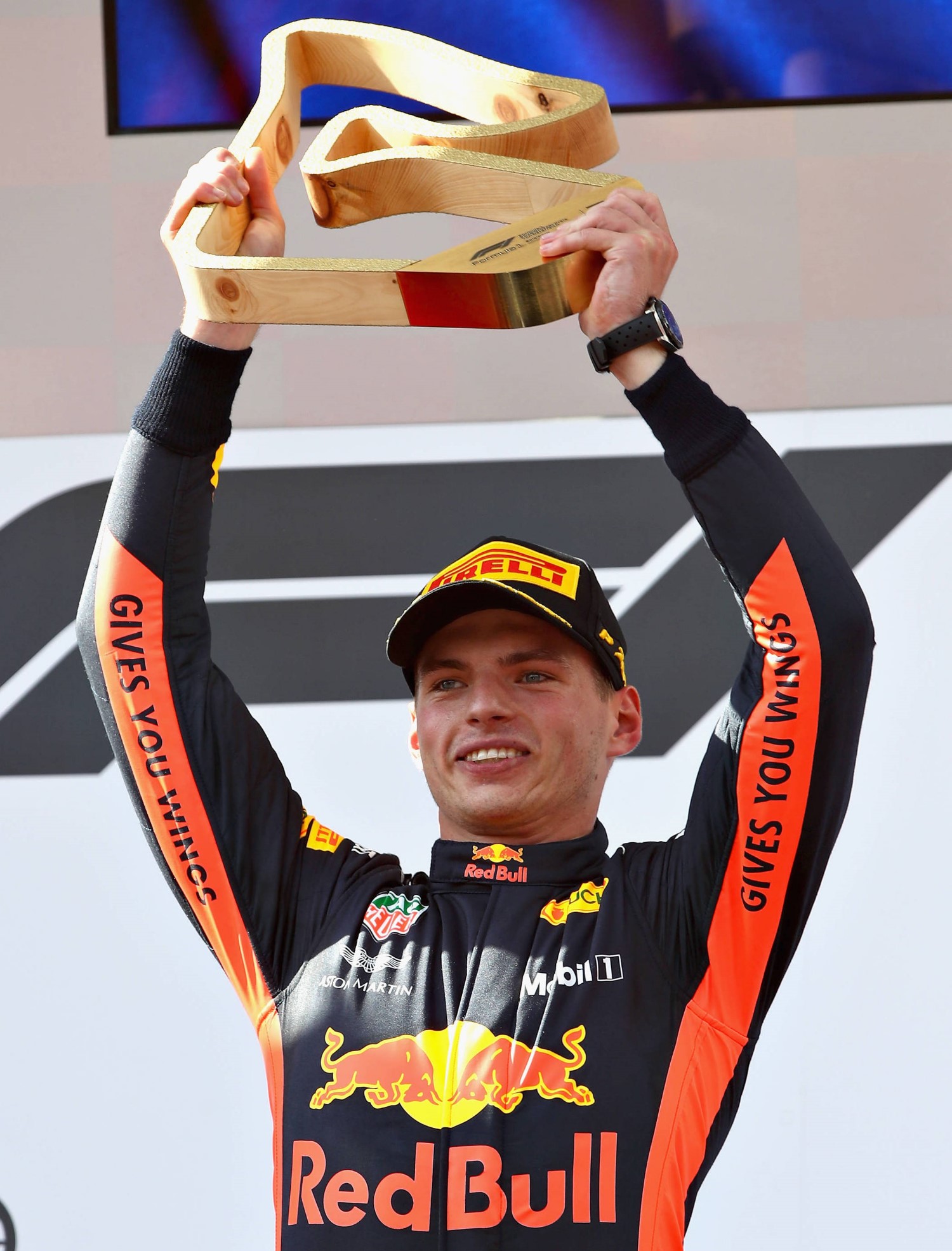 Popular Max Verstappen
Formula 1's Over-The-Top (OTT) service, F1 TV Pro, will be made available to viewers in the Netherlands from 2019 in a new deal struck between F1 and Dutch broadcaster Ziggo Sport – the first of its kind.
The streaming service is only available in select markets, with major fanbases in countries such as the Netherlands, Australia, Spain and the United Kingdom unable to receive the service due to existing broadcast deals.
However that will change from next season for the Netherlands at least as F1 has announced a first of its kind deal which will see its F1 TV Pro service – which gives fans a tailored stream, archive footage and more – co-branded in a partner deal with Ziggo Sport, allowing fans access to both its standard TV offering and a more in-depth streaming service.
"Formula 1 in the Netherlands has a long and rich history and thanks particularly to Max Verstappen it is enjoying another significant growth period," explained Ian Holmes, director of media rights at Formula 1.
"The 'Orange Army' descending on Spa and Spielberg has resonated around the world and more and more Dutch fans are engaging with the sport like never before. It is for this reason that our media rights extension agreement with Ziggo Sport is tremendously important.
"Ziggo have been delivering top quality F1 coverage for the last few years not just through their live event programming but also in their additional shoulder-content and I have every reason to believe that this will continue and grow.
"What is also ground-breaking is the incorporation of the F1 TV Pro OTT service that will now be available within the Dutch market. This will be a truly collaborative operation in that the service will be co-marketed and co-branded by F1 and Ziggo thus affording fans a combined offering like never before."
F1 boss Chase Carey recently teased the possibility of F1 TV Pro coming to more markets in 2019 alongside existing broadcast deals.
"One of the exciting opportunities we're developing is with our traditional broadcasters, some of the deals we did, renewals we did for 2019, we're partnering with them to partner and promote the OTT platform," said Carey.
"We're working with them as opposed to against them, as I think it is compatible." MotorsportWeek
Failed sensor ruined Vettel's race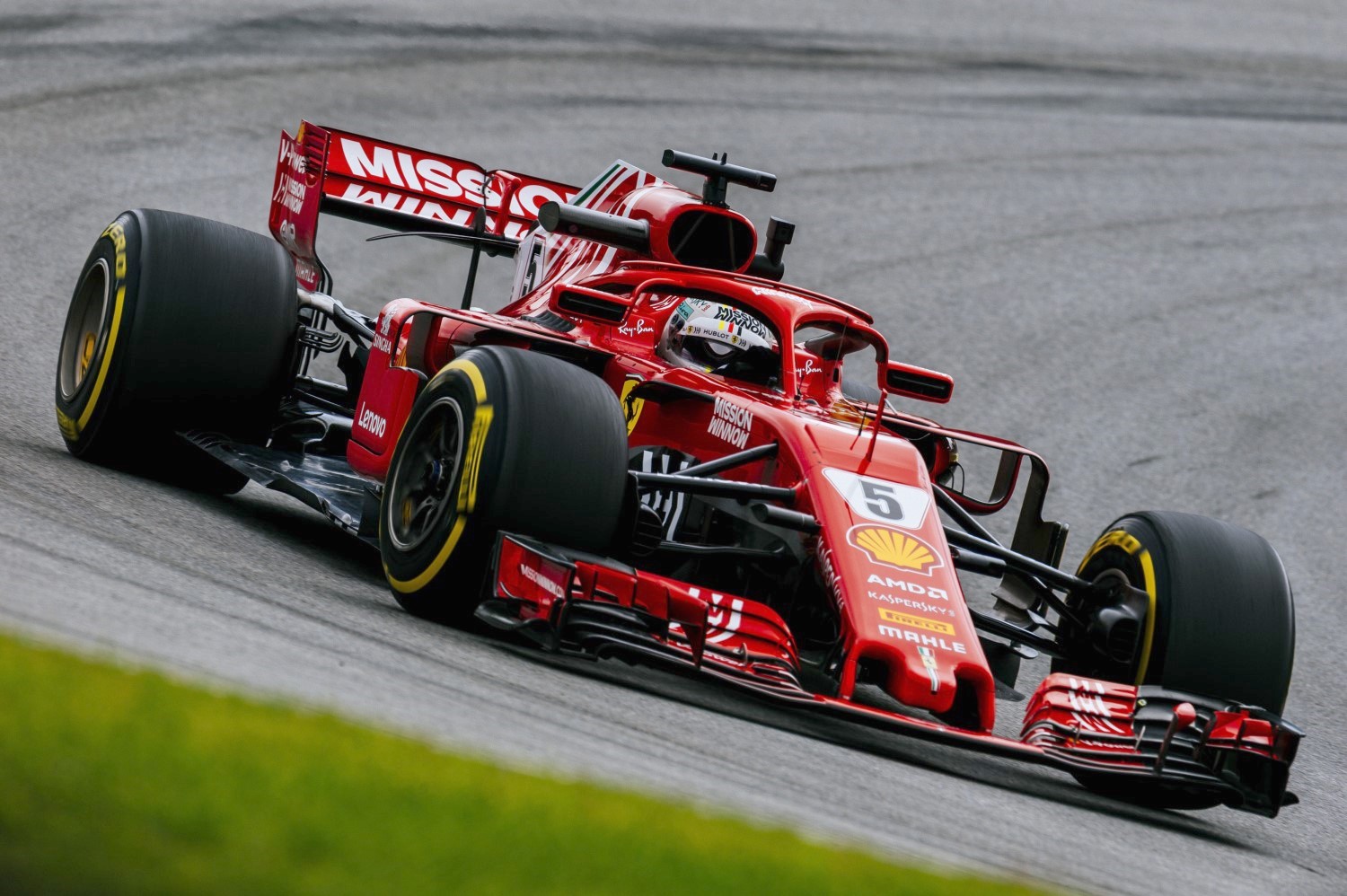 Sebastian Vettel never had a chance
Starting on the harder (soft?) tire, with just a 0.093s gap to pole-man Lewis Hamilton, much was expected of Ferrari yesterday.
As the field headed off on the warm-up lap however, Vettel was very slow in getting away with a number of cars passing him, but eventually he caught up with Hamilton.
Come the start proper and again the German was slow getting away, losing out to Valtteri Bottas in the Senna Esses. Within a few more laps he had been passed by both Max Verstappen and his Ferrari teammate, Kimi Raikkonen.
Though he later got ahead of Raikkonen when the Finn pitted, he was subsequently asked to move aside for his teammate who was noticeably quicker.
Team boss Maurizio Arrivabene subsequently revealed that the German had suffered a sensor issue which compromised his race.
"Right from the formation lap, we became aware of a problem with a sensor on Seb's car,'' said the Italian. "This meant that, for the whole race, he had to run different settings to those we would have normally used and that made the car difficult to drive.''
Meanwhile, what many perceived as a strategic masterstroke – starting on the softs – Vettel believes actually worked against the team.
Though the supersofts started strong, there was a brief period in the opening stages of the race where they began to 'fall off', only to come back into their own again.
"The supersofts didn't struggle enough, let's put it that way," said Vettel. "You could see they had two or three laps where they were in some pain and we thought now we are quids in, but they were faster before and after that phase.
"They were fast, the supersoft was fast, faster arguably, and lasted long enough," he added. "I don't think before the race anyone thought a supersoft-soft was feasible but it was actually no problem.
"I tried everything," he continued, "but obviously in terms of the result… it was just a difficult afternoon. I don't think we were on top of the car today. The supersofts lasted a longer time, longer than I think we all expected. But that's how it is.'' pitpass
FIA says Ocon totally in the wrong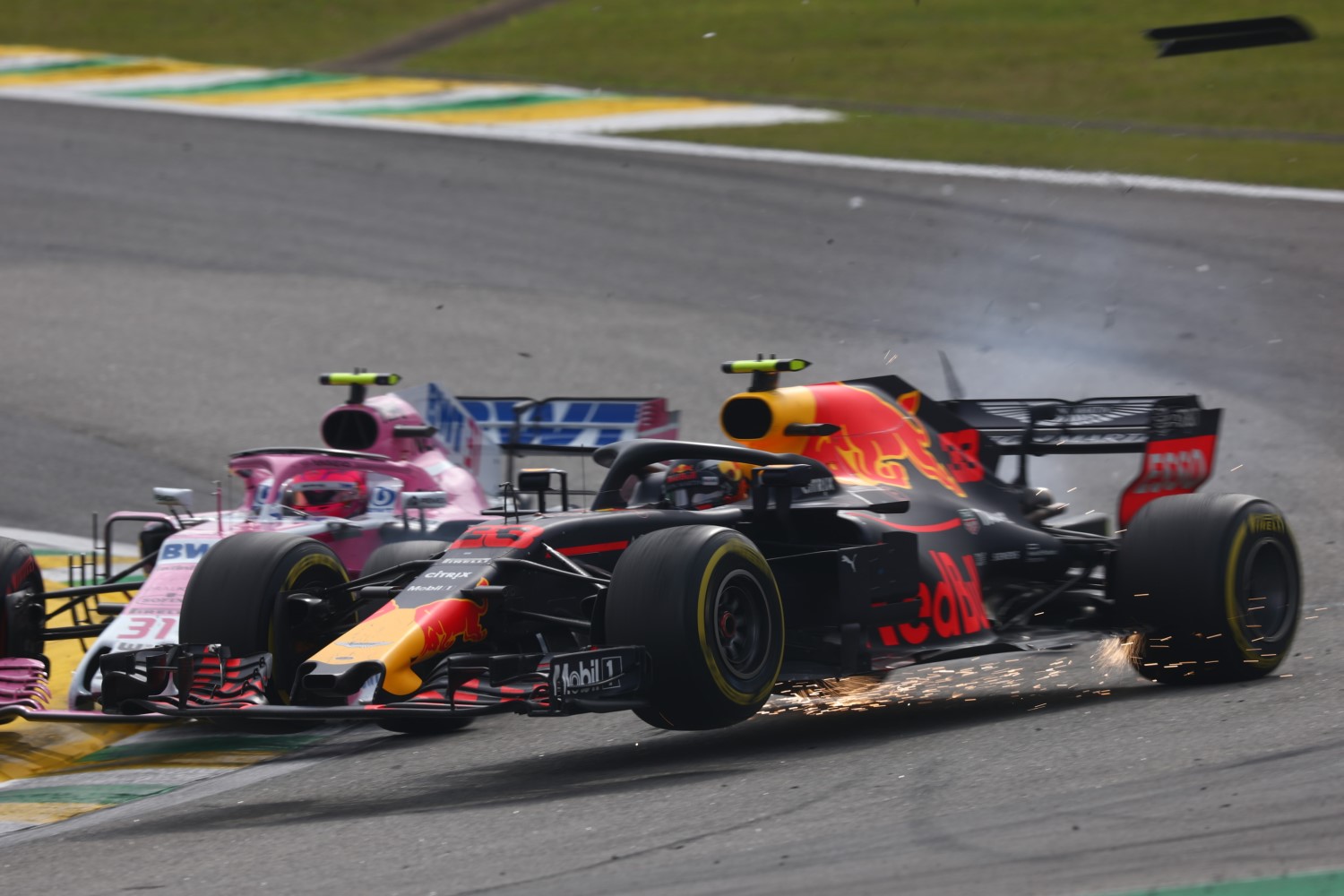 Ocon slams Verstappen, but did he teach Max a lesson?
The FIA's Charlie Whiting has explained why the stewards hit Esteban Ocon with a heavy penalty during the Brazilian Grand Prix after the Force India driver clashed with race leader Max Verstappen.
Ocon was handed a ten-second stop and go penalty for "causing a collision", which Force India team boss Otmar Szafnauer was very critical of. But Whiting explained that while cars are permitted to unlap themselves, it should be done in a safe manner and this is why the penalty was warranted.
"It's happened many times in the past," Whiting said of cars unlapping themselves. "But of course you expect it to be done safely.
"More to the point, it should be done cleanly and absolutely without fighting. You shouldn't be fighting to get past.
"If he's got the pace then normally one would expect Red Bull to say 'Ocon has got the pace, let him through' or that sort of thing.
"But it seemed he just went for it. It was just a bit unfortunate that he decided to fight for it, which was wholly unacceptable."
Whiting insists the fact it happened with the leader of the race wasn't a factor in the penalty.
"I don't think it makes any difference it was the leader," he added. "It makes it worse in a lot of people's eyes but as far as the stewards are concerned, that doesn't matter."