Pintaric and Buffomante Trans Am Winners at Daytona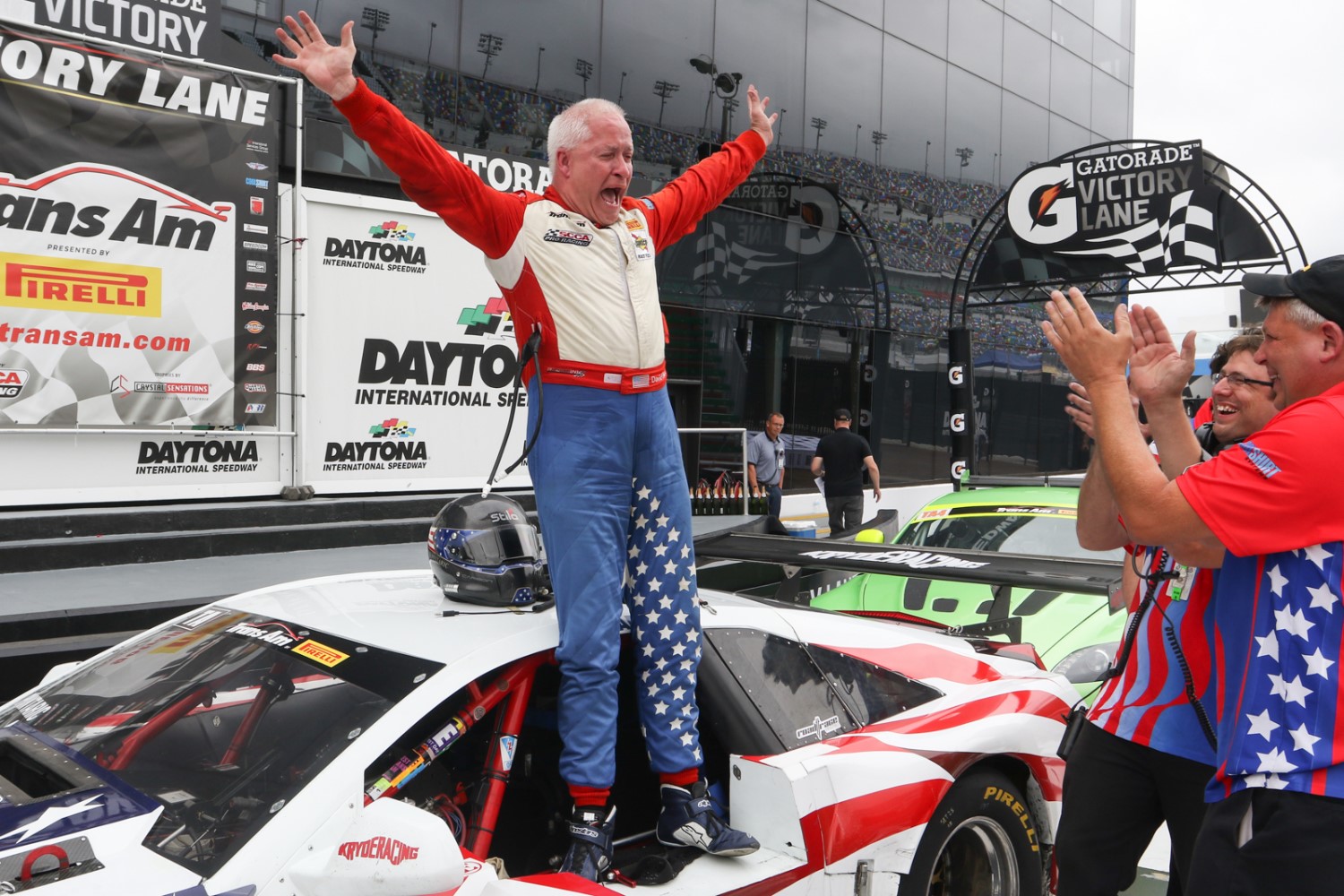 David Pintaric
David Pintaric captured his first career Trans Am Series presented by Pirelli victory in the TA class today during the Trans Am Season Finale at Daytona International Speedway while Tony Buffomante captured TA2 honors for the second consecutive year. Trans Am's TA3 class saw Tim Kezman capture his second win of the year and Steven Davison victorious in the TA4 class.
The race also saw Ernie Francis, Jr. secure his second consecutive TA title simply by taking the green flag en route to an 11th place finish due to transmission issues, while Alline Cipriani secured the TA3 class title by doing just enough, with a sixth place class finish.
The TA, TA2, and TA3 classes all saw their race winners determined on the final lap of the 29-lap contest, a green-white restart following a three-lap, full-course cation.
For Pintaric, in the No. 57 Kryderacing Cadillac CTS-V, his first career TA class win came in come-from-behind fashion overtaking RJ Lopez, in the No. 06 Tina Bazuca/ Republica Brewing Chevrolet Corvette, after a race long battle for second position between the two drivers. However, when race leader Tony Ave pitted as the field approached green, Lopez and Pintaric's battle became for the lead. The victory is Pintaric's first in 55 career TA class starts and gave the Cadillac make its first win in Series history.
A life-long fan of Trans Am and a fixture in the Trans Am paddock since his 2013 Sebring debut, Pintaric's win marked his 10th podium appearance and left the Kryderacing driver emotional in the victory circle.
"It's just a very humbling sensation to be a Trans Am winner," said Pintaric. "When you think back to all those greats, when you grow up, and even as a young adult, you look at those people and they're your heroes. And now I get to race some of them, and meet them, and I'm a winner with them. It hasn't really sunk in yet. You think about this, you dream about this, you put a lot of effort into it and making it happen, but then it does and… it just hasn't settled in yet."
Pintaric was quick to credit his team, which has fielded the No. 57 throughout his Trans Am career.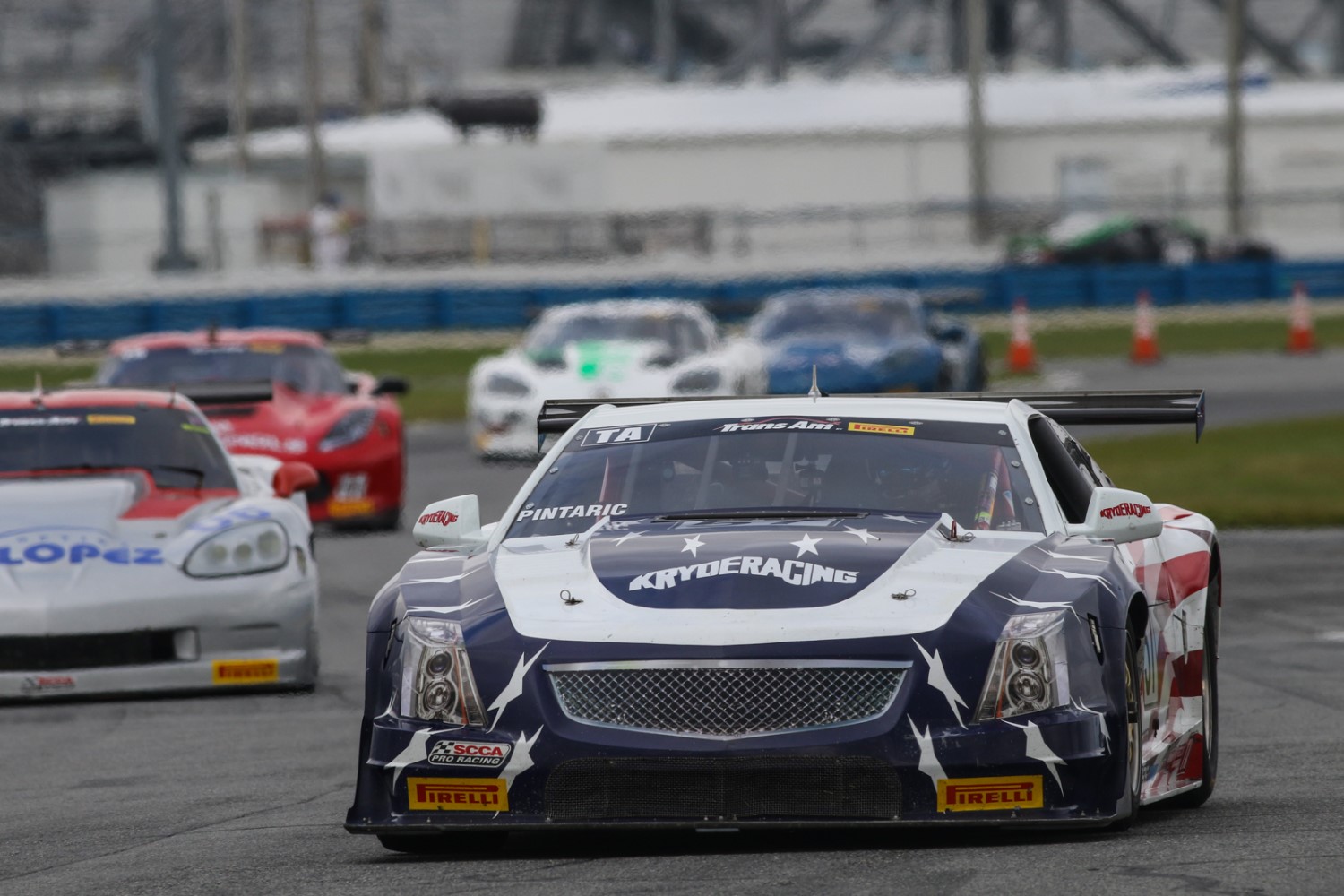 Pintaric's Cadillac
"In a way it's more for my team," said Pintaric. "There are times when you're thinking, 'What are you doing keeping them away from their families and bringing them on the road, is it worth it?' For all the hard work they've put in and the great job this Kyrderacing team does, it's great to finally make it all pay off."
Lopez would finish second for his 12th career podium appearance, while Amy Ruman, in the No. 23 McNichols Company Chevrolet Corvette, continued her strong career at Daytona International Speedway with a third place finish, extending her streak of five consecutive top five finishes at Daytona, including three wins.
Jeff Hinkle would finish fourth in the No. 91 Technical Realty Group of Texas Dodge Challenger, tying a career best. TA class pole sitter, Tony Ave, in the No. 4 Cybersight/ Ransom Stopper Chevrolet Corvette, led 28 laps of the 29-lap contest handily but was forced to pit on the final lap with a broken axel, finishing fifth.
All the while, Ernie Francis, Jr. and the No. 98 Frameless Shower Doors Ford Mustang captured their second consecutive TA class title, and fifth across all classes, with a quiet 11th place finish in the TA class after only completing half the race. Still, Francis' strong season, including five wins and seven podiums, was enough to secure the title simply by taking the green flag.
"Our season started really well," said Francis. "A few wins, some podium finishes, but around the mid-point we started a bit of a draught; the crash at Road America, parts failures at Watkins Glen, and the car just not feeling right at VIR; it took its toll on the team. We had to regroup coming into the final rounds. Our win at COTA turned it around. We had a lot of time to get the car prepped and ready. We went out there with a singular focus that was showing everyone we could still do it, then led the whole race. We came out here and had some good pace, and we knew we just had to start the race to get the championship. We wanted to win, but the car didn't want to cooperate. We had a transmission issue, so we backed it off and brought the car in. We'll be back next year and hopefully go for another one."
Upon the conclusion of today's contest, the provisional TA class championship points top five was as follows: Francis 279, Lawrence Loshak 252, Chris Dyson 246, David Pintaric 242 and Amy Ruman 235.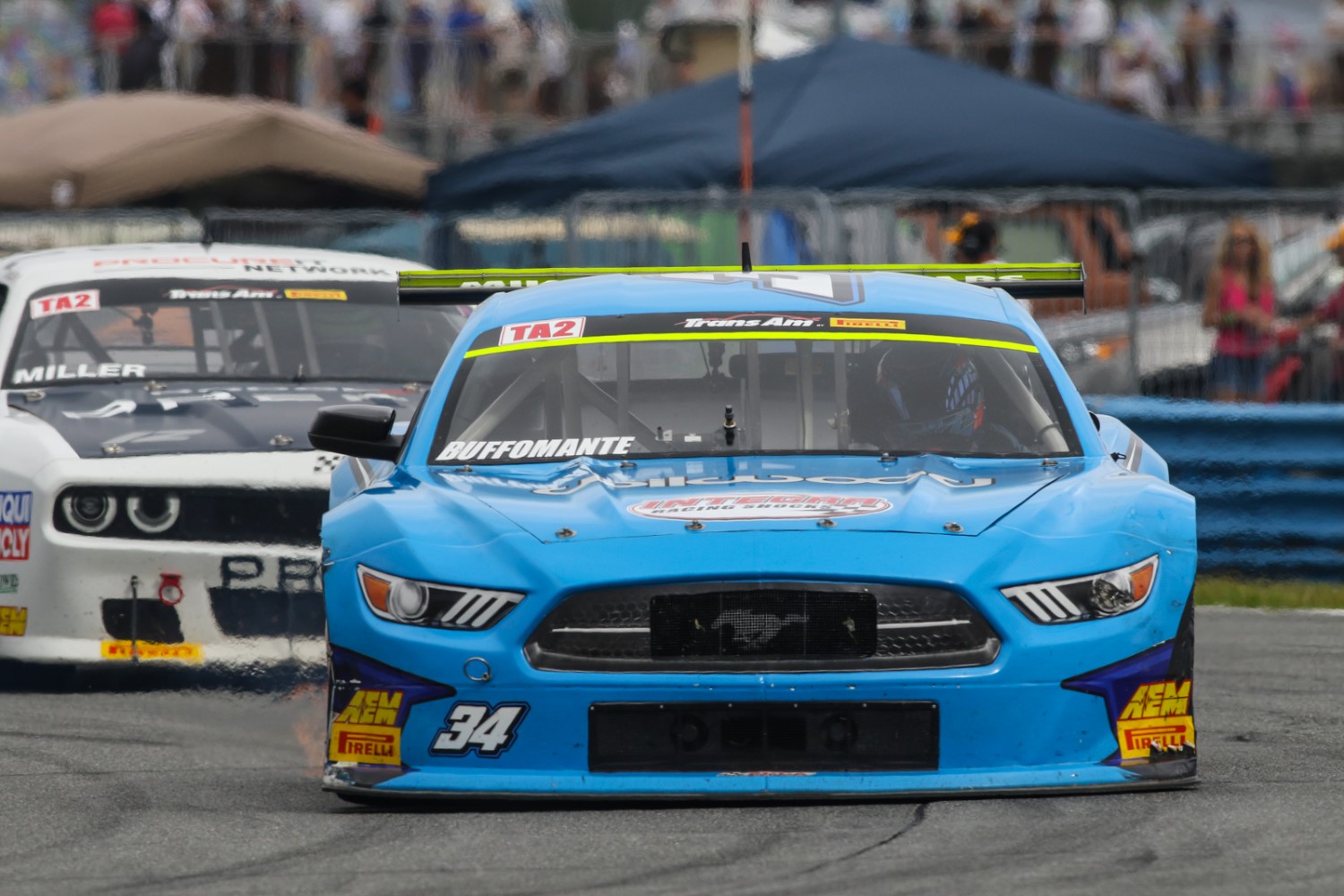 Tony Buffomante
In TA2, Tony Buffomante emerged victorious with a last-lap pass of his own, overtaking recently crowned TA2 champion Rafa Matos on the exit of turn six for the lead. However, more excitement was to follow for Buffomante as Matos, in the No. 88 3-Dimensional Chevrolet Camaro, attempted to retake the position in the bus stop.
Contact was made, sending Buffomante sideways through the grass and the 88 spinning. Buffomante managed to gather the car and power down holding first position and crossing the finish line for his second consecutive Daytona victory. The win was the 14th of his TA2 career, rebounding after a difficult homestretch to the 2018 season.
"It's really important for me to have the Mike Cope guys get a little reward for their hard work," said Buffomante. "And to get the win for our new engine supplier Koury Engines, their second win with Detroit being the first, but Mike always builds a fast car here. We were a little bit sore after last time at COTA, but the 88 was fast. Especially coming onto the oval, and off the corners. I think that Chevy's got good torque and the Ford has it on top end for sure, especially with the draft; so I'm just so happy for Travis, Jason, Mike and everyone to be able to celebrate in victory lane. It makes the end of the season a lot nicer."
Most of the race saw Buffomante in close pursuit of Matos while working to defend his position against Marc Miller, in the No. 12 Berryman/ Prefix Dodge Challenger, as the three TA2 front runners ran nose-to-tail for much of the contest.
"It was great TA2 racing," said Buffomante. "Ford, Chevy, Dodge on the podium, so you have to be happy with that. I was honestly more worried about what Marc was going to do. My dad was on the radio as always; he was awesome, talking me through it and I just kept wanting to stay behind Rafa the last five laps and I was actually letting off because I wanted to make a last lap move. Every time I would do that, Marc would get a little closer and a little closer… it was tough being the meat in the sandwich there. But Marc's a professional; he races really clean. I love racing with him, and I'm glad he's back in the Series."
Miller would finish second for his second podium appearance in only his sixth appearance this season, while LP Montour finished third in the No. 13 Montour LTD Chevrolet Camaro to complete the Ford, Dodge, Chevy podium.
Matos would recover to finish fourth, while Misha Goikhberg, in the No. 25 BC Race Cars Chevrolet Camaro, completed the TA2 top five.
Upon the conclusion of today's contest, the provisional TA2 class championship points top five was as follows: Rafa Matos 309, Tony Buffomante 261, Ethan Wilson 207, Keith Prociuk 203, Tom Sheehan 189.
In TA3, Tim Kezman, in the No. 14 Fall-Line Motorsports Porsche 991 GT3 Cup, was awarded his eighth career class victory after the No. 27 Vintage Four Twenty-Three Dodge Viper of race leader Jason Daskalos was penalized 40 seconds for manipulating the restart.
Kezman's race was his first time in the car all weekend, and he was quick to credit his Fall-Line Motorsports team for a race-ready setup. The win is Kezman's second consecutive TA3 victory at Daytona.
"It was a weird finish," said Kezman. "I don't know what was going on on the restart; it seemed like whoever was leading was holding up the group and wanted to get a run. It is what it is; we got a good launch going into the bus stop. I haven't been racing in five months, and it's great to defend the win from last year. Fall-Line Motorsports, they just prepare the car so phenomenally,. For me to miss practice and qualifying, start in the back and run third most of the day, then due to an incident with Mark getting collected, for us to come out in the position we areit's good. It's about Fall-Line and the prep, how they do the car. For me to be able to show up and be competitive, it's a testament to their ability."
Celebrations for the Fall-Line Motorsports team continued with Tom Herb, in the No. 16 Fall-Line Motorsports Porsche 991 GT3 Cup, finishing second while TA3 rookie Marko Radisic, in the No. 02 Precision Driving BMW M4 GT4, completed the podium. Mark Boden, in the No. 36 Fall-Line Motorsports Porsche 991 GT3 Cup, and Jason Daskalos would finish fourth and fifth in class, respectively.
The race also saw Brazil's Alline Cipriani, in the No. 60 Ginetta USA Ginetta G55, capture the TA3 championship in this, her rookie season. Like Francis, Cipriani would do just enough, finishing sixth in the eight-car field, edging defending champion Mark Boden, who finished fourth, 230 points to 225. Cipriani's title gives the Ginetta make two Trans Am championships this season, joining TA4 champion Warren Dexter who clinched his title early on in the season.
"I never thought this would happen," said Cipriani. "We only planned on doing three races, maybe four. But as the season started and everything was going well, we decided to do the whole championship. The Trans Am, it's a dream come true. It's been hard work from the team and from myself, leaving my baby at home to be here. I want to thank my team and credit Mark Boden and Fall-Line, they had a fantastic season. I'm just so happy; it's been a great year for Ginetta here in the United States with Warren (Dexter) winning TA4 as well. It's an incredible car. We just aimed for a safe race, finish, and see what happens— I can't believe it all came together."
Upon the conclusion of today's contest, the provisional TA3 class championship points top five was as follows: Alline Cipriani 230, Mark Boden 225, Tom Herb 194, Dave Ricci 168 and Milton Grant 157,
The two-car contest in TA4 was won by Steven Davison, in the No. 22 Davinci Plastic Surgery Aston Martin GT4, beating out last year's TA4 victor Todd Napieralski, in the No. 39 Chevrolet Performance/ SKF/ BSP Chevrolet Camaro, for the honors. The win is the third of Davison's Trans Am career.
"It was hard being the slowest class in the big pack!" said Davison. "I want to give a shout out to Todd Napieralski who provided me for a car for much of the Series this year."
Upon the conclusion of today's contest, the provisional TA2 class championship points top three was as follows: Warren Dexter 207, Steven Davison 145, Todd Napieralski 113.
The 29-lap, 103.24-mile contest featured all four Trans Am classes running alongside each other with 46 entires participating.
Trans Am featured at Daytona International Speedway alongside Historic Sportscar Racing holding the HSR Classic 24 Hour at Daytona presented by IMSA.
The Trans Am Series presented by Pirelli will return to the track on March 1-3, 2019, at Sebring International Raceway to commence the 2019 Trans Am Championship.