Vettel over a sandbagging Hamilton in 3rd Brazil practice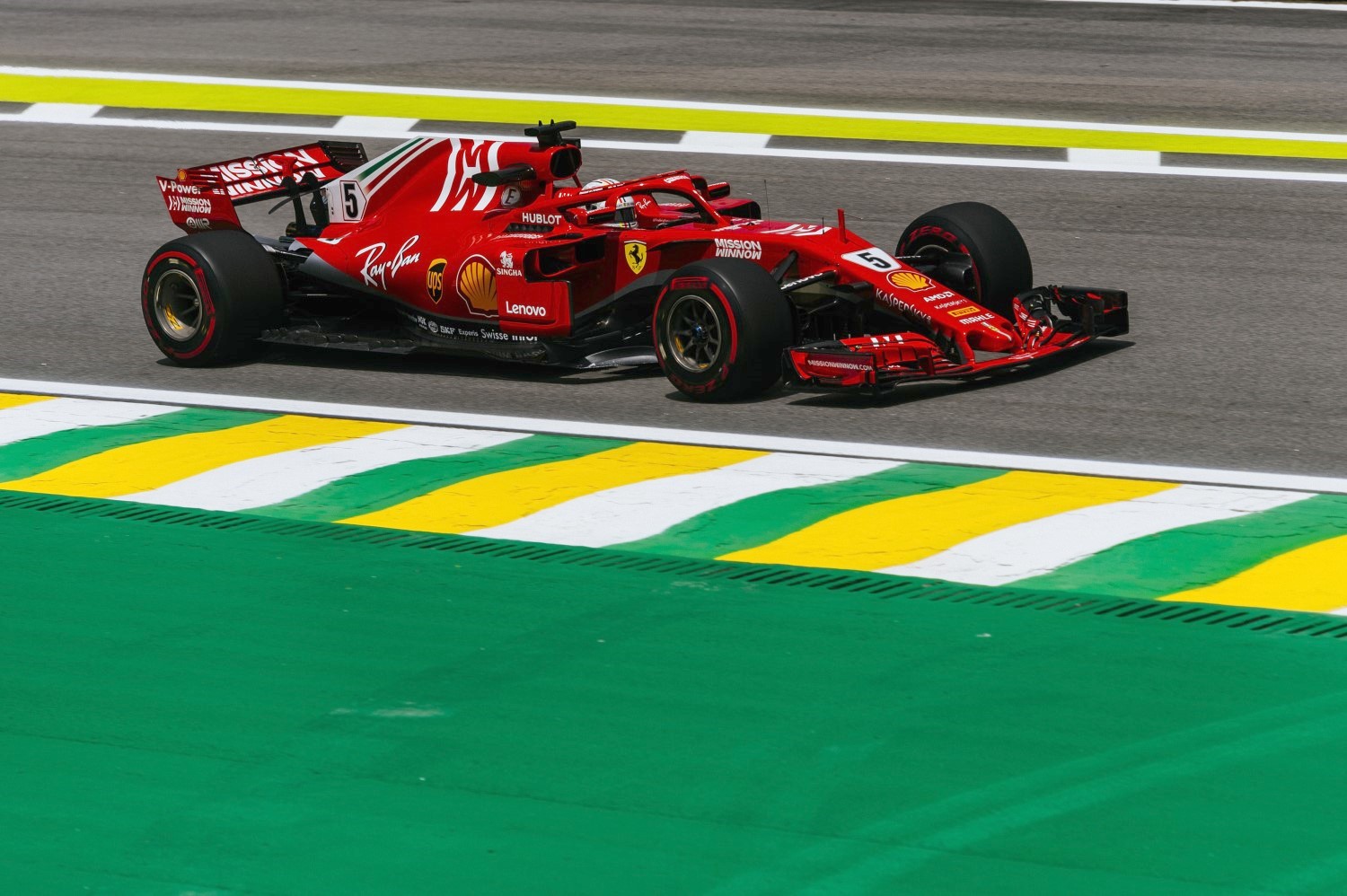 Can Vettel hold off the Mercedes in qualifying?
Ferrari's Sebastian Vettel turned a lap of 1m07.948s to top the final practice for the Brazilian GP. However, Vettel has topped 10 final practices this year only to have the sandbagging Hamilton beat him for pole in qualifying.
Hamilton's Aldo Costa designed Mercedes was 0.217s behind and Vettel in 2nd, but we suspect he will take pole when it counts in a couple of hours time.
After seeing Mercedes romp to a one-two finish in FP2 on Friday, Vettel and the Ferrari team were able to strike back in final practice but he gained on Hamilton in the final sector which is mostly full throttle. It is obvious Mercedes had their engine turned down.
Vettel's 1m 07.948s represented a new track record at Interlagos.
Hamilton had a scare early in the session after smoke was spotted coming from the rear of his car. Mercedes soon diagnosed this as being due to a dislodged breather pipe, which was quickly resolved.
Valtteri Bottas was third in the second Mercedes 0.517 seconds back.
Kimi Raikkonen was just a tad behind Bottas in the 2nd Ferrari for 4th with Max Verstappen rounding out the top-5 for Red Bull.
After Hulkenberg's spectacular crash yesterday, it was a quieter session today, with just Stoffel Vandoorne coming a cropper after collecting an unfortunate bird on one of his laps. The team weren't concerned with potential damage – the bigger concern by far is the lack of pace with Vandoorne dead last on the time sheet and his McLaren teammate Fernando Alonso only 18th.
Esteban Ocon harboured hopes of starting Sunday's Brazilian Grand Prix in the top 10 after an encouraging run in Friday practice. Unfortunately, he's unlikely to achieve that ambition as Force India were forced to change his gearbox…
As the gearbox has not completed the required six events, Ocon will incur a five-place grid penalty for Sunday's race at Interlagos.
The news comes after Ocon finished 10th in each of Friday's 90-minute practice sessions. "Both sessions were straightforward for me," he said. "The target is definitely to reach Q3".
It's a blow for Force India, who are looking to make up ground on McLaren in the battle for sixth in the constructors' championship. They trail the British team by 11 points with two races to go.
Practice 3 Results
| | | | | | | |
| --- | --- | --- | --- | --- | --- | --- |
| POS | NO | DRIVER | CAR | TIME | GAP | LAPS |
| 1 | 5 | Sebastian Vettel | Ferrari | 1:07.948 | +0.000s | 17 |
| 2 | 44 | Lewis Hamilton | Mercedes | 1:08.165 | +0.217s | 15 |
| 3 | 77 | Valtteri Bottas | Mercedes | 1:08.465 | +0.517s | 23 |
| 4 | 7 | Kimi Raikkonen | Ferrari | 1:08.490 | +0.542s | 17 |
| 5 | 33 | Max Verstappen | Red Bull Renault | 1:08.733 | +0.785s | 12 |
| 6 | 3 | Daniel Ricciardo | Red Bull Renault | 1:08.788 | +0.840s | 12 |
| 7 | 20 | Kevin Magnussen | Haas Ferrari | 1:09.146 | +1.198s | 14 |
| 8 | 8 | Romain Grosjean | Haas Ferrari | 1:09.257 | +1.309s | 16 |
| 9 | 10 | Pierre Gasly | Toro Rosso Honda | 1:09.402 | +1.454s | 22 |
| 10 | 16 | Charles Leclerc | Sauber Ferrari | 1:09.448 | +1.500s | 21 |
| 11 | 27 | Nico Hulkenberg | Renault | 1:09.461 | +1.513s | 19 |
| 12 | 31 | Esteban Ocon | Force India Mercedes | 1:09.588 | +1.640s | 18 |
| 13 | 9 | Marcus Ericsson | Sauber Ferrari | 1:09.808 | +1.860s | 23 |
| 14 | 55 | Carlos Sainz | Renault | 1:09.864 | +1.916s | 17 |
| 15 | 35 | Sergey Sirotkin | Williams Mercedes | 1:09.885 | +1.937s | 14 |
| 16 | 28 | Brendon Hartley | Toro Rosso Honda | 1:09.985 | +2.037s | 18 |
| 17 | 18 | Lance Stroll | Williams Mercedes | 1:10.001 | +2.053s | 17 |
| 18 | 14 | Fernando Alonso | McLaren Renault | 1:10.020 | +2.072s | 15 |
| 19 | 11 | Sergio Perez | Force India Mercedes | 1:10.116 | +2.168s | 18 |
| 20 | 2 | Stoffel Vandoorne | McLaren Renault | 1:10.289 | +2.341s | 16 |