Ave and Buffomante On Top in Daytona Trans Am Qualifying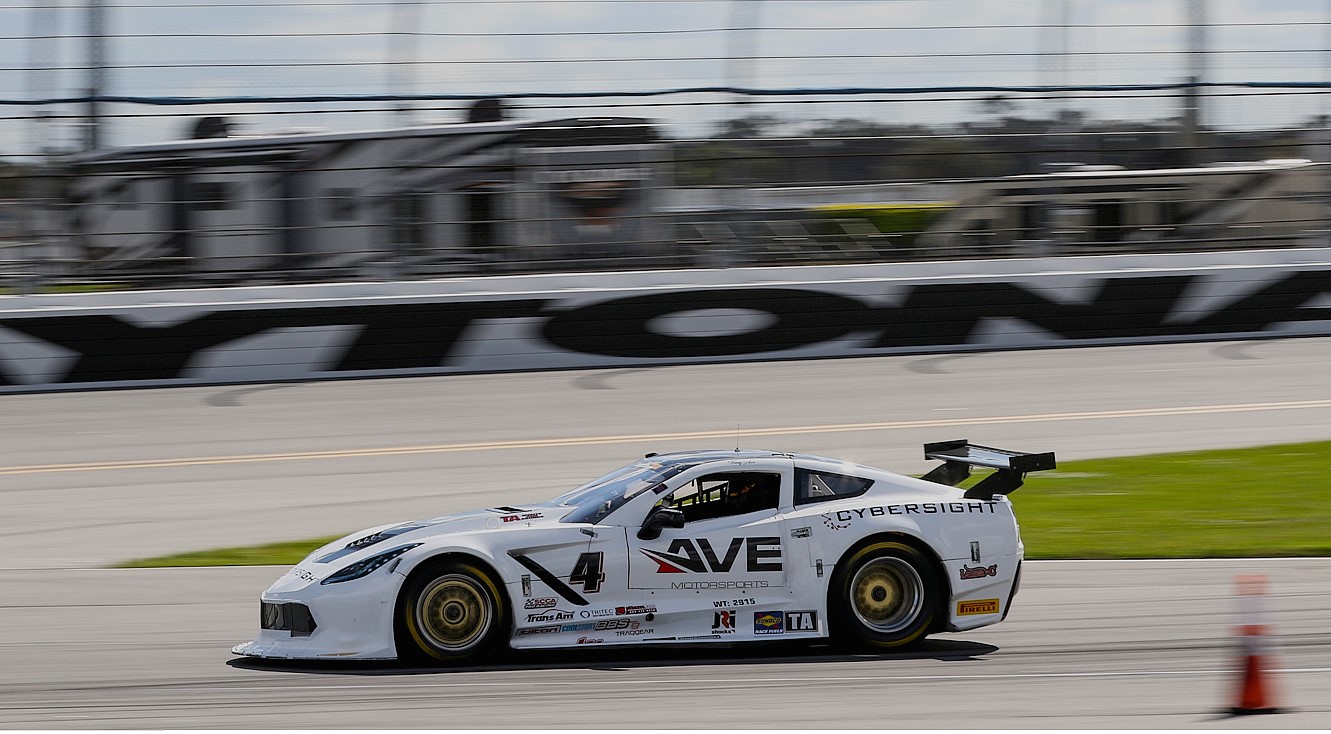 Tony Ave
Tony Ave and Tony Buffomante secured poles atop the TA and TA2 class grids for tomorrow's Trans Am Series presented by Pirelli season finale in qualifying today at Daytona International Speedway.
For Ave, in the No. 4 Cybersight/ Ransom Stopper Chevrolet Corvette, the pole marks the 33rd of his career on the eve of his 50th birthday and what will be his 98th Trans Am start, leading a tight TA class qualifying that saw Ave, defending champion Ernie Francis, Jr., and Rookie of the Year Chris Dyson all within a tenth of a second of each other. Ave's fast lap stands a 1:43.515 around the 3.56-mile sports car course in Daytona, with Francis, in the No. 98 Frameless Shower Doors Ford Mustang, and Dyson, in the No. 20 Plaid Enterprises/ CD Racing Ford Mustang, following with times of 1:43.565 and 1:43.595.
"It was very close," said Ave. "We made a change for qualifying; and it had too much understeer in it, so that hurt. Then the guys were smart enough to not let me duck behind them and draft with them, so I had to do my lap out in clean air. I'm glad the time held up and a big thanks to Cybersight for coming onboard this weekend; and I'm 50 years old tomorrow, so we're having a little fun!"
Ave, the 2010 and 2011 TA class champion, no longer runs Trans Am in a full-time capacity, instead focusing his efforts on his Ave Racing team; but when a client, 2017 championship runner-up Vinnie Allegretta, reached out to have Ave shake down his car in anticipation of 2019, the choice was an easy one.
"Vinnie Allegretta wants to start running TA again next year and his car has just been sitting all year," said Ave. "So he brought it down to the shop and we didn't really have much time to do anything with it, but he said 'why don't you race it and see how it runs.' The engine is mileaged-out but we put valve springs in it and it's running well; it's just fun to be out here."
Ave sees the raw and powerful TA platform and the Daytona circuit as a perfect combination and anticipates a tough race come tomorrow in the tight TA field.
"It's a blast," said Ave. "These cars are pure muscle. You have to steer them as much with your foot as the steering wheel; they don't do anything for you. The drivers are the ones who get the lap times in these. We've got a really good group of teams and drivers here; I think there are five of us covered by tenths… around here, which is rare. Tomorrow is probably going to be very exciting. I wish it wasn't going to be that exciting, but it's going to be pretty hard to win."
Securing second position in qualifying, and the the two points that come with it, means points leader Ernie Francis, Jr., now needs only take the green flag in tomorrow's 29-lap, 103.24-mile competition to secure his second consecutive TA championship.
Completing the TA class top five was Tomy Drissi, in the No. 8 The Grinch Chevrolet Camaro, and RJ Lopez, in the No. 06 Tina Bazuca/ Republica Brewing Chevrolet Corvette, with times of 1:43.689 and 1:44.574, respectively. The 16-car field also saw David Pintaric, Amy Ruman, Shane Lewis, Lawrence Loshak and AJ Henriksen qualify in the top ten.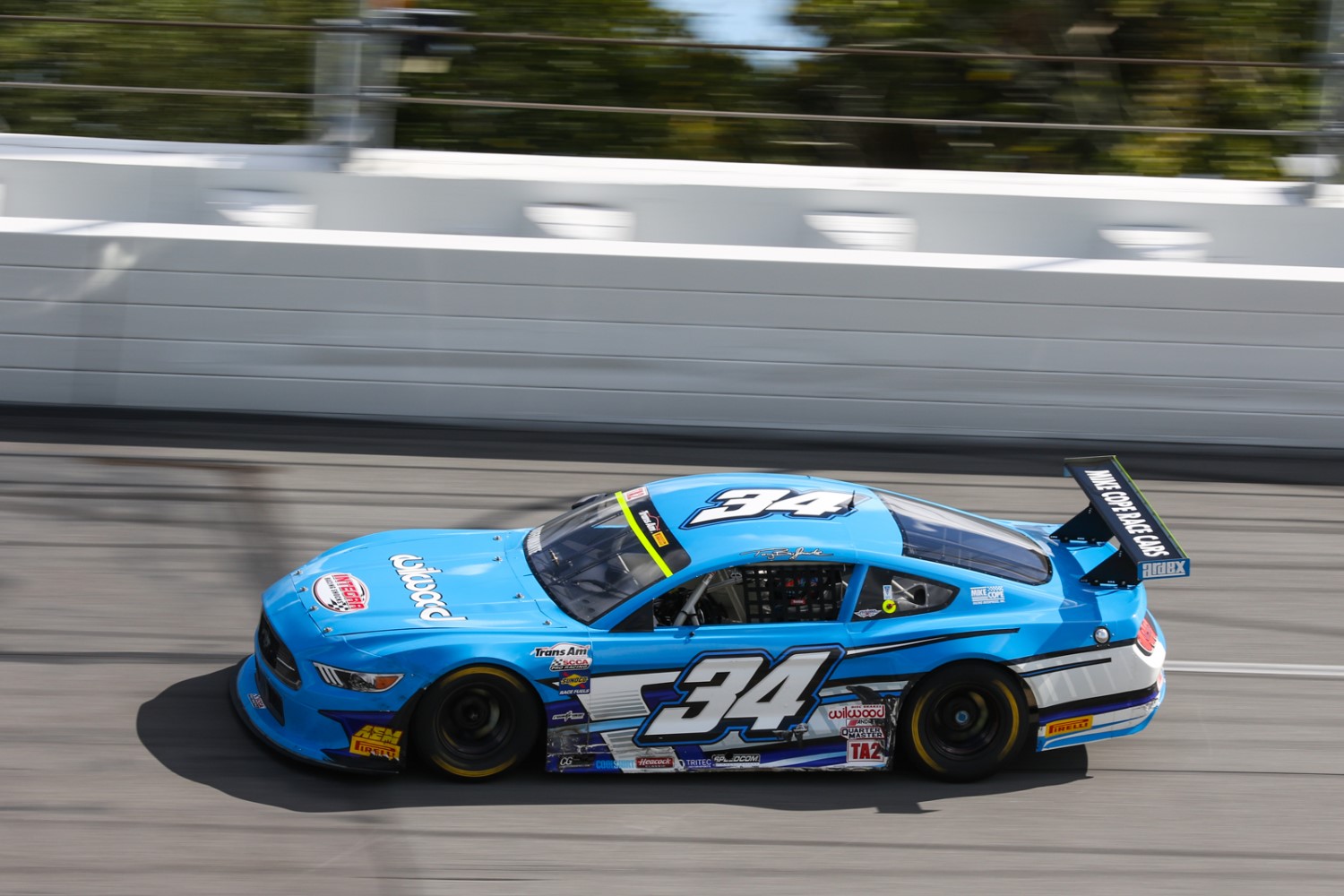 Buffomante
In TA2, the annual tradition, dating back to 2015, of Tony Buffomante and the No. 34 Mike Cope Racing Ford Mustang setting pole and setting a new qualifying track record continued for the fourth consecutive year with the No. 34 turning a blistering 1:49.806.
Buffomante's position in the year-end point standings is locked in as championship runner-up, giving him the freedom to run for a second consecutive win on the banks of Daytona.
"That's four poles in a row and four track records here," said Buffomante. "We were only able to get the win here last year, so hopefully we can get a second consecutive win. Actually, that qualifying session was just me being towed around by the 88; I just followed him for two laps and he just towed me around. I got a huge draft off of him and I saw the 1.49 on the dash and thought that's just crazy, it's just the draft. I think tomorrow is going to be a totally different ball game with everyone fighting up there. Koury Engines did their job, Mike Cope did their job and I got a huge draft! We'll see what happens for an hour."
Last round at Circuit of The Americas saw Buffomante start on pole; but he was contacted before even exiting turn one, leaving the 2016 TA2 champ with the task of climbing back up through the field, just another continuation of a run of bad luck for the No. 34 in the later stages of the season—one Buffomante is determined to break, not just for himself but for his Mike Cope team.
"I'm not sure what else I could have done at COTA to be honest with you," said Buffomante. "Hopefully the guys in the back will use the brake pedal, and we'll race for 100 miles. It's tough here too; it funnels down to one lane and we have walls on either side of us. I'll just try and protect the inside and hope we don't get hit. There's going to be plenty of traffic with all four classes out there but we're used to it, we did it last year. Hopefully it doesn't rain like last year, that was a bit of challenge; but I couldn't be happier for the Mike Cope team. They worked their tails off, we got a pole at COTA, drove through the field twice, got taken out at the end. They worked their tails off again—we even missed practice sessions and the car is still fast. You can't keep these guys down."
Starting alongside Buffomante will be recently crowned 2018 TA2 champion Rafa Matos, in the No. 88 3-Dimensional Services Chevrolet Camaro, who turned a 1:50.052, setting one last battle in 2018 between the two championship frontrunners.
A returning Marc Miller, in the No. 12 Berryman/ Prefix Dodge Challenger, turned a 1:50.189 lap to give all three makes and models a position in the starting top three. Saturday's race will be Miller's first appearance since Watkins Glen International and his fifth start of the season, including a Sebring victory to start the year.
Scott Lagasse, Jr., in the No. 95 SLR/ Fields Racing/ M1 Fastrack Chevrolet Camaro, and Louis-Philippe Montour, in the No. 13 Montour LTD Chevrolet Camaro, completed the TA2 top five with times of 1:50.357 and 1:50.544, respectively. Also qualifying within the top ten of the 22-car TA2 field, were Misha Goikhberg, Tom Sheehan, Doug Peterson, Keith Prociuk and Lawless Alan.
TA3 and TA4 qualifying sessions were held yesterday with Jason Daskalos and Todd Napieralski capturing class poles, respectively. The full results of the session can be found on www.gotransam.com.
All of Trans Am's classes, TA, TA2, TA3 and TA4, will take to the sports car course at Daytona tomorrow at 10:40 AM ET for the Trans Am Season Finale, which will run for a total of 29 laps or 75 minutes, whichever comes first.
This weekend's Trans Am Series presented by Pirelli competition will be showcased in an hour and a half recap show on CBS Sports Network on December 2, 2018 at 2:00 PM ET.
Trans Am features at Daytona International Speedway alongside Historic Sportscar Racing holding the HSR Classic 24 Hour at Daytona presented by IMSA.
TA Qualifying Results (PDF)
TA2 Qualifying Results (PDF)
Fans can keep up with the Trans Am Series presented by Pirelli throughout the event at www.gotransam.com, on Facebook at www.facebook.com/gotransam and on Twitter at @gotransam.
Broadcast:
This weekend's Trans Am Series presented by Pirelli competition will be showcased in an hour and a half recap show on CBS Sports Network on December 2, 2018 at 2:00 PM ET.
Remaining Event Schedule:
Saturday November 10, 2018
10:40 AM – 12:00 PM Trans Am Season Finale featuring TA, TA2, TA3 and TA4
All times eastern.
Race Length:
29 laps, 103.24 miles or 75 minutes, whichever comes first.
Circuit:

3.56 mile sports car course
Session Coverage:
Live Timing: All on-track sessions can be followed at www.gotransam.com and on the Race Monitor app available on Windows, Android, iOS and OSX.