Indy Museum slated for major overhaul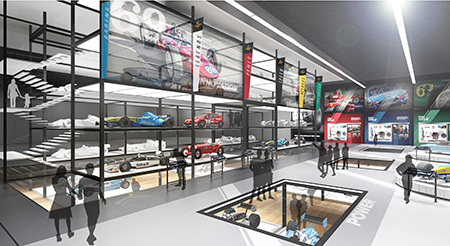 Currently, cars at the Indianapolis Motor Speedway Museum are displayed on one level with little context. Museum officials also want to remove skylights that allow in damaging ultra-violet rays. (IBJ photo/Eric Learned)
The Indianapolis Motor Hall of Fame Speedway Museum has been more a classic-car showroom than a museum.
So its board has launched an ambitious strategy to upgrade the over 60-year old.
Plans are in the early stages and if they come to fruition, the revamped museum will be nearly twice as large, with a 3-D theater, elevated cars, interactive digital experiences, racing simulators, and virtual- and augmented-reality displays reports IBJ.com. Portions of see-through flooring might even give visitors a peek at what has until now been a secretive collection in the vault-like basement.
Tourism and hospitality experts say the museum could become one of the city's biggest drawing cards.
"Every single system in this facility needs to be replaced," the museum's executive director, Betsy Smith told IBJ during a recent tour. "We determined that it would be too difficult to keep it open while we rehabilitated the facility and made improvements. And it would take the project a lot longer to be completed."
"The museum is already a massive attraction for visitors from around the world," said Visit Indy Vice President Chris Gahl. "And it goes beyond racing fans to general sports fans and car and history buffs. It's an iconic attraction inside another iconic attraction."
Gahl said Visit Indy already uses the museum to "help sell the city," and that the scope of improvements the museum is considering would make it an even bigger draw.
"In terms of attracting visitors and bolstering tourism, cities lead with what they're best known for," he added. "Orlando leads with Disney; we lead with the Indianapolis Motor Speedway and Indianapolis 500."