Mercedes 1-2 in 2nd Brazilian GP practice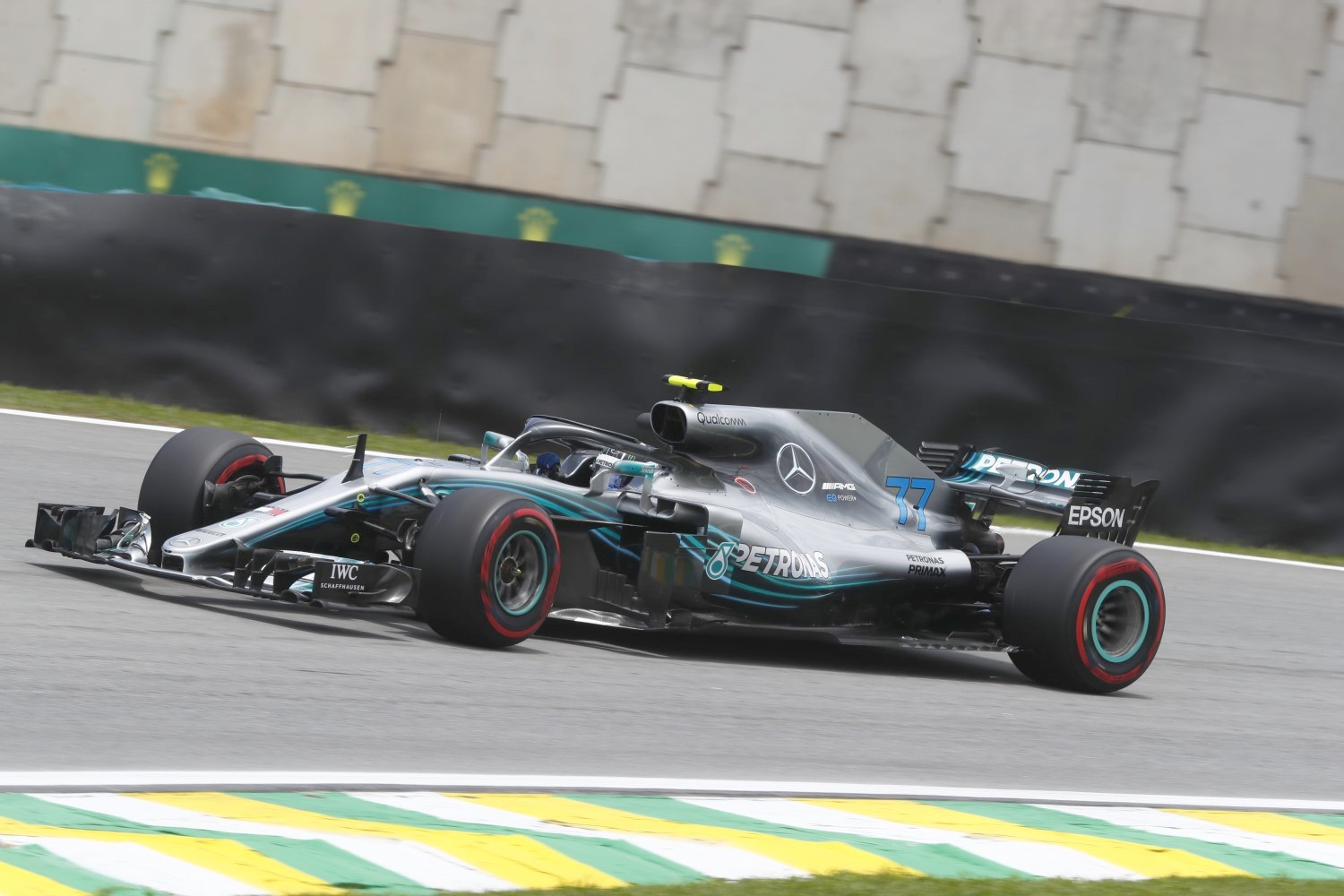 Bottas quickest in session that focused on race setups and tire wear
Valtteri Bottas led the time sheets in second practice for the Brazilian GP, beating his newly-crowned teammate Lewis Hamilton by just 0.003s around Interlagos while Ferrari's Sebastian Vettel was just 0.07s further back.
The session had only been running for 10 minutes when Nico Hulkenberg pushed the limits too far coming out of the final turn at Juncao, the German driver getting onto the grass before his Renault slammed into the guard rail, smashing up the right side of his R.S.18 and bringing out a brief red flag. Fortunately, Hulkenberg emerged from the car seemingly unhurt, although he will have been frustrated to lose out on FP2's key track time.
Vettel may have lost the championship last time out in Mexico, but he was looking plenty quick around Interlagos, ending up within a tenth of the leading time for the second session in a row despite being put off by an unidentified object his footwell. "There's something loose between my legs… apart from the obvious," was Vettel's light-hearted message to the Ferrari pit wall.
Max Verstappen had led Free Practice 1 for Red Bull, but an oil leak in the Mexico winner's RB14 consigned him to the garage for the first 45 minutes of FP2. When the Dutchman finally emerged, the best he could manage was P5, around half a second off the leading pace after getting baulked by the Williams of Lance Stroll on his quick lap. His team mate Daniel Ricciardo – set to receive a five-second grid penalty for a new turbocharger for Sunday's race – was just ahead in P4, while an agitated Kimi Raikkonen was P6 in the second Ferrari, some half a second back from his team mate's pace.
Quotes
Valtteri Bottas
It was a bit of a mixed day; FP2 was much better than FP1. The morning was quite difficult, it was easy to make mistakes. I had a few lockups and aborted laps, so it was difficult to build a good rhythm. But we really improved the car for the afternoon and I managed to find a rhythm. The pace seemed to be good, but it is a short track, so the margins are small. There was not a lot of tyre drop-off today, but we're expecting warmer temperatures, so we will have to wait and see if that might bring about some issues. It looks like it might rain tomorrow, but we've had a good package in the wet all year, so I don't think that would be a big problem for us. It is very close between the top three teams, so we can't feel satisfied about our results today; we know everyone else is going to be working on their performance overnight, so we will have to keep pushing as well.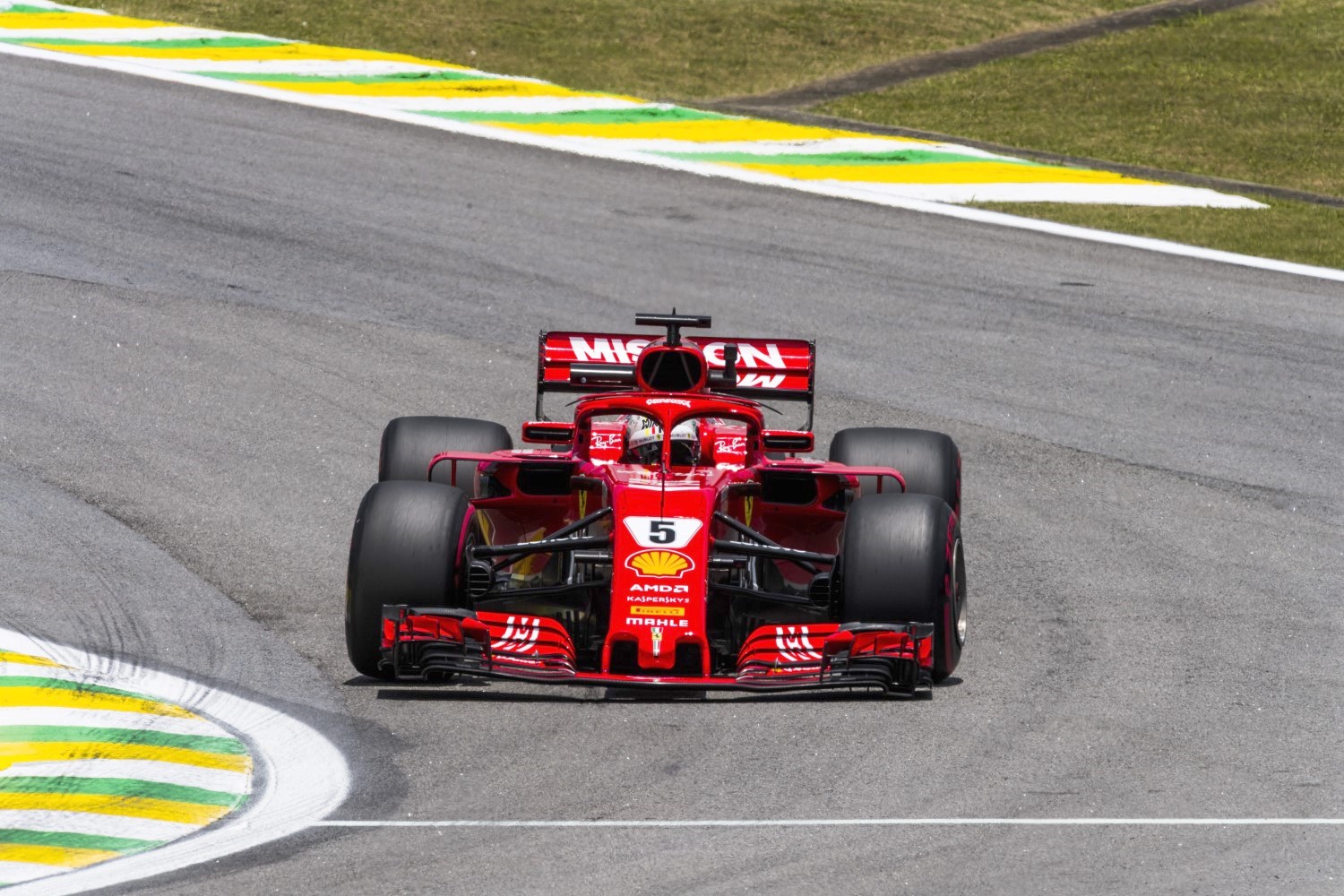 Vettel's Ferrari was a close third
Lewis Hamilton
It's been a relatively normal day, we got through everything we needed to. The car felt better than it did in Mexico, but we are still working our way through some issues. The pace doesn't seem too bad, so we just have to keep working on it and improving it. In FP2, it was quite windy and very gusty through the corners, which meant that the car was actually quite tricky to drive. There's rain forecasted for tomorrow, but I love driving in the rain, so that wouldn't be a problem. We just need to make sure that we are quick enough in the dry. It's very close between all of us at the front, but I think there's more potential in our car, so we just need to try and squeeze it out.
James Allison
I don't think it was a particularly easy day for anyone today with a track that was giving plenty of understeer challenge on the start of the run, but where it was very easy to overheat the rear tyres as well as the run went on; everyone was wrestling with that to a degree. We got the short-run pace good, although we think there's more to come tomorrow, and the long-run pace was there or thereabouts, but I think that we have work to do overnight – as probably do our competitors – to get the car in a place where it is going to be alright for the hotter track that is coming on Sunday. So lots and lots of things for us to think about overnight, just one short one-hour session tomorrow to confirm everything – and then we're off to find out whether we've made a good job of it or not.
Practice 2 Results
| | | | | | | |
| --- | --- | --- | --- | --- | --- | --- |
| POS | NO | DRIVER | CAR | TIME | GAP | LAPS |
| 1 | 77 | Valtteri Bottas | Mercedes | 1:08.846 | +0.000s | 48 |
| 2 | 44 | Lewis Hamilton | Mercedes | 1:08.849 | +0.003s | 43 |
| 3 | 5 | Sebastian Vettel | Ferrari | 1:08.919 | +0.073s | 42 |
| 4 | 3 | Daniel Ricciardo | Red Bull Renault | 1:09.164 | +0.318s | 44 |
| 5 | 33 | Max Verstappen | Red Bull Renault | 1:09.339 | +0.493s | 28 |
| 6 | 7 | Kimi Raikkonen | Ferrari | 1:09.412 | +0.566s | 42 |
| 7 | 8 | Romain Grosjean | Haas Ferrari | 1:09.769 | +0.923s | 44 |
| 8 | 16 | Charles Leclerc | Sauber Ferrari | 1:09.943 | +1.097s | 44 |
| 9 | 20 | Kevin Magnussen | Haas Ferrari | 1:10.007 | +1.161s | 39 |
| 10 | 31 | Esteban Ocon | Force India Mercedes | 1:10.159 | +1.313s | 45 |
| 11 | 11 | Sergio Perez | Force India Mercedes | 1:10.320 | +1.474s | 23 |
| 12 | 10 | Pierre Gasly | Toro Rosso Honda | 1:10.330 | +1.484s | 44 |
| 13 | 14 | Fernando Alonso | McLaren Renault | 1:10.332 | +1.486s | 36 |
| 14 | 55 | Carlos Sainz | Renault | 1:10.458 | +1.612s | 48 |
| 15 | 9 | Marcus Ericsson | Sauber Ferrari | 1:10.532 | +1.686s | 44 |
| 16 | 35 | Sergey Sirotkin | Williams Mercedes | 1:10.569 | +1.723s | 46 |
| 17 | 2 | Stoffel Vandoorne | McLaren Renault | 1:10.596 | +1.750s | 26 |
| 18 | 18 | Lance Stroll | Williams Mercedes | 1:10.662 | +1.816s | 44 |
| 19 | 28 | Brendon Hartley | Toro Rosso Honda | 1:10.734 | +1.888s | 46 |
| 20 | 27 | Nico Hulkenberg | Renault | 1:11.674 | +2.828s | 6 |