Ross Chastain to join Chip Ganassi Racing Xfinity program full time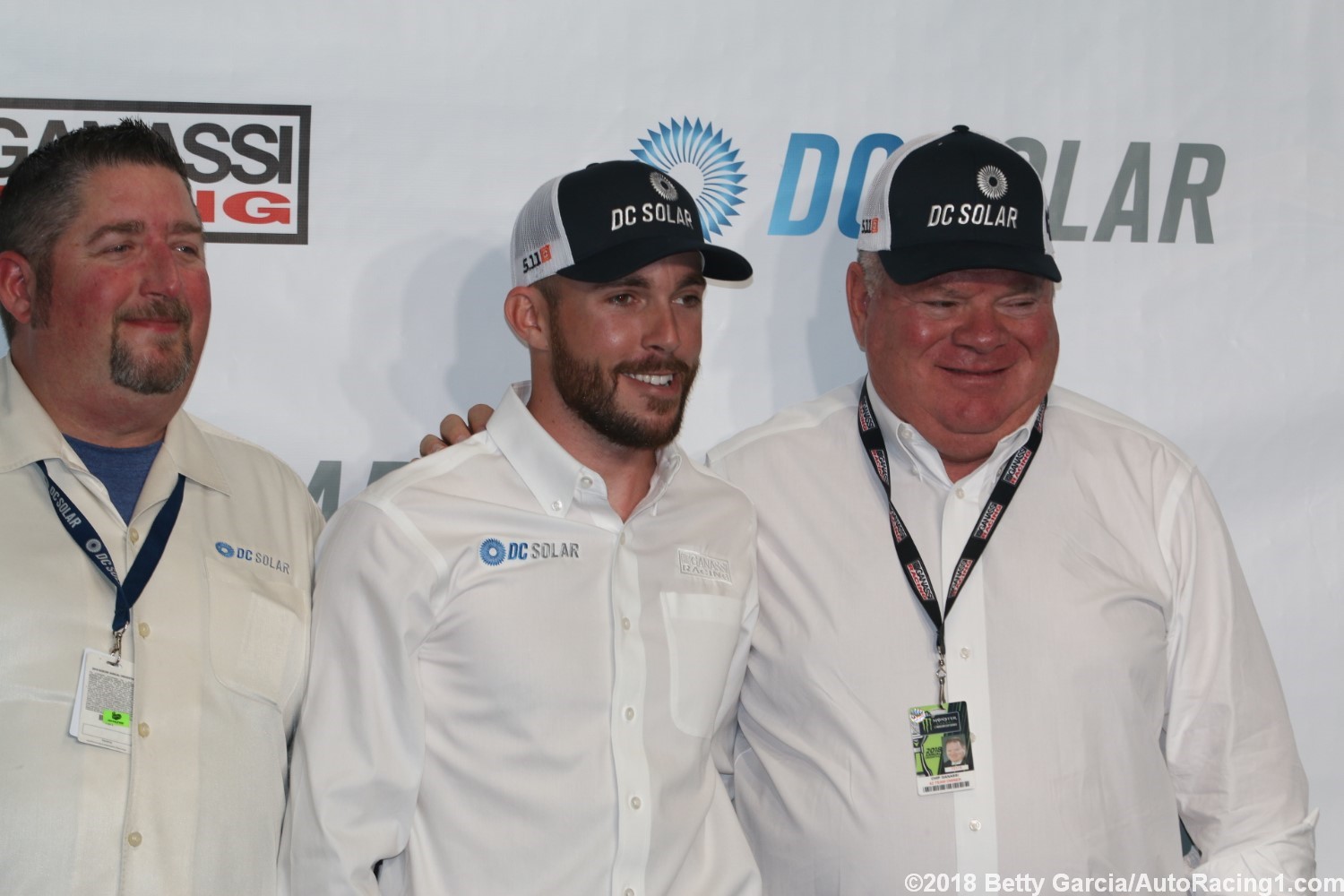 Chastain (c) with Chip Ganassi (R)
Chip Ganassi Racing officials announced Friday morning that the 25-year-old Ross Chastain will drive the organization's No. 42 Chevrolet in the NASCAR Xfinity Series full time beginning in 2019, with sponsorship from DC Solar.
It's quite a jump for a driver who, midway through the 2018 season, bet on himself and won. When a three-race opportunity with Ganassi materialized, Chastain opted to take it and forego a paycheck, betting on the experience paying dividends in the future instead.
"I'm just trying to now throw up, honestly," an emotional Chastain joked during a press conference. "It's unreal."
In August, after CGR had announced Chastain had come on to drive the car for three races, the Florida native consistently was one of the fastest drivers on the track. He won the Busch Pole Award in his first race with Ganassi at Darlington, then won at Las Vegas Motor Speedway while leading 180 laps and driving a DC Solar-backed Chevy. The stint concluded with a runner-up showing at Richmond.
"I'm an eighth-generation farmer from Florida who was fortunate enough to get a shot in top-flight equipment," Chastain said. "I didn't think anything like this would come about, at least not this soon," Chastain said. " … I felt like I made so many mistakes (driving the No. 42) … but they reassured me the entire time while I was thinking about all my mistakes. I knew that was my chance."
DC Solar co-founder and CEO Jeff Carpoff had a major hand in Chastain's opportunity as well. He met Chastain at the track, got to know him and eventually talked to Ganassi about the three-race trial run. His performance there was an eye-opening one to the team owner.
"From the moment I met Ross, I knew there was something special about him, so the decision to support him came easy," Carpoff said in a release. "Witnessing his raw talent, as well as his humility and gratitude for the opportunity, only confirmed that he would be a great representative for the DC Solar brand."
Ganassi reiterated during the press conference that he also hoped to keep John Hunter Nemechek in the Ganassi fold. Entering Phoenix, Nemechek had run 16 Xfinity Series races in the No. 42, winning once at Kansas Speedway and logging five top-five finishes.
"I like the kid," Ganassi said of Nemechek. "I'd love to have him around."