Verstappen and Vettel top opening practice in Brazil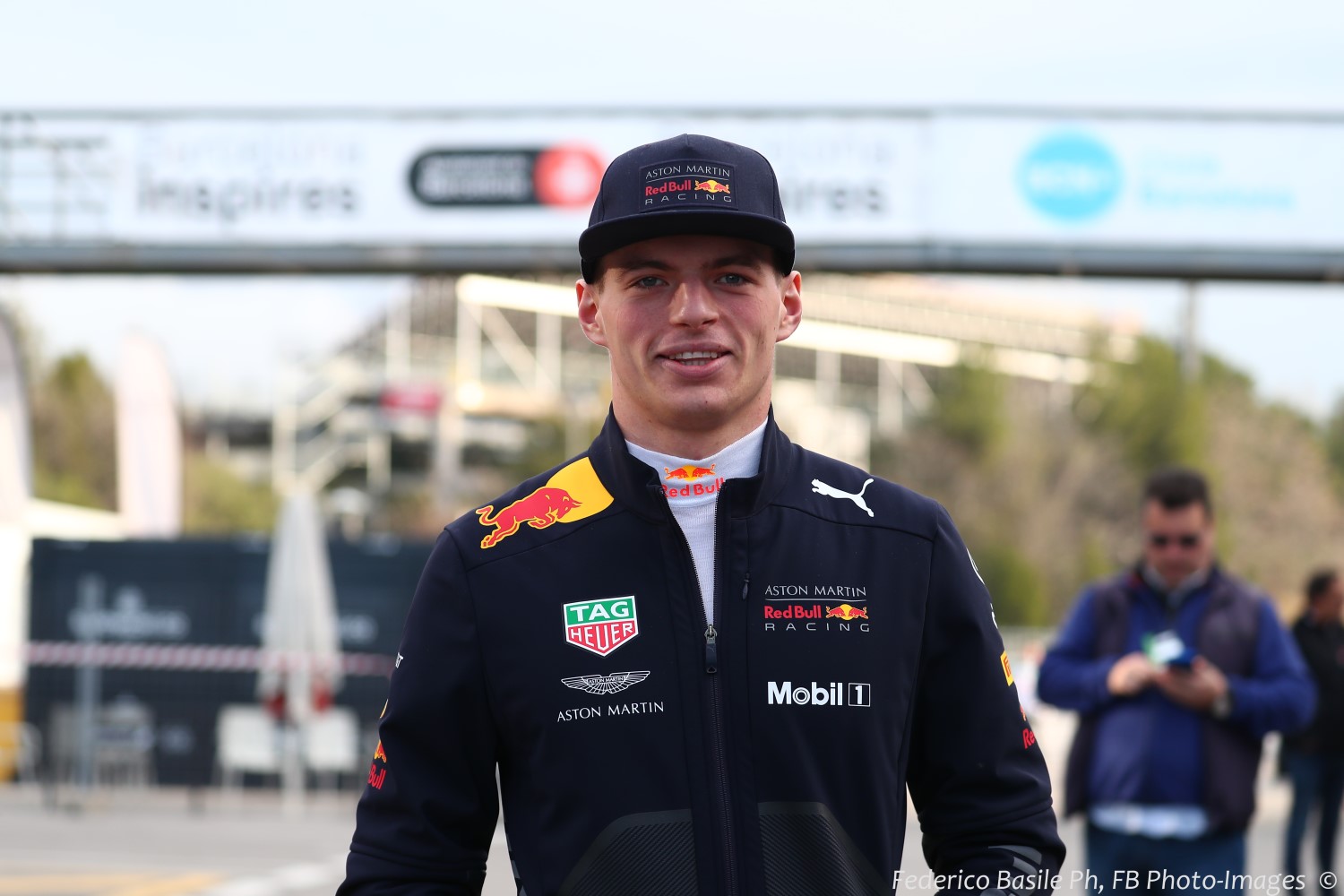 Max Verstappen
Red Bull's Max Verstappen topped FP1 for the Brazilian GP at Interlagos by 0.049s from Ferrari's Sebastian Vettel, with Mercedes' Lewis Hamilton 0.047s further back.
All three set their flying laps on the supersoft rubber, with the track ever improving as the session wore on.
Daniel Ricciardo in the 2nd Red Bull and Kimi Raikkonen in the 2nd Ferrari rounded out the top-5 in the incident free session.
The FIA confirmed Ricciardo, who was on pole last time out in Mexico, will run a fresh turbocharger in Brazil. That's his sixth of the season and as a result, he receives a five-place grid penalty for the change, dropping him down the pack for the start of Sunday's race.
Mercedes' Valtteri Bottas finished sixth despite losing track time due to a suspected oil leak.
Haas enjoyed a solid opening practice in Brazil as Romain Grosjean and Kevin Magnussen took seventh and eighth place respectively. Charles Leclerc took P9 for Sauber, while Esteban Ocon completed the top 10 for Force India.
Renault drivers Carlos Sainz Jr. and Nico Hulkenberg were 11th and 12th respectively, while Sauber FP1 stand-in Antonio Giovinazzi ended the session in 13th place ahead of Williams' Lance Stroll.
Pierre Gasly recovered from an early steering issue on his Toro Rosso car to finish the session 15th ahead of Lando Norris, who continued his preparation for his F1 debut next year with another FP1 outing for McLaren in place of Fernando Alonso. Norris finished the session four-tenths of a second clear of McLaren regular Stoffel Vandoorne, who took P19.
Sergey Sirotkin finished 17th for Williams ahead of Brendon Hartley in the second Toro Rosso, while Nicholas Latifi propped up the standings in P20 behind Vandoorne.
Practice 1 Results
| | | | | | | |
| --- | --- | --- | --- | --- | --- | --- |
| POS | NO | DRIVER | CAR | TIME | GAP | LAPS |
| 1 | 33 | Max Verstappen | Red Bull Renault | 1:09.011 | +0.000s | 16 |
| 2 | 5 | Sebastian Vettel | Ferrari | 1:09.060 | +0.049s | 20 |
| 3 | 44 | Lewis Hamilton | Mercedes | 1:09.107 | +0.096s | 28 |
| 4 | 3 | Daniel Ricciardo | Red Bull Renault | 1:09.395 | +0.384s | 23 |
| 5 | 7 | Kimi Raikkonen | Ferrari | 1:09.573 | +0.562s | 28 |
| 6 | 77 | Valtteri Bottas | Mercedes | 1:09.679 | +0.668s | 23 |
| 7 | 8 | Romain Grosjean | Haas Ferrari | 1:09.922 | +0.911s | 28 |
| 8 | 20 | Kevin Magnussen | Haas Ferrari | 1:10.236 | +1.225s | 15 |
| 9 | 16 | Charles Leclerc | Sauber Ferrari | 1:10.346 | +1.335s | 28 |
| 10 | 31 | Esteban Ocon | Force India Mercedes | 1:10.361 | +1.350s | 34 |
| 11 | 55 | Carlos Sainz | Renault | 1:10.662 | +1.651s | 34 |
| 12 | 27 | Nico Hulkenberg | Renault | 1:10.679 | +1.668s | 34 |
| 13 | 36 | Antonio Giovinazzi | Sauber Ferrari | 1:10.685 | +1.674s | 29 |
| 14 | 18 | Lance Stroll | Williams Mercedes | 1:10.799 | +1.788s | 30 |
| 15 | 10 | Pierre Gasly | Scuderia Toro Rosso Honda | 1:10.934 | +1.923s | 30 |
| 16 | 47 | Lando Norris | McLaren Renault | 1:11.013 | +2.002s | 28 |
| 17 | 35 | Sergey Sirotkin | Williams Mercedes | 1:11.037 | +2.026s | 30 |
| 18 | 28 | Brendon Hartley | Scuderia Toro Rosso Honda | 1:11.176 | +2.165s | 32 |
| 19 | 2 | Stoffel Vandoorne | McLaren Renault | 1:11.452 | +2.441s | 23 |
| 20 | 34 | Nicholas Latifi | Force India Mercedes | 1:11.493 | +2.482s | 34 |