Hanson And Albuquerque To Return To 2019 ELMS With United Autosports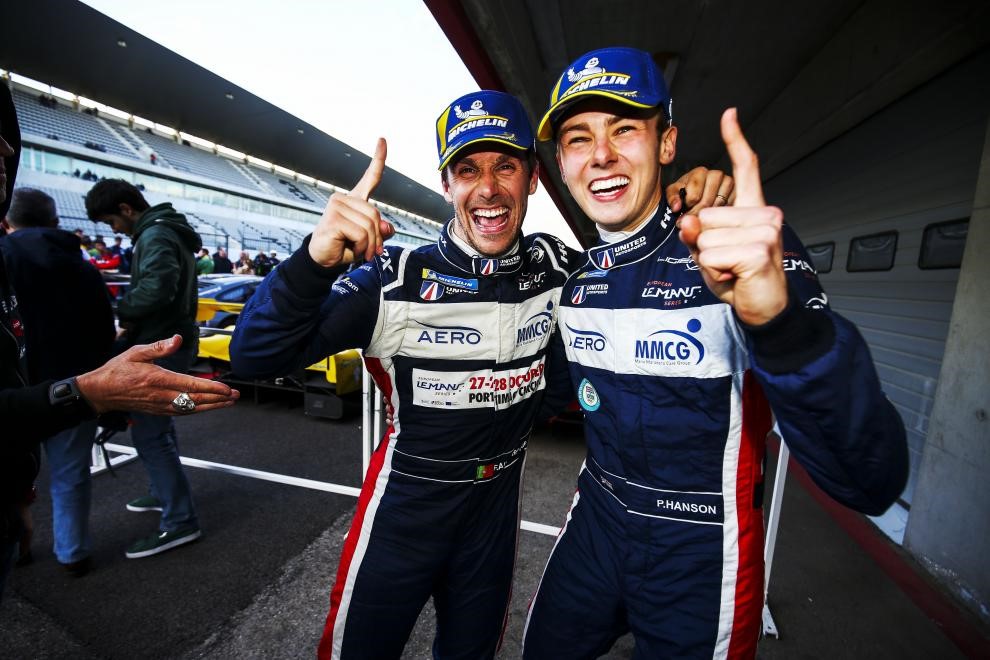 Albuquerque and Hanson
United Autosports have confirmed that Phil Hanson and Filipe Albuquerque will return to the team for the 2019 European Le Mans Series racing a Ligier JS P217.
The duo raced together for the first time in 2018, winning the final two races of the year – Spa Francorchamps in the wet and Portimao in dry conditions. They eventually finished fourth in the ELMS team's championship after a tough start to the year.
The 2019 season will mark Phil Hanson's second year with the team, where he became the youngest ever ELMS race winner at Spa in September. Phil will also race with the team as they make their Asian Le Mans Series debut, beginning later this month, as he's joined by his 2018 IMSA and Le Mans 24 Hours team mate, Paul Di Resta.
Filipe Albuquerque will be returning to United Autosports for the third consecutive year, after joining the team for their LMP2 debut in 2017. He raced alongside Will Owen and Hugo de Sadeleer, finishing second in the championship. Unfortunately, Filipe won't be able to join Phil at the opening round at Paul Ricard due to his IMSA racing commitments. His replacement will be announced in the coming weeks.
The 2019 European Le Mans Series begins at Paul Ricard with the official Prologue in April, with the first round beginning that weekend. The series then visits Monza (Italy), Barcelona (Spain), Silverstone (UK), Spa Francorchamps (Belgium) and Portimao (Portugal).
Phil Hanson, driver, United Autosports:
"I'm really excited for the 2019 season. We had a rocky start to 2018 but ended on a real high with a third and two wins, which sets me up really well for 2019. Most importantly I'm very happy to stay with the United family for another year. It's a great environment, I love everyone here and it's a good learning experience. I couldn't be happier with the driver line up too. It's a race winning line up as we have seen in the last two races this year and I think we could be really strong next year. The calendar has changed a little bit, I've only tested once at Barcelona once so it will be interesting to go and race there. I'm familiar with all the other tracks so hopefully 2019 will be my strongest season yet."
Filipe Albuquerque, driver, United Autosports:
"I'm really happy to join United Autosports again for the third consecutive year. It just shows that both parties are super happy with what we are doing. I have found a family that I really enjoy racing with and together I think we are doing a great job. We had a hard start to the 2018 season, but we stuck together and managed to turn it around to get some wins. We are heading into 2019 with a better understanding of the car so hopefully we will be able to have a successful season and snatch the ELMS title."
Zak Brown, Team Owner and Chairman, United Autosports:
"There's no doubt Phil and Filipe are a winning combination as we have shown this year so I'm confident of some good results in 2019. Our aim is the title so it's full steam ahead for that."
Richard Dean, Team Owner and Managing Director, United Autosports:
"Keeping Phil and Filipe together is a no brainer for us as a team. They work together very well and have proved they have what it takes to win races – in wet and dry conditions. Phil has developed well and he is now a race winner in his own right. He has learnt a lot from Filipe this year and I'm sure he will continue to develop in 2019. Our aim is the championship win – it will be tough as the ELMS grid has been so competitive over the last few years and is getting stronger each season. We finished second in our debut year and are winning races each season, so if we start 2019 where we left 2018, then there's no reason why we can't go for the overall win."