Trans Am Reveals 2019 Championship Schedule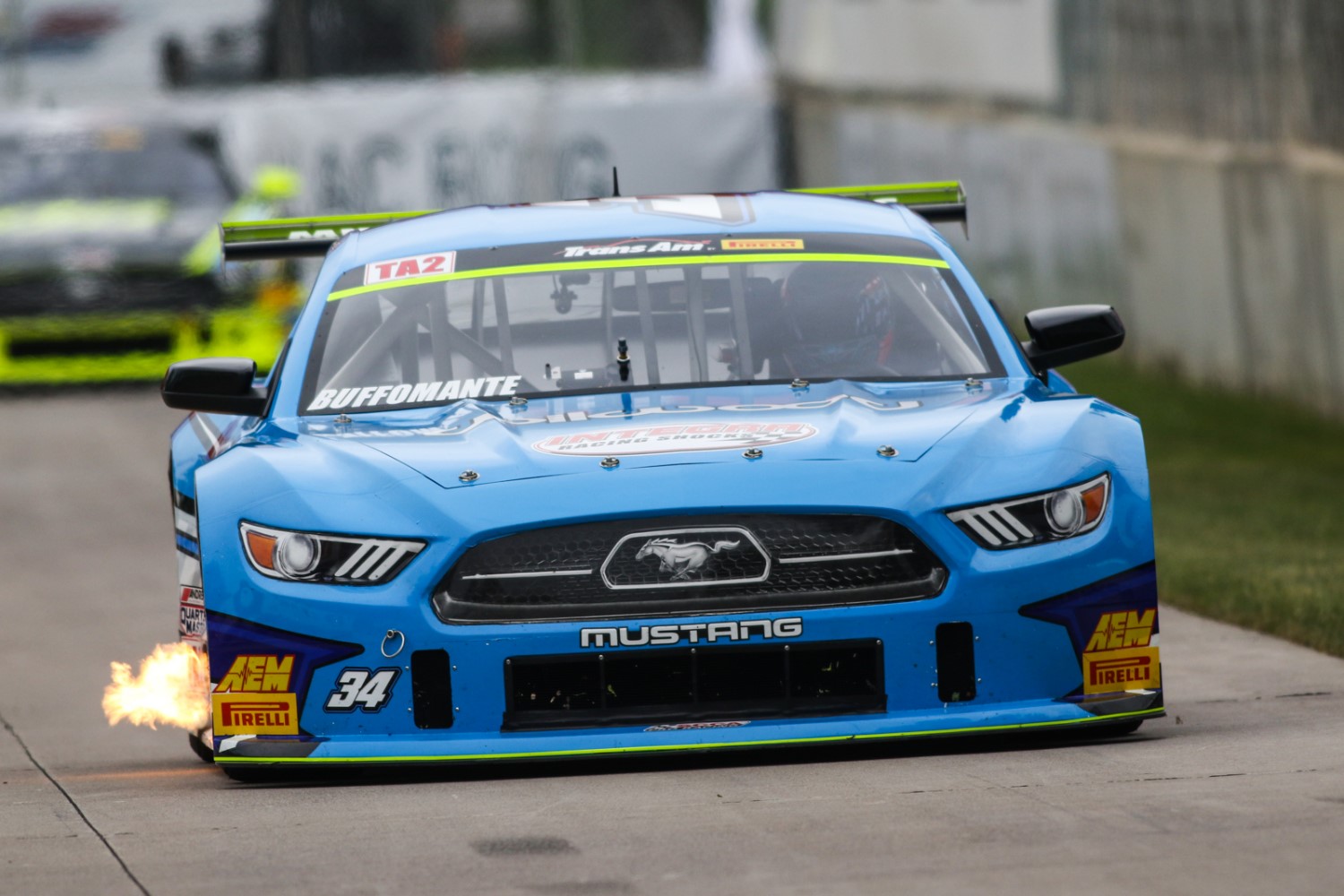 Buffomante at Detroit this year
The Trans Am Race Company has announced a 12-event 2019 Trans Am Series presented by Pirelli schedule, with many of the same venues and dates returning from the 2018 championship season. The upcoming competition will feature two key additions: Trans Am's return to Memorial Day Weekend at Lime Rock Park and its first appearance at WeatherTech Raceway Laguna Seca since 2004.
"We were very pleased with our schedule in 2018," said John Clagett President of the Trans Am Race Company. "Our goal has always been to assemble a schedule packed with world-class tracks. With that in mind, when the opportunity arose to add both Lime Rock Park and Laguna Seca, we had to take action; they're both fantastic venues and welcome additions to our full championship."
Trans Am's return to Memorial Day Weekend at Lime Rock Park, May 24-27, marks the Series' 30th appearance in Lakeville, Connecticut, and comes in the wake of a three-year absence, reuniting the historic pairing of track and series.
"Lime Rock is an iconic circuit with a passionate fanbase that Trans Am has called home throughout its existence," said Clagett. "It's a historic marriage between Series and venue that's produced so many great races. Combined with the following weekend at the Chevrolet Detroit Grand Prix presented by Lear we have an incredible two events back-to-back; one of the best pairings in motorsport."
The return of the Trans Am Championship to Laguna Seca, May 3-5, marks the full Series' first appearance in the West since a 2011 event at Miller Motorsports Park. Trans Am's last appearance at the Monterey circuit came in 2004.
"The West Coast has played a huge role in Trans Am throughout its history," said Clagett. "Championships have been made and lost on the West Coast, former champions have called it home; we want to continue that history and foster its growth. After careful consideration, we've made the decision to bring our full championship west and start a new chapter of Trans Am in the West; and Laguna Seca is the perfect place to begin this next chapter."
"At the same time we understand the commitment it takes for our teams to make the haul west," continued Clagett. "To assist in that effort we'll be increasing prize money at Laguna Seca, and we'll be granting free entry at our Daytona International Speedway finale for teams that run the full championship."
The 2019 schedule features new weekends for Indianapolis Motor Speedway, now August 1-4, and Circuit of The Americas, moved forward to October 4-6.
Longtime Trans Am partners Ryan Companies and FirstEnergy will return in 2019 as well with the Ryan Companies Road America Classic and FirstEnergy Mid-Ohio 100.
Trans Am will also continue three initiatives from 2018: Northern and Southern Cups for drivers not mounting a full-season effort, a standard three-day event format, with the inclusion of test day, and the Trans Am West Coast Championship presented by Pirelli.
"We're reaching the stage where consistency is key," said Clagett. "We will continue to refine and improve our approach, but we're pleased with the Series' direction and our competitor feedback. The 2019 Trans Am Championship presented by Pirelli looks to continue the momentum and success we've collectively experienced this year."
The Trans Am West Coast Championship presented by Pirelli will feature the additions of Thunderhill Raceway Park and WeatherTech Raceway Laguna Seca to its 2019 docket, expanding the regional championship to six races in total.
"We believe in the potential of Trans Am racing on the West Coast," said Clagett. "Growing anything is a process; it takes time, but we're seeing more interest every day. We now offer six races at some world-class facilities and have an enthusiastic and passionate competitor base. Our goal will always be a truly national presence, and a strong West Coast Championship is a key part of that effort."
The 2018 Trans Am Championship presented by Pirelli will conclude this weekend on Saturday November 10th at Daytona International Speedway.
The 2019 Trans Am Championship presented by Pirelli
| | | |
| --- | --- | --- |
| Date | Venue | Partner |
| March 1-3 | Sebring International Raceway* | SVRA |
| March 29-31 | Road Atlanta* | SVRA |
| May 3-5 | WeatherTech Raceway Laguna Seca | SVRA |
| May 24-27 | Lime Rock Park^ | SVRA |
| May 31 – June 2 | Chevrolet Detroit Grand Prix presented by Lear^ (TA2) | IndyCar |
| August 1-4 | Indianapolis Motor Speedway*^ | SVRA |
| August 8-10 | Mid-Ohio Sports Car Course^ | NASCAR Xfinity |
| August 22-24 | Road America^ | NASCAR Xfinity |
| September 5-8 | Watkins Glen International^ | SVRA |
| September 20-22 | VIRginia International Raceway* | SVRA |
| October 4-6 | Circuit of The Americas* | SVRA |
| November 14-16 | Daytona International Speedway* | HSR |
*Southern Cup
^ Northern Cup
The 2019 Trans Am West Coast Championship
| | | |
| --- | --- | --- |
| Date | Venue | Partner |
| April 12-14 | Thunderhill Raceway Park* | NASA. |
| April 26-28 | Auto Club Speedway | SVRA |
| May 3-5 | WeatherTech Raceway Laguna Seca. | SVRA |
| June 14-16 | Sonoma Raceway* | NASA |
| July 26-28 | Portland International Raceway | SVRA |
| October 4-6 | Circuit of The Americas | SVRA |
*tentative