Latest F1 news in brief – Thursday
Marko says new F1 wings are a waste of money.

2019 wings will not improve overtaking – Marko

Lauda aims for Abu Dhabi comeback – Ecclestone
Carey now wants Vietnamese F1 driver
Brazilian ready for McLaren reserve role
Sainz Jr. not expecting big McLaren boost in 2019
Honda to revert to Spec 3 power unit in Brazil
Interlagos pit straight DRS zone extended by 100m
A further look at Hanoi
2019 wings will not improve overtaking – Marko
(GMM) The new front wings for 2019 are costing teams a lot of money but overtaking will not be easier.
That is the fear of F1 officials including Dr Helmut Marko, Franz Tost and Andy Green.
For next year, the regulations mandate wider front wings that are designed to improve the chances that a chasing car can follow and overtake.
But as the wind tunnel numbers come in, there is skepticism.
"Driving behind a car will not be any easier," Force India technical boss Andy Green told Auto Motor und Sport.
Toro Rosso chief Franz Tost agreed: "I discussed it with the people in the wind tunnel and they do not believe overtaking will become much easier.
"I think at the beginning of next season the teams will have reached a similar level of downforce as now."
Red Bull's Dr Marko added: "Our simulations show that nothing changes. Overtaking is just as difficult.
"The whole exercise just costs us money."
He thinks the wider wings will actually become too easily damaged in wheel-to-wheel contact, necessitating a reversion to narrower wings for 2021.
"We can't do a shot in the dark like this again," Marko insisted.
Lauda aims for Abu Dhabi comeback – Ecclestone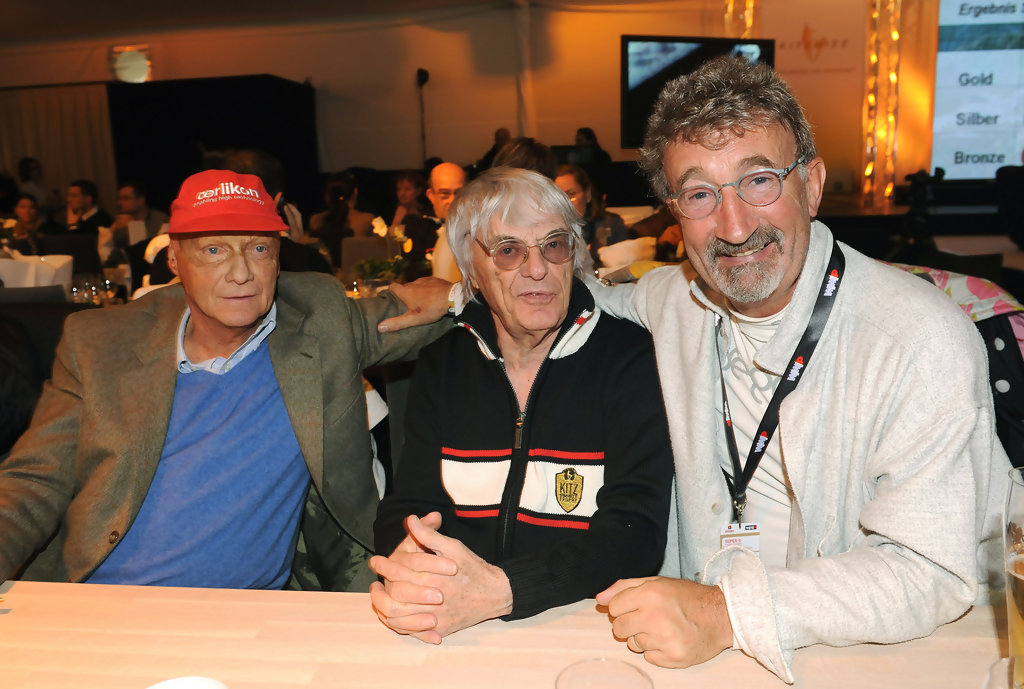 Lauda last winter with Ecclestone and Eddie Jordan in Kitzbuhel
(GMM) Niki Lauda has targeted a F1 return for the season finale in Abu Dhabi later this month.
That is the news from the beleaguered F1 legend and Mercedes team chairman's friend Bernie Ecclestone.
Ecclestone, the former F1 supremo, says 69-year-old Lauda telephoned him after leaving hospital following a lung transplant.
"He is doing well in the circumstances," the 88-year-old told the Swiss newspaper Blick.
"He said he feels much better and just has to take a lot of pills and be disciplined."
And Ecclestone said Lauda, who is now in rehabilitation, is targeting a return to the paddock for Abu Dhabi.
"His secret plan is to be back in Abu Dhabi," said the Briton.
"It's incredible what Niki has had to go through. He does not deserve it."
Another of Lauda's best F1 friends, Dr Helmut Marko, said he hopes Ecclestone's news that the Austrian could be back in Abu Dhabi is right.
"I would never have imagined it," he told Bild newspaper.
"He always sets himself a goal in his head and goes about achieving it," Marko said. "That's typical Niki Lauda."
Carey now wants Vietnamese F1 driver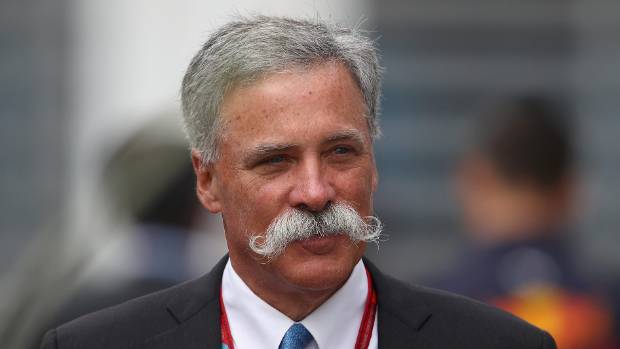 What is Carey smoking? There are plenty of American drivers who would do well in F1 but no one will give them a chance. Where is he going to find a Vietnamese race car driver?
(GMM) The next step for F1 is a Vietnamese driver.
That is the claim of F1 chief executive Chase Carey, after Liberty Media announced that Hanoi will host a street race starting in 2020.
Some think the news is actually an embarrassment for Carey, who had earlier tried but failed to take Miami to the calendar.
Vietnam is instead Liberty's first new race, but Carey insists that Asia is in fact "a cornerstone to our long term growth strategy".
"I think in the past there was a bit of a short term view towards many of the things we did," Carey told AFP news agency.
He doesn't deny that the success of the new Vietnam race could be helped by a local driver being on the grid.
"We'd love to have a Chinese driver, an American driver, a female driver, a Vietnamese driver, all be part of our future," said Carey.
Brazilian ready for McLaren reserve role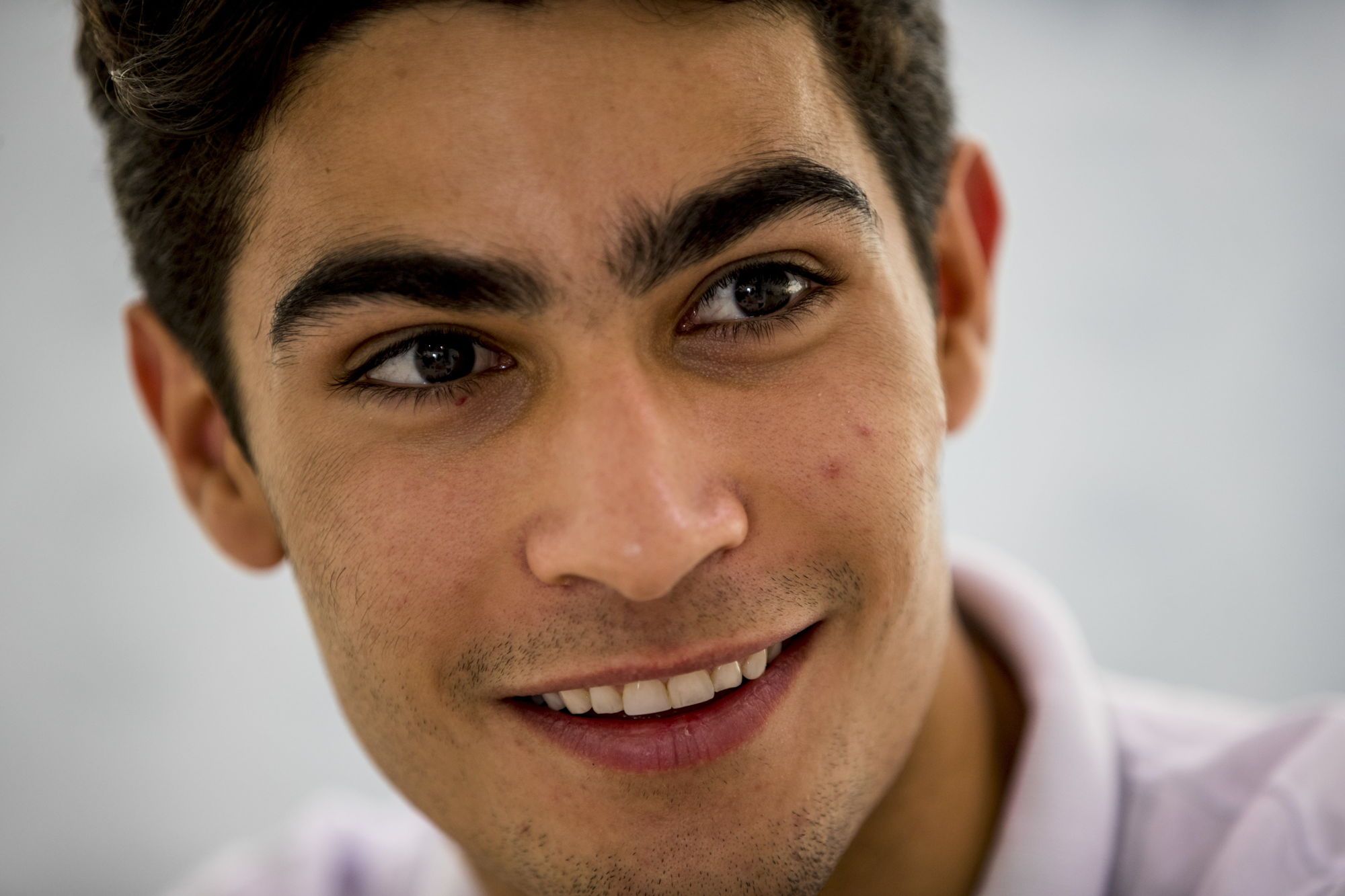 Sergio Sette Camara – has big check will drive
(GMM) Sergio Sette Camara says he is ready for formula one.
The 20-year-old Brazilian driver, who will stay in Formula 2 next year, will also be a McLaren test driver in 2019.
He is backed by team sponsor Petrobras but insists Brazilian drivers are still "taken seriously" in F1.
"We are recognized as a country that produces good drivers, even though we do not have as strong an economy as the Europeans," Sette Camara told Brazil's Globo.
McLaren said he will have a test and development role, but he may also be on call in case Carlos Sainz or Lando Norris cannot race.
Asked if he is ready for a grand prix, Sette Camara answered: "I believe so.
"I think you need a few days of testing to face a race weekend with a formula one car, but with some caution, I could do it.
"In the end it's still a formula car, and the F2 car is already fast. Of course it's one more step, but I think I would have it under control," he said.
Sainz Jr. not expecting big McLaren boost in 2019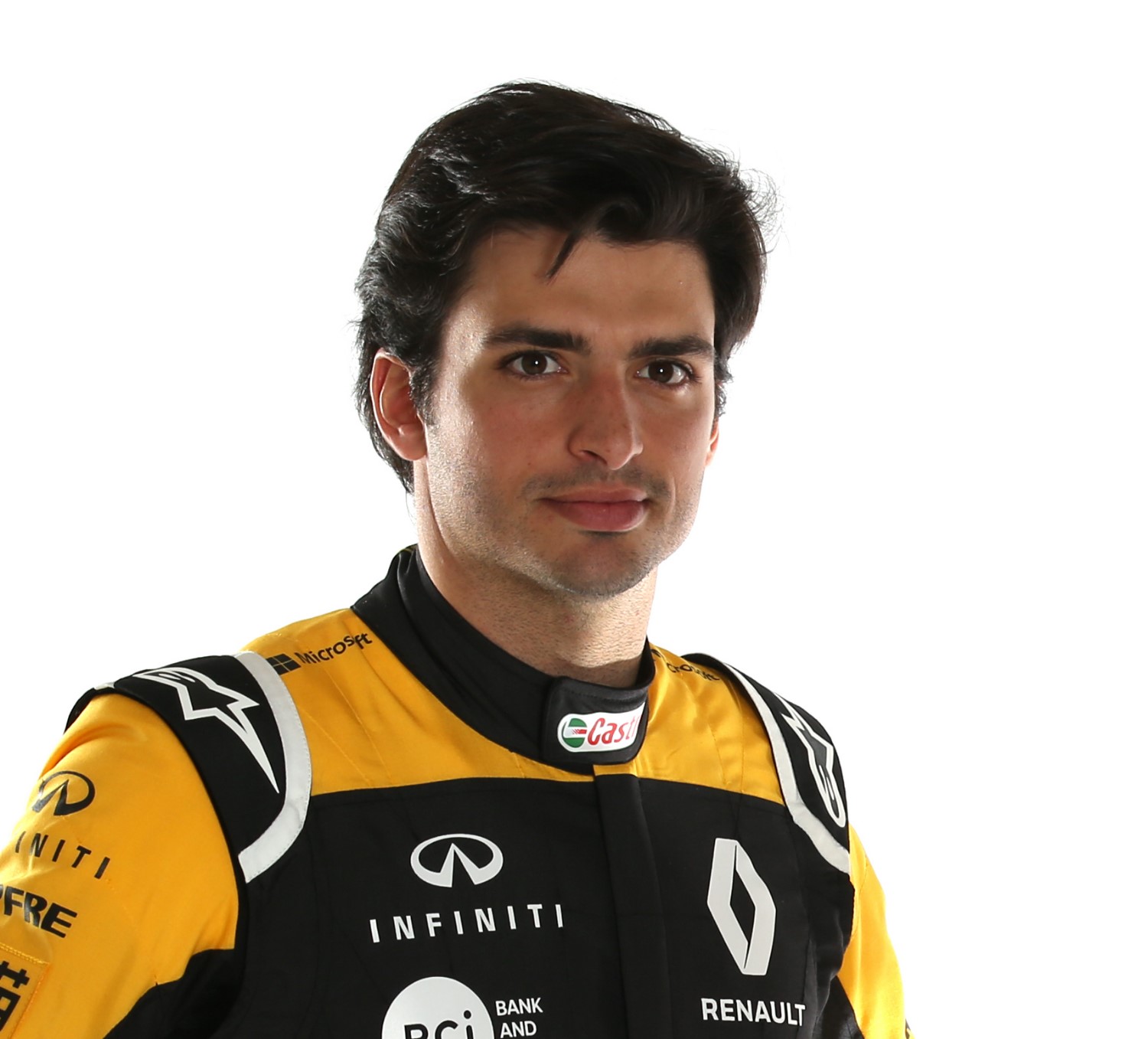 Sainz Jr. expects McLaren to remain near back of grid
(GMM) Carlos Sainz Jr. is not expecting to make a big leap up the F1 grid in 2019.
In fact, the Spaniard said that even if McLaren improves, he should be not be any higher in the field than he is at the wheel of his Renault this year.
Sainz told EFE news agency that his dream of winning the world championship is therefore "far away".
"If you're not in a Ferrari or a Mercedes, winning the world championship is a bit difficult," he smiled.
Sainz says McLaren – his team for 2019 – has had "a difficult year" in which "they realized they were maybe not going in the right direction".
"But I think that has helped them to learn, reset a bit and start from zero. That means we must be realistic and know that we will probably be fighting for positions similar to the ones I am fighting for right now with Renault."
Nonetheless, he says McLaren is not a dud move for his career.
In fact, Sainz said the Woking team is a "safe bet" as it is "the second most prestigious F1 team".
"All the companies, all the teams, all the drivers go through highs and lows and McLaren is in one of its lows. But I also believe that, being one of the best teams in the history of F1, they will know how to recover," he added.
Honda to revert to Spec 3 power unit in Brazil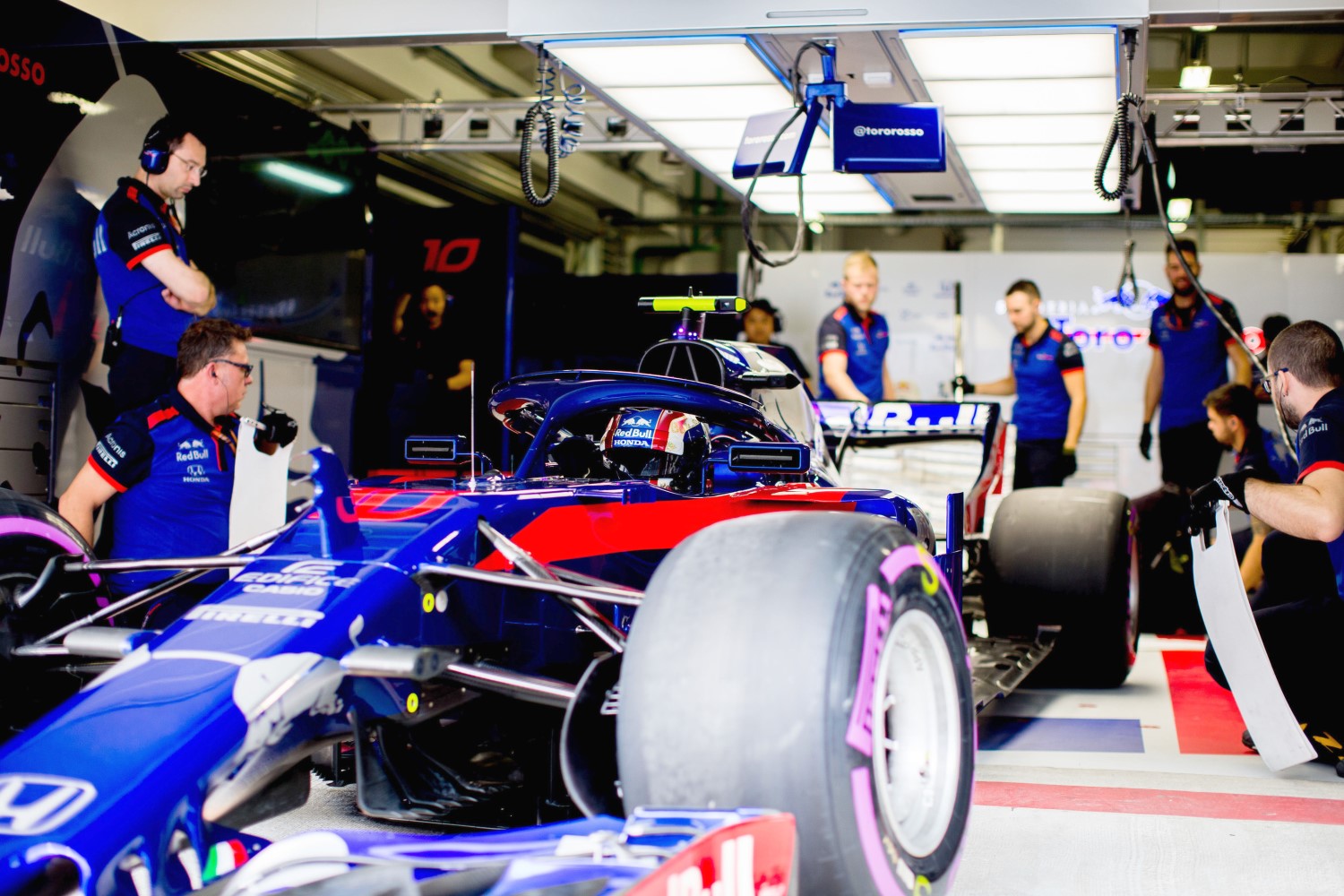 Gasly enjoyed the Spec 3 power unit Russia
Honda introduced Spec 3 during practice in Russia and ran it in Grands Prix on home territory in Japan and kept it in Toro Rosso's STR13 in the United States.
Both Pierre Gasly and Brendon Hartley were buoyed by the jump in performance provided by the latest specification, but Honda switched back to Spec 2 for Mexico.
This was due to the greater understanding in how to calibrate the older-spec engine for the atypically high altitude of Mexico's Autodromo Hermanos Rodriguez.
Interlagos is another high-altitude venue, though at 800 meters above sea level is some 1,400 meters below Mexico City, and Honda intends to use Spec 3 this weekend.
Hartley, who scored points for the first time in eight races at the US GP with the new engine, is hopeful of repeating his result and is thankful to have the extra performance it provides.
"My pace in the last few events has been really fantastic and I had a great points finish in Austin, followed by a strong turn of speed in Mexico, even if it didn't deliver the result we might have deserved.
"Therefore, I'm going into the last two races of the year in a really positive frame of mind. We will have the latest spec Honda engine on board and we know that it delivers much more performance.
"On top of that, the new aero kit adds some value and seems to suit my driving style. I believe we can be in good shape and we will be targeting some more points."
Toro Rosso is locked in a close battle with Sauber for eighth in the Constructors' Championship, and was overhauled by the steadily improving Swiss team in Mexico, with the squads split by just three points.
Interlagos pit straight DRS zone extended by 100m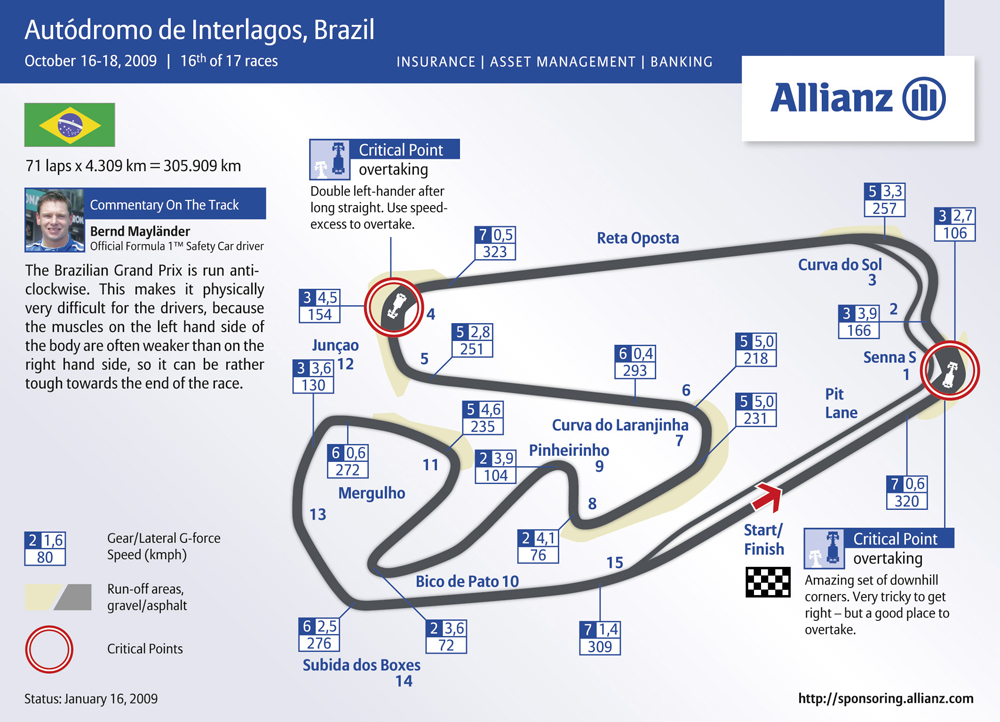 Interlagos
The FIA has experimented with the number and length of the various zones at Grands Prix this year, in a bid to enhance the quality of the racing.
As per 2017, there will be two DRS zones at Interlagos, with the first located along the Reta Oposta, with the activation point 30 meters after the Curva do Sol, and the detection point at the second apex of the Senna S.
The second detection point remains 30 meters after the Turn 13 kink, but the activation point has been moved from 60 meters before the Turn 15 kink to 160 meters before.
No major changes have been made to the circuit layout since last year's event.
A further look at Hanoi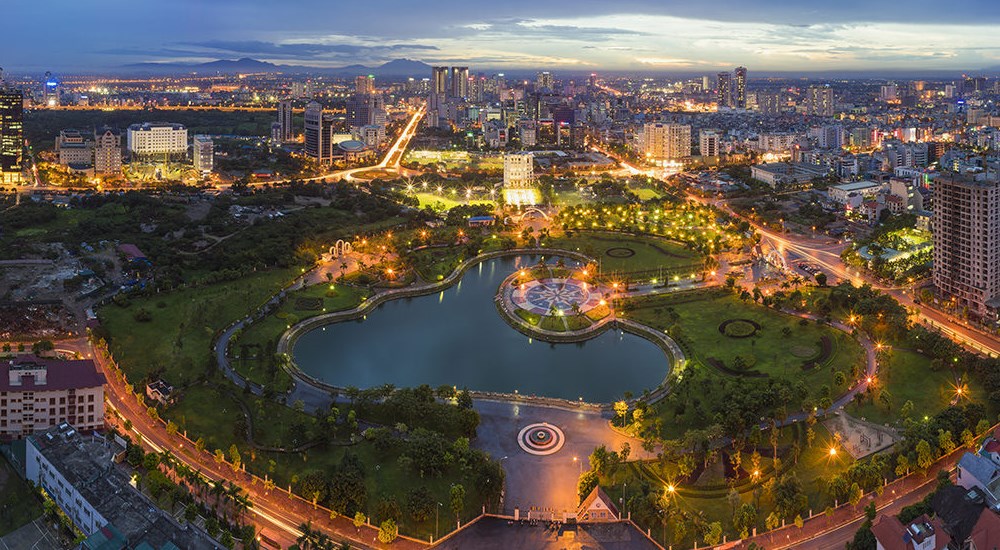 Hanoi
So, what will a lap of the new #VietnamGP circuit be like?
Only one person on the planet knows that so far – @rosannatennant! (See her video from Hanoi)
She headed over to Hanoi this week to check out the route that will play host to Vietnam's inaugural #F1 race in April 2020
The Hanoi race "could raise concerns that F1 has again chosen to enter a country with a poor human rights record," having previously faced "fierce criticism" for holding grands prix in Azerbaijan and Bahrain.
F1 CEO Chase Carey said, "When you [only] have 21 races, every race is significant. We want to go places that we think are going to capture the world's imagination. Vietnam is a place, today, that certainly has become a much more popular destination … there is a lot more interest, curiosity and engagement with it."