Gateway Motorsports Park making improvements to seating layouts, programs (Update)
UPDATE
Below is the 2019 Revised Seating Chart hot off the presses: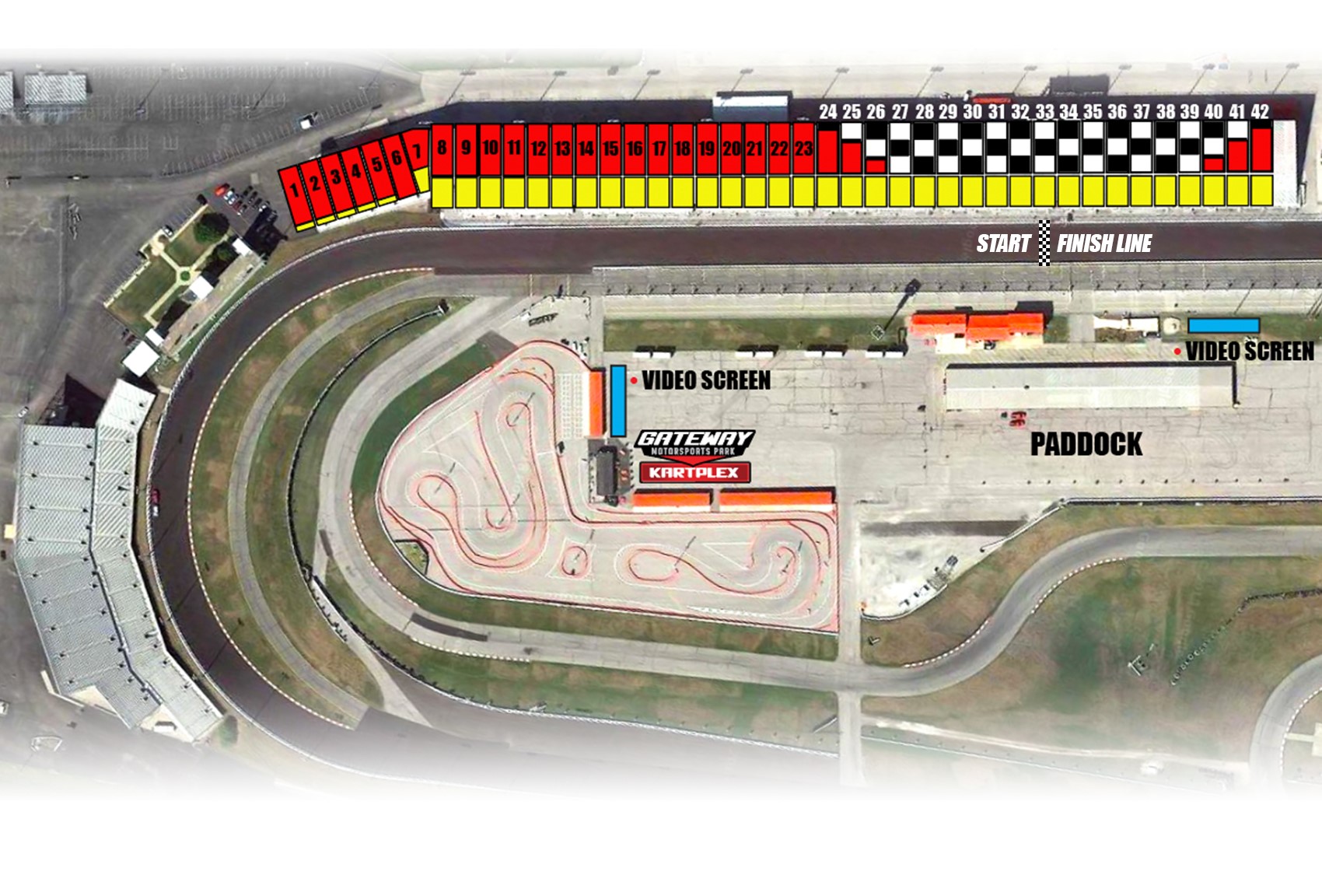 2019 Gateway IndyCar and NASCAR Seating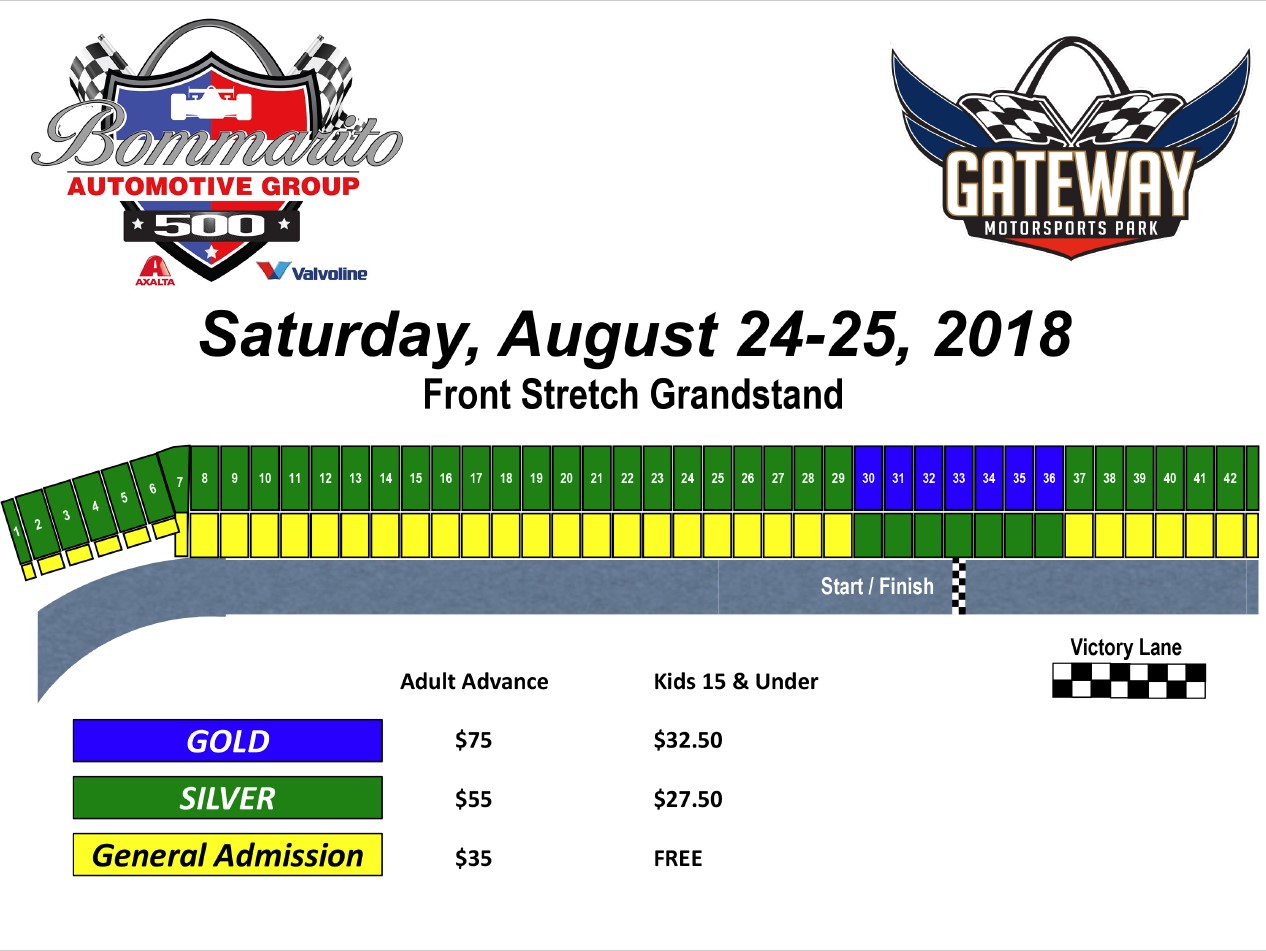 Gateway Seating 2018
11/05/18 Gateway Motorsports Park — in conjunction with the sports marketing program at Maryville University in St. Louis — conducted extensive fan surveys following its 2017 and 2018 INDYCAR and NASCAR events. The surveys provided detailed information pertaining to the likes and needs of the fans who attend INDYCAR and NASCAR races at the unique 1.25 mile-oval. As a result of these surveys, changes have been made to accommodate the fans to provide a better race day experience.
The seating sections formerly known as Gold Level, Silver Level and General Admission have been changed to reflect the color coding of the seats.
"In the past, it was difficult to clearly distinguish the difference between the various seat types and pricing levels," said GMP Executive Vice President and General Manager Chris Blair. "The new seating designators will be Checkered Flag, for the seats colored black and white and Red Reserved, for the chair-backed bleacher seats that are red in color. General Admission bench seating will be referred to as Gray Level to correspond to the aluminum bleacher seats without a seat back.
"Customers had requested that the track offer a wider premium seating option to adjust to seating standards that have changed in the last 20 years," Blair continued. "They had stated that many of the areas directly above the start-finish line in the preferred seating areas were crowded and could be uncomfortable on the nights of bigger events. As a result, Gateway has adjusted the seat size in all areas of the Checkered Flag sections and fans now have an additional seven inches of space per seat. In most cases, this will reduce the total number of fans per row in the premium section from 19 to 14. Seat 14 will now become the aisle seat in the premium sections. This will provide ample room for comfort and we still will be able to provide the necessary room for headsets, scanners and other race day necessities.
"Our customers had also requested that the video screens be moved closer to the main grandstand and premium seating areas for better viewing and replays. Our track is working with video screen provider Screen Works to construct a new screen set-up area for the INDYCAR event that will move it more than 300 feet closer to the start-finish line. This will make the pre-race, in-race footage and post-race celebration even more spectacular with the largest video screen in the Screen Works inventory. We will continue to offer a second video screen in the Turn 1 area for fans in the south end of the grandstand and suite viewers." (Screen locations now are indicated on the seating diagram map).
Respondents to Maryville University's GMP survey requested that all upgrades to the ticket packages be made available at the time of the original on-sale date. As a result, fans now will be able to secure paddock passes, souvenir program vouchers, multiple parking options and tickets to the pre-race Rumble Before the Roar party at the time of their original order.
Prior ticket buyers requested that package programs be offered for fans who want to easily purchase the best race day experience possible. As part of the new Checkered Flag Club program, fans may secure everything they will need for a great weekend of racing with one easy transaction.
GMP also is promising its customers that "The first deal is the best deal." The packages offered to ticket renewal buyers and those who take advantage of early purchase programs will never be undersold at any time leading up to the race. GMP's programs offered to advance purchase fans are the same packages offered to track sponsors, sanctioning body fan clubs and special programs.
With these changes, there will be seating adjustments that may affect fans who have been seated in sections that are now labeled differently. In addition, seat positions that are now offset due to the total number of seats per row will be re-assigned to the next best available position in their area. Fans who were once seated in a section that falls into a different pricing structure will be offered the opportunity to select a seat that best suits their preferences and budgets.
INDYCAR ticket renewals begin today. NASCAR ticket renewals will start on November 14 and sale to the general public begins November 23.
A deposit of just 10%, payable by November 23, 2018, will secure customers' 2019 tickets and add-ons.
All ticket buyers will be given the option to opt in for automatic ticket renewals at the time of purchase for their 2019 events. With this option, fans will be able to automatically renew their 2020 ticket purchase and retain their 2019 seat assignments.
For more information on Gateway Motorsports Park, please call (618) 215-8888 or visit www.gatewaymsp.com. Follow GMP on Facebook, Twitter, Snapchat and Instagram.