Over $2M in Scholarships on Offer for 2019 Road to Indy Competitors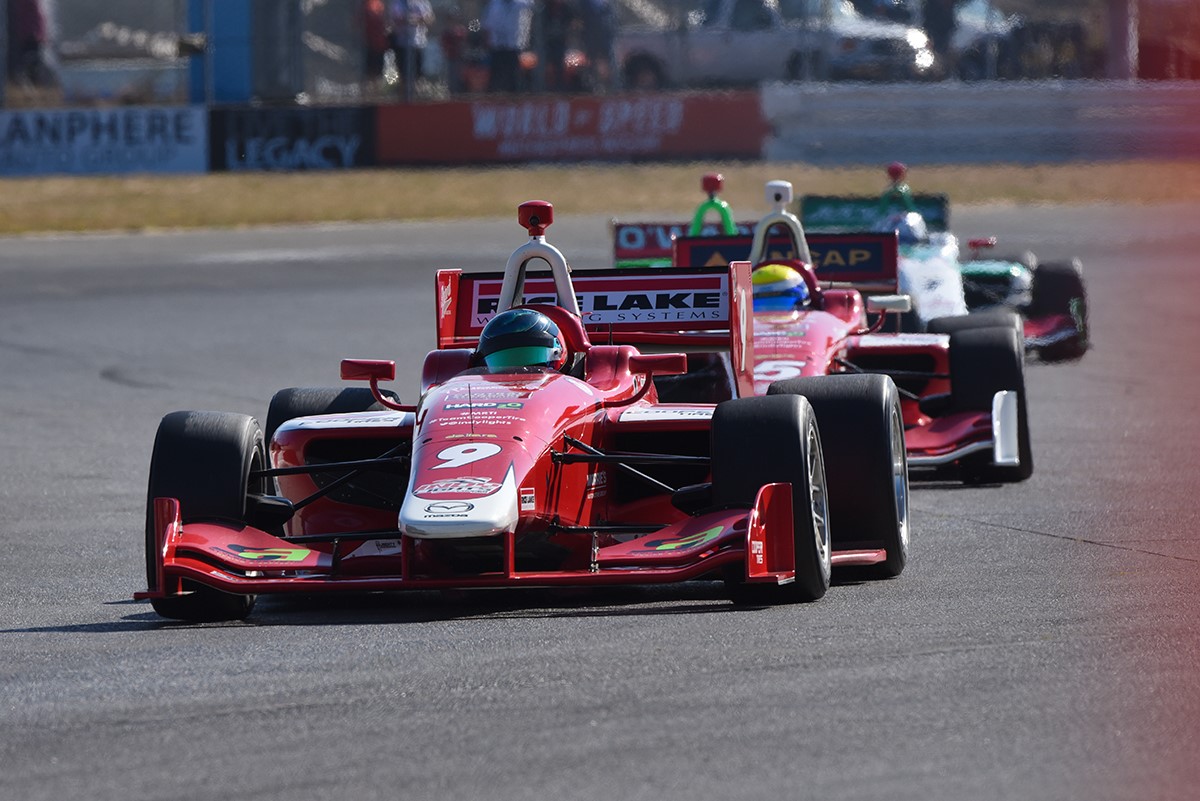 Indy Lights Action
The Road to Indy Presented by Cooper Tires enters its 10th year in 2019 and continues to set the standard as one of the most successful driver development programs in the world, providing a scholarship-funded path to reach the Verizon IndyCar Series and Indianapolis 500. Andersen Promotions today confirmed the champion's prize packages for each of the three series – Indy Lights Presented by Cooper Tires, the Pro Mazda Championship Presented by Cooper Tires and the Cooper Tires USF2000 Championship – as the globally recognized platform prepares for the new season.
When Andersen Promotions took over operations of Indy Lights in 2014, it set in place an unprecedented prize – its champion would be guaranteed a three-race IndyCar Series program. This tradition will continue in 2019 with an increased champion's purse of $1.1 million built on a three-race IndyCar program including the 104th Running of the Indianapolis 500 in 2020.
In Pro Mazda, a vital step in the career path of many drivers including James Hinchcliffe, Spencer Pigot and Graham Rahal, the champion's purse is valued at $596,700, which includes a $500,000 scholarship to advance to Indy Lights the following year and $96,700 in Cooper tires and entry fees towards the champion's next step on the ladder.
USF2000, which has a rich history dating back to 1990, will provide its 2019 champion with a prize package valued at $305,600, which includes a $250,000 scholarship to graduate to Pro Mazda and $55,600 in Cooper tires and entry fees for the following season.
The full per-race prize money structure and end-of-season prize money and awards list, including second/third place finishers payouts, Rookie of the Year, team champions and other year-end prizes, is being finalized and will be publicized in the coming weeks.
"We are pleased to announce the continuation of the highly regarded Road to Indy scholarship program for all three of our champions each year," said Dan Andersen, Owner and CEO of Andersen Promotions. "Our goal has always been to advance the careers of talented drivers to the IndyCar ranks, and these awards will help pave the way for even more Road to Indy stars to race in future Indy 500s. There are no driver development programs in the world with as much on offer."
The vast majority of the 2019 IndyCar Series grid will be comprised of drivers who have come through the Road to Indy Presented by Cooper Tires. Among them will be reigning Indy Lights champion Patricio O'Ward and vice champion Colton Herta, driving for Harding Steinbrenner Racing, and newly announced Chip Ganassi Racing driver Felix Rosenqvist, who turned heads in a partial season of Indy Lights two years ago claiming three wins in 10 starts. Rosenqvist initially impressed the Ganassi team after being invited to test at Mid-Ohio both in 2016 and 2017 as part of an initiative supported by INDYCAR with the intention of promoting the talents of Indy Lights drivers.
The 2019 Road to Indy season will kick off on the streets of St. Petersburg, Fla., in support of the IndyCar Series' season-opening race. The highly popular event is held on a temporary circuit downtown overlooking Tampa Bay and the St. Petersburg Harbor and Marina on March 8-10.
The Road to Indy will close out the year with an Open Test at the Homestead-Miami Speedway road course in Homestead, Fla., on December 3/4. The test provides new drivers the opportunity to test the waters, and returning drivers and teams the chance to jumpstart their 2019 campaigns. Six test sessions totaling four hours of on-track time are on deck for each series.
Three days after Homestead, the focus will shift to Phoenix, Ariz., where the third annual Mazda Road to Indy USF2000 $200K Scholarship Shootout will see 20 champions of junior open-wheel and karting series vie for a scholarship to USF2000 in 2019. Drivers from North and South America, Europe, Asia, Australasia and Africa will undergo two days of competition at the Bondurant Racing School on December 8/9.