Bradley Smith switches to MotoE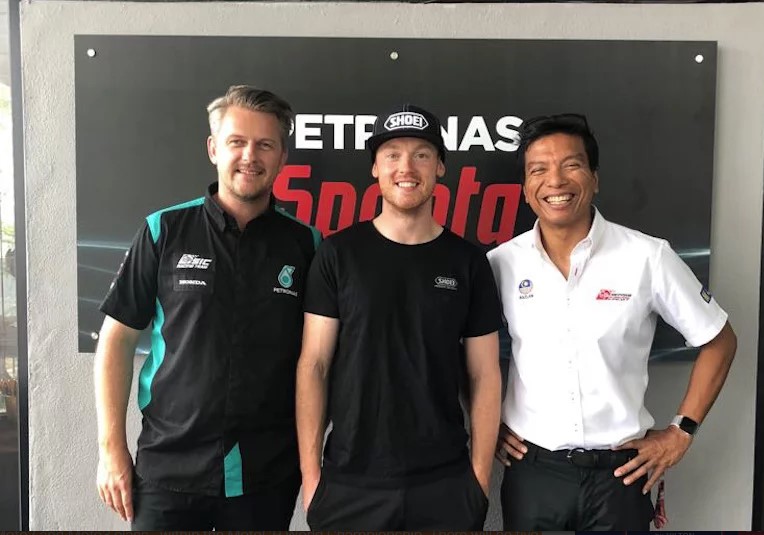 Bradley Smith (C) and One Energy bosses
Bradley Smith will make the switch to the new FIM Enel MotoE World Cup next season. The current Red Bull KTM Factory Racing MotoGP driver has signed a contract with the Malaysian One Energy Racing.
The FIM Enel MotoE World Cup, a new road racing class driven by electrically driven engines and which will form an extra class from next season – in addition to the already established MotoGP, Moto2 and Moto3 class – within the MotoGP World Championship. There will be five MotoE races in 2019 during a number of European Grand Prix weekends.
The Briton has signed a contract with Malaysian One Energy Racing.
One Energy Racing – an extension of the Malaysian SIC Racing, originated from the passion, competence and experience of former world champion Johan Stigefelt; CEO of Sepang International Circuit, Razlan Razali and entrepreneur Matteo Ballarin, specialized in the distribution of electricity and gas.
Bradley Smith. "This is a completely new chapter in the motorcycle world and I am very excited to be part of the MotoE World Cup. Energy and I face a major new challenge to learn and adapt this new technology, but I am confident that we are ready for this new challenge. "
Johan Stigefelt – Team Director. "It will be a new challenge to participate in the Moto E World Cup. Nobody knows how this will work out and to be part of it from the beginning is very exciting. It's great for us to have signed Bradley. He is a driver and a person with enormous experience at the highest level and we expect him to do well. The team that we have put together is great and has a lot of experience. I am grateful for this opportunity and would like to thank our partners for their support. "