Edwards, Castroneves Enter Texas Motorsports Hall Of Fame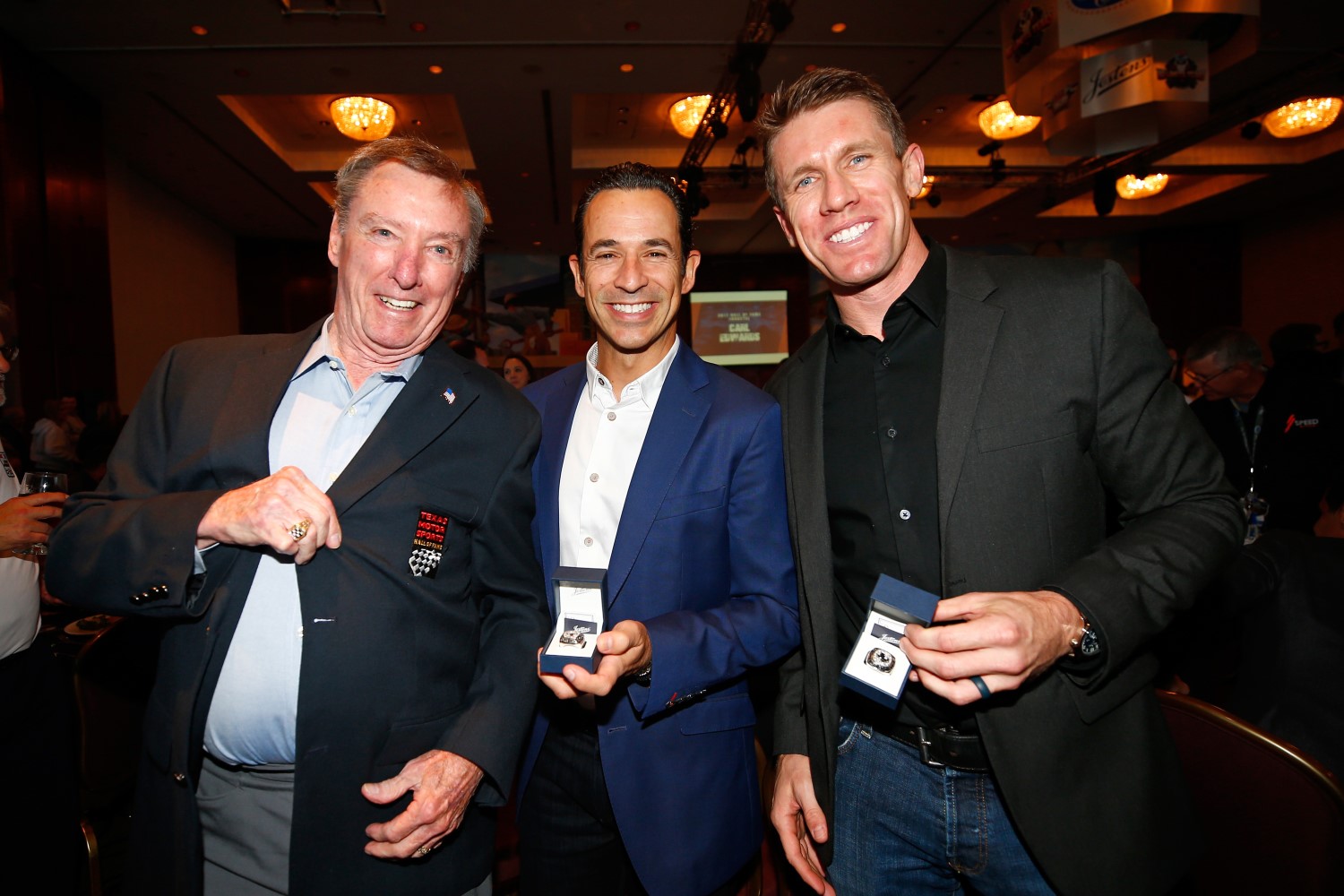 Johnny Rutherford, Helio Castroneves and Carl Edwards pose for a photo during the Texas Motorsports Hall of Fame ceremony
Matt Sullivan/Getty Images
He wasn't carrying a helmet and he declined (several times) to reprise his signature backflip off a stage. With that, retired NASCAR star Carl Edwards celebrated his induction into the Texas Motorsports Hall of Fame Saturday as 2017 classmate to popular IndyCar Series driver Helio Castroneves.
Edwards and Castroneves became the 20th and 21st respective members of the TMHOF during induction ceremonies at The Speedway Club's Grand Ballroom as part of the AAA Texas 500 NASCAR Playoff tripleheader weekend at Texas Motor Speedway.
Edwards shocked NASCAR Nation when he unexpectedly announced his retirement from big-time stock car racing in January 2017. But the man who punctuated each of his six victories at TMS with a backflip off the door of his race car was cheered as he entered the ballroom.
"I didn't expect that at all. And then to have people here wearing Carl Edwards gear – I didn't expect that," said Edwards, a 39-year-old native of Columbia, Mo.
Edwards made 24 NASCAR Cup Series starts at TMS from 2005 to 2016 and led 691 total laps on the 1.5-mile oval.
"The more I'm away from the sport there's two things that are clear that I miss – I definitely miss driving the car," Edwards said. "Just sliding a car sideways is a blast. And I miss the people. This is really cool. It means a lot for (TMS President) Eddie Gossage to have me back here just so I can say 'hi' to a lot of folks. Never thought I'd be so happy to see (NASCAR executive) Mike Helton again. Just cool."
Edwards has become a gentleman sailor and worldwide traveler over the past two years, while also devoting more time to his family.
"It's been a really great two years. I've had a lot of fun," said Edwards, whose career featured stints with Roush Fenway Racing and Joe Gibbs Racing.
I think everyone pretty much understands I'm not interested in coming back and doing anything too serious right now. It's been off my radar for a long time," Edwards said. "I do miss driving the cars. I have a feeling something will come up that'll be natural to do and I get to drive a little more. But definitely I'm not going to go sign up a three-year contract to run for a Cup championship or something like that. Not right now."Edwards added he has had "a couple conversations with people" about racing again, but none in the last year or so."
Edwards added he was honored to join Castroneves, the winningest open-wheel driver in TMS history.
Castroneves, whose INDYCAR tenure with Team Penske ended after the 2017 season, owns TMS records for most wins (four), top-10s (15), top-fives (11) and laps-led (506) over the course of a record 20 career starts. Each of those victories was punctuated by his trademark frontstretch fence-climb, a tradition that began after his first Indy car win at The Raceway at Belle Isle Park in Detroit in 2000 and prompted his "Spider Man" nickname. Castroneves also recorded one pole position around TMS' 1.5-mile oval.
"Coming here today to see the Speedway, I said, 'Man, I miss this place,' " said Castroneves, a 43-year-old native of Sao Paulo, Brazil, living in Fort Lauderdale, Fla. "I miss the environment – but I'm not retired. I'm still driving."
Castroneves moved to Penske's sports car organization for the 2018 IMSA WeatherTech SportsCar Championshipafter 18 successful open-wheel seasons, driving an Acura ARX-05 Prototype with Ricky Taylor. While committed to sports car racing, Castroneves will renew his quest for a record-tying fourth Indianapolis 500 win in next May's 103rd edition of "The Greatest Spectacle in Racing" with Team Penske at Indianapolis Motor Speedway.
Castroneves implored Gossage to help him convince team owner Roger Penske to add June's IndyCar Series night race at TMS to his abbreviated open-wheel schedule.
"We got to start sending messages to RP," Castroneves said. "I'll never stop thanking the fans, whether it's from racing or 'Dancing With the Stars.' This is a phenomenal honor."
Gossage presented each inductee with a TMHOF ring.
The event marked the TMHOF's first dual induction since native Texan Bobby Labonte, the 2000 Cup champion from Corpus Christi, Texas, and Speedway Motorsports Inc., founder O. Bruton Smith were recognized in 2008. It also was the Hall's sixth dual induction overall.
Fittingly, Edwards was honored on the same day as his last team owner, Joe Gibbs, received the Bruton Smith Legend Award for his leadership of a championship-winning organization. With more than 300 combined wins in the Cup and Xfinity series, Gibbs has solidified himself as one of NASCAR's most successful owners.
Cup star Kevin Harvick of Stewart-Haas Racing was honored with the 2017 Racer of the Year Award after a pair of strong finishes in April and a drought-ending victory in the fall Cup race. Harvick scored the first Cup Series victory of his career in 30 starts in Fort Worth during last November's AAA Texas 500.
NASCAR Xfinity title contender Christopher Bell, a native of Oklahoma City, Oka., received the 2017 TMS Sportsmanship Award.
The Texas Motorsports Hall of Fame ceremony serves as a major fundraiser for Speedway Children's Charities-Texas Chapter. SCC has invested over $10.6-million in the North Texas community to help children in need. In the 20-year existence of the local chapter, SCC has improved the lives of over 2.4-million children.