Francis Rebounds with COTA Trans Am Victory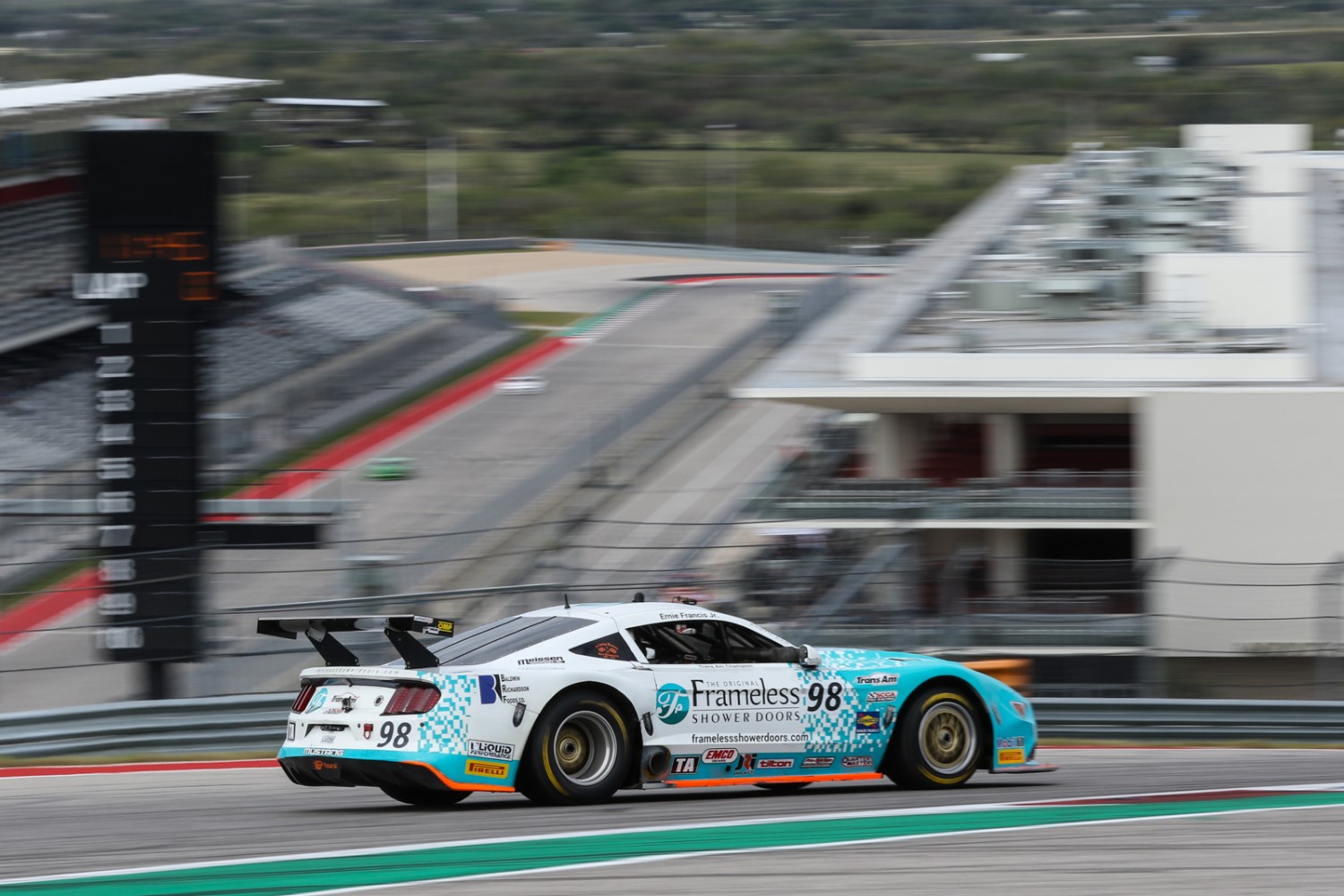 Ernie Francis, Jr. – note completely empty grandstands
After a difficult three rounds of Trans Am Series presented by Pirelli competition, points leader Ernie Francis, Jr., and the No. 98 Frameless Shower Doors Ford Mustang returned to the top step of the TA class podium in the COTA Trans Am 100 and Circuit of The Americas (COTA). Brothers Ryan and Warren Dexter also claimed Trans Am victories in the the TA3 and TA4 classes, respectively.
Francis' difficult stretch dates back to a practice session at Road America where the No. 98 found oil and made a heavy impact into a barrier. Francis would salvage points in a loaned car later that weekend, the first of three consecutive finishes well outside the top ten with the No. 98 struggling to get up to its customary speed following repairs.
However, the month between Trans Am competitions gave the Breathless Pro Racing team time to regroup and get the No. 98 back up to speed, efforts that paid dividends in the 102.81-mile contest, 30 laps around the 3.427-mile, 20-turn circuit with the No. 98 starting in first position and leading every lap. Francis would cross the finish line just over two seconds ahead of runner-up Chris Dyson, in the No. 20 Plaid Enterprises/ CD Racing Ford Mustang.
"We definitely needed this result," said Francis. "It's been a tough couple races for us, and we were all kind of in a low spell. To get a good result and a win, really a dominant win, out there, it will boost the moral of the whole team. We're ready to go Daytona, finish it off and bring home this championship."
"The effort from the team has been unbelievable," said Francis. "Mark Meissen pretty much rebuilt the whole car after the issue at Road America. That was followed by issues at Watkins Glen and VIR—the car just wasn't working the way we needed it to. Finally, we were able to get the car back down to Fort Lauderdale and our team, so we could do some testing and get it where it needs to be. A big thank you to our sponsors Frameless Shower Doors and Baldwin Richards Foods for their support."
Francis' second consecutive TA class victory at COTA was his fifth of the season and also saw the No. 98 turn a new track record 2:09.486, breaking his own mark set last year. Now Francis and the Breathless Racing team will head south to their home state of Florida for the Trans Am Season finale next weekend at a track they know very well, Daytona International Raceway.
"We're pretty confident," said Francis. "Daytona is a big power track; and even though that's where we we are usually lacking, last year we were able to start on pole and bring home the win last year. I think if we can get our setup down and get this car trimmed out real nice for the banking we'll be pretty good out there. We have one thing on our minds though, just win; that's what we're going to go out and do."
For Dyson the podium finish marked his fifth of the season and first since Road America. Tomy Drissi, in the No. 8 The Grinch Chevrolet Camaro, who had started in fourth position completed the TA class podium.
Finishing fourth in class was Amy Ruman, in the No. 23 McNichols Company Chevrolet Corvette, celebrating her 100th career Trans Am start. Ruman's Trans Am career began in Cleveland in 2005 and since that mark she and the Ruman Racing team have amassed 16 victories and captured two championships while setting historic marks. Ruman became the first woman to win a Trans Am race in 2011 at Road Atlanta and the first female professional road racing champion in North America in 2015, a mark she repeated in 2016.
The TA class top five was completed by David Pintaric, in the No. 57 Kryderacing Cadillac CTS-V, after battling back from tenth position on lap three. Championship challenger Lawrence Loshak, in the No. 2 Pennzoil/ ETE/ GOShare Chevrolet Camaro, saw his title hopes dealt a heavy blow early on in the race, entering the pits with only three laps complete due to motor issues. Loshak and the No. 2 were unable to re-enter the contest and now head to Daytona 22 points behind Francis.
In TA3 it was Trans Am debutant Ryan Dexter, in the No. 62 Joe's Hand Cleaner / Dexter Racing Ginetta G55, who captured the class victory by way of a 23rd lap pass of Jason Daskalos, in the No. 27 Vintage Four Twenty-Three Dodge Viper, after a race-long pursuit.
"We recently picked up two new Ginettas," said Ryan Dexter. "So we decided I'd take a shot and see how I do. In the race, I just had to hold on. I knew the Vipers would eventually have their tires fall off towards the end. So I just tried to be consistent and hit my marks, and towards the end I was able to make my way by."
Dexter would also set the fast lap for the class, a 2:18.401 while his pass for the lead was named the COOLSHIRT Systems "cool move" of the race. Daskalos would finish second for his second podium finish in as many appearances this season, while Marko Radisic, in the No. 22 Precision Driving BMW M4 GT4, finished third, tying a career best set earlier this season at Mid-Ohio Sports Car Course.

Completing the TA3 top three were Alline Cipriani, in the No. 60 Ginetta USA Ginetta G55, and Milton Grant, in the No. 55 Sentry Self Storage/ Fairfield Inn Porsche 991.1. Cipriani's finish elevates her back into the TA3 class championship lead with a total of 210 points, nine ahead of defending champion Mark Boden, who was absent. 

In TA4, class champion Warren Dexter, the elder brother of Ryan, secured his sixth win of the season in the No. 60 Joe's Hand Cleaner/ Dexter Racing Ginetta G55. Dexter would finish the final stages of the race unopposed in class, following Shane Lewis and the No. 72 74 Ranch Resort Chevrolet Camaro's retirement due to differential issues on the 26th lap; however, he would run amongst the TA3 class leaders, finishing just behind Daskalos. Warren Dexter would also set a TA4 class track record with a 2:19.078.
"What more can you ask for than coming out of one weekend with two victories," said Warren Dexter. "It was fun and awesome that I was close enough towards the end to watch Ryan make his pass for the lead. We're super happy with how the car has been running this year and the way the Trans Am Series has worked with us; their hospitality is really second to none. We're super excited about this year and looking forward to more in the future."
The race underwent a single full-course caution to retrieve the No. 71 of Dave Ricci stranded just off course in turn 11, that spanned from lap 12 to the completion of lap 15. Starting positions for the race were based on official practice times, per Trans Am Rule Book Article 6.2.8, after track delays and daylight issues saw qualifying canceled on Saturday.
Previously in the weekend, the Trans Am Series held the COTA Muscle Car Challenge, an equidistant competition, that saw Gar Robinson victorious. Full details and results of the contest can be found at gotransam.com.
The Trans Am Series presented by Pirelli will now head to Daytona International Speedway for the 2018 Trans Am Series Finale, with the multi-class TA, TA2, TA3 and TA4 class contest to be held on Saturday, November 10th.
Trans Am featured on the Circuit of The Americas weekend alongside the Sportscar Vintage Racing Association holding the US Vintage Racing National Championship.