Craig Takes Second, Mullan Fifth in Tight Walter Hayes Trophy Heat Races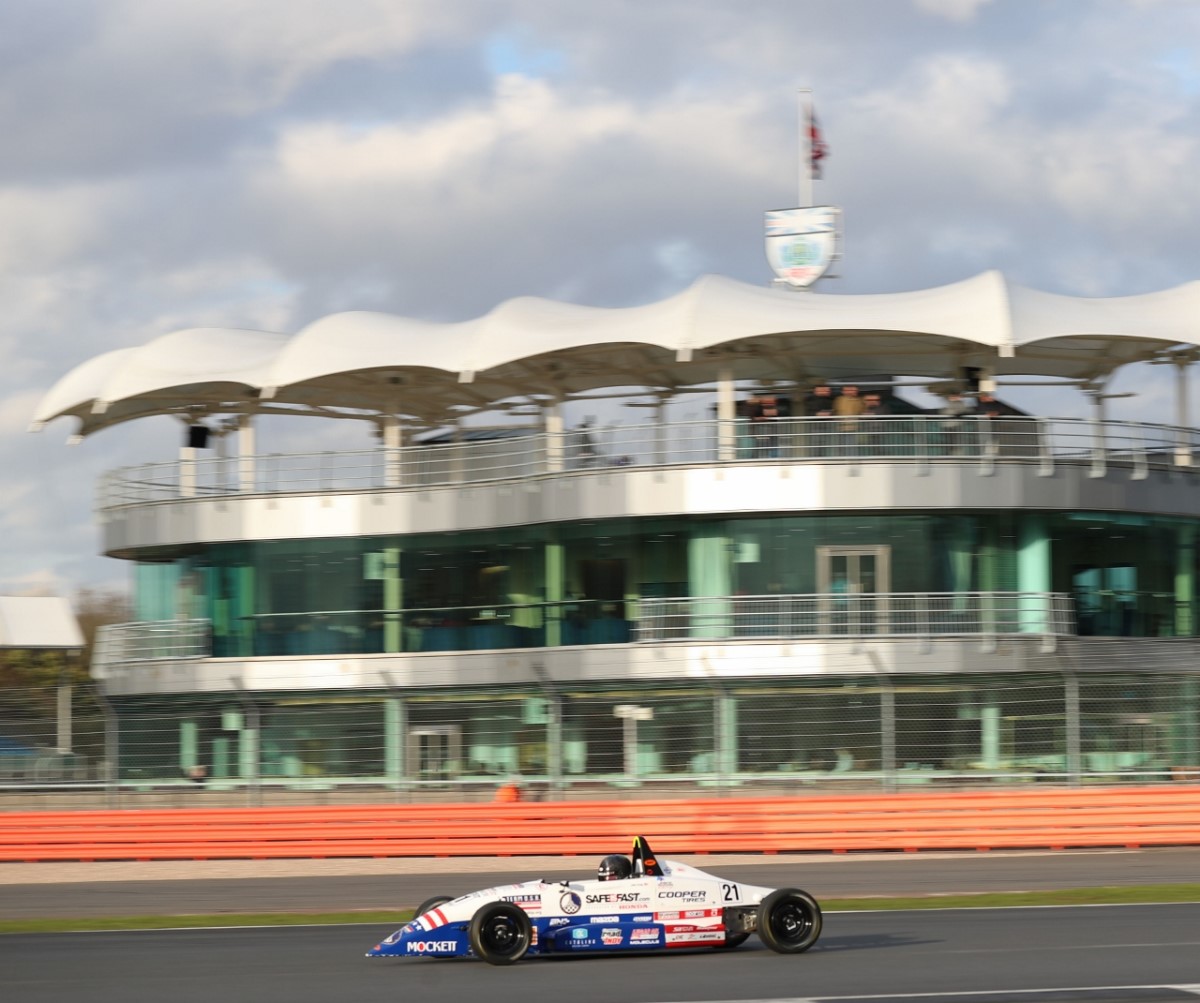 Jake Craig
SILVERSTONE, England (November 3, 2018)
– Team USA Scholarship drivers Jake Craig and Colin Mullan were embroiled in a pair of thrilling Heat races today at Silverstone as almost 100 Formula Ford drivers began the task of attempting to qualify for tomorrow's 18th Annual Walter Hayes Trophy Grand Final. Both Californians finished where they started, with Craig securing second place in Heat Five and Mullan fifth in Heat Six to ensure good starting positions for the next round of competition, a pair of 12-lap Semi Final races to be held on Sunday morning.
After a week of mixed weather conditions, this morning dawned cold and clear, and the track was fully dry by the time Craig ventured out for qualifying. He traded fastest times with National championship race winner Rory Smith (Medina JL18) and three-time Walter Hayes Trophy winner Joey Foster (Firman RFR1600) before settling for second place on the grid. Craig's lap time, 1:02.491, was the fifth fastest of the day overall.
Smith, Craig, Foster and David McArthur (Van Diemen LA10) battled mightily during their eight-lap contest before eventually finishing in the same order in which they had started. Craig posted the second fastest lap of the race, 1:02.485, mere fractions behind Foster, who had the advantage of a two-car draft. The only driver to turn a faster lap during today's Heat races was defending Walter Hayes Trophy champion Michael Moyers, who turned a 1:02.332 lap during a dominant performance in Heat Four.
"The racing here at Silverstone is much different than Brands," said Craig, 21, from Mission Viejo, Calif. "There is so much slipstreaming here down the long straights to set up passes – unlike Brands where you just had to wait for the car in front of you to make a mistake and capitalize on it.
"I'm really happy with my Heat result. I had multiple attempts at passing on the outside of Brooklands but there was some oil and I just wasn't able to make it stick. It's looking like there's a good chance for rain tomorrow and I'm confident we have a quick car in the wet conditions as well. I'm looking forward to some good racing tomorrow."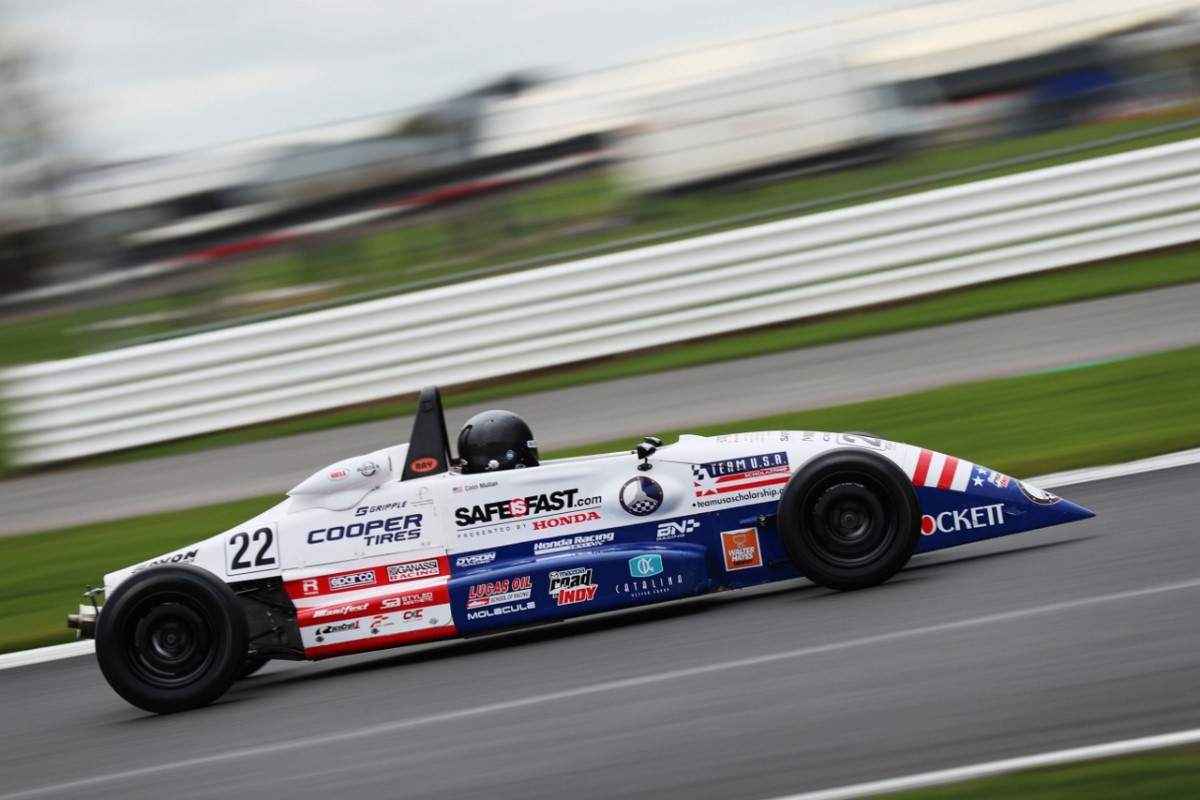 Colin Mullen
Mullan, 16, from Danville, Calif., also enjoyed a hard-fought race. After qualifying fifth on 1:02.753, he rose as high as second before being obliged to settle for fifth at the finish behind Roger Orgee (Spectrum 011C), perennial front-runner Oliver White (Medina JL17), Nico Gruber (Ray GR11) and Formula Ford Festival winner Josh Smith (Van Diemen JL13).
"Josh and I had a good battle for fourth, with some quite aggressive driving," said Mullan. "It was well fought and we both came out clean. At Silverstone there are a lot more chances to pass, and more room for error. The driving is aggressive in a different way than Brands. At the Festival, we had to be very decisive with our moves to gain positions, whereas at the Walter Hayes, there's more movement between cars. Having time to learn the track layout with RaceCraft1 helped us get up to speed faster during testing. Learning the basics on the sim helps us have the fundamentals in place before getting on track in person.
"Rain is in the forecast for Sunday, and I'm hoping to pick up some positions in the Semi Final. Our pace was quick in the rain during practice, so we should be able to run up front."
The races are due to start at 11:10 a.m. and 11:50 a.m. local time (+5 hours from ET following an overnight clock change in the UK). The 15-lap Grand Final is set for 3:10 p.m., although the schedule is subject to change. Live timing for all sessions can be found at https://livetiming.getraceresults.com/mst.