McLaughlin wins thriller in Auckland to set up another epic finale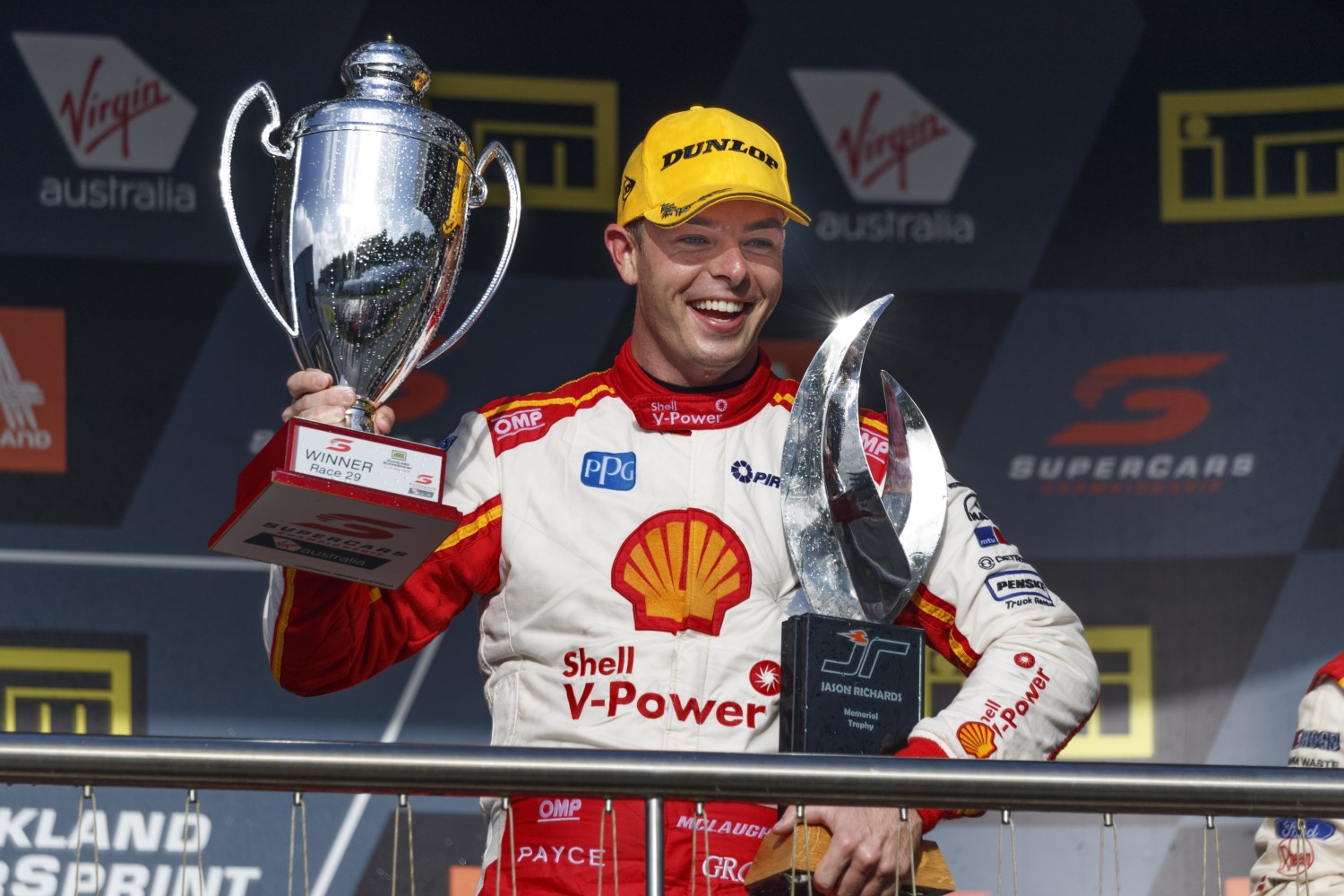 Scott McLaughlin
Scott McLaughlin turned the tables on Kiwi rival Shane van Gisbergen and will take the Virgin Australia Supercars Championship lead into the final two races in Newcastle.
McLaughlin overcame the heated Saturday race and a dismissed protest against Shane van Gisbergen to do his talking on the track in the second race of the ITM Auckland SuperSprint.
It still had its controversies when Jamie Whincup gifted second place to Van Gisbergen on the last lap, reducing the points margin going into the last event from 21 to 14. Whincup led McLaughlin by 30 points going into the last event in Newcastle last year.
McLaughlin also claimed this year's Jason Richards Memorial Trophy with his victory this afternoon.
This year's ITM Auckland SuperSprint attracted a total crowd of 110,678 over three days – an increase from last year's 105,208.
"Unreal," he said. "Immense pressure from Jamie, all credit to him. I haven't won here since my first in 2013. It means so much. Any win at home in New Zealand is the best one, so this is the best."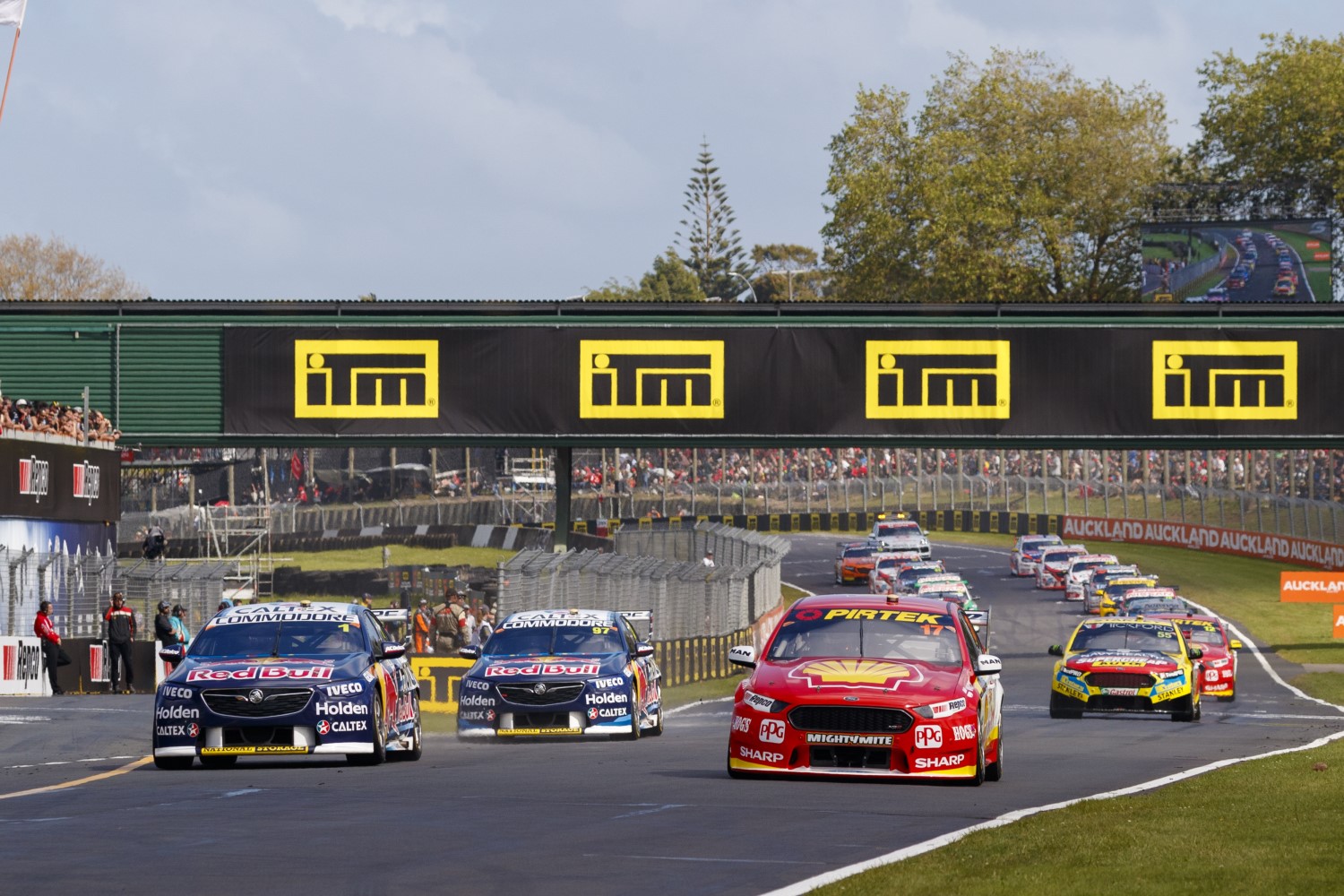 The start
Whincup was booed by the massive Kiwi crowd when he slowed to a crawl to let Van Gisbergen by on the last lap. But the seven-time Champion didn't elaborate on his decision.
"There is plenty of passion here which is great," he said of the ribbing from the crowd.
"Full congratulations to Car 17, Scotty drive awesome and they were lightning in the stops. I did everything I could but still happy to have a double podium."
In contrast to the Saturday race McLaughlin appeared to have the faster car over Van Gisbergen in the opening laps, clearing out to almost a two second advantage over his rival. Whincup pitted early, putting him on a different strategy to avoid a possible double stack with his team-mate.
McLaughlin also pitted early when he got stuck behind Mark Winterbottom which was eating into his lead. It left Van Gisbergen the only of the top three on track, although he came in a lap after his Kiwi rival, putting them on level terms.
McLaughlin came in for his second stop on lap 37 and Van Gisbergen nine laps later. McLaughlin took the lead from Whincup at that stop while Van Gisbergen slotted into fifth.
"We tweaked it the wrong way and I didn't get it right myself," Van Gisbergen said.
"The JR Trophy is a huge honor so congrats to Scotty and his team. JR was a great guy for our sport so I can't think of a better guy to win it. This weekend has been amazing for our sport with two Kiwis and I am proud to be a part of it."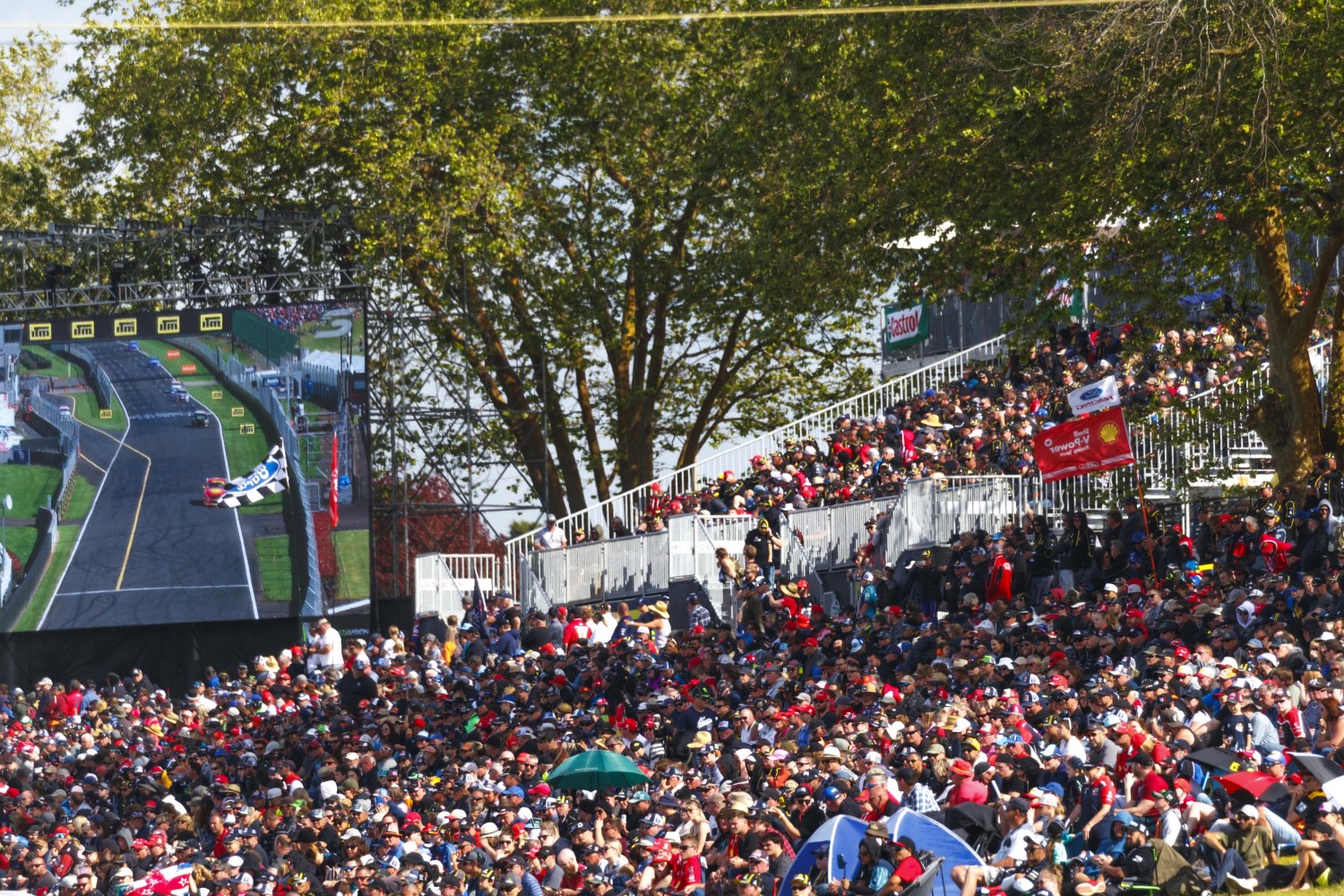 A huge crowd was on hand
Van Gisbergen kept his Saturday win when a protest from Shell V-Power Racing was dismissed by CAMs stewards after a morning of hearings and an afternoon of deliberation.
The Red Bull Holden Racing Team driver beat title rival McLaughlin at Pukekohe but remained under investigation over spinning rear wheels at his second pitstop.
That was cleared by Deputy Race Director Michael Masi on Saturday evening based on the wheels not completing a full rotation, an outcome immediately protested by McLaughlin's outfit.
It meant the pair started today's race with McLaughlin holding a two-point Championship lead. The lined up second and third, after Jamie Whincup took ARMOR ALL Pole in the Top 10 Shootout.
The 2018 Virgin Australia Supercars Championship will be decided at the Coates Hire Newcastle 500 on November 23-25.
MCLAUGHLIN QUOTE: "What a weekend. I'm so pumped. Today was massive for us. We had to answer them after yesterday's race, and we did that today. It was a genuine battle between Jamie and I, immense pressure. To win in front of my home crowd is special. I haven't won here since 2013, and to take the Jason Richard Trophy is the icing on the cake. Having JR's parents on the podium was great too. What a fantastic day. I can't wait for Newcastle."
Results
| | | | | |
| --- | --- | --- | --- | --- |
| POS | # | DRIVER | TEAM | BEHIND |
| 1 | 17 | McLaughlin | Shell V-Power Racing Team | +0.000s |
| 2 | 97 | Van Gisbergen | Red Bull Holden Racing Australia | +12.065 |
| 3 | 1 | Whincup | Red Bull Holden Racing Australia | +12.455 |
| 4 | 888 | Lowndes | Team Vortex | +13.497 |
| 5 | 9 | Reynolds | Erebus Motorsport | +16.319 |
| 6 | 55 | Mostert | Supercheap Auto Racing | +19.955 |
| 7 | 12 | Coulthard | Shell V-Power Racing Team | +20.460 |
| 8 | 7 | Heimgartner | Nissan Motorsport | +33.288 |
| 9 | 5 | Winterbottom | The Bottle-O Racing Team | +33.925 |
| 10 | 8 | Percat | Brad Jones Racing | +36.559 |
| 11 | 14 | Slade | Brad Jones Racing | +39.278 |
| 12 | 6 | C. Waters | Monster Energy Racing | +48.162 |
| 13 | 33 | Tander | Wilson Security Racing GRM | +48.962 |
| 14 | 18 | Holdsworth | Preston Hire Racing | +49.433 |
| 15 | 2 | S. Pye | Mobil 1 Boost Mobile Racing | +51.013 |
| 16 | 25 | Courtney | Mobil 1 Boost Mobile Racing | +52.715 |
| 17 | 23 | Caruso | Nissan Nismo | +53.272 |
| 18 | 78 | S. De Silvestro | Nissan Nismo | +56.654 |
| 19 | 230 | Davison | Milwaukee Racing | +57.290 |
| 20 | 56 | R. Stanaway | Tickford Racing | +59.877 |
| 21 | 34 | J. Golding | Wilson Security Racing GRM | +1:00.281 |
| 22 | 15 | R. Kelly | Nissan Motorsport | +1 Lap |
| 23 | 19 | J. Le Brocq | TEKNO Woodstock Racing | +1 Lap |
| 24 | 99 | A. de Pasquale | Erebus Motorsport | +1 Lap |
| 25 | 35 | T. Hazelwood | Bigmate Racing | +1 Lap |
| 26 | 21 | Blanchard | CoolDrive Racing | +10 Laps |
DRIVERS' CHAMPIONSHIP POINTS
1.
Scott McLaughlin
3656
-00
2.
Shane Van Gisbergen
3642
-14
3.
Jamie Whincup
3175
-481
4.
Craig Lowndes
3117
-539
5.
David Reynolds
2918
-738
6.
Chaz Mostert
2669
-987
7.
Fabian Coulthard
2450
-1206
8.
Scott Pye
2410
-1246
9.
Rick Kelly
2377
-1279
10.
Nick Percat
2221
-1435
TEAMS' CHAMPIONSHIP POINTS
1.
Triple Eight Race Engineering (Whincup/SVG)
6787
-000
2.
Shell V-Power Racing Team
6106
-681
3.
Tickford Racing (Mostert/Winterbottom)
4693
-2094
4.
Brad Jones Racing
4329
-2458
5.
Erebus Motorsport
4318
-2469
6.
Walkinshaw Andretti United
4276
-2511
7.
Nissan Motorsport (Kelly/Heimgartner)
3960
-2827
8.
Garry Rogers Motorsport
3353
-3434
9.
Triple Eight Race Engineering (Lowndes)
3117
-3670
10.
Nissan NISMO (Caruso/De Silvestro)
2894
-3893