Van Gisbergen wins a thriller over McLaughlin in Pukekohe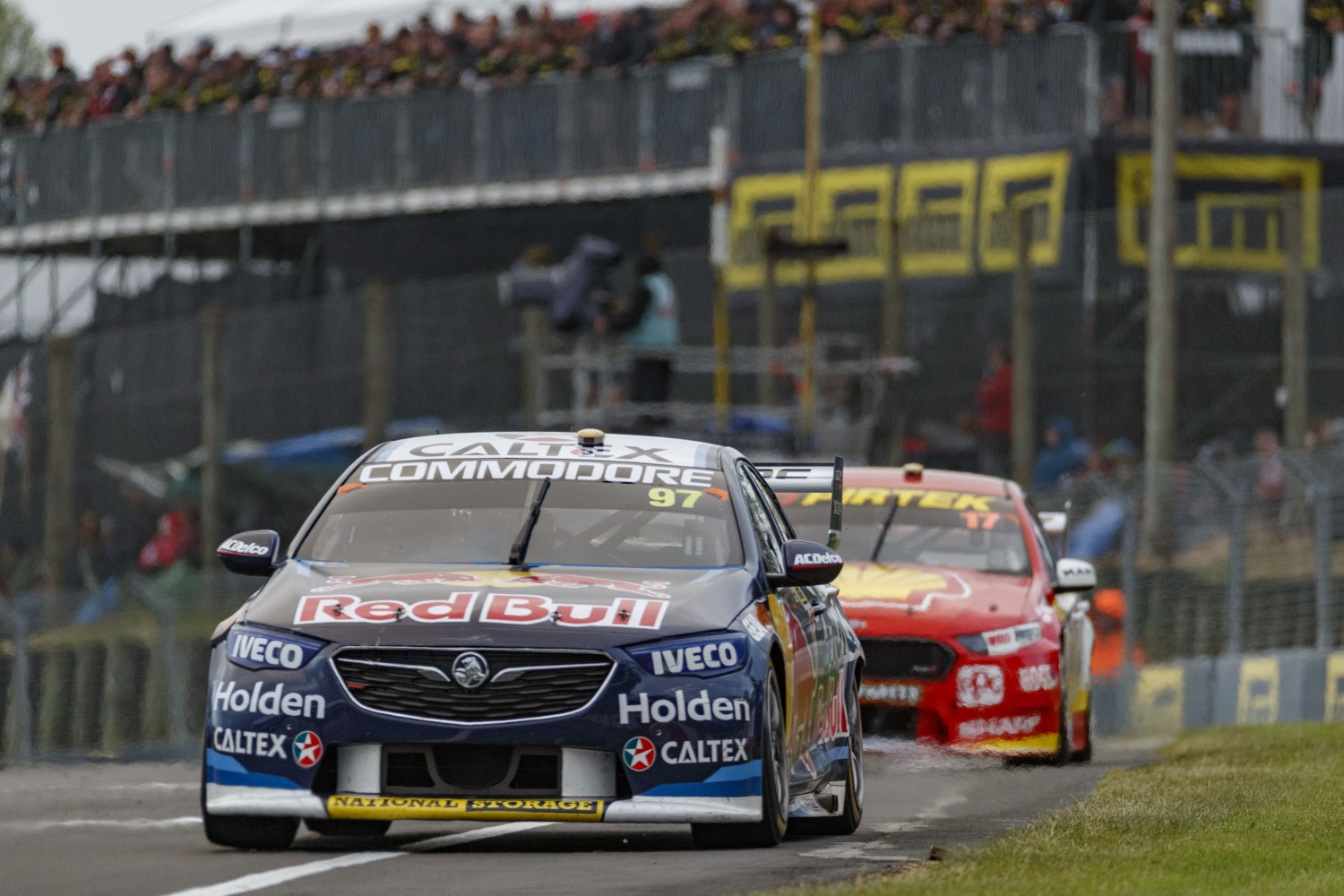 Van Gisbergen leads McLaughlin
The almighty battle between Kiwis Scott McLaughlin and Shane van Gisbergen continued with another classic battle at the ITM Auckland SuperSprint in their home patch.
Van Gisbergen crossed the line first but a five-second penalty for whacking into the rear of McLaughlin made the lead a lot skinner in the closing laps. Van Gisbergen was under five seconds ahead with four laps to go, needing to win by five seconds or more.
Both drivers went hell for leather in the closing laps, one needing more than the five seconds, the other needing to keep it under the same mark. In the end just half a second gave Van Gisbergen the win, also cutting McLaughlin's Championship lead to just two points.
Chaz Mostert was third in the Supercheap Auto Racing Falcon, backing up his Saturday win on the Gold Coast a fortnight ago with another strong result.
"That was one of the coolest races I have ever had. Hopefully we can put on a good show tomorrow and a Kiwi 1-2," Van Gisbergen said. "It was good respect in those last couple of corners, side by side. I was very cool, great fun."
McLaughlin succumbed in a fierce passing battle with 11 laps to go after Van Gisbergen, on a later pit stop strategy, mowed him down on fresher tires.
"It was pretty full on, we raced hard from the start," McLaughlin said.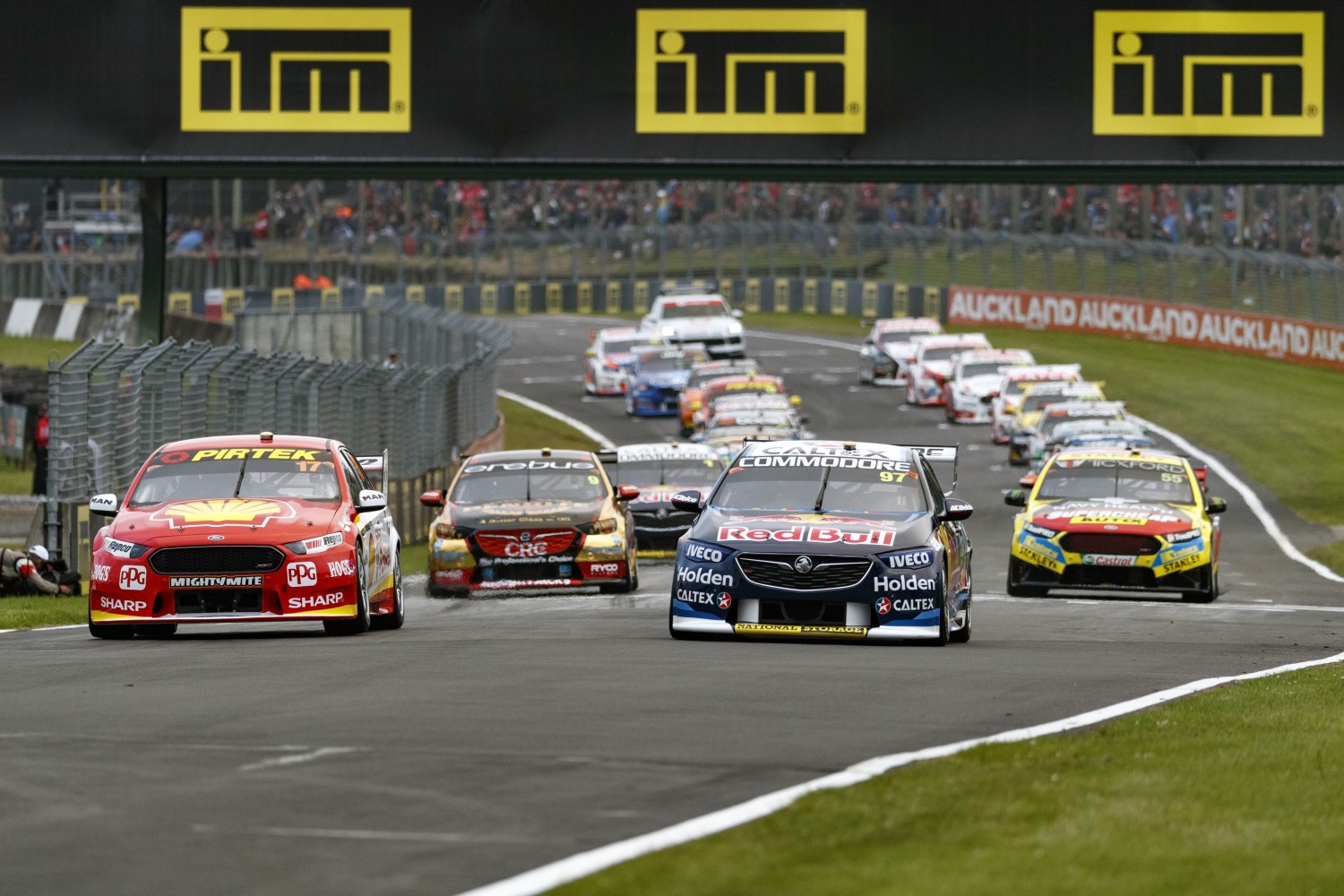 Start
"We went side by side there for a while but there was plenty of respect. We gave it a shot on strategy, hopefully Ford fans can come back tomorrow and give these Opals a run."
It was the second critical call of the race with another being decided post-race. Van Gisbergen appeared to spin his rear wheels before being dropped to the ground during his second stop which resulted in an investigation.
If found guilty the offence results in a mandatory pit lane drive through penalty.
The huge Kiwi crowd stood to their feet for the start with McLaughlin and Van Gisbergen side by side on the front row. McLaughlin got the early jump despite heavy pressure from Van Gisbergen in the first two laps with the former Champion keen to stay in his mirrors.
McLaughlin's team-mate Fabian Coulthard had a big crash for the second year in a row at Pukekohe when clipped by Lee Holdsworth in the Preston Hire Commodore having been nudged by Richie Stanaway's Falcon.
Coulthard was a complete passenger when he slammed sideways into on wall then spun across the track straight into another. The crash prompted a safety car with most diving into the pits for their first stop, as dark clouds closed in from the west.
"Saturday's at Pukekohe aren't my thing," Coulthard said. "Same series of corners as last year."
The battle between McLaughlin and Van Gisbergen heated up when James Courtney short stopped in the Boost Mobile Commodore to take over. McLaughlin pitted next leaving Van Gisbergen behind Courtney who proved a thorn in his side until he got around on lap 21.
McLaughlin, meanwhile, was out in clear air trying to build enough of a gap to get Van Gisbergen in the pits. The Red Bull Holden team left Van Gisbergen out, seemingly waiting to see what the weather was going to bring.
Van Gisbergen eventually came in on lap 44 for tires and fuel but came out behind McLaughlin but with fresh rubber to burn in the back half of the race. It proved critical in the end with Van Gisbergen able to nullify the five second penalty with pure speed.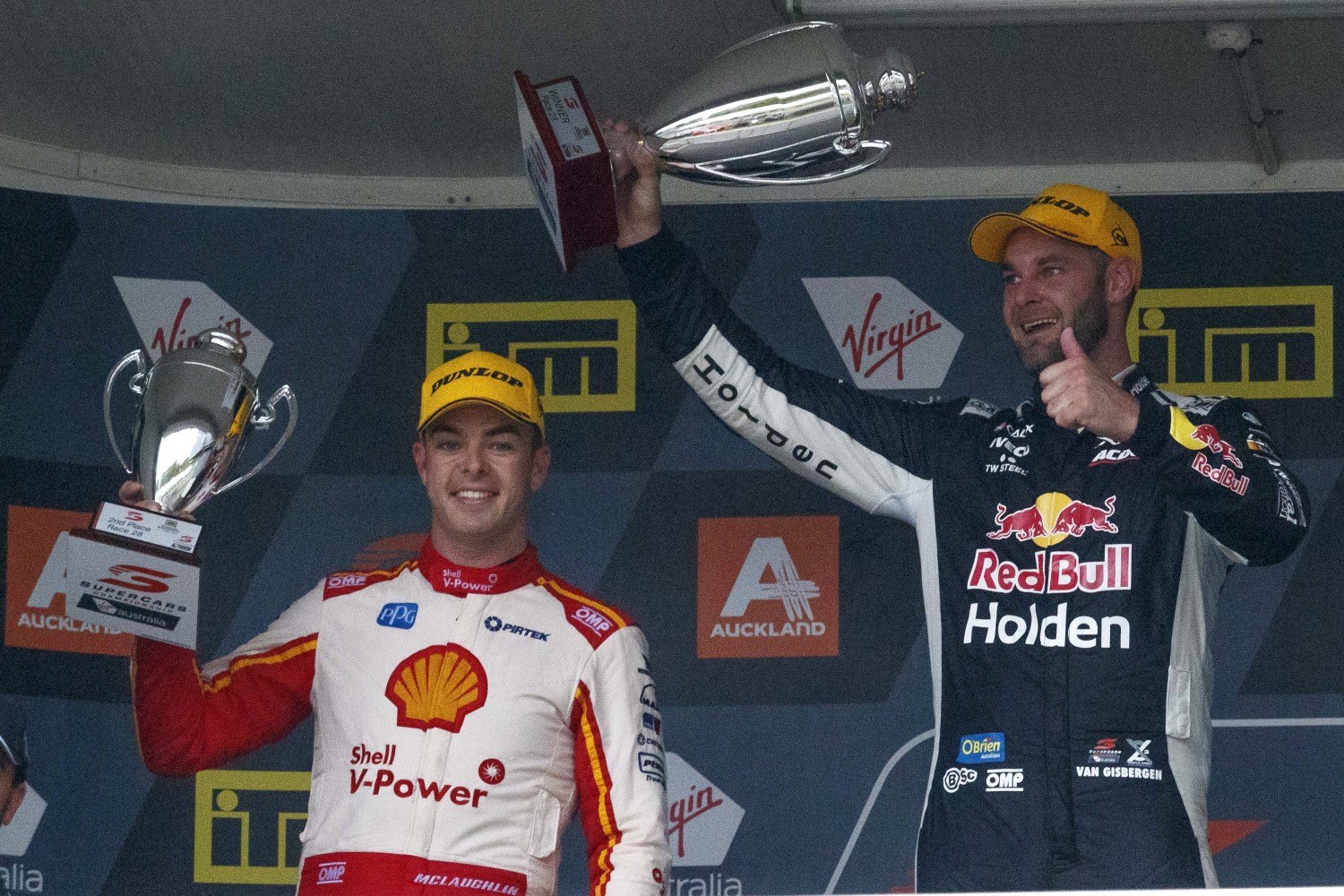 On the podium
Behind the top three, David Reynolds finished fourth ahead of Jamie Whincup, Scott Pye, Cam Waters, Nick Percat, James Courtney and Michael Caruso. Craig Lowndes fought back to finish 11th after being turned in the opening lap.
McLaughlin's teammate Fabian Coulthard walked away from a high speed crash which triggered the first Vodafone Safety Car of the day, 12 months after flipping and rolling his Falcon at a similar spot.
Teams now turn their attention to tomorrow's crucial final race of the event. There will be a round of ARMOR ALL Qualifying in the morning followed by an ARMOR ALL Top Ten Shootout.
Results
| | | | | | |
| --- | --- | --- | --- | --- | --- |
| POS | # | DRIVER | TEAM | TIME | POINTS |
| 1 | 97 | Van Gisbergen | Red Bull Holden Racing Australia | 1:22:38.101 | 150 |
| 2 | 17 | McLaughlin | Shell V-Power Racing Team | +0.512 | 138 |
| 3 | 55 | Mostert | Supercheap Auto Racing | +5.634 | 129 |
| 4 | 9 | Reynolds | Erebus Motorsport | +13.430 | 120 |
| 5 | 1 | Whincup | Red Bull Holden Racing Australia | +13.787 | 111 |
| 6 | 2 | S. Pye | Mobil 1 Boost Mobile Racing | +21.452 | 102 |
| 7 | 6 | C. Waters | Monster Energy Racing | +22.428 | 96 |
| 8 | 8 | Percat | Brad Jones Racing | +23.090 | 90 |
| 9 | 25 | Courtney | Mobil 1 Boost Mobile Racing | +25.622 | 84 |
| 10 | 23 | Caruso | Nissan Nismo | +26.981 | 78 |
| 11 | 888 | Lowndes | Team Vortex | +28.197 | 72 |
| 12 | 21 | Blanchard | CoolDrive Racing | +32.358 | 69 |
| 13 | 5 | Winterbottom | The Bottle-O Racing Team | +35.291 | 66 |
| 14 | 34 | J. Golding | Wilson Security Racing GRM | +38.022 | 63 |
| 15 | 18 | Holdsworth | Preston Hire Racing | +38.704 | 60 |
| 16 | 15 | R. Kelly | Nissan Motorsport | +39.246 | 57 |
| 17 | 14 | Slade | Brad Jones Racing | +39.539 | 54 |
| 18 | 7 | Heimgartner | Nissan Motorsport | +40.945 | 51 |
| 19 | 99 | A. de Pasquale | Erebus Motorsport | +46.954 | 48 |
| 20 | 230 | Davison | Milwaukee Racing | +49.919 | 45 |
| 21 | 78 | S. De Silvestro | Nissan Nismo | +50.821 | 42 |
| 22 | 19 | J. Le Brocq | TEKNO Woodstock Racing | +1:02.057 | 39 |
| 23 | 56 | R. Stanaway | Tickford Racing | +1 Lap | 36 |
| 24 | 35 | T. Hazelwood | Bigmate Racing | +2 Laps | 33 |
| 25 | 33 | Tander | Wilson Security Racing GRM | +11 Laps | 30 |
| NC | 12 | Coulthard | Shell V-Power Racing Team | +64 Laps | 0 |