Latest F1 news in brief – Wednesday
Kubica would be better off using his check for an IndyCar ride than playing video games on the Ferrari simulator

Kubica admits Ferrari test role possible

Honda to be '10 kilowatts behind' in 2019 – Marko
'Furious' Ericsson moves to Indycar
Ricciardo will complete 2018 season – Horner
Vettel 'past his peak' in F1 – Stewart
Any top driver would win with Hamilton's car – Verstappen
Singapore was title turning point in 2018 – Vettel
Calderon completed a Promotional Event in the cockpit of the Sauber C37
Three questions for Lewis Hamilton
Kubica admits Ferrari test role possible
(GMM) Robert Kubica has admitted that moving to a testing role at Ferrari is a possibility for 2019.
The Pole's other major option in F1 for next year is to get a promotion to the race seat at Williams.
But the beleaguered British team wants to put a pay-driver next to George Russell, so names including Nyck de Vries and Esteban Gutierrez are also in the mix.
"It would be nice to be able to race next year, but the comeback would have to be right," Kubica told Auto Motor und Sport.
"I don't want to force anything. It should be the reward for a long journey. It's got to be about the environment and the people I work with," he said.
Kubica said another possibility is leaving F1 altogether to race elsewhere, particularly if the millions he has raised from a Polish oil company is not enough.
"It's no secret that Williams is looking for partners to fill Lance (Stroll)'s place. It depends on what they demand from the second driver," he said.
"I can only help them if they have the same goal as me. It has to fulfil what I can offer them."
Kubica does not hide that he is pushing Williams for a decision.
"We are already late. I wanted to know yesterday," he smiled. "But I expect it to be clear in less than two weeks."
If that deadline passes, it is possible Kubica will accept a reported offer to replace Daniil Kvyat in a Ferrari development role.
"Maybe," he smiled. "There are conversations.
"If there is a chance to wear red overalls even for a short test, then for me one of the biggest dreams of my life comes true.
"I've been close to it once, but I did not get there because of my accident. I'm not saying it's happening, but if there's a chance, I will think about it," said Kubica.
Honda to be '10 kilowatts behind' in 2019 – Marko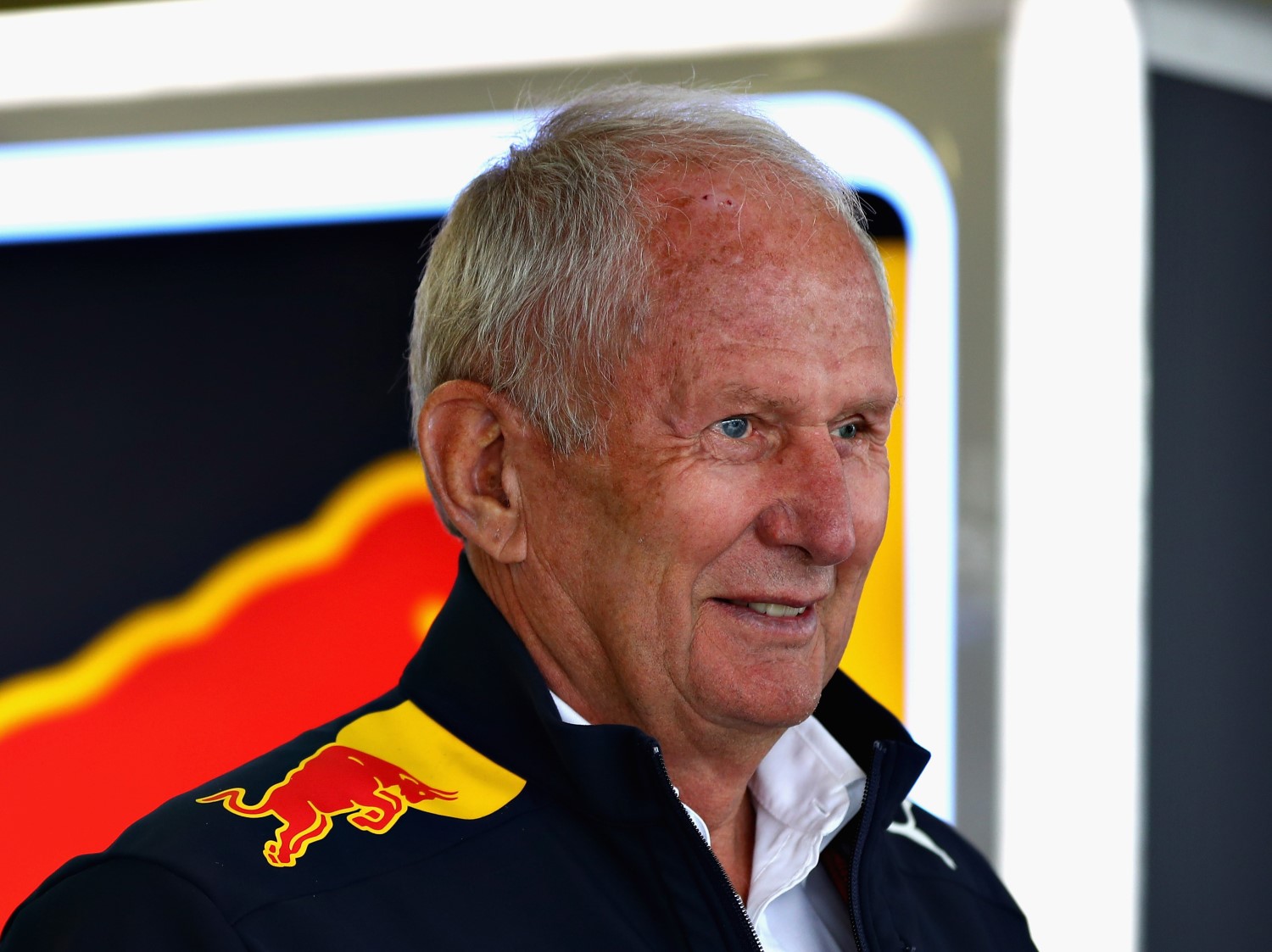 Dr Helmut Marko
(GMM) Dr Helmut Marko says he is "very optimistic" about Red Bull's title chances for 2019.
After years of complaining about its customer Renault power, the top F1 team is moving to works Honda engines for next year and beyond.
And together with the aerodynamic rule change, Marko says he is confident.
"We already have the numbers from the new wings and it makes us very optimistic," he told Auto Motor und Sport.
Honda struggled when it collaborated with McLaren in 2015-2017, but this year the Japanese manufacturer has made progress with the junior Red Bull team Toro Rosso.
Marko said: "We expect that Honda will be only 10 kilowatts behind Ferrari and Mercedes. We think we can compensate for this with a good chassis."
Max Verstappen won in Mexico last weekend, as he did in 2017. Marko suggests that is because the circuit equalizes the performances of the engines.
"No one ever wants to believe it when we keep saying it," Marko insisted.
"In Brazil it will be difficult for us again because of the long uphill straights. But let's see what we can do in Abu Dhabi.
"Our car currently seems to be very fast."
'Furious' Ericsson moves to Indycar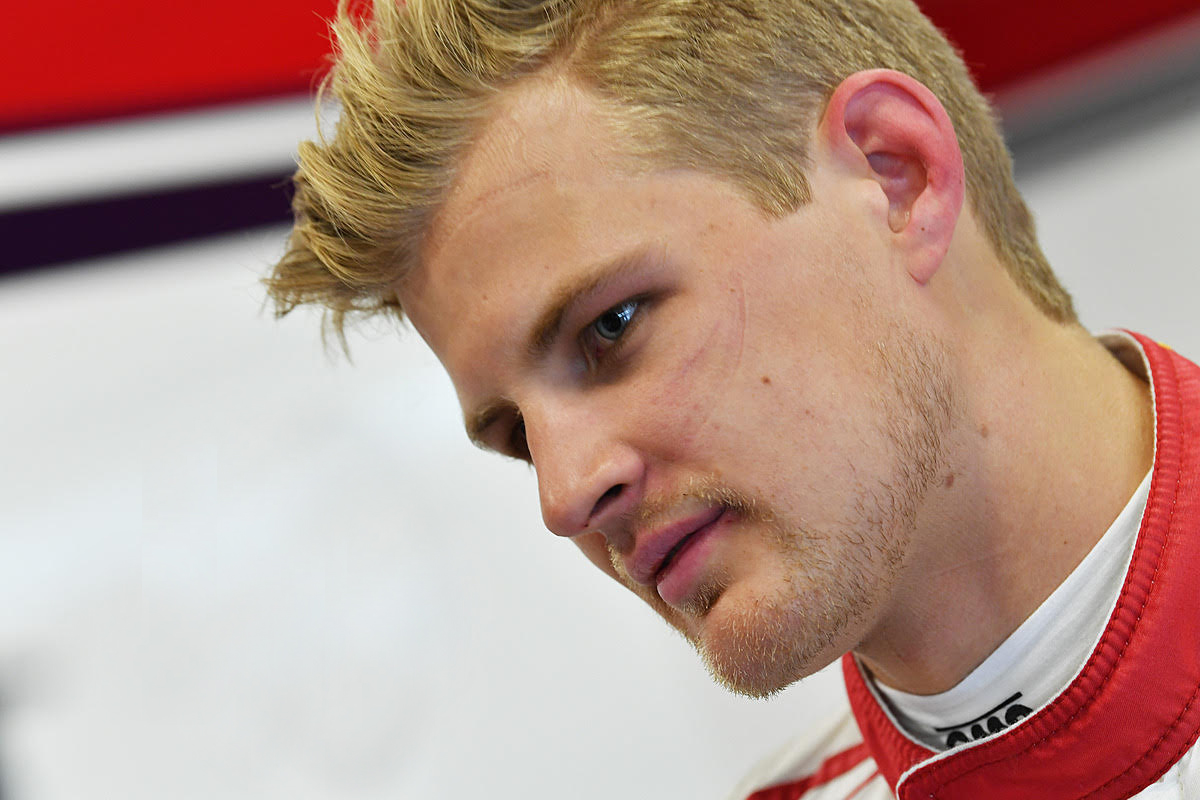 Marcus Ericsson was never faster than his teammates in F1
(GMM) Sauber driver Marcus Ericsson is switching to Indycar for 2019.
The Swede, who debuted in 2014 for Caterham, has lost his race seat with Sauber despite being linked with the Swiss team's current owners.
Schmidt Peterson Motorsports, the Indycar team that the now paraplegic driver Robert Wickens drove for, has announced that 28-year-old Ericsson will race in 2019.
"It feels like a perfect step for me and my career after five years in F1," he said in the press release.
Ericsson, who will remain a Sauber reserve driver, was angry last weekend in Mexico after he said his race was "totally sacrificed" for teammate Charles Leclerc.
"I wanted to go to the pits to change tires, but I had to try to keep the cars behind me to help Charles," he said.
"I was literally furious in the car. I know the team comes first, but to be sacrificed in that way was a little extreme."
Ricciardo will complete 2018 season – Horner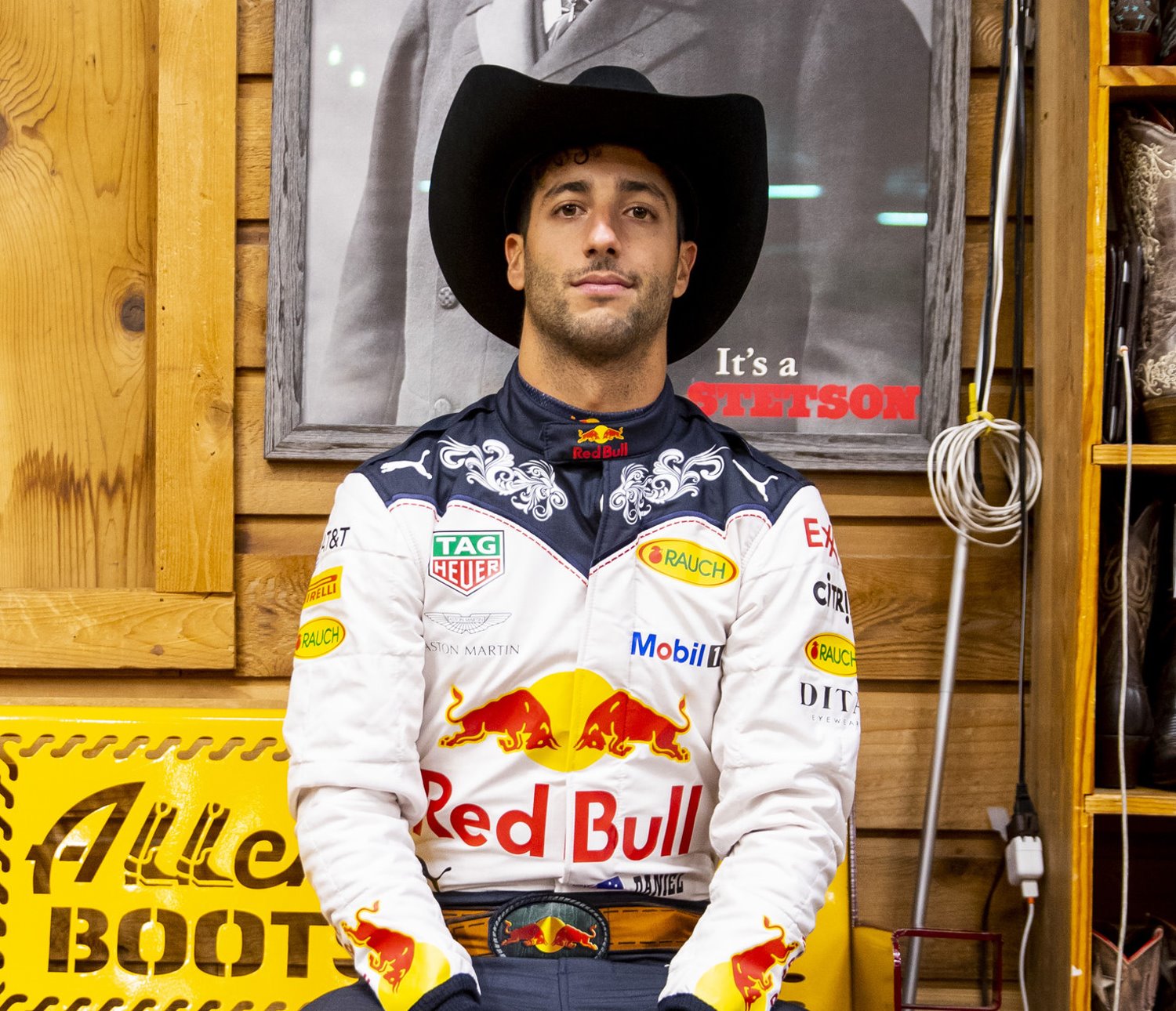 Ricciardo will reluctantly finish out the season with Red Bull
(GMM) Daniel Ricciardo will complete the final two races of his career at Red Bull.
That is the news from team boss Christian Horner, after Australian Ricciardo furiously suggested he might sit out Brazil and Abu Dhabi.
Mexico GP pole sitter Ricciardo was furious after suffering yet another technical failure in the race, declaring "I'll let Gasly drive it" in the last two races.
But Spain's AS newspaper quotes Horner as saying: "Ricciardo is emotional but he suffered an immensely frustrating afternoon and I can understand that.
"I hope the black clouds will rise for him in the last two races," he added.
Ricciardo is moving to Renault for 2019, sparking conspiracy theories that Red Bull has shut him out already.
"I do not participate in the conspiracy theories," Igor Yermilin, the Russian motor racing federation chief, told Sportbox.
"Perhaps Red Bull treats him with some coolness, but that's unlikely for a professional team. It's more likely a coincidence.
"I'm sure what Daniel said in Mexico was in the heat of the moment. But if Red Bull does put Gasly in, Daniil Kvyat could make his return to Toro Rosso a bit earlier. Then everyone will be happy," Yermilin added.
Vettel 'past his peak' in F1 – Stewart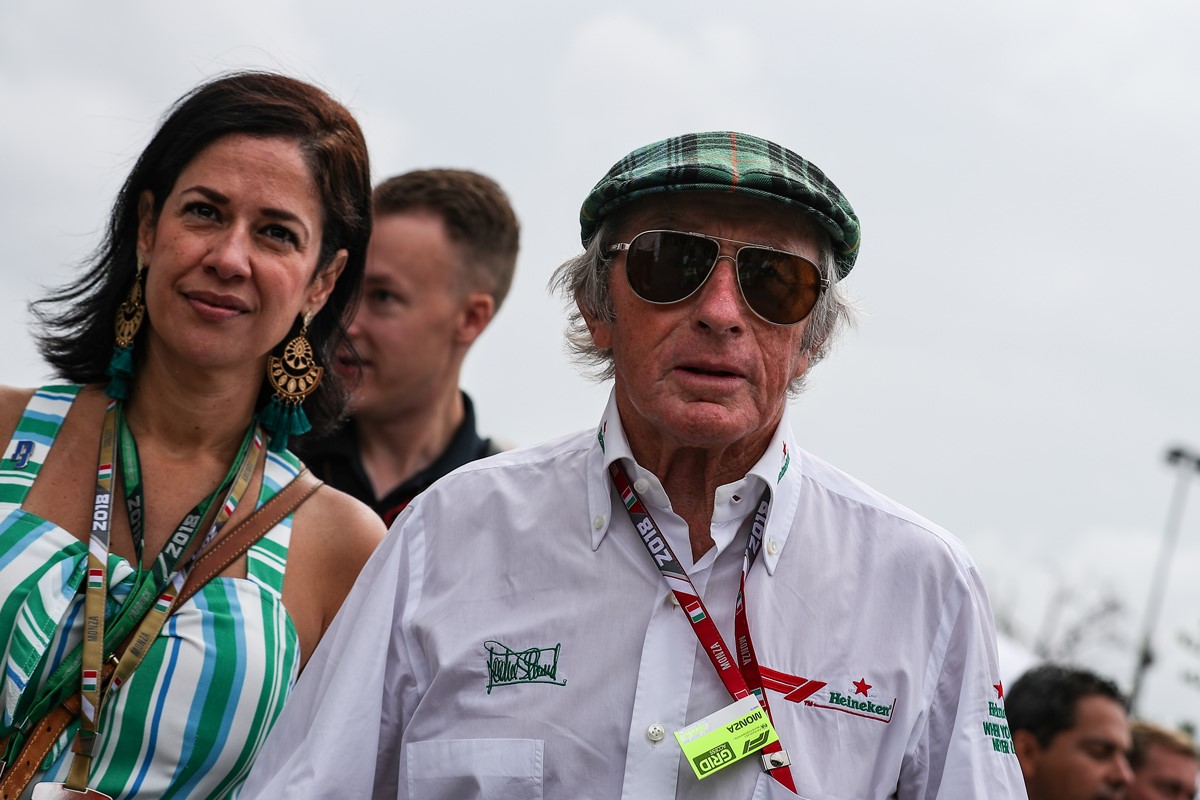 Stewart thinks Vettel is on a downhill slope now
(GMM) Sebastian Vettel may be past his prime in formula one.
That is the sensational claim of F1 legend Sir Jackie Stewart, after the Ferrari driver lost the 2018 title to Mercedes' Lewis Hamilton.
"I think Sebastian is past his peak and Lewis is still building to his," the triple world champion told Bild newspaper.
"There's no reason Sebastian can't come back, but it will be very difficult because after a season like that you are more critical of yourself, and what you want to do and what you don't want to do," Stewart added.
At 31, Vettel is actually two years younger than Hamilton, but Stewart thinks the problem could be that the German won his four titles too soon.
"Perhaps. He came into formula one at 20 and was a four time champion by 26," said the Scot.
But the biggest reason is that Vettel has simply made mistakes in 2018, Stewart added.
"It's not possible to keep blaming everyone else. If you fight for a world championship and you see that a move you make could be a problem for you, you don't necessary try it. You wait for the right moment," he said.
"I like Sebastian very much and he is a very good driver. Very emotional, and technically maybe still the best, but he does not have that clear mind like he used to."
In contrast is Hamilton, who Stewart says can now be "even more relaxed" in 2019 with five titles in the bank.
And now in his sights could be Michael Schumacher's seven titles and 91 wins.
"Yes he can, and for many reasons," Stewart said of Hamilton's last remaining goals.
"There are more races these days, the management is better, the factories are better, the teams are bigger, and there's more money to succeed than ever before."
Any top driver would win with Hamilton's car – Verstappen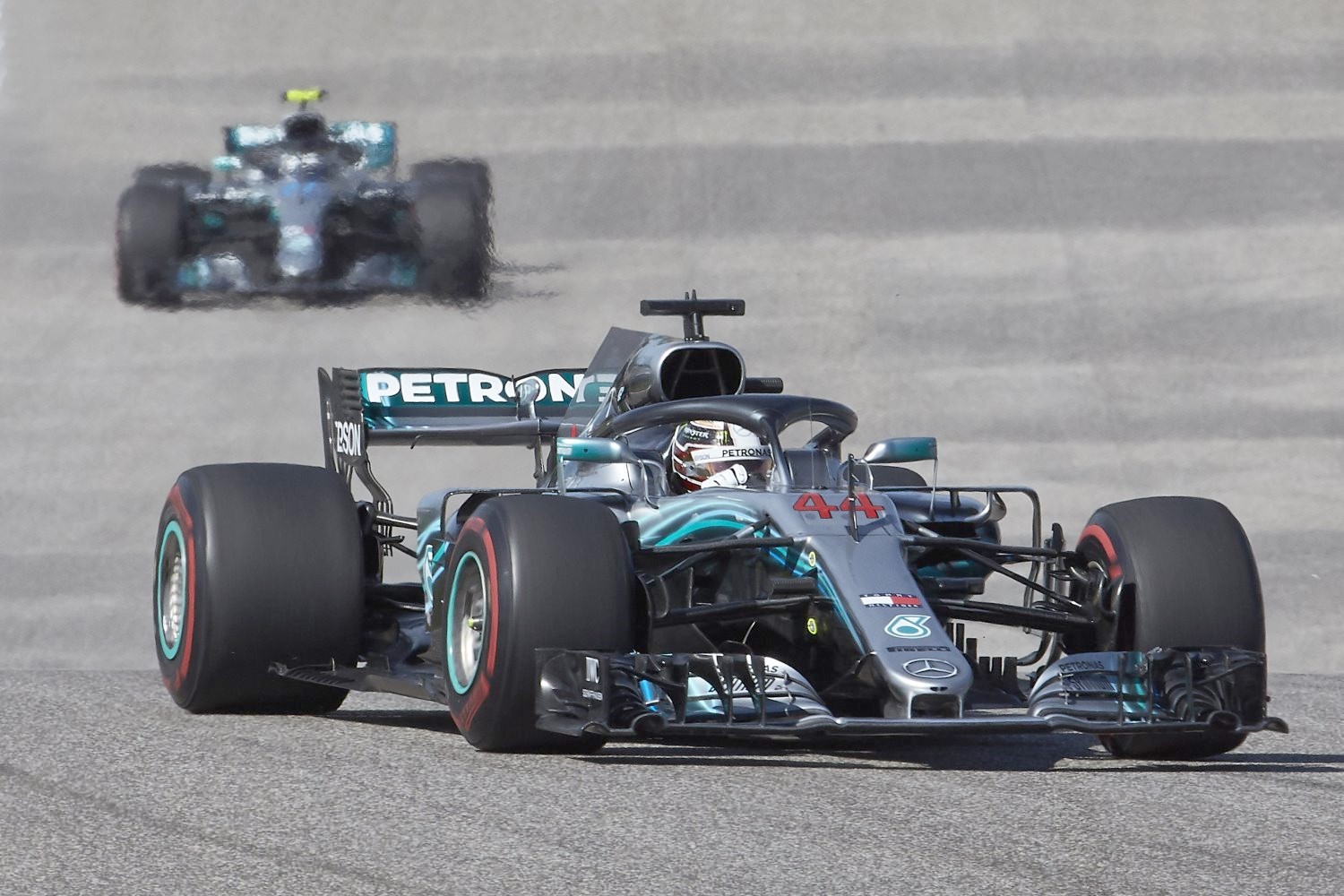 As we have been saying for years, anyone can win in Hamilton's Aldo Costa designed car. Costa made Schumacher and he made Hamilton
(GMM) Max Verstappen says any top driver would have won the 2018 world championship in Lewis Hamilton's car.
Hamilton, whose title win in Mexico delivered his Juan Manual Fangio-equaling fifth drivers' crown, says the battle against Ferrari's Sebastian Vettel this year was the toughest of his career.
But when asked what made Hamilton so good in 2018, Mexico grand prix winner Verstappen answered: "His car!"
According to Blick newspaper, the 21-year-old continued: "Of course he is extremely good.
"But Vettel could win with his car, Ricciardo could win with his car, I could win with his car."
Red Bull will get works Honda engines to try to match Mercedes in 2019, but Verstappen thinks it could be the change of rules for 2021 that is his best chance.
"Then I will be 23. And I will still have six, seven years to win world titles. Hopefully by then I will be a four time world champion. That would be great," Verstappen said.
Dr Helmut Marko thinks the Red Bull-Honda combination could be enough for a title challenge as soon as 2019.
But Verstappen thinks that will happen "only with a magical chassis".
Singapore was title turning point in 2018 – Vettel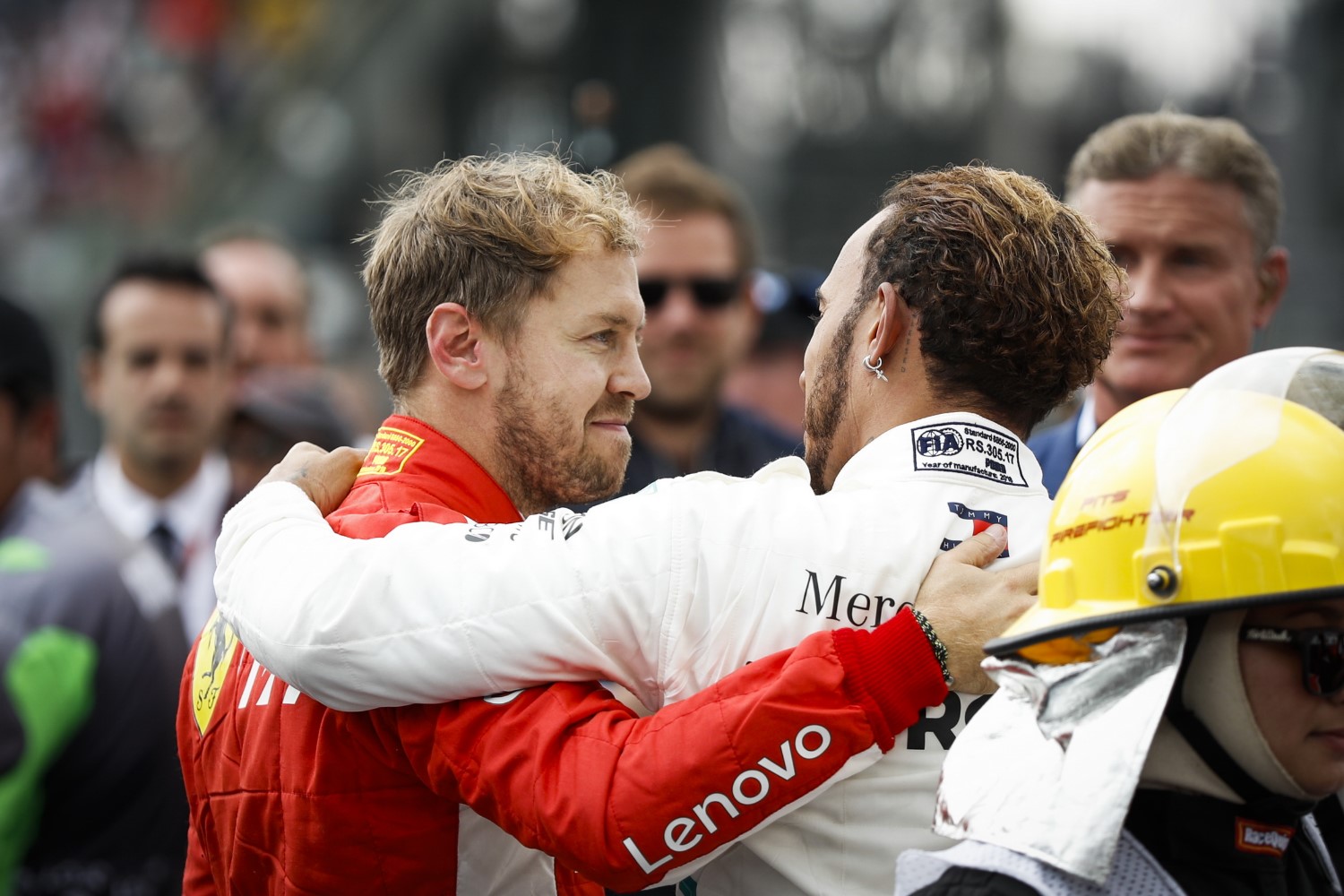 Vettel says Singapore was turning point in battle with Hamilton
(GMM) Sebastian Vettel thinks his world championship campaign started to hit the skids in mid-September.
Some think the turning point can actually be traced back to his Hockenheim crash in July, or his collision with Lewis Hamilton at Monza.
"It was Singapore for me," the Ferrari driver is quoted by Speed Week.
"From there we did not have the pace to keep up with Mercedes for a couple of races," Vettel explained. "And then there were a few other things that did not help.
"We were unable to score points due to a few mistakes we and I made," he added.
Vettel does admit, however, that crashing out of the lead of his home race at Hockenheim was "the most expensive".
"I've made more mistakes this year even if that was probably the most expensive," he said.
"If you push hard, sometimes you push too hard."
But Vettel says he didn't let that affect him psychologically.
"I do not think about it that often," he said. "It's just part of racing and happens to the others as well.
"That we had problems with our pace and speed in the past few weeks was probably more crucial than that."
Vettel says he will not let the pain of losing the drivers' title affect his motivation to help Ferrari overtake Mercedes in the constructors' battle.
"We're trying to knock Mercedes off the throne, hopefully as a foretaste of next year," he said. "I know I will be able to fight back in a couple of weeks and finish the season as well as possible."
Calderon completed a Promotional Event in the cockpit of the Sauber C37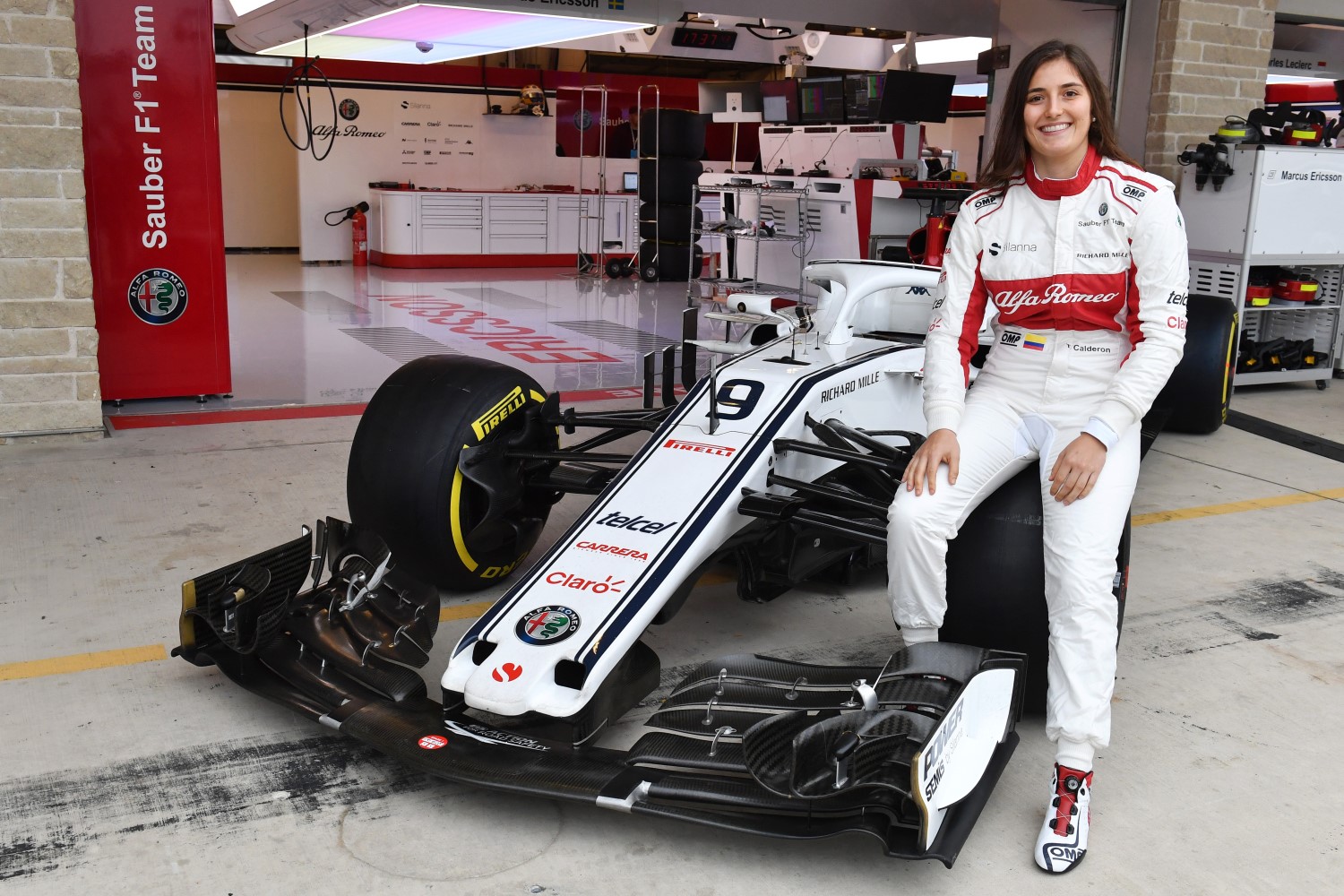 Tatiana Calderon completes PR stunt without crashing
The Alfa Romeo Sauber F1 Team is pleased to announce that Test Driver Tatiana Calderon has successfully concluded a Promotional Event, which saw her completing a total of 23 laps in the Sauber C37 around the Autodromo Hermanos Rodriguez.
The Colombian driver sat behind the wheel of a Formula One car for the first time in her career today, and quickly adapted to the demands of driving at the highest level in motorsport. She demonstrated her focus and skills, impressing the team with her professionalism and dedication.
Tatiana Calderon, Test Driver Alfa Romeo Sauber F1 Team:
"Driving the Sauber C37 today was an incredible experience. The power, braking and grip of this car are unbelievable, and I felt very comfortable on track. After a few laps, you start getting used to the speed, and I had lots of fun. I want to thank the Alfa Romeo Sauber F1 Team, Excuderia Telmex, Telcel, Infinitum and Claro for giving me this opportunity today, and trusting me to do the job. This is a day I will remember forever."
Xevi Pujolar, Head of Track Engineering:
"Tatiana drove a Formula One car for the first time today and did a very good job. We are happy to see her perform so well, and once again were impressed by her dedication and work ethic. This event marks a positive step for our sport, and we look forward to seeing Tatiana continue to make progress."
Three questions for Lewis Hamilton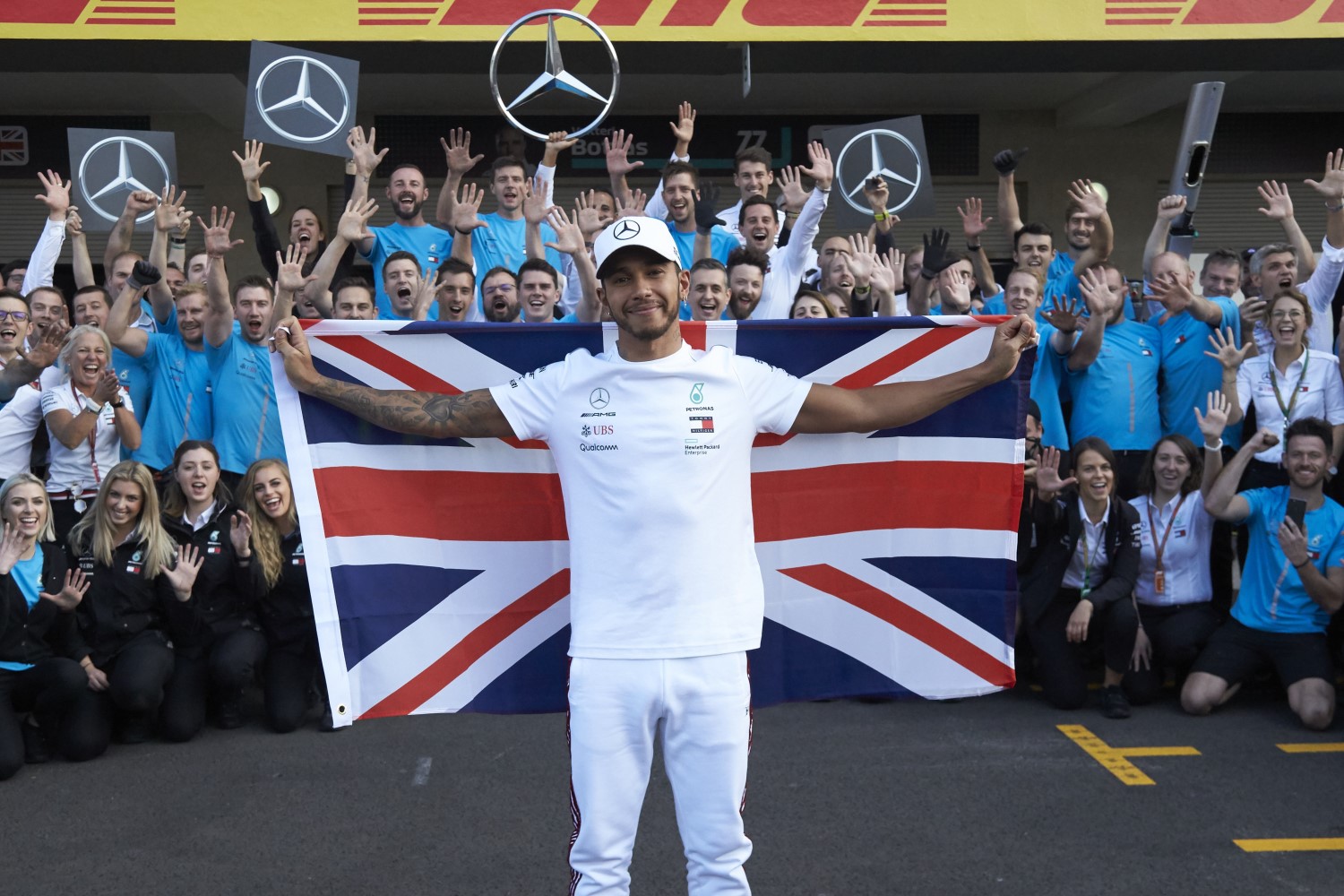 Lewis Hamilton
Last weekend, the Formula 1 paddock was set up in Mexico for the 19th time. Since the country made its return to the racing calendar in 2015, Autodromo Hermanos Rodriguez has hosted four Grands Prix. Two of those races were won by a Mercedes driver (Nico Rosberg 2015, Lewis Hamilton 2016) and two by Red Bull driver Max Verstappen (2017, 2018). Lewis has actually had cause to celebrate two even more outstanding achievements in the Mexican Grand Prix, because it was the race in which he clinched the Drivers' World Championship in both the 2017 and 2018 seasons. However, the current campaign still has some way to go: in the remaining two races in Brazil and Abu Dhabi, the team will be aiming to secure the Constructors' Championship for the fifth time in a row
Lewis, you did it – you are World Champion for the fifth time, and for the fourth time with this team.
Lewis Hamilton: I think it is going to take some time to really digest everything that has happened. I am just really proud. After the race, I was with the engineers, and we all had a drink together. It was so great to see them all. Everyone is so united, everyone has worked so hard this year, and everyone has raised their game. I just want to be the best me I can for them. I truly believe I am only a chink in the chain, because there are so many of us. Without every single individual, it just doesn't happen. The chain wouldn't move. I am just proud that I was able to deliver in my space. It has been a long journey with them. I have been in this team for six years now. From day one, the day that I decided to join this team, I truly believed that something great was possible. Look what we have achieved together. Now we need to complete the job this year by winning the constructors' championship.
How difficult was it to hold your own against the strong competition this year?
Lewis Hamilton: People watching only ever see the tip of the iceberg. When you see someone successful on TV, it's obviously without a full description what they have done to get to where they are. You just see the success that they are having now. To perform this way this year – trust me – it has been the hardest season for me. To keep raising the bar and racing against a four-time World Champion in a really incredible team who were so fast this year – most of the time faster than us – and to have pulled together as a team and turned it around has been a real collective effort from everyone. So I am really proud of everyone. Honestly, I never stopped believing – that's just how I am wired. I truly believed from the beginning of the year, even when we had difficult races such as Shanghai or Montreal. I never for a moment doubted or lost belief in this team, in my guys or in myself.
How have you spent the time since your title win on Sunday?
Lewis Hamilton: I got back to Los Angeles, where my dogs were. I worked nonstop and had meetings all day on Monday. But I had dinner with a bunch of friends to celebrate. In general, I just feel content. I don't need anything. I just want to enjoy and harness the feeling and try to realize what it is that I have done. Because to me, it was just another day of racing which I am really grateful for. When you think of Fangio, who is for me the godfather of racing drivers, he had five World Championships, and now I have five as well. But it doesn't connect at the moment. It doesn't feel real, but I am humbled and grateful to all the people around me, because there have been a lot of them along the journey.