IndyCars 15 seconds a lap slower than F1 at COTA (Update)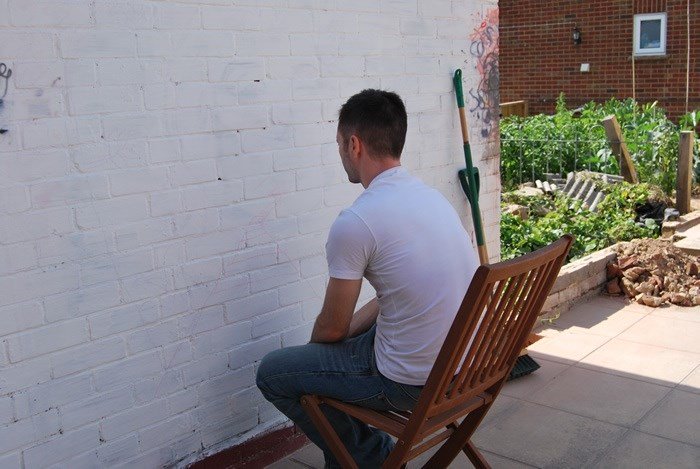 Watching paint dry
UPDATE A reader writes, Dear AR1.com, IndyCar's are 15 seconds per lap slower than an F1 car? Watching them will be like watching paint dry. I remember when the CART IndyCar were only 7 seconds per lap slower in Montreal back in the early 2000s. Why are IndyCars so slow compared to F1? Joe Bower
Dear Joe, IndyCars have a pathetic powerplant compared to an F1 car, plus F1 gets a big power boost from their hybrid system. F1 cars make about 300 more HP in qualifying trim than an F1 car. With that said, in qualifying trim the IndyCar will be around 13 sec. per lap slower, not 15.
As far as weight goes, Tony Kanaan is wrong. Last year, FIA had increased the minimum weight of a Formula 1 car for the extra weight of wider tires up to 728 kilograms including the driver. While IndyCar weighed last year (701 kg) without the driver (around 783 kg with driver), here you can tell that the F1 car is lighter than IndyCar's unless you add fuel in race-day which makes it heavier a bit. So weight is not the only reason why IndyCars appear to be slugs. They simply are ancient technology compared to F1. The DW chassis was put in service in 2012 – it's six years old – an old dog by race car standards.
Also, during qualifying F1 cars are allowed to use DRS – so less drag. IndyCars have no DRS. F1 cars also have much wider tires, i.e. more rubber on the road for quicker lap times.
F1 cars are designed, engineered and built with the sole purpose of minimizing lap-times on non-oval, curvy, multiple chicane tracks or street circuits. This means, F1 cars need to be ferociously quick around all kind of track chicanes and turns as well as have a very competitive and high straight-line speed.
Indy Cars are built with a similar motivation, however, by smaller companies, mostly local to North America. This means, companies/teams competing in Indy Car, have smaller spending budgets in the development of the car, lesser access to research funding as compared to teams developing cars from the drawing board and competing in F1. In contrast, F1 teams are composed of global automobile giants, such as Ferrari, Mercedes, McLaren and Renault, among others.
The yearly budget of a top F1 team, such as Ferrari is typically ~ $470 million, as against a top Indy Car team, which has a yearly budget of ~ $15 million. That's a multiplier of ~31.33. The cost of an F1 car itself is ~ $125 million as against a top Indy Car which costs ~ $3 million.
With the kind of year-round research development and year-round cash-flows of F1 teams, the cars of even lower stacked teams in F1 would probably out-perform and convincingly dominate the best Indy Car in terms of both, lap-time and sheer straight-line speed (assuming a non-oval circuit).
This figure should keep all comparative arguments/discussions between F1 and any other competitive motor sport to rest. See the video below of the lap time comparison between a CART IndyCar and an F1 car in 2002 at Montreal. Mark C.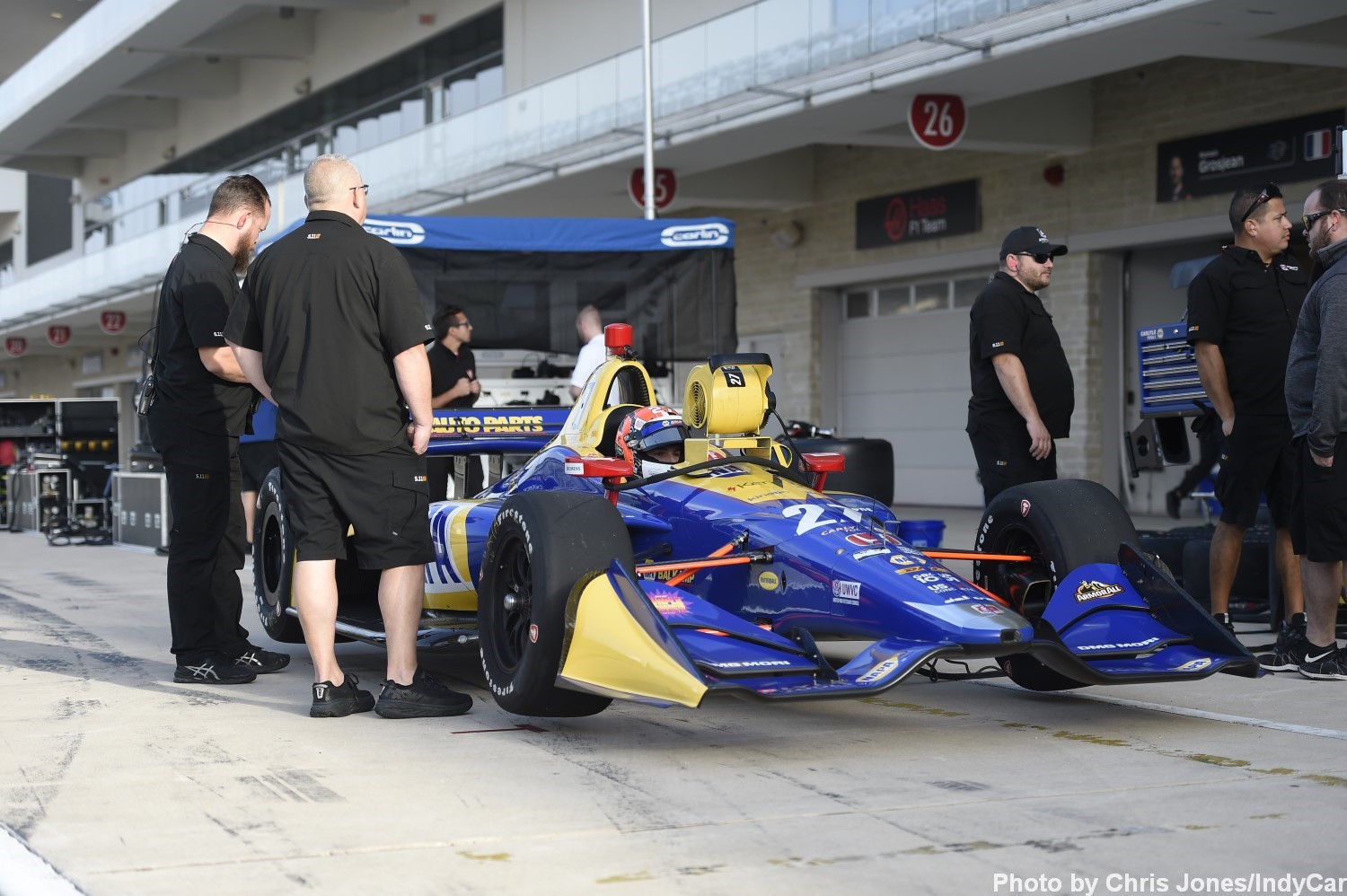 Rossi's unofficial lap of 1m47s was rumored to be fastest of the three drivers. It was only a test, and they will be 2 seconds faster when they return, but the F1 cars qualified at 1m32s
10/30/18 Monday, Alexander Rossi was one the first INDYCAR drivers to sample COTA, which will host the IndyCar Series in March for the first time.
"To be an American driver that is associated with COTA and to be here really from Day 1 is something cool to have as part of my history," Rossi said during a break at Firestone's tire test day on the 20-turn, 3.427-mile circuit. "It's cool that INDYCAR is coming here. It's really best that the premier racing series in North America is racing at one of North America's premier venues."
"I came to the first Formula One race and went up on the tower (observation deck) and watched the first (practice) session," Kanaan said. "I've always wanted to test here. Every year, I ask the team if we could come here to test. We finally made it."
"Challenging" was a common phrase used by both drivers when asked to describe the track layout. Rossi said the series of fast, flowing corners that make up Turns 3 through 7 were the most high-commitment corners of a lap. Kanaan compared it to Road America with a bit of WeatherTech Raceway Laguna Seca and Sonoma Raceway mixed in.
Kanaan also said he found the limit in the unique frontstretch, which runs uphill run to a blind Turn 1.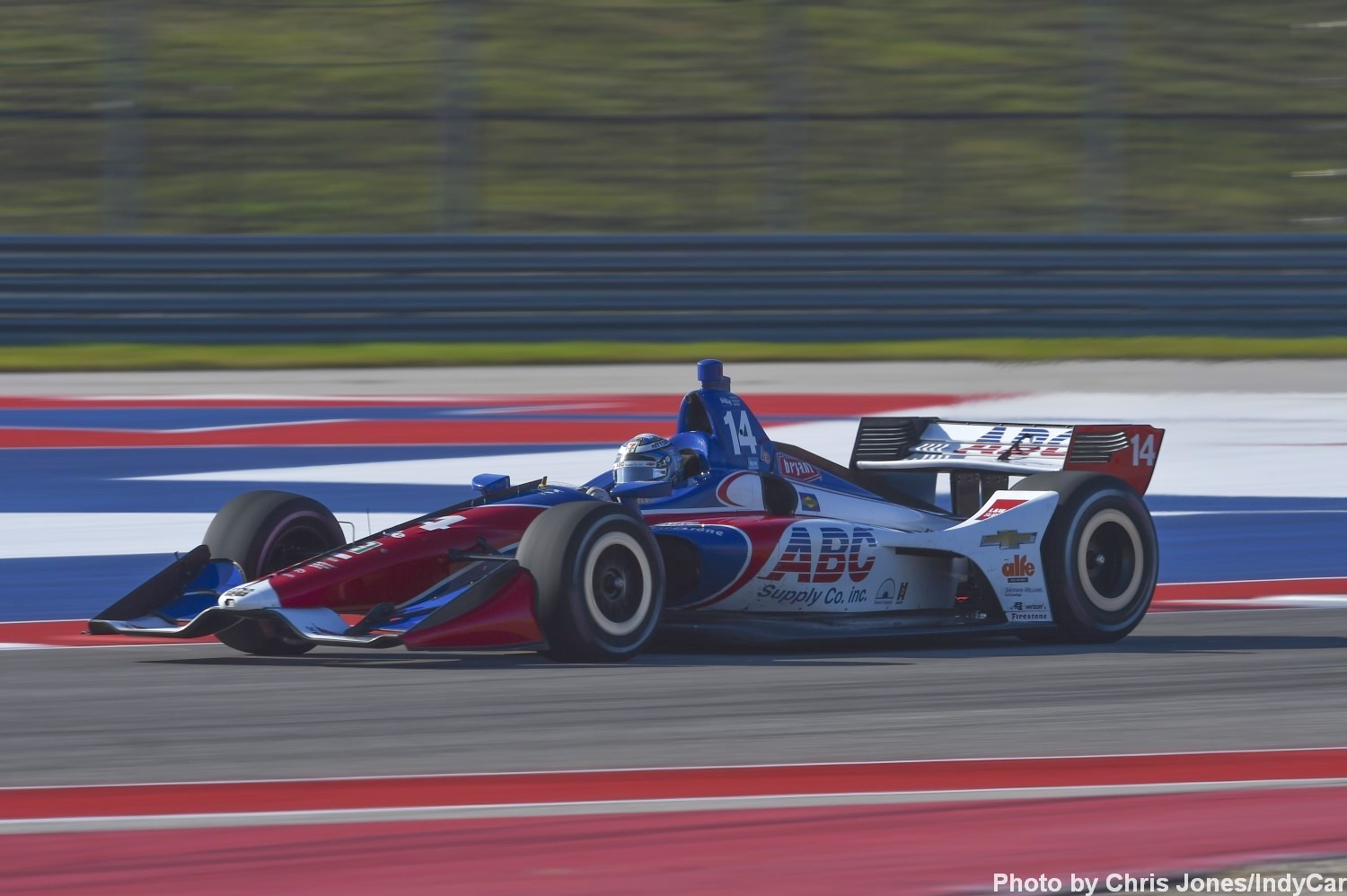 Tony Kanaan said the IndyCars are heavier than F1 cars so of course they are slower – 13 to 15 seconds per lap to be exact. It means an F1 car will lap an IndyCar at COTA every 7 laps or so. GP2 training cars for F1 are much faster, but IndyCars put on a better show
"I didn't know what to expect, but it's very fun and very challenging," Kanaan said. "The blind corners, especially going up the hill (for Turn 1), especially. When you're watching from the outside, you think, 'Yeah, it looks steep,' but from inside the car, it looks steeper.
"Trying to find my way there, it was like, 'Whoa, where's the apex?' After you get used to it, it's a lot of fun. It's a braking zone that every time you think you can go quicker, but then when you try harder, it's too much."
Both drivers agreed that the INDYCAR race at COTA on March 24 will be unlike any race fans in Austin have seen.
"You can expect a lot more fun and a lot more access," Rossi said. "That's the big thing. In Formula One, you're watching some of the fastest race cars on the planet, but there's a big discrepancy between first and 20th. In INDYCAR, the top 15 may be within seven- or eight-tenths of a second. That guarantees a great show, no matter what.
"And beyond that, the fans get up close to the cars and the drivers and interact on a different level and build a connection with the drivers and the teams, which is unique to INDYCAR and something we pride ourselves on."
The COTA race will be the second of 17 on the 2019 IndyCar Series schedule. The season opens with the Firestone Grand Prix of St. Petersburg on March 10. IndyCar
IndyCar arrives at COTA with familiar face
Rossi in the wet during F1 practice at COTA in 2015
Five months from its first race at Circuit of the Americas, IndyCar made its debut at the track Monday with a familiar face behind the wheel.
Alexander Rossi, the last American to race in Formula One, got first crack at testing America's premier open-wheel race car at the circuit along with Tony Kanaan. They were testing Firestone tires that will be used during full testing in February and the race in March.
"It's just a fun track to drive," Rossi said. "You have a smile on your face every lap you do around here. As drivers, we love high-speed, high-commitment tracks, and this is certainly one of them."
IndyCar's arrival in Austin became official when the 2019 schedule was announced in September. It will be the second race of the series' 17-event schedule and the first in a multiyear agreement with the track.
According to Kanaan, it was about time. The Brazilian-born driver entering his 22nd season said he attended the first U.S. Grand Prix held at COTA in 2012 and has been begging to test the circuit ever since. Asked what it will be like to race on a purpose-built F1 circuit, the most tenured driver in IndyCar flipped the question around.
"This is America, right? F1 comes to our turf," he said. "You should ask them that question. This is just another racetrack in America, in Texas. IndyCar is extremely popular around here. It's more than suitable that we have such a beautiful facility.
"I think it was a waste that we didn't come here until now."
Comparisons will be inevitable, and not just because the open-wheel cars look similar. F1 and American open-wheel cars haven't raced on the same track since 2006, when the extinct Champ Car series last held its race in Montreal. Both models have undergone plenty of changes since then, most notably their transitions to more eco-friendly fuels.
If anyone could make a direct head-to-head comparison it would be Rossi, who joined IndyCar in 2016 after several years climbing the F1 ladder. He was spotted on Grand Prix weekend roaming the F1 paddock and hanging out with fellow IndyCar driver Conor Daly. Alas, Rossi's only U.S. Grand Prix experience came in 2015, when the race was nearly washed away by heavy rain.
"It's dry," Rossi said Monday. "Unfortunately I don't have a comparison to draw from. I spent the whole weekend on wet and intermediate tires."
Both drivers agreed that fans can expect a much different experience, both on and off the track, from what they've come to expect with F1 at COTA. The lap times will be slower, but the racing should be more competitive and the drivers more accessible. IndyCar prides itself on letting fans get up close and personal with its drivers, and unlike F1, the cars are on a much more level playing field.
Whereas first and 10th place were separated by more than 2 seconds during qualifying last weekend, "you could have the top 15 within seven- or eight-tenths of a second," Rossi said. "That guarantees a great show no matter what."
Added Kanaan: "We're not trying to compare ourselves to Formula One. They have faster cars, but they also don't race on the ovals. They're faster because they are lighter. They put the car on the oval, and that thing will disintegrate in three seconds." American Statesman