Latest F1 news in brief – Monday
Now Ricciardo knows what happened to Vettel when Red Bull knew he was leaving the team – you are made to look like a loser

'No point' finishing 2018 season – Ricciardo

Ferrari supports Vettel despite title loss – Arrivabene
Hamilton 'impossible to beat' in 2018 – Prost
Hulkenberg backs Vettel's 'black hole' claim
'No point' finishing 2018 season – Ricciardo
(GMM) Daniel Ricciardo sounded ready to quit Red Bull immediately, after yet another disappointing day in the 2018 car.
"I'm a very positive guy," the Australian said after another technical problem in Mexico, having started the race from pole but ultimately watching teammate Max Verstappen win.
"But I can only be that positive for so long. My love for this car is diminishing very quickly."
Ricciardo is leaving Red Bull for Renault after the 2018 finale in Abu Dhabi, but he sounds willing to quit the team immediately.
"It's not frustration anymore. It feels hopeless," he said.
"Honestly, I don't see the point of coming on Sunday. I don't see the point of doing the next two races.
"I'm not superstitious or any of that bullsh*t, but the car's cursed. Just things are happening on Sundays that I've got no more explanation for.
"This car … I'll let Gasly drive it. I'm done with it," Ricciardo concluded.
Ferrari supports Vettel despite title loss – Arrivabene
Maurizio Arrivabene and Sebastian Vettel
(GMM) Ferrari is still "together" even amid waves of rumors and Sebastian Vettel's failure to win the drivers' world championship.
That is the claim of team boss Maurizio Arrivabene, after Mercedes' Lewis Hamilton wrapped up his fifth crown in Mexico.
"It's a horrible moment," German Vettel admitted amid Hamilton's title celebrations.
Both Vettel and Arrivabene warmly congratulated Hamilton, but the message was clear: amid rumors of internal problems at Ferrari, the Maranello team remains together.
"We do not give up," Italian Arrivabene told Sky Italia.
"The constructors' championship is still open, we have taken more points in that and do not give up until the end."
As for Vettel's disappointment, Arrivabene suggested that while the German has been criticized for mistakes in the second half of the season, Ferrari still supports him.
"You have to be close to him in down moments like this, we do not leave him alone," he said.
"We must be strong and throw everything behind him, go forward and do not give up. We have proved we are together even if the others are saying otherwise. So let's keep going," Arrivabene said.
As for Mercedes, Arrivabene sounded reluctant to talk much about the German team.
"I do not talk about the others. We closed on them in the last two races, then I leave the judgment to you," he said.
"Congratulations to Hamilton, but now let's play for the constructors. It will be difficult but we will not give up."
Hamilton 'impossible to beat' in 2018 – Prost
Hamilton in the best car with the best team was not beatable
(GMM) Lewis Hamilton could justifiably be called the "best of his generation".
That was the view of quadruple world champion and F1 legend Alain Prost, after the Mercedes driver raced past his own title tally by securing a fifth drivers' crown in Mexico.
Prost said it makes Hamilton "one of the best, if not the best of his generation".
"He deserves it so much this year, because Ferrari had the better car over the season," said another former world champion, Nico Rosberg, according to Auto Bild.
"Now he really can look at what Michael (Schumacher) achieved. He has two more years of contract and 20 more wins so the possibility exists for him to be statistically the best of all time. I'm sure that will motivate him more," said the German.
Indeed, as he digested his title loss to Hamilton, Vettel told the British driver in person to "to keep pushing for next year".
"I need him at his best to fight him again," the German said on Sunday.
Frenchman Prost, now an advisor for Renault, was particularly impressed with the new five-time champion Hamilton.
"Multiple world champions are obviously doing something different from the others. The biggest different I notice about Lewis is how he forces himself to become an even better driver.
"This was perhaps his best season and he can be even better," Prost said. "Even if his car is not that good, he takes second or third place, and if he has to do something special in qualifying he is able to, like in Singapore."
Prost also praised Mercedes for how it supports Hamilton in expressing his talent.
"His team supports Lewis in his special way of life, which gives him a lot of confidence and strength which is very important to him."
As for how Hamilton stacks up against the greats of all time, Prost answered: "You cannot compare the generations.
"Senna and I were perhaps the best of ours. Now you can only say that Lewis is one of the best, if not the best of his generation.
"Sebastian also had a good season, but not good enough to beat the combination of Lewis and Mercedes. He made mistakes at the wrong time, as in Baku or Hockenheim, otherwise he would have been 30 points ahead at the time and with less pressure.
"Lewis was just psychologically very strong against Seb this year," said Prost. "He was very mature. Under the circumstances, it was impossible to beat him."
Hulkenberg backs Vettel's 'black hole' claim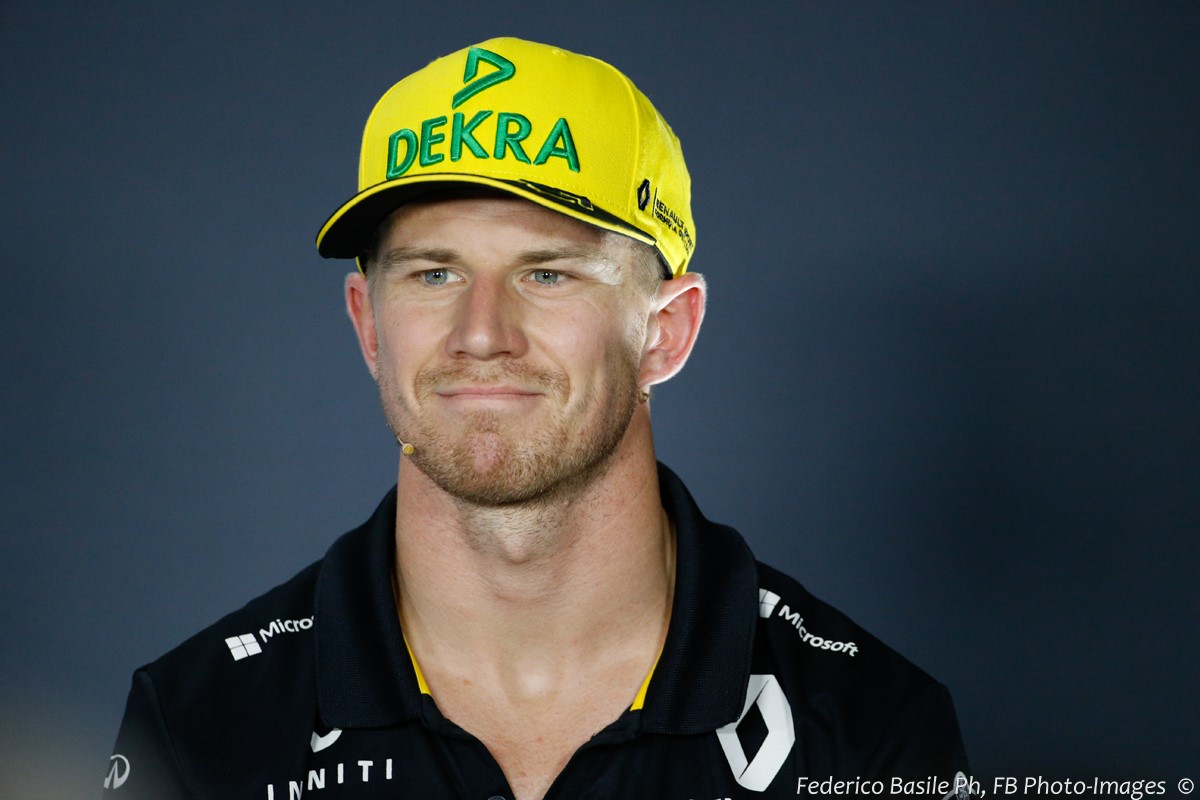 Nico Hulkenberg
In Italy, Japan and again last weekend, Sebastian Vettel spun while attempting to make a move on the inside of a rival in the opening laps of the race.
On each occasion the move would fail and the German would spin – pivoting on his front axle, losing valuable positions and effectively the title.
Speaking ahead of the Mexico weekend, having suffered such an incident while attempting to pass Daniel Ricciardo in last week's United States Grand Prix, Vettel suggested the spins could be the result of a form of aerodynamic 'black hole'.
"Maybe I need to try the outside next time, maybe I don't spin," he told reporters. "Obviously you want to have the inside to the corner, that doesn't change… but I don't know. The closer you are to another car, you lose some downforce, and obviously the spins I had were all quite weird because there was not much I could have done differently. It's not like I had gone in too fast or I would have spun on my own at that speed, not at all.
"So I guess there must be some sort of hole or something being on the inside of a car in that position," he suggested. "Obviously on all three occasions I wasn't clearly ahead, at best side-by-side, so as I said, maybe next time I try the outside."
"I think he's had a few bad qualys and then he has to take bigger risks in the race to make up places," suggested countryman Nico Hulkenberg. "With bigger risks, these errors can happen much, much easier. It's just a fact of that, he's pushing hard trying to keep his title hopes alive.
"I don't see it too critical or too bad," he continued. "The other thing that is hard to understand from the outside is in a fight with these cars that are so sensitive on the aero side it is so easy to lose the car and spin off like happened last week. It happens very easily, I think it's hard for outsiders to understand how easy it is to do that."