Latest F1 news in brief – Sunday
Bob Bell thinks Renault can podium in 2019

Renault on track for 2019 podiums – Bell

Vettel lacked Ferrari support in 2018 – Ecclestone
Winning ambition 'not arrogance' – Leclerc
Hamilton: Sorry fans FIA/Pirelli won't give us extra tires
Tatiana Calderon To Get First Sauber F1 Test In Mexico
Renault on track for 2019 podiums – Bell
(GMM) Bob Bell says Renault remains on track to race to podium finishes in 2019.
The French team has made progress this year, and signed up Red Bull's Mexico GP pole sitter Daniel Ricciardo for 2019.
"Everyone has highlighted our progress on the track," technical boss Bell told Ouest-France.
"We wanted to be fourth, we are, but we have to be careful. Over the last races, our car was not fast enough and though we have progressed, we are still quite far from the top three."
Bell says Renault wanted to make better progress in 2018 relative to the top teams Mercedes, Ferrari and Red Bull.
"Modern F1 is very much aero, engine and tire management. We did a lot of work on aero and perhaps not enough on the engine compared to the others.
"There's no magic formula. It's very hard to make progress," he said.
However, Bell insists that Renault is sticking with the longer term plan.
"We're looking more two or three years ahead," he said. "We are working hard on the 2019 car, and also on the 2020 and 2021 cars. And I am very satisfied with our progress.
"If you look at our facilities, our technologies, the way we work — all of these details are starting to work very well," Bell explained. "We're just not seeing all of it on the track yet.
"But I think that next year we will be able to fight for the podium and get closer to the top teams."
Vettel lacked Ferrari support in 2018 – Ecclestone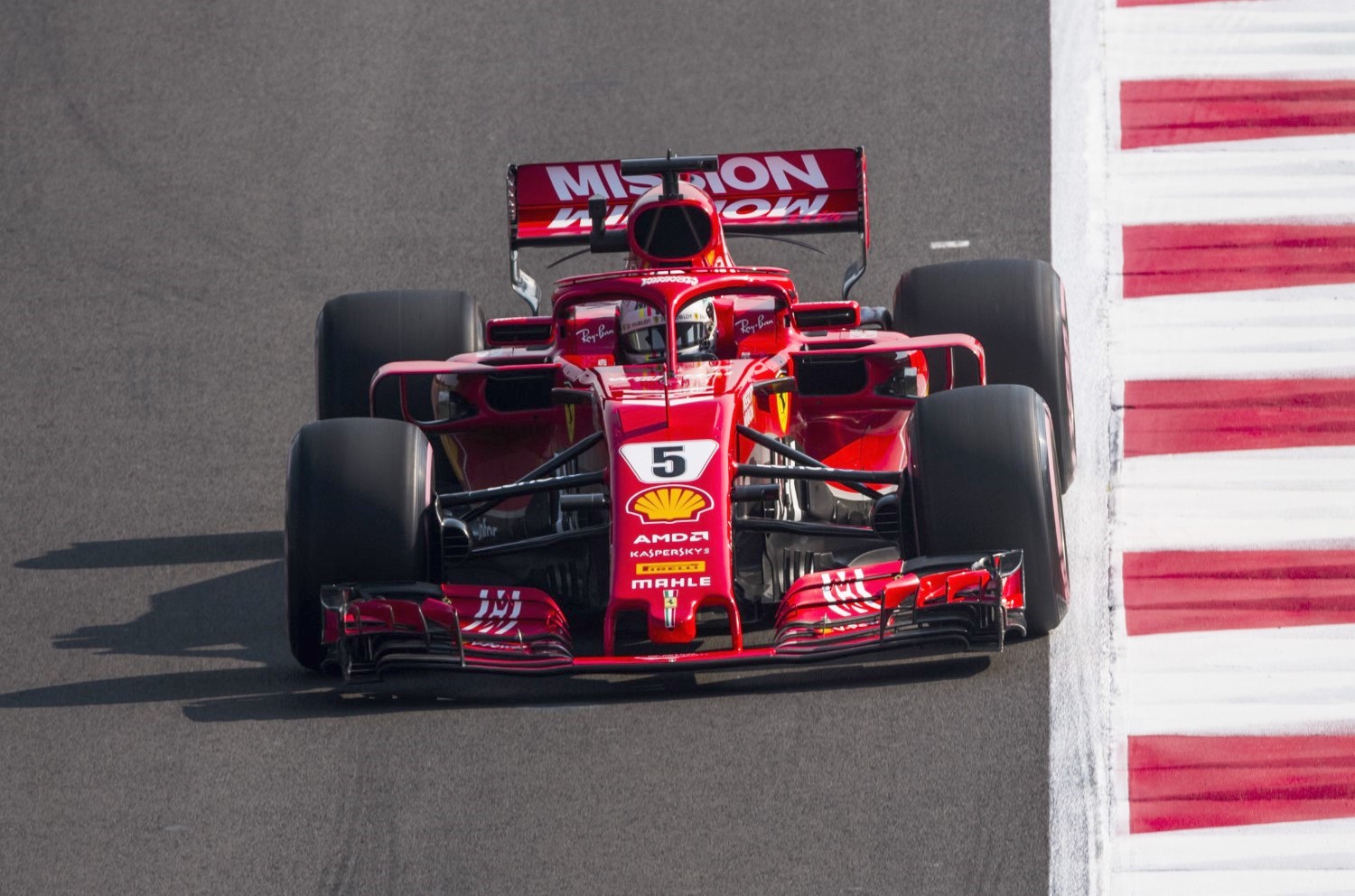 With personal troubles at home (wife issues?) did Ferrari do enough to help Vettel mentally?
(GMM) Bernie Ecclestone says Lewis Hamilton is a God-send for F1 amid a "not so exciting" time for the sport.
Mercedes' Hamilton will almost certainly wrap up his fifth drivers' world championship on Sunday in Mexico.
"The guy is just phenomenal," former F1 supremo Ecclestone told Bild am Sonntag newspaper.
"He is simply the best — on many levels. He is the best driver, he gets better and better under pressure, and he does so much more for formula one than anyone else.
"He's the attraction at a time when formula one is not so exciting. Formula one needs Lewis more than ever," the 88-year-old added.
In contrast, Ecclestone says he is good friends with Ferrari's Sebastian Vettel and still enjoys his games of Backgammon with the German.
"That's not good for the show, of course," Ecclestone concedes.
But he thinks Vettel's failed 2018 championship campaign is not just the driver's fault.
"Sebastian did not have the backing and support of his team, while Lewis has the team 100 per cent behind him. He does not have to worry about what Mercedes does. Everything is perfect with them," Ecclestone added.
"Ferrari could have done it but there's a lot of politics there and Sebastian didn't feel the backing he needed. I think he was alone," the Briton said.
Ecclestone suggests Ferrari became lost following the shock death in July of its president Sergio Marchionne.
"I believe a lot wasn't the way it should have been after that," he said.
"He was a strong, respected man and they missed that leadership greatly," added Ecclestone.
Ferrari replaced Marchionne with Louis Camilleri, a former Philip Morris CEO. Mauricio Arrivabene, the team boss, is another former Philip Morris executive.
"Ferrari has to decide whether the current management is correct. I don't want to judge that," said Ecclestone.
But he says there is no doubt Mercedes has done "everything right since the hybrid era began".
"I just think they would be even happier if they had more competition. It would make their victories even more valuable," Ecclestone added.
Finally, Ecclestone said he thinks Mick Schumacher is "well on the way to formula one".
"It's just too bad that his father cannot support him," he said, referring to Mick's father Michael who is reportedly stricken at home with brain injuries.
Winning ambition 'not arrogance' – Leclerc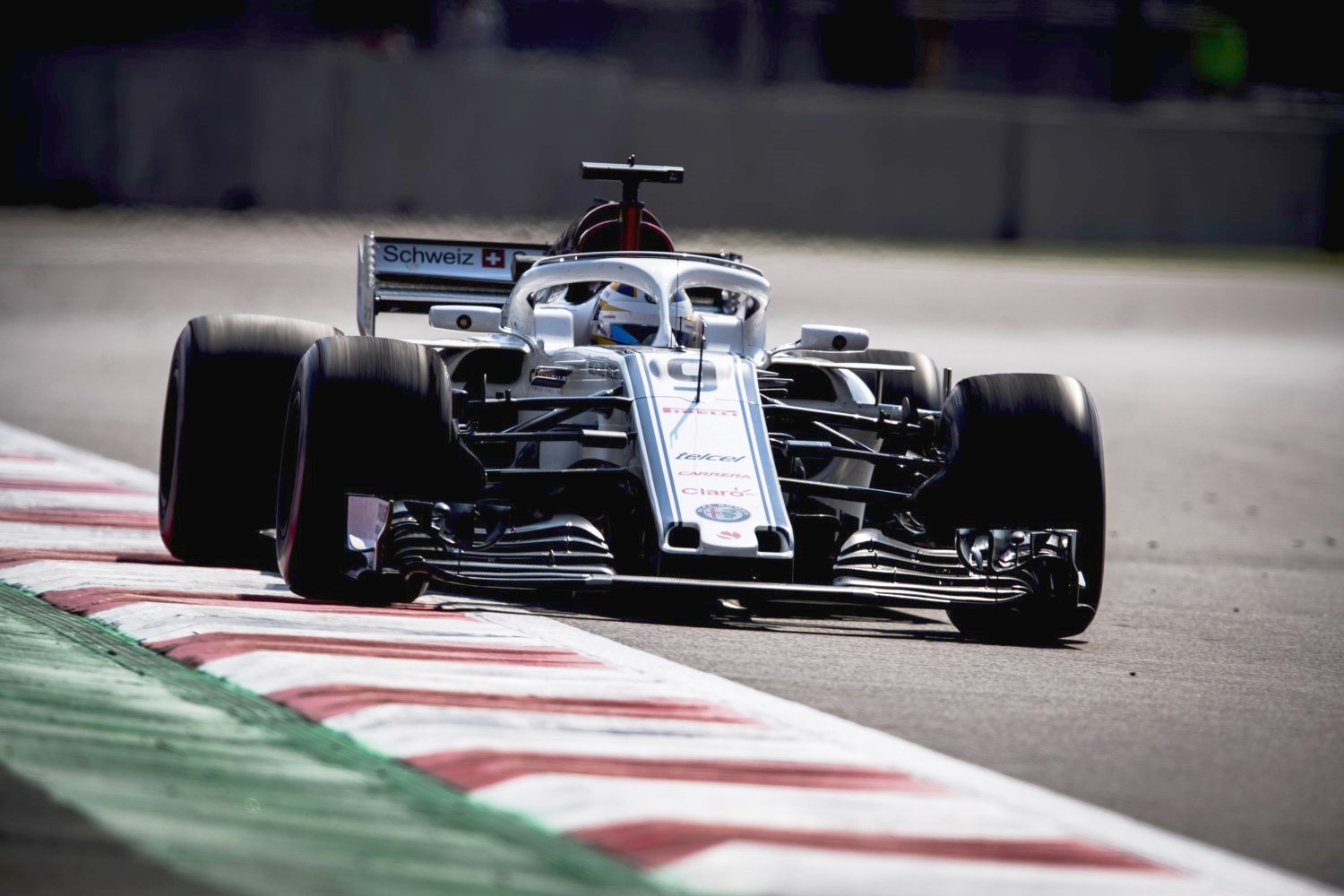 Charles Leclerc in Mexico Saturday
(GMM) Charles Leclerc says Ferrari has prepared him well for life as a race driver with the fabled Maranello team.
The highly rated 21-year-old from Monaco started his climb to Ferrari with the team's driver 'academy', before this year making his F1 debut for Sauber.
Now, in 2019, he will be Sebastian Vettel's teammate.
Leclerc credits the Ferrari 'academy' for preparing him.
"Growing in the academy helped me be ready," he told La Gazzetta dello Sport.
"Since I was 11 I have been working on the mental side with a coach just to handle the pressure. The mental side is now one of my strengths, when before it was one of my biggest weaknesses.
"Now we will see the fruits," Leclerc said.
Leclerc insisted, however, that his confidence should not be misinterpreted as arrogance. For instance, he said recently that he intends to beat Vettel straight away in 2019.
"I want to clarify some newspaper headlines that I did not like," he said. "They didn't understand the spirit of my statement and called me arrogant but that's not the message I wanted to convey.
"As a driver I think it's fair to say that I do not go to Ferrari to aim for fourth place. That's not what I want to do. I always think about winning," added Leclerc.
Hamilton: Sorry fans FIA/Pirelli won't give us extra tires
Lewis Hamilton has had a swipe at the FIA and Pirelli by blaming them for lack of running during FP3 on the second day of the Mexican Grand Prix weekend, the Mercedes lamenting lack of tires to go out and entertain fans.
The world champion did a tentative in and out lap with intermediates, one of the few to venture out in the first half hour on a damp but drying track. With around 20 minutes to go slicks were bolted on and times were finally set.
During the one hour session, Hamilton posted on Instagram: "I'm sorry to all the fans sitting out there, and there's been no running yet the FIA/Pirelli won't give the teams an extra set of tires to run in these conditions, so we are forced to just sit tight, and save the tires we have in case rain comes in qualifying and the race."
And indeed fans were out in force at Autodrome Hermanos Rodriguez, only to be denied despite forking out for expensive tickets to witness the action, for there to be very little.
Ferrari ditches new floor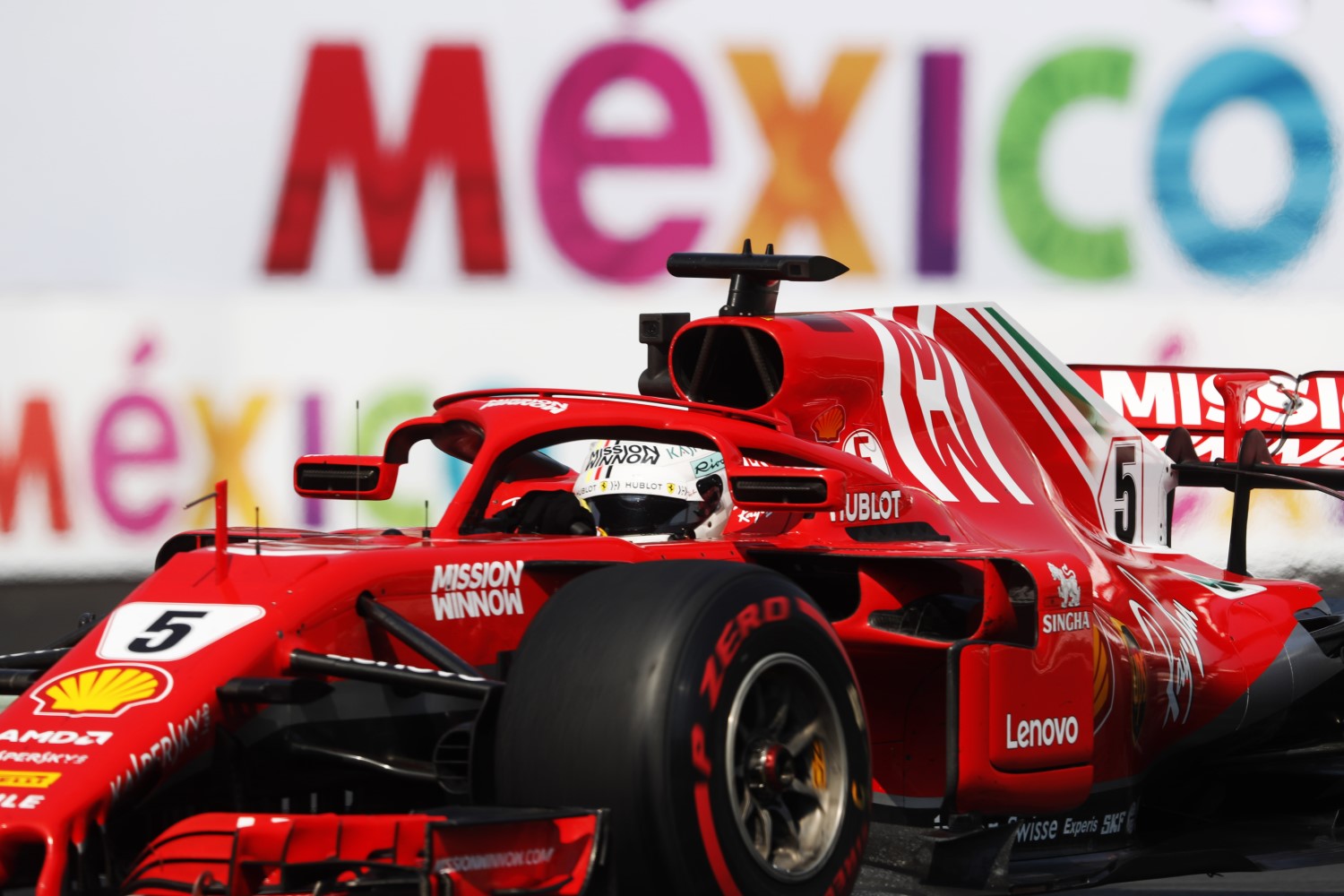 Ferrari goes back to original floor
Following further back-to-back tests, Ferrari has opted not to use its new floor for the remainder of the Mexico weekend.
The floor made its debut in Austin, but with Friday's running compromised by rain it was decided not to use it in the race.
Yesterday, further back-to-back tests were carried out before the team decided to ditch the updated floor for the remainder of the weekend.
The move comes at a time that a number of updates have been blamed for the Scuderia's recent dip in form and subsequently dropped.
"It was an interesting morning," Sebastian Vettel told reporters. "We learned a lot and we're sticking to the old package."
Interestingly, the decision comes at a time Red Bull has introduced a new floor which appears very similar to that of the Ferrari update,
"I don't think we had a tidy lap," admitted the German, who, like his teammate, ruined at least one set of each of the softer tire compounds after locking-up and generally struggling for grip.
"Everybody's sort of on the limit with tires and trying to get them to work in order to slide less, with the exception maybe of the Red Bulls," he added.
"The difficulty is you don't have any grip. So we're sliding a lot," he continued. "The problem is if you don't have any grip and downforce, because the air's so thin, you don't get the tires to work and when the tires don't work it's really tricky. So that's why I think sometimes you can see quite big jumps in lap time.
"If you don't get it right then you're quite far off the pace. I think everybody still has something to step up tomorrow. The key will be the tires. If you have 1, 2, 3 or 4km/h more in a straight line I don't think that will be detrimental. But I think it will be much more important to get the tires in the right window because then around here you can easily get two, three, four, five tenths. Quite a lot of lap time."
Tatiana Calderon To Get First Sauber F1 Test In Mexico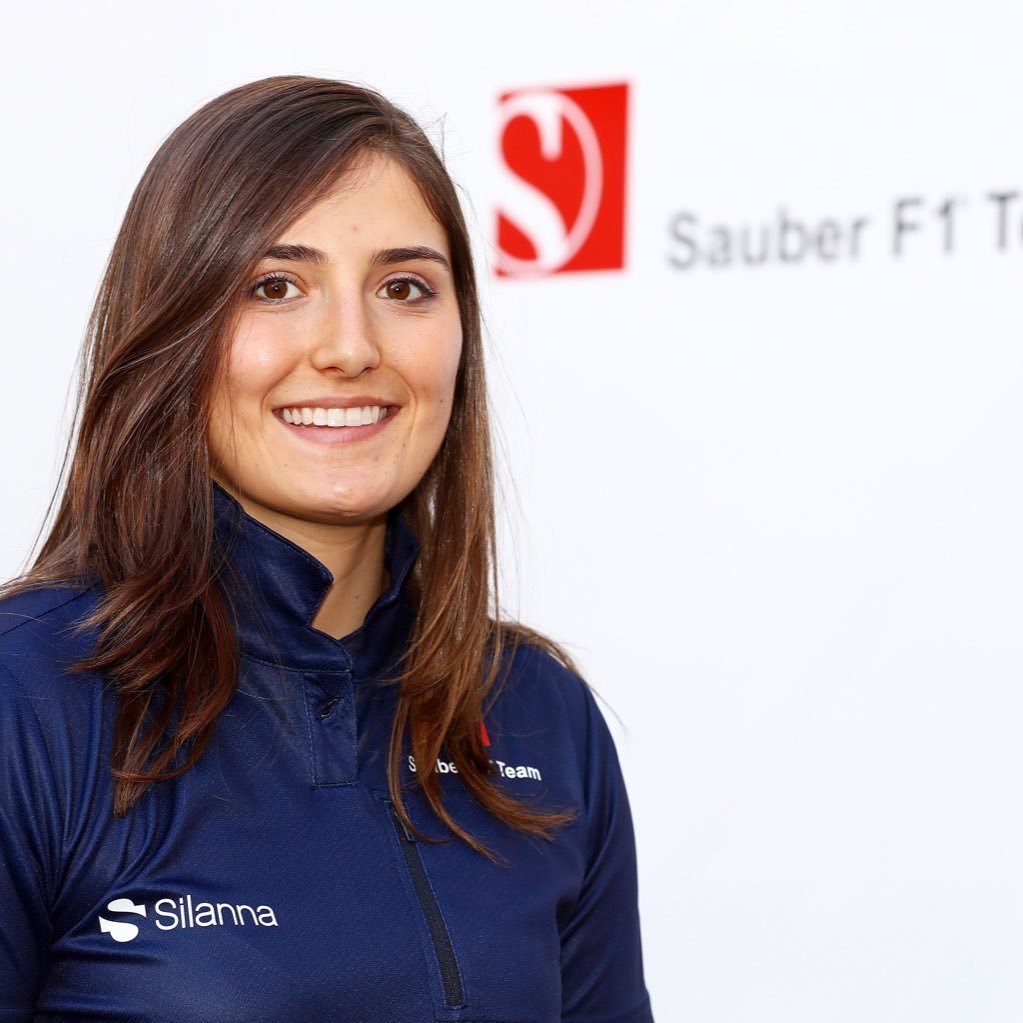 Tatiana Calderon's F1 PR stunt
Tatiana Calderon will get her first Formula 1 test with Sauber next week as she takes part in a filming day at the Mexico City circuit on Tuesday.
Speaking about the test, Calderon said: "I am very thankful and excited about the opportunity given to me by the Alfa Romeo Sauber F1 Team, Escuderia Telmex, Telcel, Infinitum and Claro to drive a Formula 1 car for the first time in my career.
"Since I started racing, my dream and goal has been to drive at the highest level one day. It will be an incredible experience to discover the Autodromo Hermanos Rodriguez from the cockpit of the C37 in Mexico City.
"As a Latin American driver, there could not be a more special place for me to make my debut behind the wheel of a Formula 1 car."