Marquez baffled by Honda rider crashes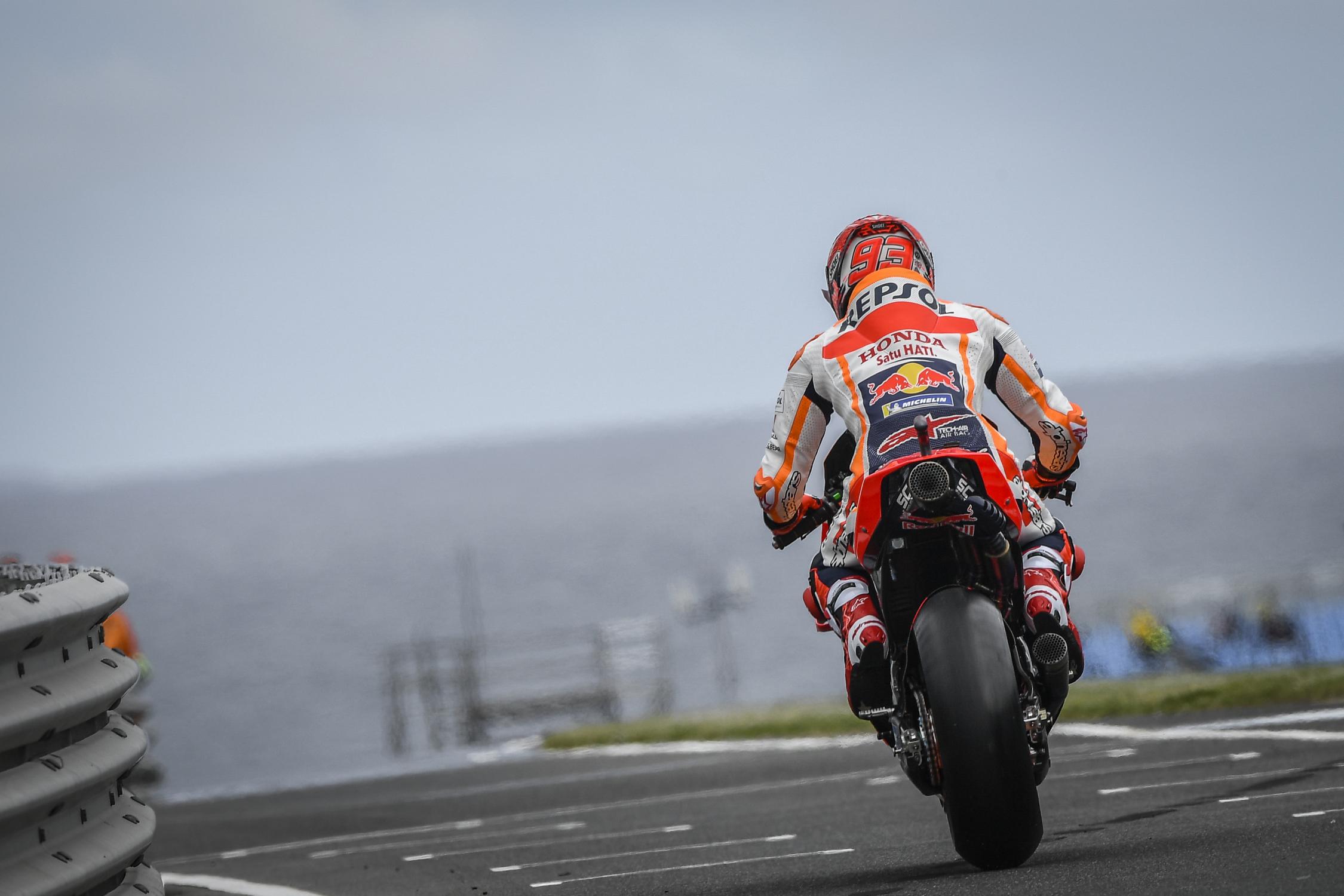 Marc Marquez
Marc Marquez has described his and the other Hondas' succession of crashes on the opening day of the Michelin Australian Motorcycle Grand Prix as 'strange'.
On an uncompetitive day for Honda, Cal Crutchlow was the marque's fastest in fifth in each of the day's two sessions while Marquez ended up seventh.
Crutchlow, however, was subsequently declared unfit after a painful crash at Doohan Corner, which prompted Marquez to take a more cautious approach to the latter stages of the afternoon.
Each of the Repsol Hondas went down due to front end loses in Free Practice 1, firstly Dani Pedrosa at Doohan Corner before Marquez's unusual spill at MG.
The newly crowned world champion was on a flyer, fastest to the second sector at the time, but had barely started to turn into the corner when his front wheel gave way.
Marquez, who also skated off but stayed up at Siberia in FP2, was at a loss to explain why there so many crashes in the Honda ranks.
"It's a question that's also inside our box," he noted.
"Today was so strange Friday; it was not the best Friday after being world champion.
"It was something that was really strange, the feeling that I had with the bike, and even the other Hondas, and it was so difficult to understand the front tyre.
"I don't know if it's the first time in the season or the second that I crash without pushing, because I wasn't pushing, I was just riding in FP1 in an easy way.
"Also, I was trying a different set-up, but this afternoon I went back to the set-up that I know and it was much better and we keep improving the feeling."
Marquez admitted that the sight of Crutchlow's crash caused him to ease off, but was at a loss to explain the trouble with front grip.
"I was far away but (saw) that somebody had a big crash in Turn 1, then when I arrive I saw that it was Cal," he recounted.
"When I saw that it was Cal I slowed down there because I had some moments too and Dani crashed there this morning too.
"It's one of our weak points, we arrive there and I don't understand the front but we did a change this afternoon and I start to understand in a better way.
"You need to be patient. This is a very special circuit and sometimes the base set-up is not working here, so now it's time to understand and on Sunday we will see."
He also confirmed his plan to have shoulder surgery at the end of post-season testing in order to reduce his risk of dislocation.
It comes after the 25-year-old suffered a bizarre incident when he was congratulated by Scott Redding during post-race championship celebrations last weekend, temporarily popping his arm out of the joint.
"My brother (Alex) already had this operation," Marquez noted.
"When it goes out many times, the bone is getting smaller and smaller and then it's easier to go out.
"They just try to increase this bone by a plate or a bolt, I don't know, and then it will be better.
"It takes a month and a half to be 100 percent (fit), so for that reason I need to wait until December.
"I will do the first week of December to be 100 percent again on the bike in the middle of January."