Latest F1 news in brief – Friday
Stoffel Vandoorne – lover or race car driver?

Vandoorne refusing to be more 'aggressive'

Alonso leaving F1 'not because I have to'
F1 should scrap penalty points system – Grosjean
Bad second half of 2018 'incredible' – Ricciardo
Steiner plays down Rich Energy skepticism
Ricciardo, Alonso defend Vettel 'mistakes'
Doctors not ruling out Abu Dhabi return for Lauda
Ricciardo: I would like to be world champion in 2021
Vandoorne refusing to be more 'aggressive'
(GMM) Stoffel Vandoorne has denied he needs to become more "aggressive" to succeed in motor racing.
McLaren has dumped the Belgian driver after two years, with boss Zak Brown saying Vandoorne was not "aggressive" enough.
"I don't have an opinion on that," Vandoorne, who is moving to Mercedes' new works Formula E team, said in Mexico.
"But what I will say is that the engineers have always been pleased with my comments. I also don't think a very aggressive driving style is a mandatory quality for a racing driver.
"I have my own way of working, and it has always worked for me in the past. I don't think I'm going to change it," he insisted.
Alonso leaving F1 'not because I have to'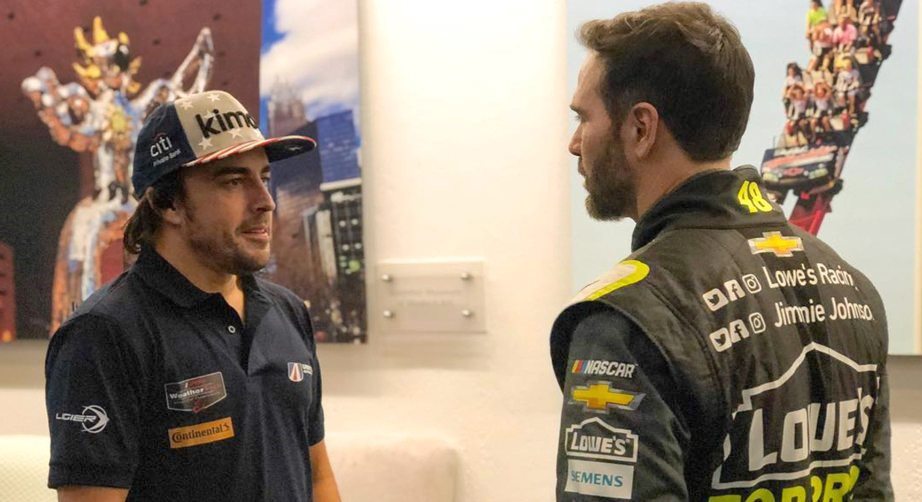 Alonso talks to Jimmie Johnson about trying NASCAR
(GMM) Fernando Alonso has hit back at suggestions he is only quitting F1 because he could not secure a competitive race seat.
As the Spaniard's long career winds down, many paddock insiders say it is "sad" that Alonso could not win more than his two world championships.
"I think it's something for formula one to consider," fellow Spaniard Carlos Sainz said. "Why one of the best drivers is leaving and why we cannot have a bit more of a competitive grid."
But Alonso says that analysis is not right.
"I'm not leaving because I don't have a competitive car," he insisted in Mexico.
"I'm leaving because I achieved everything in formula one that I wanted to achieve.
"Motor racing is more than formula one. Everyone says 'It's a shame and formula one has to figure out why Fernando has to leave'. But the truth is that I'm leaving because I want to, not because I have to," Alonso added.
F1 should scrap penalty points system – Grosjean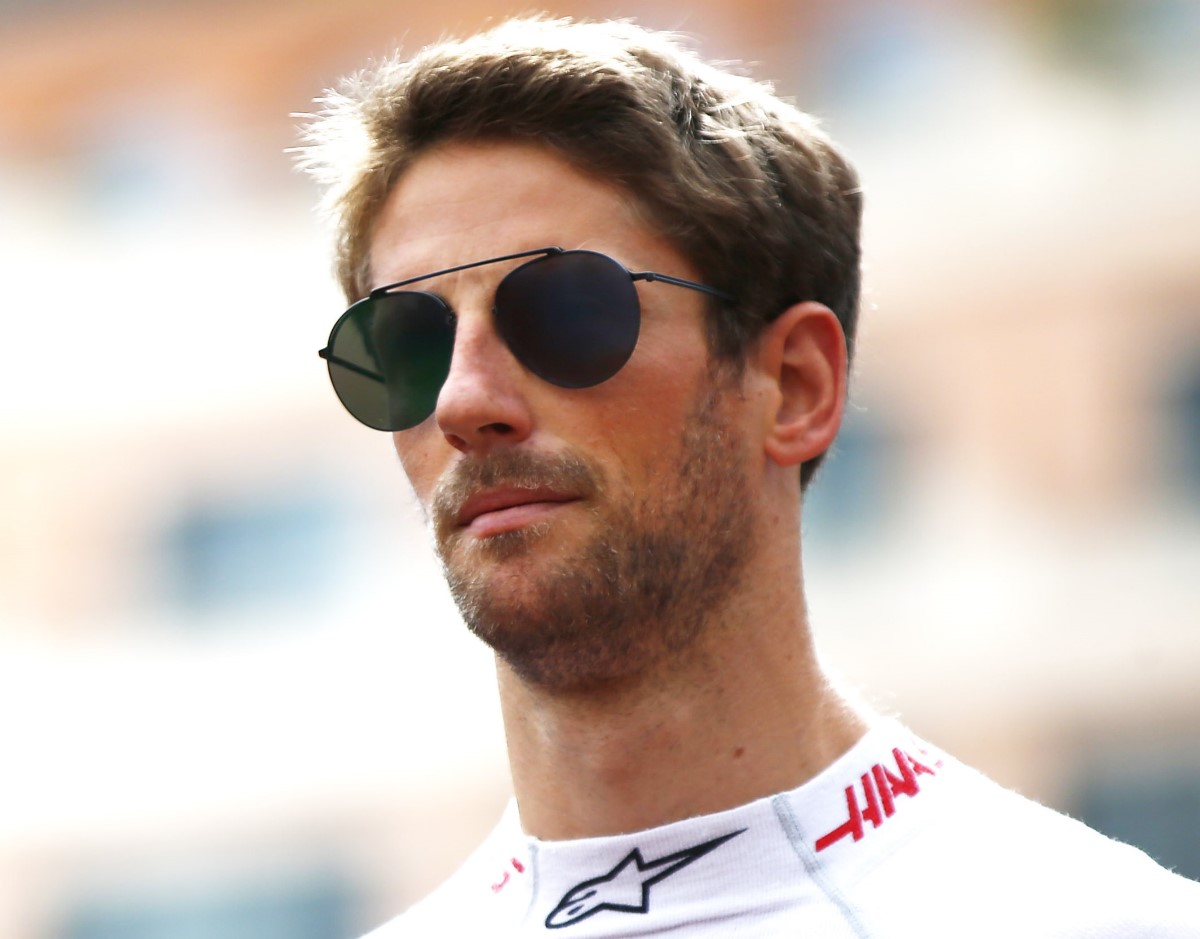 Grosjean wants the penalty points scrapped so he is free to decimate the F1 field like a wrecking ball
(GMM) Romain Grosjean has hit out at the 'penalty points' system in F1.
The Haas driver is on the verge of a race ban, because his F1 super license has accumulated too many penalty points for infractions over the past year.
Grosjean says he didn't really deserve the last penalty for his clash with Charles Leclerc in Austin.
"Yes it was a mistake but it's a first lap. At some point we're here to race aren't we?" said the Frenchman.
"Do we really need this points system in formula one? We are the best drivers in the world but yes sometimes we make mistakes."
Grosjean thinks there are too many penalties in general in formula one.
"If you don't slow enough for a red flag, penalty. If you're too fast in the pitlane, penalty. There are too many penalties overall and too many rules. Everything must fit into a category," he said.
Max Verstappen agreed, saying the penalty points system should be "thrown in the garbage".
Bad second half of 2018 'incredible' – Ricciardo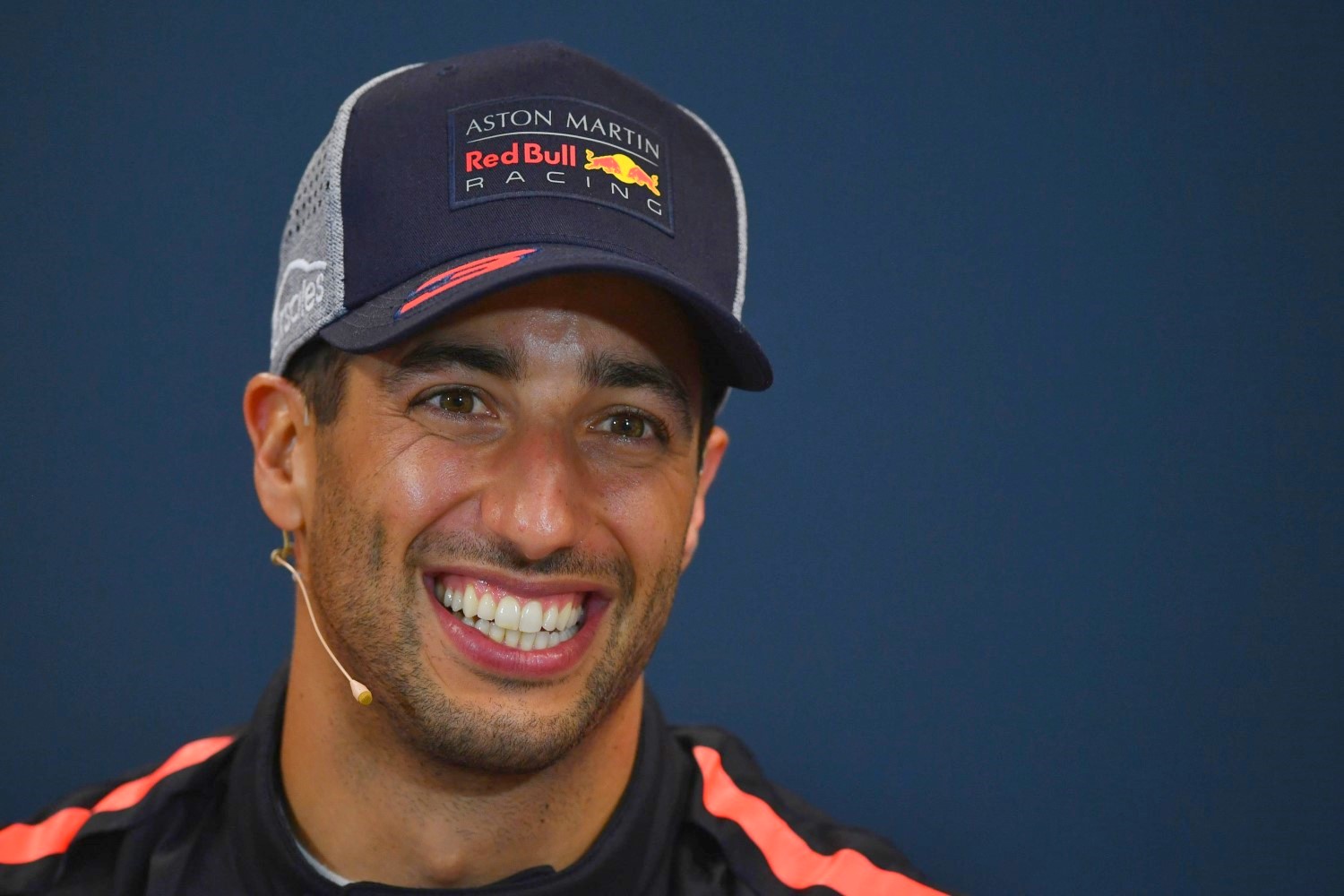 Daniel Ricciardo was not smiling in Austin
(GMM) Daniel Ricciardo says his poor second half of 2018 has been "complex and confusing".
The Australian had a strong beginning to the season, even winning in China and Monaco. But since his 2019 switch to Renault was announced, Ricciardo has struggled.
"I don't remember a black cat crossing my path," Ricciardo, who reportedly punched a hole in his driver room wall a week ago in Austin, said in Mexico.
"I really don't understand what is happening but I don't have the feeling that I need to change my approach.
"At the beginning of the season I was very strong but I personally didn't change anything after Monaco.
"I've tried to understand it and become better, but it's strange that the season was divided into two parts for me. It's quite incredible actually and I don't understand how it is possible," he added.
Steiner plays down Rich Energy skepticism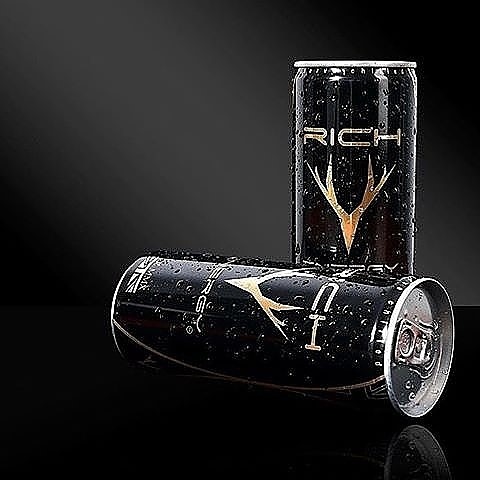 Black and gold (or white) livery for Haas next year
(GMM) Gunther Steiner has played down skepticism about the identity of Haas' new title sponsor.
Next year, the American team's cars will have a different livery after signing a naming sponsorship deal with British energy drink Rich Energy.
Earlier, Rich Energy was linked with the buyout of the Force India team, but there were claims the little-known company actually couldn't afford the deal.
Now, Rich Energy has teamed up with Haas, prompting a "significant livery change" for 2019.
Haas team boss Steiner played down the skepticism about the Rich Energy brand.
"Our due diligence has been done, and we investigated what we needed to investigate. Our legal advisors were satisfied," he said in Mexico.
Ricciardo, Alonso defend Vettel 'mistakes'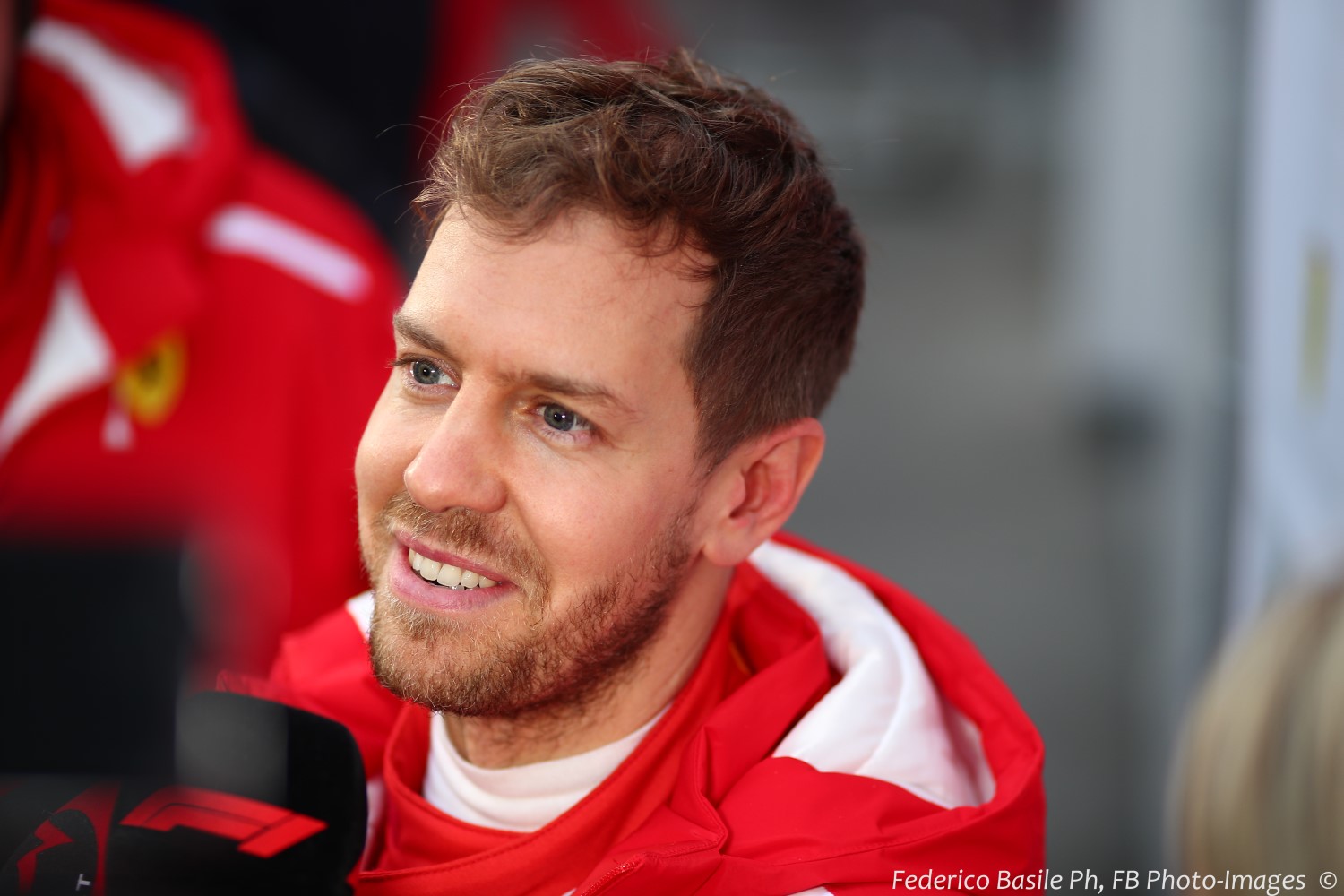 Rumored personal troubles at home may be Vettel's undoing
(GMM) F1 drivers have defended Sebastian Vettel amid suggestions multiple driving mistakes have cost him the 2018 title.
Most recently, three spins have raised eyebrows about the Ferrari driver's mental state and skills.
"I've looked at his on-board and I really can't say he did anything out of the ordinary," Daniel Ricciardo, who clashed with Vettel in Austin, said in Mexico.
"That's why I want to defend him. I know it's happened a few times but I certainly don't want to tell Seb how to drive a racing car," he added.
Fernando Alonso agrees, saying Vettel's trio of recent mistakes is "pure coincidence".
"We can't forget that he's more under the magnifying class than most others. It's about every tiny detail, but I think the spins are more coincidence than driving mistakes," he added.
Vettel himself said that analysis of the spins is understandable, and he may try to approach his attacking moves differently in the future.
"If the car spun, it means something went wrong," said the German.
"Everyone has their opinion, but I don't think I did anything stupid, even if I know that there were too many incidents.
"But in the future I will still try to use any chance I get, but I'll try to ensure that the car doesn't do a U-turn," he added.
Doctors not ruling out Abu Dhabi return for Lauda
Abu Dhabi
(GMM) Niki Lauda's doctors are not ruling out a return to the F1 paddock for the Mercedes team chairman in time for the season finale in Abu Dhabi.
It emerged this week that, after two months in hospital following a lung transplant, the F1 legend has now left hospital and entered a rehabilitation clinic.
"The engine is humming again, but now we have to work a little bit on the chassis," Lauda's chief doctor, professor Walter Klepetko, smiled.
When asked if a return to the paddock in Abu Dhabi is a possibility, he answered: "That would be great of course, but the most important thing is that the rest of his recovery is very good.
"I don't want to guess. I'm not a clairvoyant.
"But basically the goal is that he gets back to the life he was used to," Dr Klepetko added.
In the paddock in Mexico, Mercedes team boss Toto Wolff said there is no rush for 69-year-old Lauda to return.
"He has undergone a very difficult procedure and will now work hard in rehab so he is back to his old self," he told Bild newspaper.
"It will take some time, but all of us in the team are looking forward to his return," said Wolff.
Ricciardo: I would like to be world champion in 2021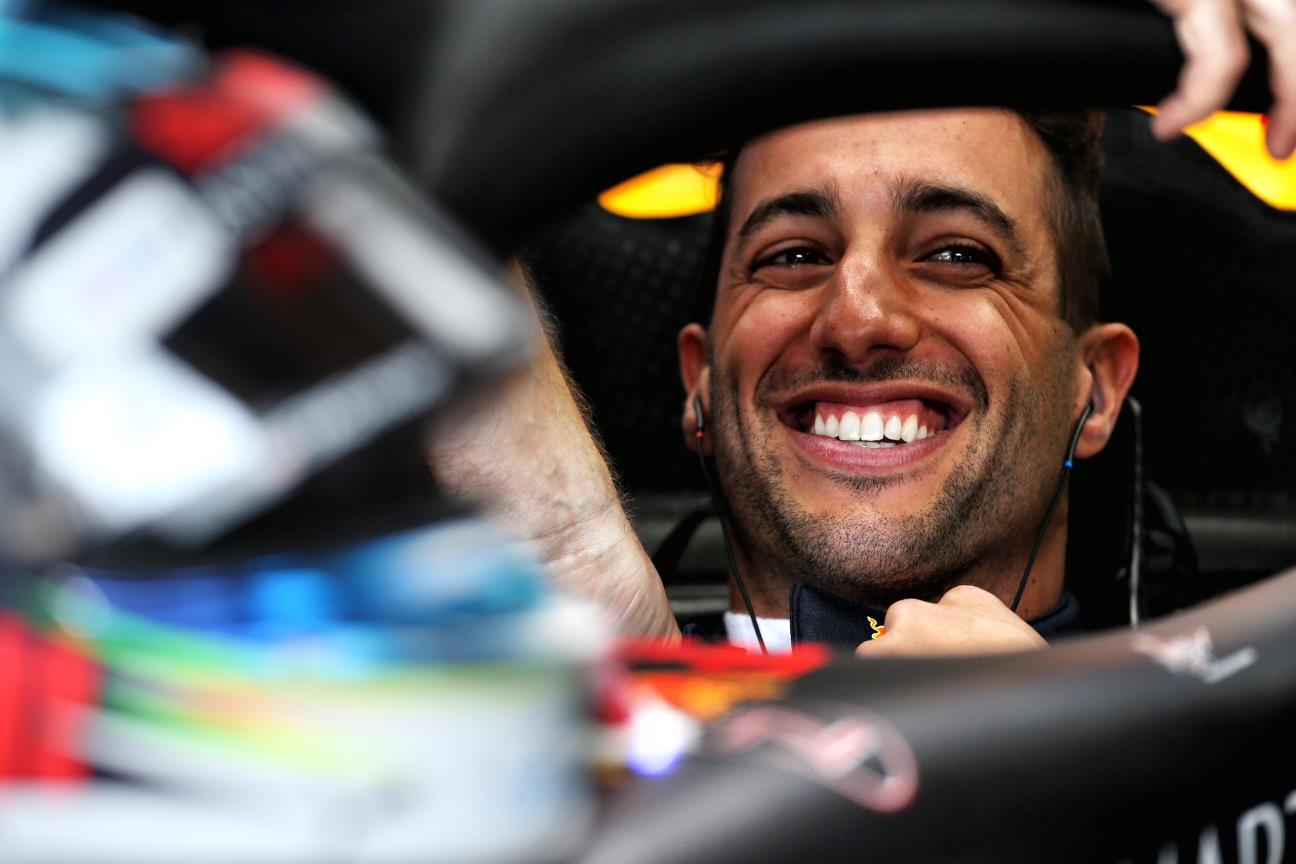 If he wants to be World Champion in 2021 he moved to the wrong team
Daniel Ricciardo parts ways with Red Bull to begin a new Formula 1 adventure with Renault in 2019, thus ends a massive chapter in the Australian's life which he recalls with fondness while adamant that his move was not only about very big bucks, but rather a chance to win the title… in 2021.
Asked to analyze his season during an interview with AS correspondent Manuel Franco, Ricciardo began, "Confused, we could say. Confused because it is difficult to analyze. The truth is that I started very strong and then somehow I started to get worse. I still do not know why this has happened, as far as I'm concerned personally, I did not change anything since Monaco."
"Maybe I went partying a few days after that… Joke! But I did not do anything different since then, however, it really hasn't worked out the way I thought it might. I tried to understand it, I tried to be better, but it was very strange, a season of two halves. But I won't remember it in a very negative way. Monaco will continue to be a huge achievement for me, so I would happily repeat the season just for that.
Ricciardo's long association with Red Bull ends when the lights switch off at Yas Marina Circuit at the end of the season. It would be fair to say, top this point, the energy drinks brought him through the ranks, gave him his break in the top flight and he delivered big time.
Reflecting on his years with the team, Ricciardo said, "It's been fun, that's for sure. An important part of my career, they gave me the opportunity once I arrived in Europe, took me to this place I am in right now…"
"We helped each other, but they, for sure, helped me more and gave me the opportunity to compete with the best equipment at the highest level. I paid them with results, but they created that platform for me. It has been incredible."
"And then there are other fun things, I've also had some good off-piste experiences, playing ice hockey, soccer, motocross, flying in helicopters, airplanes… It's been fun and I do not know how long I'll continue as a driver but I know I'll look back and I'll think about Red Bull and me, together, and that will always be the most important part of my career.
Red Bull funded Ricciardo's debut with back of the grid strugglers HRT, but the half season proved invaluable and despite running out of the spotlight he did enough to convince his Red Bull backers to promote him to Toro Rosso and the rest is now history.
The Australian recalled his early F1 years, "That was a long time ago but even that was interesting, sure the team was not fast, but Red Bull gave me the opportunity to be in F1 and I started learning immediately, and that was important.
During the summer break, he shocked the Formula 1 world by announcing he would depart Red Bull to spearhead Renault's F1 effort on a two-year deal. A huge gamble? A big mistake? Any regrets? Objectives?
"I think several things," continued Ricciardo, "As a team, have the best possible result. I do not know what is his best moment in recent years, but if it is the sixth, I want to finish fifth, for example."
"I also want to prove to myself and other people that it was the right decision, I guess that proving that some people are wrong would be good. And of course grow with the team and feel the progress, be part of that and feel that your investment in me will have been worth it."
As for a timeline, "Five years ago! (laughs) I mean, in 2014 I think I drove well enough to be world champion that year. So for me that's past, but now, starting this next journey, realistically, I would say I would like to be world champion in 2021.
Ricciardo's quick and big smile is his trademark, but when the visor is down the Honey Badger is a ruthless prize-fighter second to few, so what's the secret?
"I think my secret is perspective," mused the 29-year-old. "Perspective, many people forget the important things. What is a bad day? For me, it may be finishing in fifth place. But a bad day for someone else is being fired, or he could be shot in the war or on the street."
"It's the perspective. A bad day for me is the best day for someone else. I think this is very important to understand the perspective. Naturally, I am a competitor and I will never be happy with the fifth, but it's fine, it's not really a bad day, maybe a bad time, but not a bad day."
"I will wake up in spite of everything in a nice hotel room somewhere, and I will enjoy being happy. I do not like to be sad, I like to have a good time, so a part of me is determined to find that perspective because I do not want to be sad."
Daniel at 50? "I hope I'm not too fat (laughs) but I'd like to have children someday, for sure. Children would be great, I could play sports with them. I would like to have succeeded in something else by the time I am 50 years old. When I retire, I would like to create something else and have another passion to last another 20 years but I don't know what."
And real happiness for the Perth native, "The sun… a sunny day. If the weather is good, I'm happy. The other day it was cold where I came from, I arrived in Mexico and when we landed I left the airport and it was hot. I took off my sweater and immediately I felt happy. So yes, that, the sun!"
Ricciardo's final appearance for in blue will be at the season finale in Abu Dhabi, also the occasion of his 99th race for the Red Bull senior team in the top flight. grandprix247.com