Latest F1 news in brief – Wednesday
Ricciardo was an unhappy cowboy in Austin

Team making 'jokes' about Ricciardo plight

Vandoorne did not show talent in F1 – Boutsen
Vettel mistakes 'no coincidence' – Brawn
Dixon backs Brendon Hartley's decision to take F1 drive
Arrivabene: Video games a 'competitor' to F1
F1 investigating helmet cameras
Hamilton empathizes with backmarkers, lays blame at current F1 car design
Team making 'jokes' about Ricciardo plight
(GMM) Members of the Red Bull team are making "jokes" about Daniel Ricciardo.
That is the news from Max Verstappen, the energy drink-owned team's continuing driver.
Ricciardo is switching to Renault's works team, but ironically he has been bearing the brunt of the problems with the French manufacturer's customer engine at Red Bull lately.
"It's ironic that it always happens on his car," team boss Christian Horner is quoted by Auto Bild.
"I'm sure he'll have a few words with his future employer about it."
Verstappen revealed that after Ricciardo's latest Renault-related problem in Austin, the Australian was particularly furious.
"Daniel punched a hole in the wall between our rooms," he told the Dutch broadcaster Ziggo Sport.
"I think within the team there are secretly some jokes being made about it.
"But for the team it is just very bad. I know exactly how he feels, as I experienced it often enough last year," Verstappen added. "It's just bad."
Vandoorne did not show talent in F1 – Boutsen
Boutsen: Vandoorne did not show talent
(GMM) Former F1 driver Thierry Boutsen says fellow Belgian Stoffel Vandoorne has lost his race seat because he did not perform.
Before Vandoorne made his McLaren debut as a highly rated junior category champion in 2017, grand prix winner Boutsen predicted that he "might even be a world champion" in F1.
Two years later, Vandoorne is exiting F1 for Formula E.
"It's very simple," Boutsen, who raced until 1993 and won three grands prix, told the Belgian broadcaster RTBF.
"Stoffel had the chance to drive for two years in formula one but was unable to demonstrate what he could do for a variety of reasons.
"He should have at least shown that he was as fast as his teammate, but Fernando Alonso was always a good half second ahead each time.
"There are several explanations, but whether it is driving or technical problems it doesn't matter. Stoffel had two seasons to show his talent and he did not succeed," Boutsen added.
"It saddens me because Stoffel has the talent to be there, but F1 is like that. Drivers are like Kleenex — use them when they're good and as soon as they're not, throw them out."
McLaren boss Zak Brown thinks Vandoorne was not "aggressive" enough a character for F1, and Boutsen thinks the 26-year-old was also affected by psychology.
"From the moment it doesn't work as you expected, you start to ask yourself questions and worry. But I think if Stoffel starts winning races in Formula E he will become psychologically stronger, so maybe he could come back to F1.
"He came in once so why not a second time? It depends on him," Boutsen added.
Vettel mistakes 'no coincidence' – Brawn
Brawn blames Ferrari for not helping Vettel with his mental mistakes
(GMM) F1 sporting boss Ross Brawn thinks Sebastian Vettel has driven his own 2018 championship campaign "off the track".
The Ferrari driver is being roundly criticized for the kind of mistakes he has made at recent races, despite often having the fastest car in the field.
It means Lewis Hamilton only has to finish seventh once either in Mexico, Brazil or Abu Dhabi to be champion, even if Vettel wins all three of those final races of 2018.
Vettel's latest mistakes were in Austin, where he suffered a grid penalty for a red flag infraction, and then collided with Daniel Ricciardo in the race.
"I don't want to attack Vettel, but these mistakes do not seem to be a coincidence," Brawn, the sporting boss for F1 owner Liberty Media, is quoted by Auto Bild.
"They seem to be more of an indication that Vettel is currently a bit off track. It's a shame because Ferrari was able to give him a really competitive car right from the start of the season," he added.
However, Brawn – who was technical boss at Ferrari during the ultra-successful Michael Schumacher era – also thinks the Maranello team has a bigger role to play.
"Ferrari should focus on finding a way to fully exploit Sebastian's talent," he said.
"You do not become a four time world champion for no reason, and Sebastian certainly has not forgotten how to win."
Former F1 driver Mark Webber agrees.
"In an incredibly long campaign like this championship is, driver management is absolutely crucial," said the former Red Bull driver. "Ferrari needs a Toto or a Christian running the show."
Dixon backs Brendon Hartley's decision to take F1 drive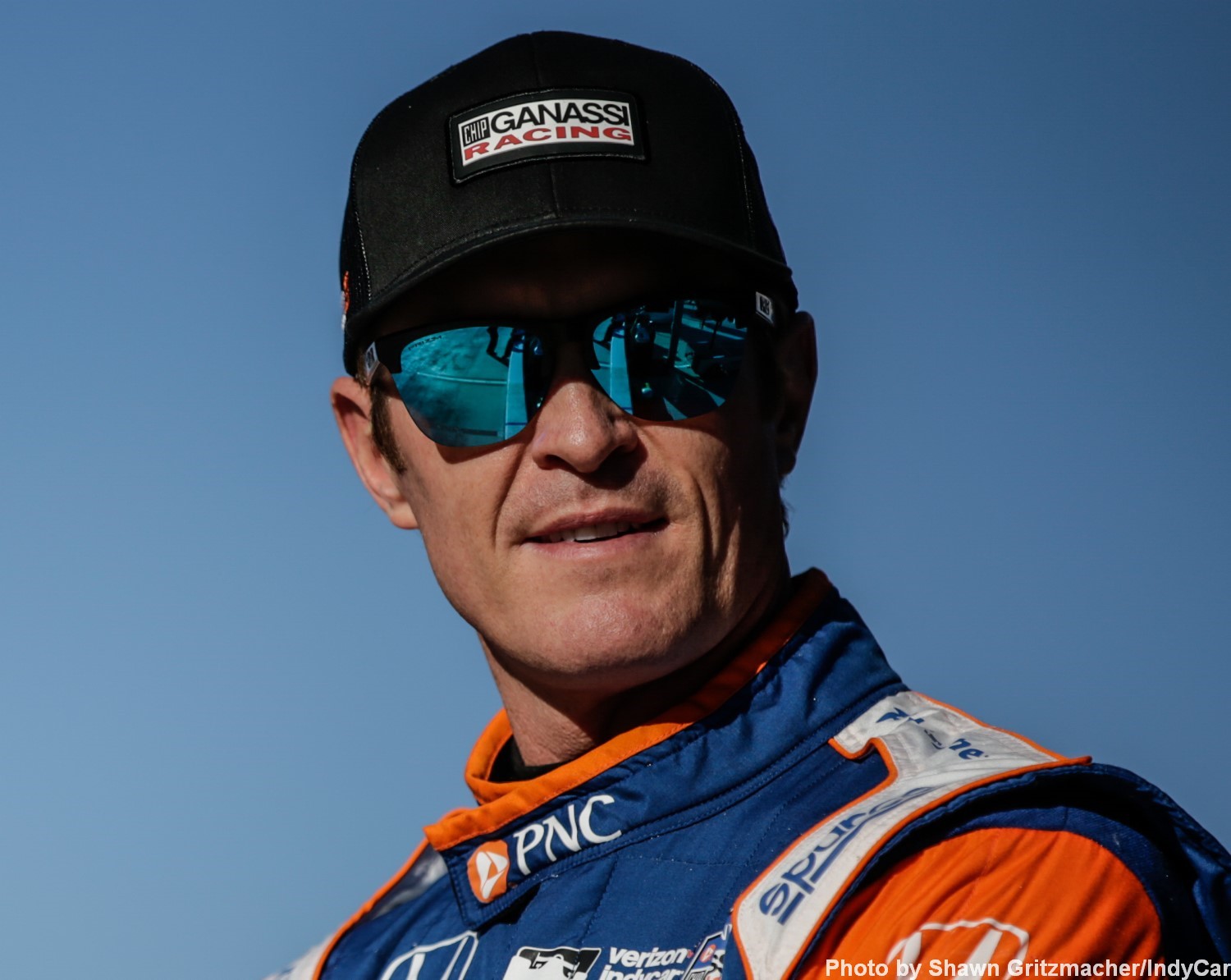 Scott Dixon knows 50 million people watch every F1 race around the world, compared to 0.5 million for IndyCar. He cannot blame Hartley for choosing F1
Scott Dixon believes Brendon Hartley have regretted not moving to Formula One at the end of 2017.
Hartley was on the verge of joining Dixon's Chip Ganassi Racing Indycar team, when the offer to drive for Toro Rossa dropped in the Kiwi's lap 12 months ago.
After spending his late teenage years in Red Bull Racing's Formula One development program, Hartley had a very successful world endurance stint, winning the championship series and Le Mans 24-hour race in 2017.
Those results re-ignited his Formula One dream, when Toro Rosso went looking for a driver to replace the dumped Daniel Kvyat and they turned to Hartley, who drove the last four races of the 2017 season.
The 28-year-old was offered and accepted a full-time drive earlier this year, but despite three point-scoring finishes, this season has been full of disappointment and frustration for the Palmerston North native.
Hartley had an offer on the table from Chip Ganassi Racing, when the F1 team came knocking and Dixon told Newshub that he thoroughly discussed the pros and cons of heading to motorsports pinnacle category with his fellow Kiwi.
"I spoke to him many times about it and we agreed he would have regretted his decision had he not gone," Dixon said.
"It's a tough situation. Brendon is still young enough and not many people get a second chance at Formula One, so I think it was something that, in his mind, he had to do it.
"Brendon has had an unfortunate season with a long list of things going wrong, but he has held strong and he has matured so much as a driver, since we first saw him jump in Formula One.
"I just really hope it works out for him."
Hartley's future is unclear, with suggestions he may be on the chopping block at the end of the season opening up the possibility of joining Dixon in the United States.
That will be determined in a few months' time, but Dixon is already focused on repeating the tremendous success of 2018.
The 38-year-old, currently back in New Zealand to promote his documentary Born Racer: The Scott Dixon Story, won his fifth IndyCar Championship this year, leaving him second on the all-time list behind the legendary AJ Foyt.
Dixon's 43 wins is the most for a foreign driver in the series and third overall.
The Kiwi is motorsport royalty in the United States and he doesn't plan on slowing down.
"I want more race wins," Dixon told Newshub. "I'm addicted to winning.
"For me, the Indy 500 is a focus, but you just want to keep winning.
"We will gun for six [championships] – that's the goal for next year.
"So, two big goals for next season – win the Indy 500 and win another championship."
And Dixon doesn't believe New Zealanders quite grasp the enormity of the IndyCar series and particularly the Indy 500.
An unprecedented 400,000 fans pack the track out for the iconic race every year, and with legendary names such as Foyt, Andretti, Juan Pablo Montoya, Nigel Mansell, Rick Mears and Jacques Villeneuve all claiming championship titles, the quality of the drivers, at the top end of the grid, is on par with Formula One.
"The Indy 500 itself is still the largest one-day sporting event in the world," Dixon noted.
"I am pretty biased, but I have been to Olympic Games, Football World Cup finals and Super Bowls, and nothing really compares.
"Just the atmosphere, to have that many people in one space, just to hear those conversations when you are walking out of gasoline alley to the tradition that's been going on for over 100 years – you have generations of families that have been sitting in the same seats for 80 plus years.
"It's definitely something that everyone needs to check out – it's a bucket-list item
"It's a big event, it's a big production, it's a big show and they do a good job on race weekends." newshub
Arrivabene: Video games a 'competitor' to F1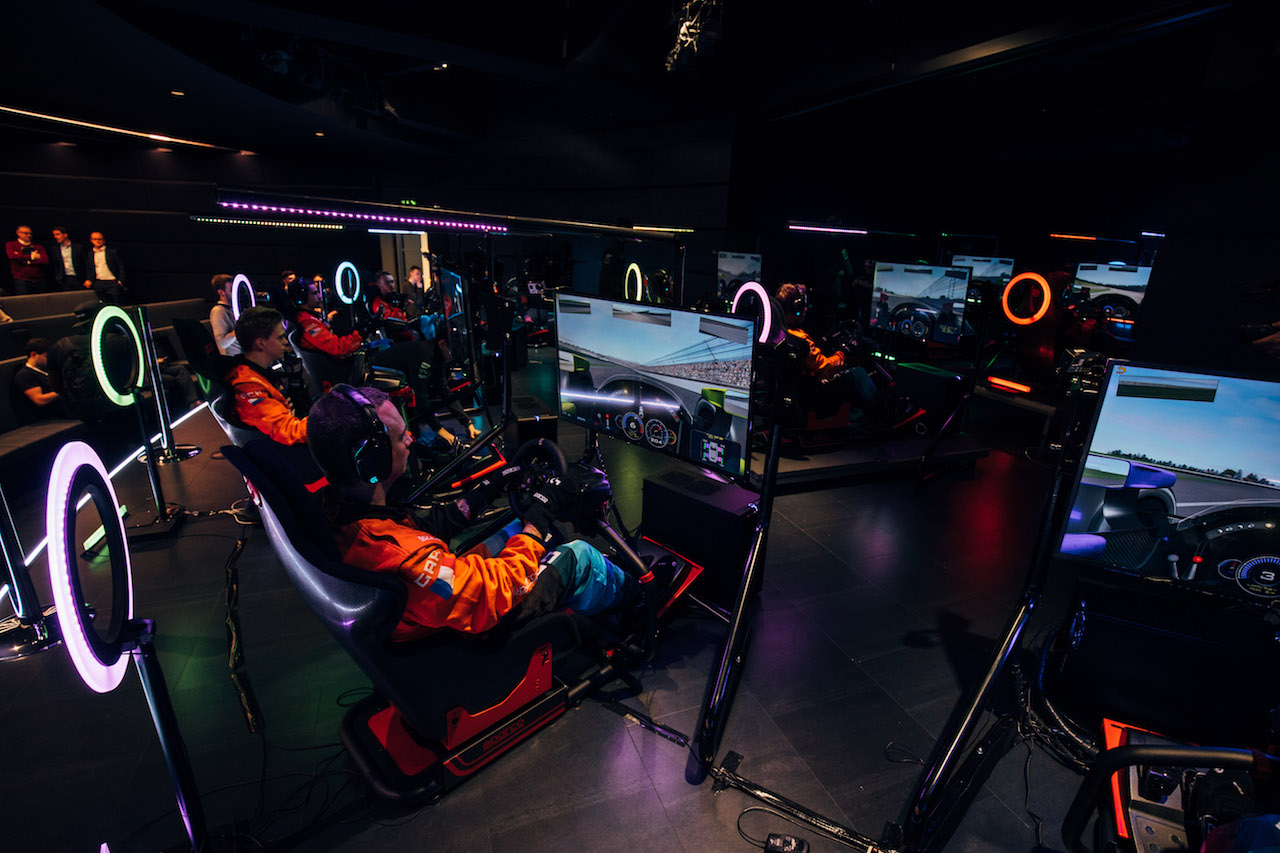 Today's younger generation want to engage not just watch
Formula 1 faces competition from video games for the attention of racing fans and must be aware of that threat as well as improving competition, says Ferrari boss Maurizio Arrivabene.
"Our competitors today, and this is my personal opinion, they are the PlayStations," said the Ferrari team principal.
"Most probably we need to switch our mind and focus attention on our competitors.
"Today we have a broad offer of entertainment and we need to look at everything, not only certain sports or trying to equalize everything.
"Is the PlayStation our competitor? In my opinion, yes.
"What do you have to do to beat the PlayStations? You have to do something that is more interesting, most probably.
"Today the offer is bigger than many years ago."
"We need to be honest with ourselves [and ask] 'How is the level of interest in F1 vs yesterday?'" he said.
"What we need to do is not the budget cap – it is one of the solutions but is not the only solution.
"We need to relaunch the sport, it is kind of a complicated and complex equation.
"If at a certain point the audience is becoming older, older, older and you work to maintain what you have and your attention is less focused on acquiring the younger generation, that means you have a problem.
"And you have to find a solution."
F1 investigating helmet cameras
Formula 1 is looking at the possibility of running a camera fitted to Fernando Alonso's helmet before the end of the season.
The camera is designed to give fans more of a drivers' eye view from inside the car, rather than the roll hoop cameras or those fitted to the side of the airbox.
It's understood helmet supplier Bell has a design that would accommodate the camera, and Alonso was close to using it in Austin last weekend.
The camera would have been fitted to the outside of Alonso's helmet, though work is underway to develop one that fits inside the padding alongside the driver's eye line.
"We were thinking to test the camera together with Bell and FOM but at the end it didn't happen this weekend," said Alonso.
"I don't know if it's going to happen in the next weekends. It will be good to experiment.
"Maybe for the last race or something it would be a nice memory to have."
The internal design would need to be approved by the FIA, which homologates all helmet designs from a safety standpoint.
There are also broadcast considerations that are being taken into account with the quality and reliability of the picture also critical in the camera's implementation.
In recent years driver eye videos have become increasingly common, though are primarily pre-recorded – often with an action camera fixed to the helmet but also using a pair of 'video glasses' worn by the driver.
Hamilton empathizes with backmarkers, lays blame at current F1 car design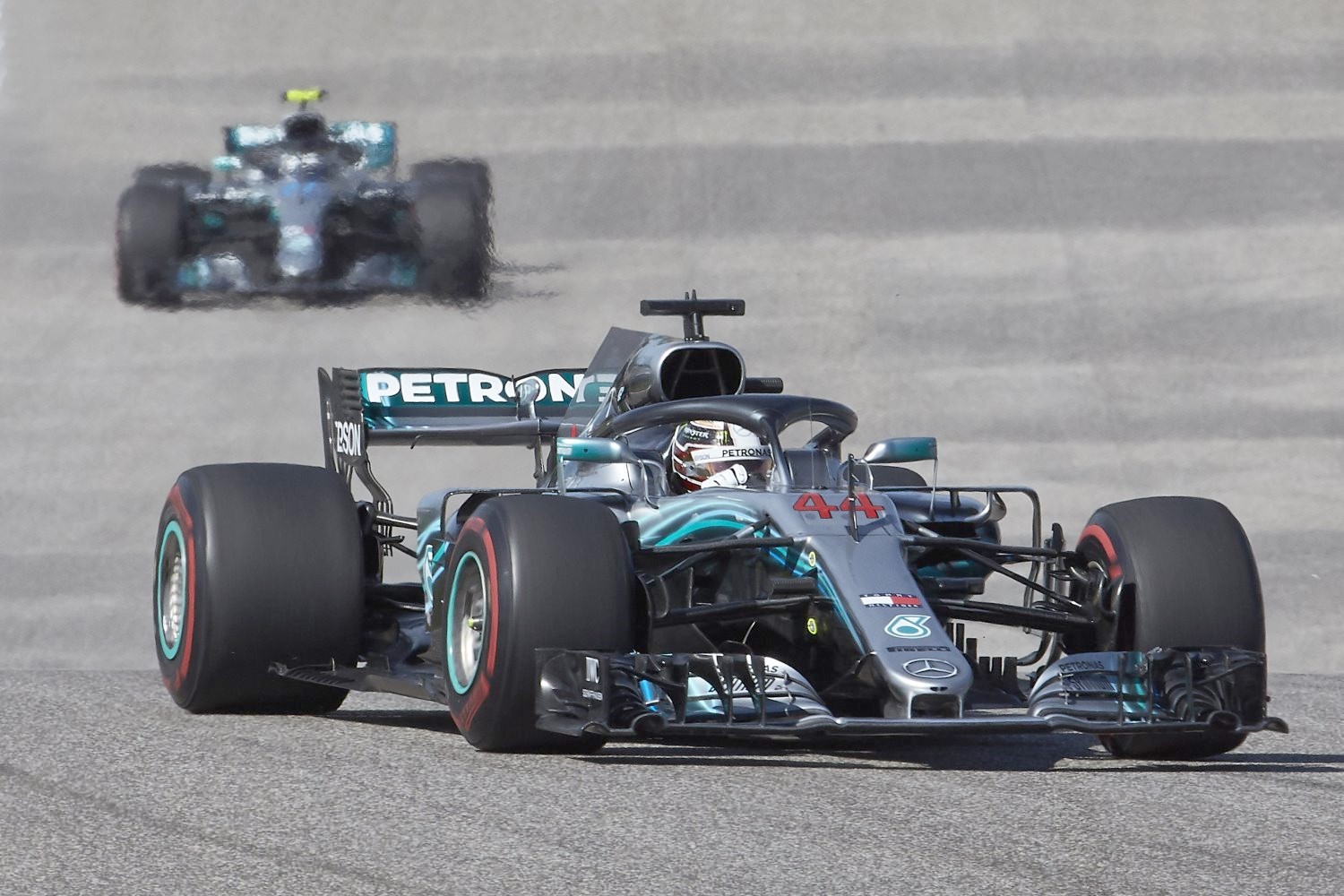 F1 wanted wide tires. Now they have them. Makes passing harder as they create more turbulence
Mercedes' Lewis Hamilton has defended Formula 1's slower teams, after claims that he got frustrated with getting caught in slower traffic during the United States Grand Prix.
The lead trio of Kimi Raikkonen, Max Verstappen and Hamilton had the challenge of overhauling lapped traffic through the closing stages of a pulsating race at Austin.
Raikkonen expressed displeasure with one of the Williams drivers while Hamilton sternly called for blue flags while getting caught up in the traffic.
When asked if lapped cars should face further action if they don't promptly move out of the way for the leaders, Hamilton said: "I don't think it's entirely the backmarkers' fault, as I said here, tire pressures had gone up, it's very hard to follow.
"So as soon as you get within, it's even five seconds, you feel the wake from the car, it hits. The car starts sliding more, so the advantage you have starts to disappear the closer you get.
"They've got a race to do, they shouldn't have to let off massively to give several seconds to you, so it's a bit of a difficult scenario.
"For example, I was stuck behind two Toro Rossos, but I couldn't get close enough as the tires were getting worse and worse and I wasn't getting close enough for them to lift off. So it is a difficult one. It wasn't anywhere near as bad as somewhere like Singapore for example."
Too hard to follow, hopes for changes in 2021
The championship leader has put a large part of the blame on the design of the current generation of cars, which make it extremely difficult for drivers to follow each other in close proximity.
Hamilton is hoping his former Mercedes boss Ross Brawn, who is now F1's director of motorsport, can help shape the regulations for 2021 and beyond in a way which can allow for much closer racing.
He added: "[There are] still fundamental issues in Formula 1 being that you can't follow, so there are still big gaps between us all, so I really, really hope what Ross, the team and the guys are doing.
"I hope they're making some good decisions for 2021 so that there is not a second and a half that you need to get close to a car, hope it's a lot less than that.
"If we can get a lot less than that, we can have the best racing series ever.
"Naturally, I think that's a fundamental issue of the sport. There shouldn't be such a difference first and last. Shouldn't be such a massive difference between cars.
"How a Williams or McLaren can be seconds off a lap, that's a huge amount of performance.
"I think they've got to change the rules to allow that gap to close so we can have more awesome racing. It's got the potential to be the greatest racing series there is.
"Look at MotoGP and they're fighting wheel to wheel, corner to corner." motorsportsweek