Storms, Lowndes wins Enduro Cup and McLaughlin leads Series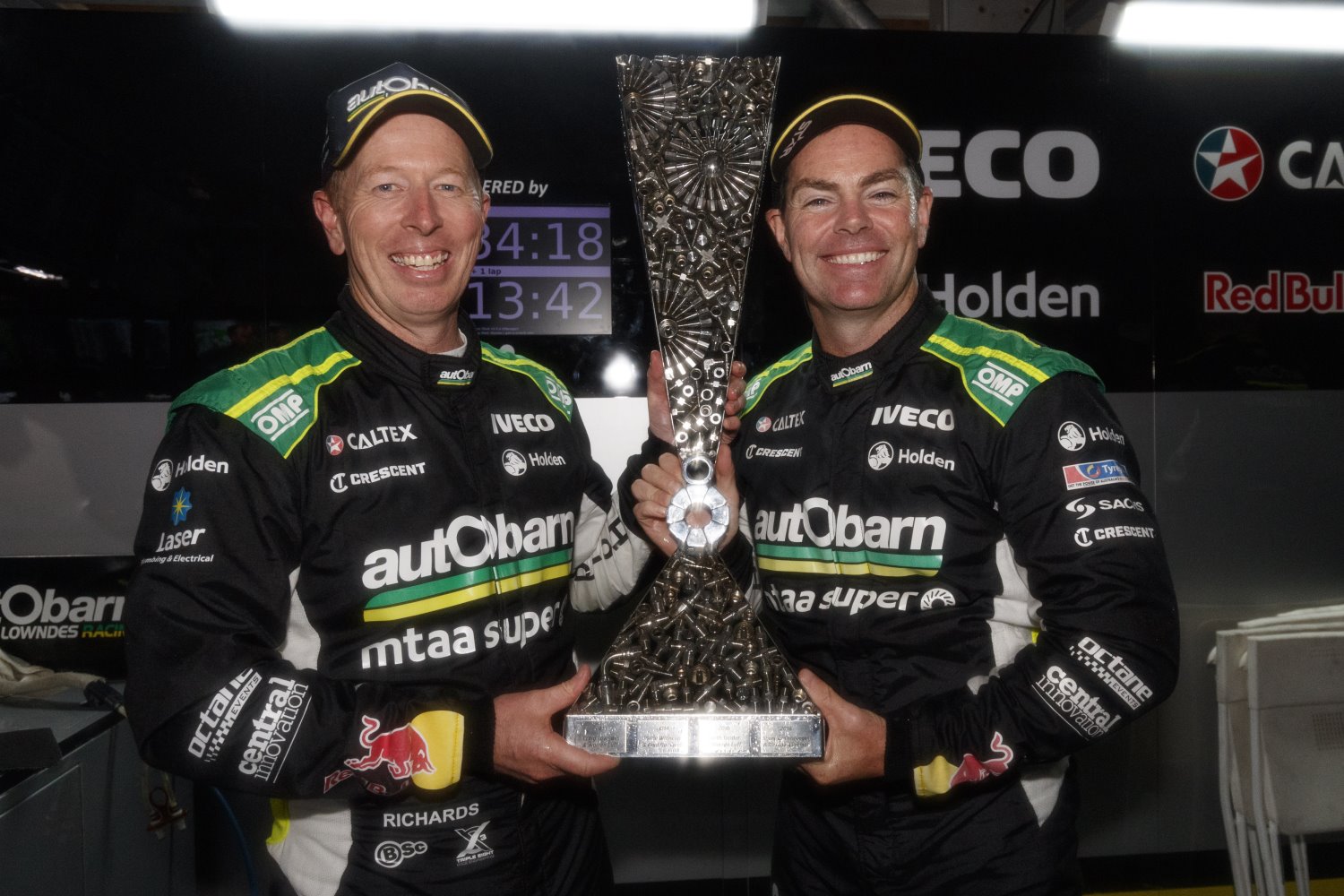 Steven Richards and Craig Lowndes celebrate endurance title
Scott McLaughlin and Shane van Gisbergen head home locked in a 14-point, two-way battle for this year's Virgin Australia Supercars Championship after the second race of the Vodafone Gold Coast 600 was abandoned this afternoon.
The two Kiwis emerged from a massive storm which halted the race twice before officials called a stop as the rain poured down and parts of the track all but flooded.
No trophies were awarded apart from Bathurst winners Craig Lowndes and Steven Richards taking the PIRTEK Enduro Cup as the winners of the endurance season.
With two events remaining – the ITM Auckland SuperSprint and the Coates Hire Newcastle 500 – McLaughlin held his Championship lead from Saturday heading to Pukekohe Park Raceway.
McLaughlin was two places in front of Van Gisbergen when the race was abandoned after the pair went toe to toe in an epic Saturday race.
"At the end of the day it's safety first for everyone. It was pretty wet out there not just for us but for the officials," McLaughlin said.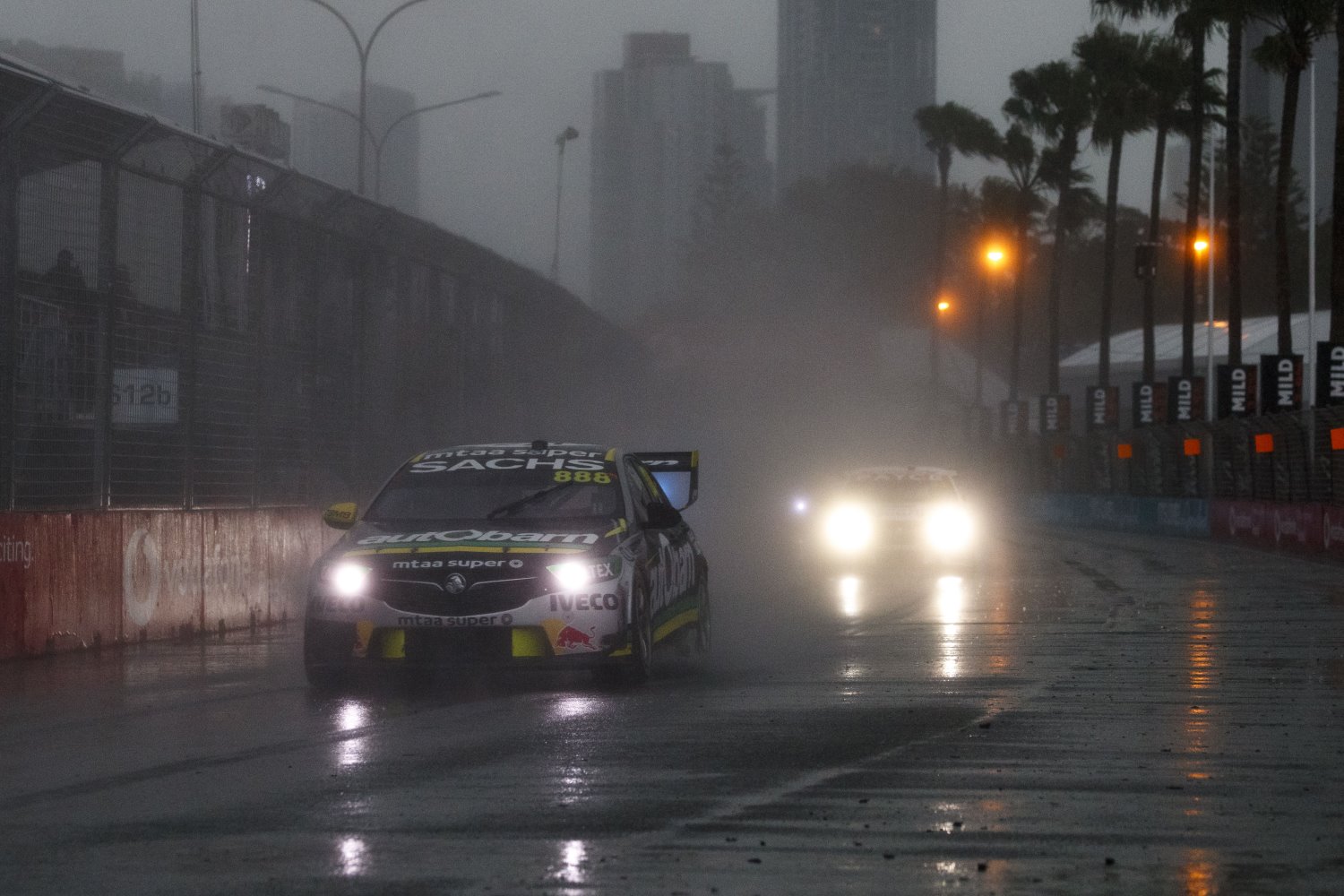 Heavy rain forced the race to be red-flagged and eventually stopped
"It's been neck and neck the whole time. Me and Shane are battling hard. Coming out of here we know they are going to be very strong to get the Championship lead is nice.
"You always pick up a little bit at home but it's a pity the other bloke is a Kiwi as well. It's going to be another battle there and we will keep pressing on. It's a little lead but it's a lead."
Lowndes and Richards sealed the PIRTEK Enduro Cup with their third on Saturday and needing to only finish 14th or higher today. In the end there was no need.
It was the last time the pair will drive together with Lowndes stepping away from fulltime driving next year. He will team up with Jamie Whincup or Shane van Gisbergen in next year's PIRTEK Enduro Cup.
"What a weekend. Yesterday we qualified poorly and stormed back through the field, today we qualified well and the storm came," said Lowndes.
"It's been a hell of a run. Last race with Richo it's special to be able to take this (the PIRTEK Enduro Cup) back to the workshop with both our names on it."
Richards would all but be assured of another co-drive next year, just not with Lowndes.
"Right from the outset when I first drove this car I couldn't believe how good it was," Richards said. "This was the one trophy I hoped to get hold off before I finished driving and here it is."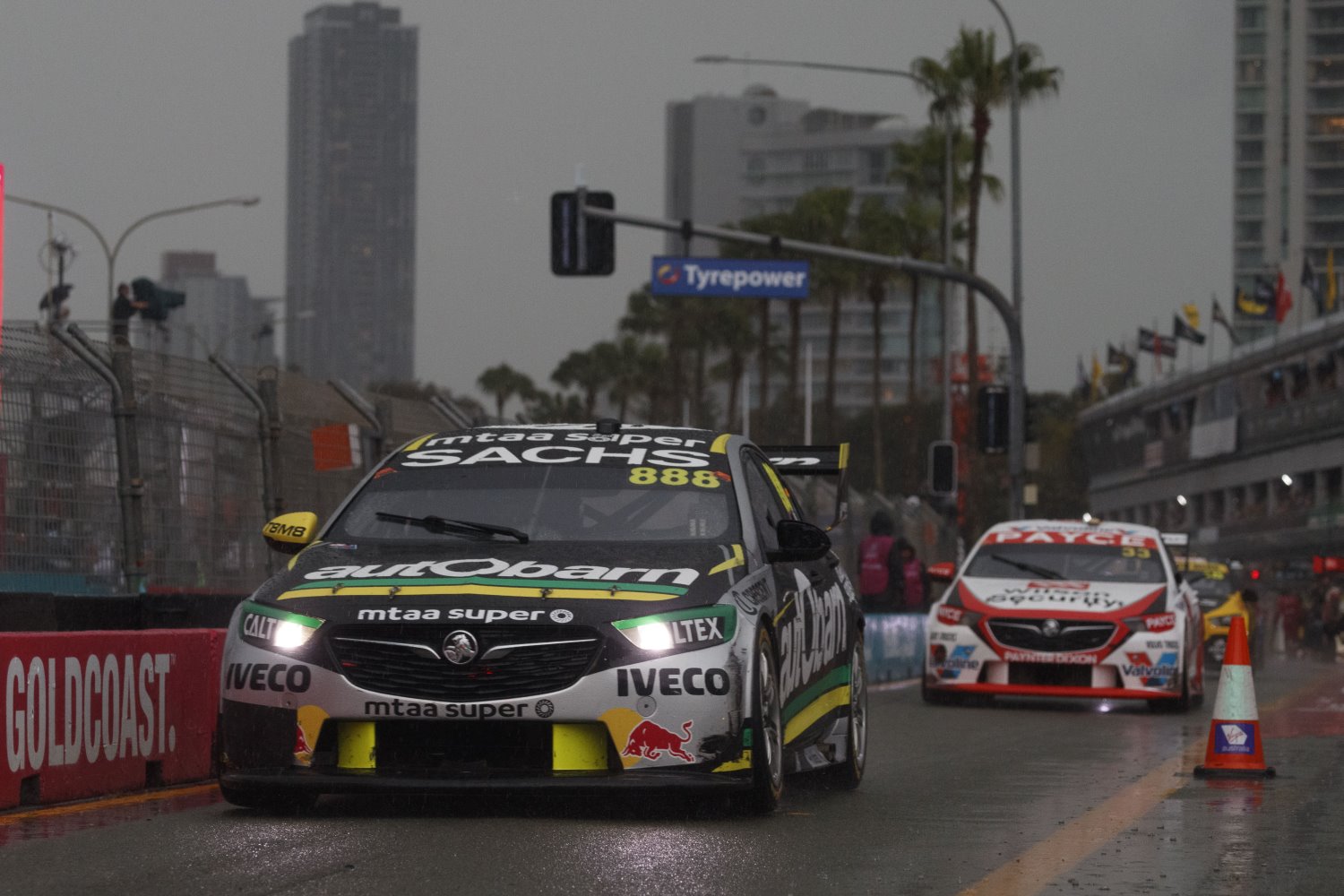 Lowndes on pitlane in Surfers
With storms looming the pressure was on the co-drivers for a clean start before handing back to the primary pilots. As expected the storm came, forcing the race to be suspended at lap 37.
Standing water and rivers running across the track surface were the chief concerns, and a second attempt to restart proceedings only lasted another five laps behind the Safety Car.
The race was suspended again at 4:10pm local time, as the conditions further deteriorated.
It was ultimately cancelled at 4:25pm, 4:48pm AEST having been the time certain finish, declared a non-race with no points awarded.
Craig Lowndes (#888) – Holden Commodore ZB
"We came into today knowing what we needed to do to win the Enduro Cup, but the heavens opened. We had some issues and some dramas coming into this weekend, but Richo (Steven Richards) did a magnificent job, I'm really proud of him. To cap off the five years we've been together with this win, it's a real treat and a credit to everyone here in the team. The car was really nice all weekend. They definitely made the right call with the weather. I couldn't believe we were still circulating out there with the conditions as they were. I believe there was no way they could restart the race. It was really dangerous, they would have hurt someone and destroyed cars. The right choice was finally made. It's unfortunate for the fans, but for us and everyone involved it's definitely the right choice."
Steven Richards
"It's unbelievable! We've had some pretty good luck this weekend and this takes the cake. The weather might have not saved our bacon, but it definitely helped having the race stopped. We've had so many highs, then we almost had a bit of a low with everything going on in this race, but it's worked out fantastic. Craig (Lowndes) and I have had five great years together, we go and have a good time when we're doing this, as well as taking it very seriously. From my perspective as a co-driver, the Enduro Cup is one of the boxes I always wanted to tick."
Scott McLaughlin
"Our objective this weekend was to close the championship gap, and we're leaving with the championship lead. It's a slender lead, but it's good to have the orange numbers back as we head to my home event in New Zealand. The cars and the team are strong, I love racing at Pukekohe and I'm really excited to head back there. Alex was amazing again this year, helping to get our championship back on track. Finishing second with him in the Pirtek Enduro Cup is great reward, so a big thanks to him."
Standings At Red-Flag
| | | | | |
| --- | --- | --- | --- | --- |
| POS | # | DRIVER | TEAM | TIME |
| 1 | 99 | A. de Pasquale W. Brown | Erebus Motorsport | 1:39:22.318 |
| 2 | 230 | Davison A. Davison | Milwaukee Racing | +1.230 |
| 3 | 7 | Heimgartner A. Russell | Nissan Motorsport | +2.184 |
| 4 | 34 | J. Golding R. Muscat | Wilson Security Racing GRM | +2.687 |
| 5 | 25 | Courtney J. Perkins | Mobil 1 Boost Mobile Racing | +3.723 |
| 6 | 55 | Mostert Moffat | Supercheap Auto Racing | +5.016 |
| 7 | 17 | McLaughlin A. Premat | Shell V-Power Racing Team | +5.997 |
| 8 | 9 | Reynolds L. Youlden | Erebus Motorsport | +7.627 |
| 9 | 97 | Van Gisbergen E. Bamber | Red Bull Holden Racing Australia | +10.664 |
| 10 | 888 | Lowndes S. Richards | Team Vortex | +12.632 |
| 11 | 33 | Tander C. Pither | Wilson Security Racing GRM | +14.613 |
| 12 | 18 | Holdsworth Bright | Preston Hire Racing | +15.937 |
| 13 | 21 | Blanchard Wood | CoolDrive Racing | +17.274 |
| 14 | 78 | S. De Silvestro A. Rullo | Nissan Nismo | +18.292 |
| 15 | 5 | Winterbottom D. Canto | The Bottle-O Racing Team | +20.457 |
| 16 | 2 | S. Pye W. Luff | Mobil 1 Boost Mobile Racing | +21.358 |
| 17 | 14 | Slade Walsh | Brad Jones Racing | +23.051 |
| 18 | 15 | R. Kelly G. Jacobson | Nissan Motorsport | +23.373 |
| 19 | 12 | Coulthard T. D'Alberto | Shell V-Power Racing Team | +24.176 |
| 20 | 56 | R. Stanaway S. Owen | Tickford Racing | +25.300 |
| 21 | 23 | Caruso D. Fiore | Nissan Nismo | +25.991 |
| 22 | 6 | C. Waters D. Russell | Monster Energy Racing | +27.469 |
| 23 | 35 | T. Hazelwood B. Fullwood | Bigmate Racing | +27.802 |
| NC | 8 | Percat M. Jones | Brad Jones Racing | +8 Laps |
| NC | 1 | Whincup P. Dumbrell | Red Bull Holden Racing Australia | +13 Laps |
| NC | 19 | J. Le Brocq J. Webb | TEKNO Woodstock Racing | +23 Laps |
DRIVERS' CHAMPIONSHIP POINTS
1.
Scott McLaughlin
3368
-0
2.
Shane Van Gisbergen
3354
-14
3.
Jamie Whincup
2935
-433
4.
Craig Lowndes
2925
-443
5.
David Reynolds
2687
-681
6.
Chaz Mostert
2438
-930
7.
Fabian Coulthard
2354
-1014
8.
Rick Kelly
2281
-1087
9.
Scott Pye
2248
-1120
10.
Nick Percat
2053
-1315
TEAMS' CHAMPIONSHIP POINTS
1.
Triple Eight Race Engineering (Whincup/SVG)
6259
-0
2.
Shell V-Power Racing Team
5722
-537
3.
Tickford Racing (Mostert/Winterbottom)
4312
-1947
4.
Brad Jones Racing
4065
-2194
5.
Erebus Motorsport
4006
-2253
6.
Walkinshaw Andretti United
3973
-2286
7.
Nissan Motorsport (Kelly/Heimgartner)
3723
-2536
8.
Garry Rogers Motorsport
3152
-3107
9.
Triple Eight Race Engineering (Lowndes)
2925
-3334
10.
Nissan NISMO (Caruso/De Silvestro)
2669
-3590