Vettel leads Ferrari one-two in USGP practice 3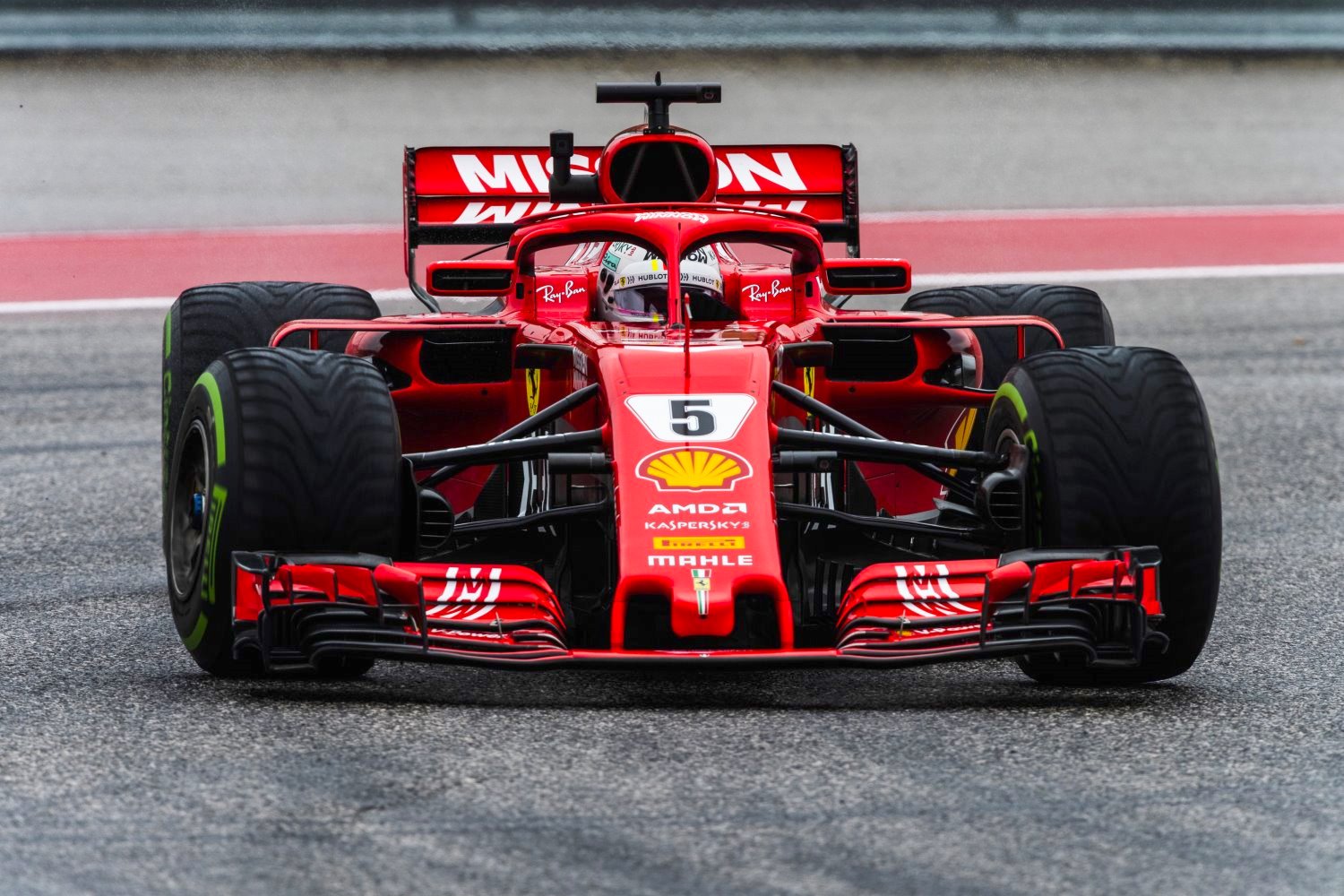 Sebastian Vettel
Ferrari made the most of the dry running to top the final hour ahead of qualifying, with Sebastian Vettel leading teammate Kimi Raikkonen by just 0.046s – and title rival Lewis Hamilton by only 0.073s.
After the leading trio there was a gap of over half a second back to Hamilton's Mercedes teammate Valtteri Bottas, and the Red Bull duo of Max Verstappen and Daniel Ricciardo. Then came Sauber's Charles Leclerc and Force India's Sergio Perez, with Renault's Carlos Sainz and Haas's Romain Grosjean completing the top ten.
With the teams needing to do both race and qualifying preparation work, few drivers spent much time in the garage, and all three tire compounds saw their fair share of action. The varied programs also meant that not too much should perhaps be read into the lap times.
At the start of the session a 20 percent chance of rain was forecast, but mercifully it stayed away and it was Ferrari who set the early pace on the ultrasoft tires, with Raikkonen initially heading Vettel.
Bottas then all but matched them on the supersofts midway through the hour, before the scarlet cars pulled clear once more on the quicker, purple-marked rubber – the only compound the Scuderia ran. Late, ultrasoft runs from all then saw the times close right up at the top.
In a relatively drama-free session, Brendon Hartley had an early surprise when the aero-fairing came away from his Toro Rosso's cockpit halo, brushing the New Zealander's helmet as it flew off. He was also the only man to spin, when he lost the rear of his car through the penultimate turn in the dying minutes.
And as team mate Pierre Gasly did on Friday, Hartley has now taken on Honda's latest power unit updates, meaning that – like the Frenchman – he too will start Sunday's race from the back of the grid.
Practice 3 Results
| | | | | | | |
| --- | --- | --- | --- | --- | --- | --- |
| POS | NO | DRIVER | CAR | TIME | GAP | LAPS |
| 1 | 5 | Sebastian Vettel | Ferrari | 1:33.797 | +0.000s | 20 |
| 2 | 7 | Kimi Raikkonen | Ferrari | 1:33.843 | +0.046s | 21 |
| 3 | 44 | Lewis Hamilton | Mercedes | 1:33.870 | +0.073s | 23 |
| 4 | 77 | Valtteri Bottas | Mercedes | 1:34.556 | +0.759s | 21 |
| 5 | 33 | Max Verstappen | Red Bull Renault | 1:34.703 | +0.906s | 21 |
| 6 | 3 | Daniel Ricciardo | Red Bull Renault | 1:34.910 | +1.113s | 20 |
| 7 | 16 | Charles Leclerc | Sauber Ferrari | 1:35.365 | +1.568s | 21 |
| 8 | 11 | Sergio Perez | Force India Mercedes | 1:35.411 | +1.614s | 21 |
| 9 | 55 | Carlos Sainz | Renault | 1:35.450 | +1.653s | 21 |
| 10 | 8 | Romain Grosjean | Haas Ferrari | 1:35.468 | +1.671s | 19 |
| 11 | 31 | Esteban Ocon | Force India Mercedes | 1:35.562 | +1.765s | 22 |
| 12 | 10 | Pierre Gasly | Toro Rosso Honda | 1:35.713 | +1.916s | 27 |
| 13 | 20 | Kevin Magnussen | Haas Ferrari | 1:35.770 | +1.973s | 19 |
| 14 | 27 | Nico Hulkenberg | Renault | 1:35.882 | +2.085s | 19 |
| 15 | 9 | Marcus Ericsson | Sauber Ferrari | 1:36.000 | +2.203s | 21 |
| 16 | 18 | Lance Stroll | Williams Mercedes | 1:36.188 | +2.391s | 21 |
| 17 | 35 | Sergey Sirotkin | Williams Mercedes | 1:36.193 | +2.396s | 20 |
| 18 | 2 | Stoffel Vandoorne | McLaren Renault | 1:36.302 | +2.505s | 23 |
| 19 | 28 | Brendon Hartley | Toro Rosso Honda | 1:36.330 | +2.533s | 26 |
| 20 | 14 | Fernando Alonso | McLaren Renault | 1:36.332 | +2.535s | 20 |