BMW i Andretti fastest again on final Valencia test day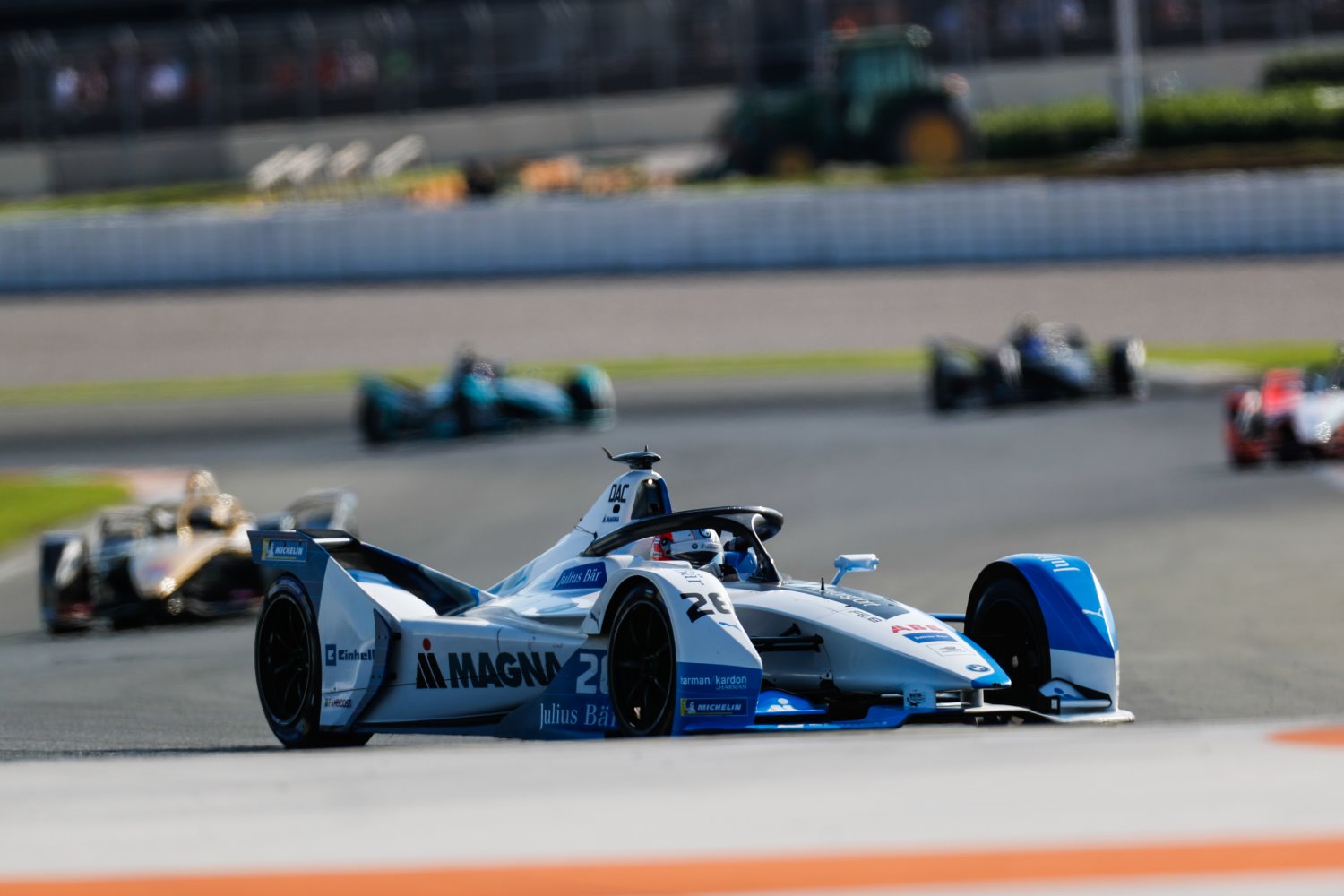 Antonio Felix da Costa
Antonio Felix da Costa set the pace at pre-season testing in Valencia, showing promising speed from BMW i Andretti Motorsport in their first season as a full factory team in the ABB FIA Formula E Championship.
After three days of testing at Circuit Ricardo Tormo with the new Gen2 machinery, Da Costa posted a best time of 1:16.977s – over three-tenths clear of his closest rival and reigning Formula E champion Jean-Eric Vergne for DS TECHEETAH.
Alexander Sims gave BMW a clean sweep of fastest times in Formula E's official 2018/19 pre-season testing at Valencia as he set the fastest lap of the final day.
Sims, who also topped the opening day of running at the Ricardo Tormo circuit, moved to the top of the times late-on with a 1m17.402s, pushing reigning FE champion Jean-Eric Vergne into second place.
BMW retains the test's fastest time, which was set by Antonio Felix da Costa during Wednesday's morning running, with Sim's Friday effort ending up 0.425 seconds adrift of that benchmark.
It was the first time the drivers were together on track with the new-look next generation car – boasting more power, performance and almost double the battery capacity. The teams had their work cut out getting acclimatised to the systems software and set-up – racking up mileage with race simulations and qualifying runs throughout testing.
Following storms in Spain during the rest day on Thursday and inclement weather continuing into Friday – there was limited chance to overhaul Da Costa's time set on day two.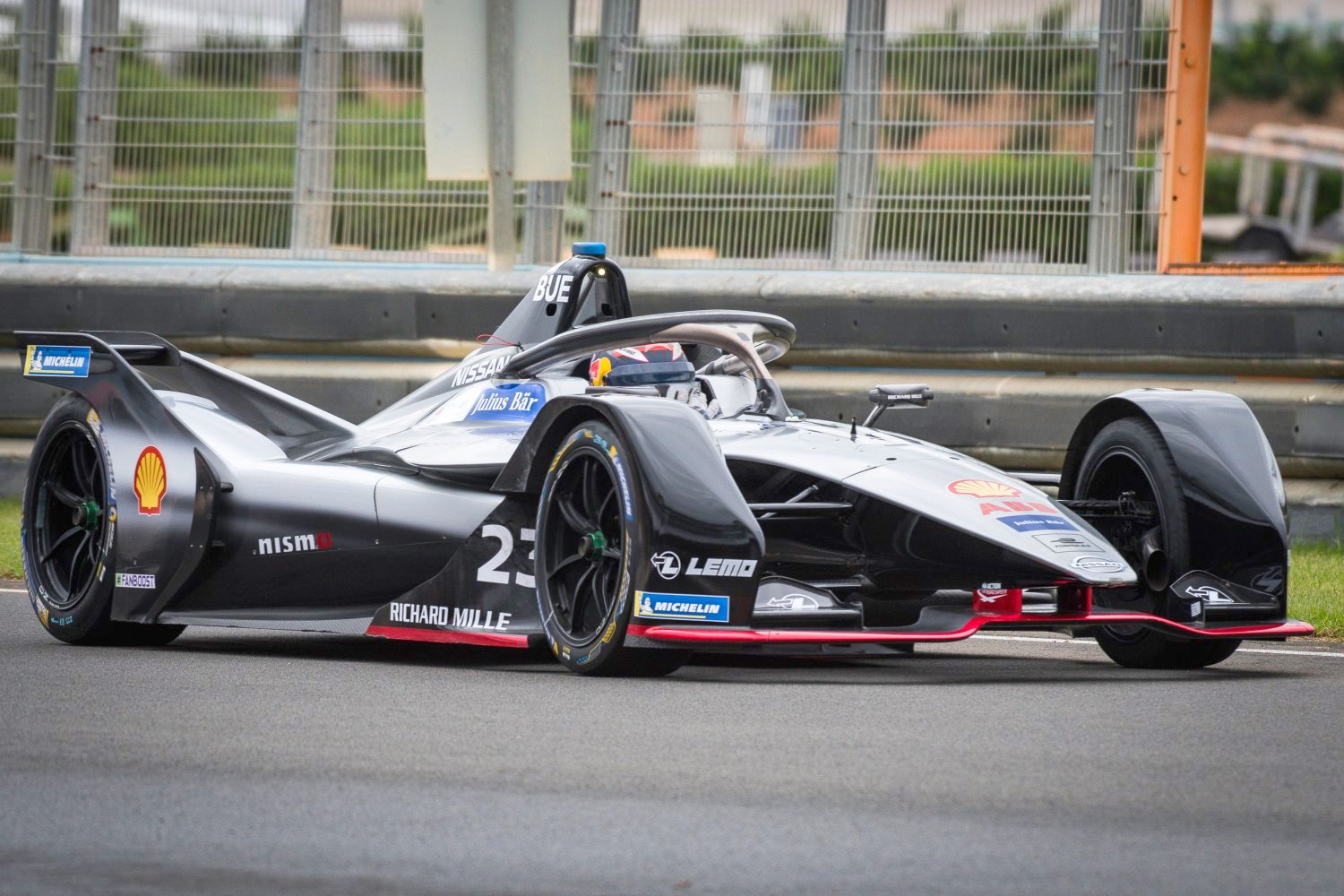 Buemi
It isn't just the car that's new for season five, there are plenty of fresh faces up and down the pitlane getting a first taste of Formula E. The new kid on the block – HWA RACELAB – ran through their programmes with Gary Paffett and Stoffel Vandoorne behind the wheel, as well as Dani Juncadella on the final day.
Antonio Fuoco and Maxi Gunther exchanged sessions for GEOX DRAGON with both vying for a race seat alongside Jose Maria Lopez.
Newly-named Nissan e.dams ran with season two champion Sebastien Buemi and one-time E-Prix entrant Oliver Rowland. Da Costa's team-mate Alexander Sims quickly got to grips with the BMW i Andretti Motorsport car, with Pascal Wehrlein (MAHINDRA RACING) and Felipe Massa (VENTURI Formula E Team) also busy preparing for their first competitive outing at the SAUDIA Ad Diriyah E-Prix on December 15.
QUOTES – TOP-THREE
Antonio Felix da Costa, BMW i Andretti Motorsport, said: "It's been very promising. We got off to a good start from the word go – so that was really positive. We've done a lot of testing – 15 days that each manufacturer gets – and we worked hard and went through a lot. It's nice to see that we're on the pace together with everyone on track. The track isn't very representative compared to our street circuits… so it's not like we can go away from here thinking we'll win the first race. But the performance definitely motivates everyone and I'm encouraged with the outcome of testing. I'm very excited for the new season – it's impressive what's going on here in this paddock. I never thought five years ago in Donington that we'd be here today with all these top drivers and manufacturers. The growth of this sport is remarkable."
Jean-Eric Vergne, DS TECHEETAH, said: "Testing has gone very well. I'm very pleased and we haven't had any issues. The team is working very well together and we have more people thanks to DS and a lot more resources – it's just a question of how to use them best. So far I've been very happy with what I've seen. I also see a lot of improvements in many areas and the car behaves well. There's still a lot to come with understanding the car and systems. We now need to go back and analyse everything ready for Ad Diriyah."
Alexander Sims, BMW i Andretti Motorsport, said: "All in all it was a really positive pre-season test in Valencia for BMW i Andretti Motorsport. I was a bit hesitant of how to judge things after the first session on Tuesday, but we've gone through all the different conditions, particularly with the rain today and a fairly green track this afternoon. I think we've managed different situations well with our BMW iFE.18 cars. Obviously, the track itself is still unrepresentative but nevertheless we've been competitive in all conditions. I learned a lot from my side as the team was able to put me through different runs and set-ups, which has been really beneficial."
2018/19 – Official pre-season testing (Combined fastest times over three days)
1 – Antonio Felix da Costa, BMW i Andretti Motorsport, 1:16.977s
2 – Jean-Eric Vergne, DS TECHEETAH, 1:17.342s
3 – Alexander Sims, BMW i Andretti Motorsport, 1:17.402s
4 – Jerome D'Ambrosio, MAHINDRA RACING, 1:17.431s
5 – Andre Lotterer, DS TECHEETAH, 1:17.437s
6 – Sebastien Buemi, Nissan e.dams, 1:17.473s
7 – Lucas di Grassi, Audi Sport ABT Schaeffler, 1:17.535s
8 – Felipe Massa, VENTURI Formula E Team, 1:17.696s
9 – Edoardo Mortara, VENTURI Formula E Team, 1:17.729s
10 – Pascal Wehrlein, MAHINDRA RACING, 1:17.781s
11 – Daniel Abt, Audi Sport ABT Schaeffler, 1:17.819s
12 – Jose Maria Lopez, GEOX DRAGON, 1:17.830s
13 – Mitch Evans, Panasonic Jaguar Racing, 1:17.864s
14 – Maxi Gunther, GEOX DRAGON, 1:17.947s
15 – Stoffel Vandoorne, HWA RACELAB, 1:18.032s
16 – Robin Frijns, Envision Virgin Racing, 1:18.088s
17 – Sam Bird, Envision Virgin Racing, 1:18.115s
18 – Gary Paffett, HWA RACELAB, 1:18.164s
19 – Tom Dillmann, NIO Formula E Team, 1:18.217s
20 – Oliver Turvey, NIO Formula E Team, 1:18.240s
21 – Antonio Fuoco, GEOX DRAGON, 1:18.284s
22 – Nelson Piquet Jr, Panasonic Jaguar Racing, 1:18.498s
23 – Dani Juncadella, HWA RACELAB, 1:19.353s
24 – Oliver Rowland, Nissan e.dams, 1:20.416s
25 – Alexander Albon, Nissan e.dams, NO TIME SET
Day 3 Times
Morning times
| POS | DRIVER | TEAM | CAR | TIME | GAP | LAPS |
| --- | --- | --- | --- | --- | --- | --- |
| 1 | Antonio Felix da Costa | Andretti BMW | BMW | 1m24.870s | – | 29 |
| 2 | Jean-Eric Vergne | Techeetah | DS | 1m25.258s | 0.388s | 32 |
| 3 | Pascal Wehrlein | Mahindra | Mahindra | 1m25.519s | 0.649s | 38 |
| 4 | Alexander Sims | Andretti BMW | BMW | 1m25.567s | 0.697s | 27 |
| 5 | Lucas di Grassi | Audi | Audi | 1m25.659s | 0.789s | 40 |
| 6 | Sam Bird | Virgin | Audi | 1m25.912s | 1.042s | 29 |
| 7 | Sebastien Buemi | Nissan | Nissan | 1m25.972s | 1.102s | 46 |
| 8 | Felipe Massa | Venturi | Venturi | 1m26.027s | 1.157s | 39 |
| 9 | Maximilian Gunther | Dragon | Penske | 1m26.524s | 1.654s | 40 |
| 10 | Andre Lotterer | Techeetah | DS | 1m26.571s | 1.701s | 33 |
| 11 | Daniel Juncadella | HWA | Venturi | 1m26.655s | 1.785s | 32 |
| 12 | Jose Maria Lopez | Dragon | Penske | 1m26.872s | 2.002s | 35 |
| 13 | Nelson Piquet Jr. | Jaguar | Jaguar | 1m26.978s | 2.108s | 43 |
| 14 | Mitch Evans | Jaguar | Jaguar | 1m27.489s | 2.619s | 43 |
| 15 | Oliver Rowland | Nissan | Nissan | 1m27.705s | 2.835s | 36 |
| 16 | Tom Dillmann | NextEV | NIO | 1m27.921s | 3.051s | 34 |
| 17 | Oliver Turvey | NextEV | NIO | 1m27.950s | 3.080s | 28 |
| 18 | Gary Paffett | HWA | Venturi | 1m28.011s | 3.141s | 12 |
| 19 | Jerome d'Ambrosio | Mahindra | Mahindra | 1m28.163s | 3.293s | 38 |
| 20 | Daniel Abt | Audi | Audi | 1m28.906s | 4.036s | 16 |
| 21 | Edoardo Mortara | Venturi | Venturi | 1m29.024s | 4.154s | 21 |
| 22 | Robin Frijns | Virgin | Audi | 1m29.887s | 5.017s | 42 |
Afternoon times
| POS | DRIVER | TEAM | CAR | TIME | GAP | LAPS |
| --- | --- | --- | --- | --- | --- | --- |
| 1 | Alexander Sims | Andretti BMW | BMW | 1m17.402s | – | 51 |
| 2 | Jean-Eric Vergne | Techeetah | DS | 1m17.620s | 0.218s | 36 |
| 3 | Mitch Evans | Jaguar | Jaguar | 1m17.864s | 0.462s | 37 |
| 4 | Pascal Wehrlein | Mahindra | Mahindra | 1m17.888s | 0.486s | 30 |
| 5 | Maximilian Gunther | Dragon | Penske | 1m17.947s | 0.545s | 32 |
| 6 | Robin Frijns | Virgin | Audi | 1m18.088s | 0.686s | 49 |
| 7 | Gary Paffett | HWA | Venturi | 1m18.164s | 0.762s | 41 |
| 8 | Sam Bird | Virgin | Audi | 1m18.219s | 0.817s | 45 |
| 9 | Sebastien Buemi | Nissan | Nissan | 1m18.220s | 0.818s | 25 |
| 10 | Lucas di Grassi | Audi | Audi | 1m18.269s | 0.867s | 46 |
| 11 | Antonio Fuoco | Dragon | Penske | 1m18.284s | 0.882s | 35 |
| 12 | Jerome d'Ambrosio | Mahindra | Mahindra | 1m18.409s | 1.007s | 19 |
| 13 | Daniel Abt | Audi | Audi | 1m18.479s | 1.077s | 50 |
| 14 | Tom Dillmann | NextEV | NIO | 1m18.778s | 1.376s | 34 |
| 15 | Oliver Turvey | NextEV | NIO | 1m19.083s | 1.681s | 35 |
| 16 | Felipe Massa | Venturi | Venturi | 1m19.328s | 1.926s | 30 |
| 17 | Daniel Juncadella | HWA | Venturi | 1m19.353s | 1.951s | 39 |
| 18 | Oliver Rowland | Nissan | Nissan | 1m20.416s | 3.014s | 49 |
| 19 | Nelson Piquet Jr. | Jaguar | Jaguar | 1m21.997s | 4.595s | 41 |
| 20 | Andre Lotterer | Techeetah | DS | 1m23.048s | 5.646s | 56 |
| 21 | Antonio Felix da Costa | Andretti BMW | BMW | 1m23.121s | 5.719s | 16 |
| 22 | Edoardo Mortara | Venturi | Venturi | – | – | 0 |