Hamilton buries Ferrari in practice 2 for the USGP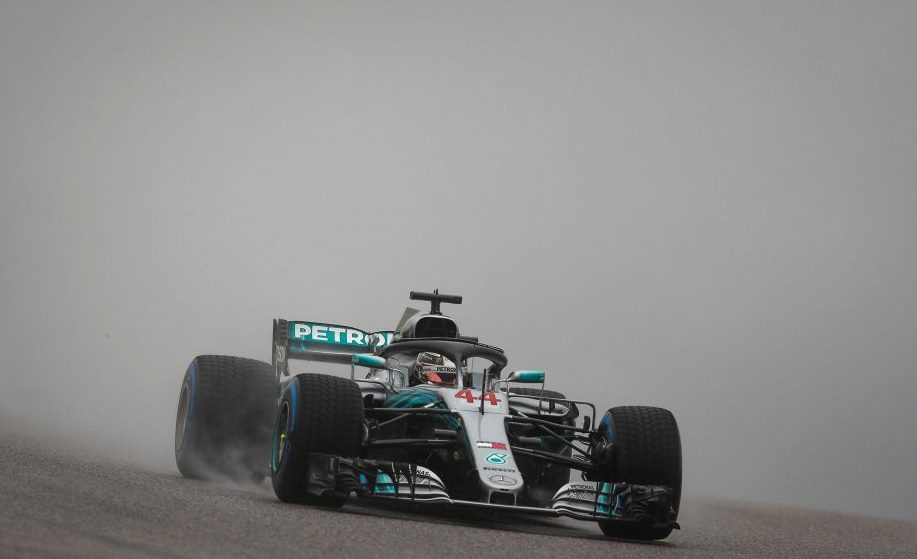 Lewis Hamilton will sit on pole, lead every lap, and wrap up his 5th title this weekend
Lewis Hamilton again dominated the 2nd practice session for the USGP in very wet conditions as the Aldo Costa designed Mercedes generates so much downforce the car looked like it was on rails, sucking the water right out of the asphalt.
The Ferrari of Raikkonen was 4.7 seconds slower and his teammate Vettel was 5.1 seconds slower. It's clear the new floor Ferrari brought to this race is a major step backwards. However, they saved a set of Intermediate tires so their tires were very worn having flogged around on them for 20 laps in the morning, plus another 10 or so in the afternoon. The tires were blistering.
Pierre Gasly was 2nd quick 1.012s behind Hamilton with Max Verstappen close behind for Red Bull.
Fernando Alonso rounded out the top-5 for McLaren 3 seconds behind Hamilton.
More rain is in the forecast for qualifying.
Quotes
Lewis Hamilton
It's not really been an eventful day – which is a shame because a lot of people came out today. The weather was miserable this morning; it looked like it was going to dry up going into FP2 but then all of a sudden the heavens opened again. In FP1 I only did a few laps because we need the tires to last until FP3 and there's very little to learn in the rain. In FP2 I waited to the end before I went out to see if the track had changed or the tires had dropped off a little bit for the next run from my previous laps. The car still felt good, but the track seemed a bit bumpier than in the past. The Intermediate tires provided pretty good grip for the wet conditions, but I don't think they will last very long. You can actually drive with quite a lot of standing water on the Inters, so finding the cross-over between the Extreme Wets and the Inters is going to be crucial as you can lose a lot if you get it wrong. Overall, I still enjoyed it – I love driving this track and it's great in the wet as well, so I got a little bit of excitement today.
Valtteri Bottas
It was a pretty boring day, just waiting for the rain to go away. The more tires we use today, the less tires we have for a potentially wet Qualifying session; so we'd rather run tomorrow than today given the tire allocation that we have. But even in the limited running that I was able to do this morning the car felt really good, despite the poor conditions. It seems to be a strong car in both the wet and the dry. The set-up for tomorrow and Sunday will be tricky given that no one was able to run the dry tires yet, but I guess that's when we will see how good our simulations are as our entire set-up will have to be based on simulations and all the hard work back at the factory, but not on on-track running. We have different tires compared to last year, the asphalt changed as well, so there are many question marks that will make finding the right race set-up and strategy difficult. So even if we get a good qualifying, there are no guarantees for Sunday – which makes the weekend really interesting.
James Allison
There really isn't a huge amount to say about today as the weather cut short any ambitions to look at the dry tires and to prepare for the race that we hope will be dry and the qualifying that we hope will at least be dry-ish. From the limited look that both drivers had at the car in FP1 and the brief outing that Lewis did in FP2 the car seems alright. However, I don't think that doing well in today's conditions is going to have a lot to do with winning the race on Sunday.
Sebastian Vettel
"There's not much you can learn from a session like the one we had today and it's been the same for everyone. We didn't do many quality laps but it was clear that on the wet we were not quick enough. As for the three-place grid penalty, I think that the stewards today were very specific in saying that my slowing down time was 27.7 seconds; I saw the red flag, had a look around to see whether there was any car stuck in the wall between turn 9 and 10, and slowed down to comply with the rules. They found it was too long a time, but I can't do much about that. The rules are clear and we know them, but I think a situation like this happened just this time, in these weather conditions, and on the wet you would go slower anyway.".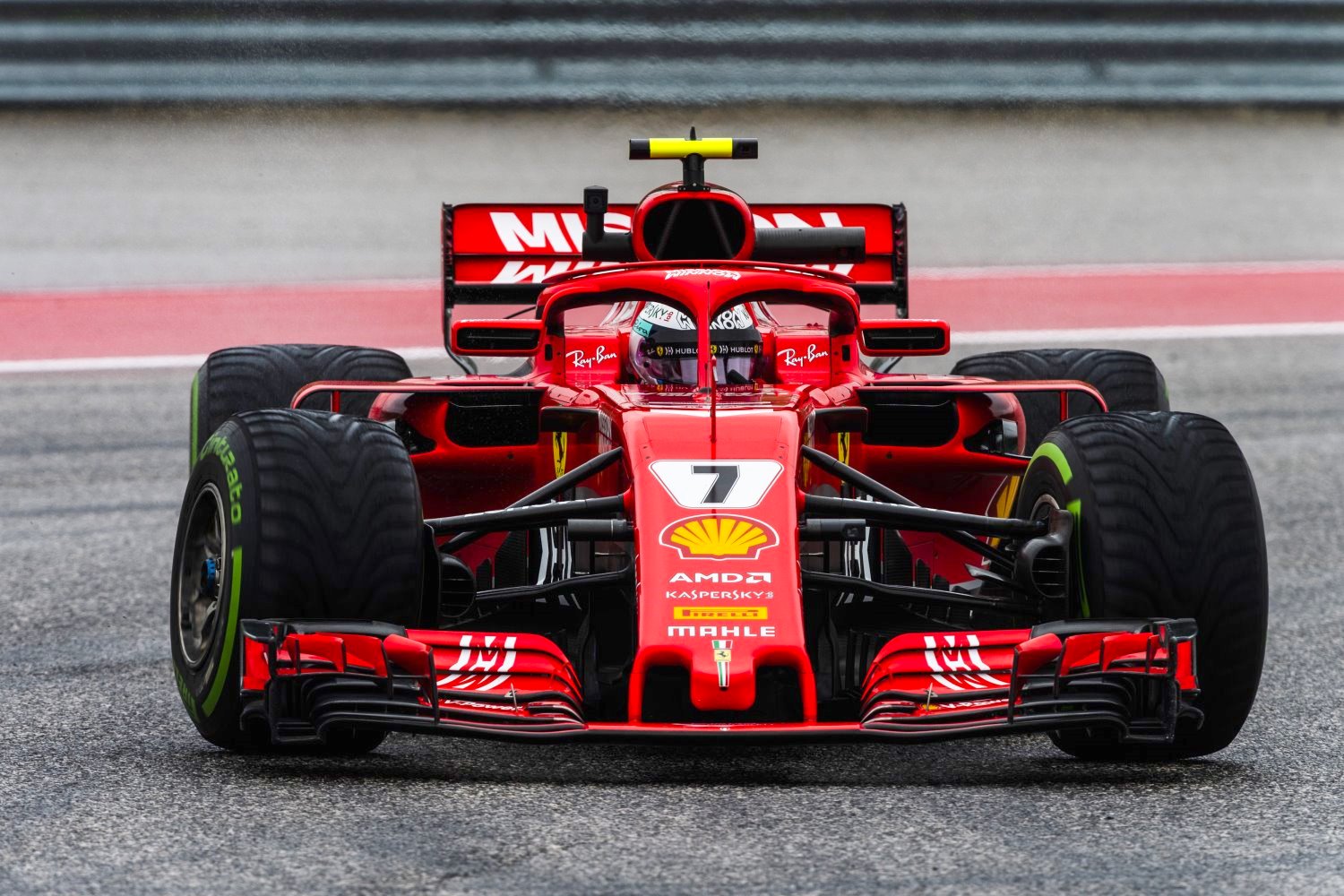 Kimi Raikkonen
Kimi Raikkonen
"Today not much happened; the conditions were quite tricky, but we tried to run as much as we could. We had one set that we could basically use without penalizing ourselves, because it's the extra set that we must give back. The remaining ones can be used for qualifying and the race, so we were limited in availability. I did not pay much attention to lap times, because towards the end of the afternoon session, after I had set my best time on the Full wet tires, the Intermediates we had at that time were quite worn. Through the sessions we made some progress, all in all it was OK, but it's not easy to have a clear picture. We had some new solutions to test but given the conditions, there was not much to learn from them. Now we'll try to make the best of it in the sessions that follow".
Pierre Gasly
"It was a positive day today. In the morning we struggled a bit to make the Intermediate tires work properly, but then we made some changes for FP2 and they seem to work much better. This afternoon I felt very good with the car and I really enjoyed driving in the wet conditions, especially on this amazing track, which in the rain is super exciting! Even if we didn't run much, I really liked the general feeling and the performance was there. Although not everybody went out, it's always nice to see us so high on the time sheet. Considering the penalty we will receive, which will see us start from the back, we now have to focus on having the fastest possible car for Sunday's race."
Sean Gelael
"Every time I do a free practice session it's wet, and today was no exception! It's a bit tricky because it was weather for wets at the start, then it became more dry towards the end for intermediates. We went out a bit early so I could get comfortable with the car, but as I gained more confidence I lost time with the tires as they started to grain at the front. Other than that the rest of the session was ok, there's room for improvement and we have good data which will help me and the team."
Brendon Hartley
"I missed today's morning session but I got some wet running in the afternoon and everything went pretty smoothly. I had the same issues as they had this morning, but the other car looked really exciting in terms of performance with the new engine and new aero package. I had the old aero package today, but if Pierre's performance is anything to go by, it looks quite promising for the future."
Jonathan Eddolls (Chief Race Engineer):
"It was great to welcome Sean back to the team for his FP1 duties, even if it wasn't ideal for him as, for whatever reason, almost every FP1 he's done with us it's rained! We had a big test program across the two cars; we planned to introduce a new aero package on Pierre's car, but given the tricky conditions in the first session we elected not to run it. This meant we didn't get to do the test items we planned, so we focused more on understanding how to operate the car at its best in the Intermediate conditions. It was still wet heading into FP2, but we wanted to learn about the new aero package so we fitted that to Pierre's car. Unfortunately, we couldn't carry out the intended rake work because it's tricky to judge an aero package in these conditions, but on face value it appears to be working well, which is really positive. We also tried to do a similar plan across the two cars to get some laps on the Wet and Intermediate tire, so there's a lot for us to go through tonight."
Max Verstappen
"These wet Fridays are always a bit boring. It was important to get out in order to understand our car better in these conditions, even if it was only a handful of laps. We tried a few things and collected some data but it is always hard in the rain to tell how the car responds to these changes. It felt pretty good at the end of the session so if it is wet tomorrow, or during the race we will hopefully be in good shape. I think after a day like this there are still a lot of unknowns, we just have to do our best tomorrow, whatever the weather and put ourselves in the best position for Sunday."
Daniel Ricciardo
"We would obviously have liked to run a bit more today but I a puncture in my first set of Intermediates this morning so we couldn't use that set again. If we had used another set in FP2 that could have taken a set away from us tomorrow in qualifying, which is obviously more important than running this afternoon. If we had more tires available, we would have seen more running. Fortunately, this morning we got a few laps in and understood a bit about the car in these conditions and we definitely felt an improvement from Monza. For sure the wet is exciting to drive in and it could change things up tomorrow, but if it's dry I think we also have a pretty good car, so I don't really mind what happens in qualifying. The race could be a bit more of a lottery if it's the first dry running we get. I don't know if Ferrari had a few struggles today but we looked to be ok. A podium would be good, in fact, a podium with a bit of brisket on the side and a cold beverage would be even better.
Toyoharu Tanabe (Honda F1 Technical Director):
"As confirmed this morning, Gasly's car was fitted with a new PU for this event and, also as planned, we will change the PU in Hartley's car tonight. This will involve grid penalties for both drivers but it's the best strategy from a team perspective for the last few races. The rain meant we ran a completely different program to a normal Friday and in FP2, the car balance was a good step forward from the morning session and overall the package seems well suited to this track. We look forward to running in better weather tomorrow."
Paddy Lowe, Williams Chief Technical Officer: A very frustrating day unfortunately, most particularly for the fans. We have fantastic spectators in Austin who've come a long way to watch the running and unfortunately with the weather, and limited range of tires, we didn't do much running. We ran in both sessions on both types of wet tire and did some experiments which gave us some limited information, which we hope will be useful should it be wet tomorrow for qualifying. We really hope we can have a proper session tomorrow and that we don't end up with a postponement as we had in 2015.
Sergey Sirotkin: It wasn't the busiest day out there, but I think we learned enough for tomorrow. Unfortunately, I think we were all tire limited so we couldn't really run and try too many things that we would have wanted to. I think we learned some interesting things in the morning, then in the afternoon we spotted some differences between the tire compounds in FP2. We wanted to see the crossover between the two tire sets as well as prepare ourselves for the many different situations that tomorrow's qualifying session might present. From what we could do today in terms of running, we did reasonably.
Lance Stroll: Today we just did bits and pieces, getting an eye for everything and feeling the grip in various parts of the circuit. We did the usual wet running, minimal laps were completed, but it was the same case for everyone. We thought it would be beneficial to go out to learn a thing or two. It is always challenging in the wet, but I think it was playing into our hands assuming that we would struggle in the dry this weekend, although I am always optimistic so did not assume this. Unfortunately, we had just three sets of tires which is not ideal and a shame for the fans with very little running on a day like this. We could definitely have run more if we would have had more tires, as although it was raining quite heavily at times, it was ok to run.
Practice 2 Results
| | | | | | | |
| --- | --- | --- | --- | --- | --- | --- |
| POS | NO | DRIVER | CAR | TIME | GAP | LAPS |
| 1 | 44 | Lewis Hamilton | Mercedes | 1:48.716 | +0.000s | 3 |
| 2 | 10 | Pierre Gasly | Toro Rosso Honda | 1:49.728 | +1.012s | 10 |
| 3 | 33 | Max Verstappen | Red Bull Renault | 1:49.798 | +1.082s | 5 |
| 4 | 14 | Fernando Alonso | McLaren Renault | 1:51.728 | +3.012s | 3 |
| 5 | 27 | Nico Hulkenberg | Renault | 1:52.208 | +3.492s | 6 |
| 6 | 28 | Brendon Hartley | Toro Rosso Honda | 1:52.505 | +3.789s | 19 |
| 7 | 9 | Marcus Ericsson | Sauber Ferrari | 1:53.070 | +4.354s | 9 |
| 8 | 2 | Stoffel Vandoorne | McLaren Renault | 1:53.354 | +4.638s | 10 |
| 9 | 7 | Kimi Raikkonen | Ferrari | 1:53.443 | +4.727s | 7 |
| 10 | 5 | Sebastian Vettel | Ferrari | 1:53.912 | +5.196s | 8 |
| 11 | 16 | Charles Leclerc | Sauber Ferrari | 1:54.101 | +5.385s | 9 |
| 12 | 18 | Lance Stroll | Williams Mercedes | 1:54.637 | +5.921s | 5 |
| 13 | 11 | Sergio Perez | Force India Mercedes | 1:54.963 | +6.247s | 6 |
| 14 | 31 | Esteban Ocon | Force India Mercedes | 1:55.348 | +6.632s | 6 |
| 15 | 35 | Sergey Sirotkin | Williams Mercedes | 1:55.446 | +6.730s | 8 |
| 16 | 55 | Carlos Sainz Jr. | Renault | NO TIME | NO TIME | 2 |
17. Daniel Ricciardo AUS Aston Martin Red Bull Racing no time
18. Romain Grosjean FRA Haas F1 Team no time
19. Kevin Magnussen DEN Haas F1 Team no time
20. Valtteri Bottas FIN Mercedes AMG Petronas Motorsport no time